eran chen is the founder and executive director of ODA new york, an architecture firm that has designed more than 45 buildings in the city. since its founding in 2007, ODA has conceived a wide range of projects, with a strong focus on residential schemes that positively contribute towards their occupants' physical and psychological well-being. 'we are leading a quiet but unyielding revolution to replace the dogma of resigned and compromised city living for one that enriches our lives and adapts to our needs,' says the studio.
to learn more about ODA's work we spoke with its founder eran chen, who explained which aspects of his background have informed his design principles, the biggest influences on his work, and what makes new york such a challenging and rewarding city to work in.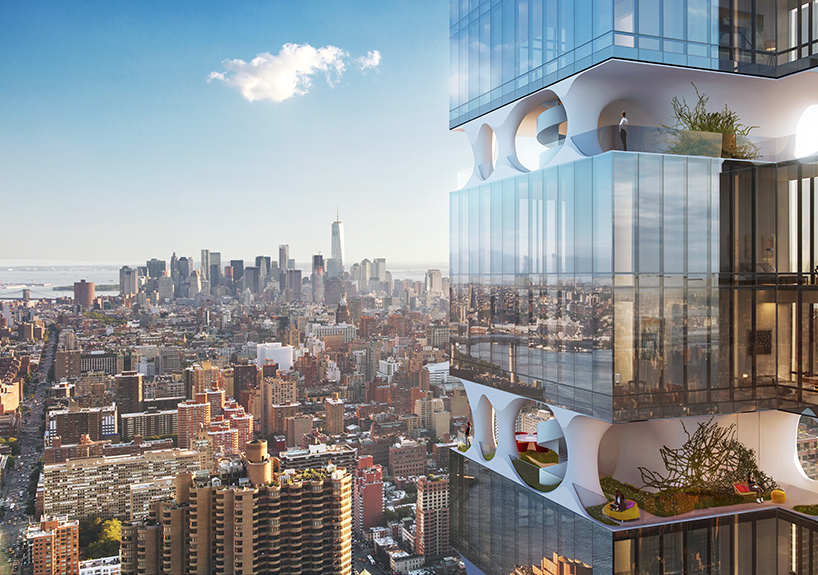 'east 44th street' features tower floors separated by planted gardens
image by MOSO / see more of the project on designboom here
designboom (DB): what originally made you want to study architecture?
eran chen (EC): my mom loves to tell the story about one day when I was six years old, I sat down, and out of the blue, drew perspective 3D views of our living room featuring the big box TV. considering my dyslexia as a child, this talent seemed promising. she still has the drawings. so, it seems that before I can even remember, I was always intrigued by three dimensional environments which I tried, from very early on, to document in one way or another. as a young adult, my interests drifted for a while and I considered, among other things, a more traditionally desirable career as a physician or a surgeon. fortunately, after a few years of mandatory military service, I had time to reflect upon the direction I wanted my life to take and returned, in my twenties, to my original passion for architecture.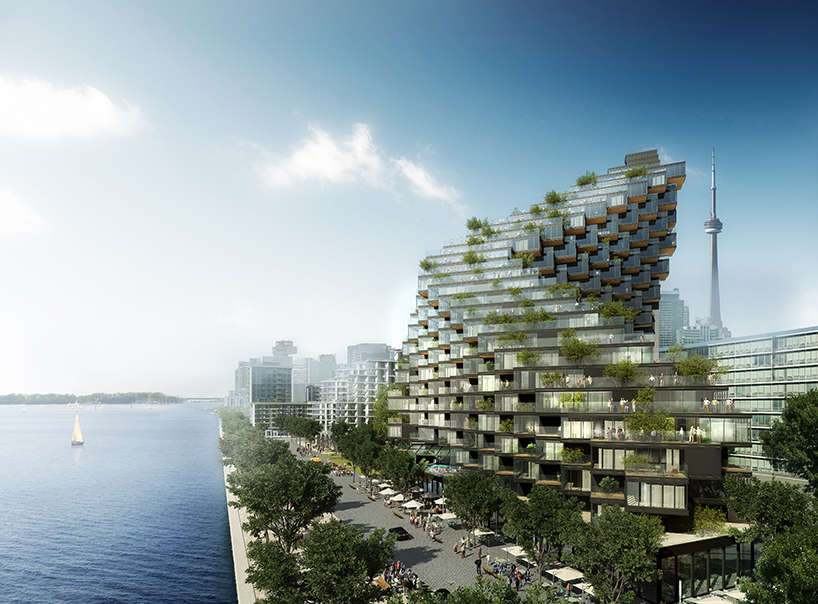 the 'merchants' wharf' project in toronto is visualized as a towering block of cascading volumes
image by by-encore / see more of the project on designboom here
DB: what particular aspects of your background and upbringing have shaped your design principles and philosophies?
EC: growing up, I moved around quite a lot, between different cities and countries. as a child of divorced parents, I lived in multiple family settings over the years, in different types of environments. I guess I developed a somewhat nomadic personality that made me agile, very independent and keenly sensitive to the human condition, to the richness and diversity of people and cultures. I realized that while there are many ways to view reality, and that there is a definite consistency to the way our built environment impacts both our well-being and consciousness, our connection to others and even our self-esteem. this awareness shaped my instincts and was one of the factors that drew me to architecture where I have the opportunity to, hopefully, improve people's lives through design.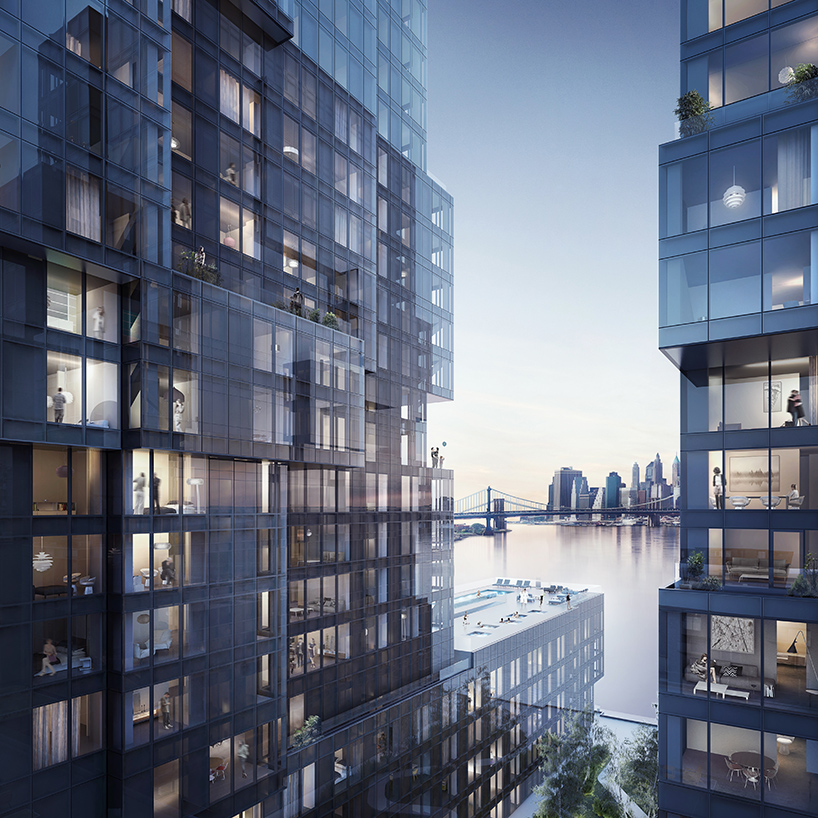 '416-420 kent avenue' offers residential space along new york's east river waterfront
image by bloomimages/ see more of the project on designboom here
DB: who or what has been the biggest influence on your work?
EC: it's hard to pinpoint a single thing, really. I suppose that growing up in srael had a lot to do with shaping my worldview. I vividly remember when egyptian president anwar sadat came for the first time to israel after signing the historical peace treaty with menachem begin, ending years of hate and fear. I was about six or seven years old, and I stood on the street with my mom while his entourage of black sedans drove through my little hometown of be'er sheva, overcome with happiness and awe. I remember noticing the brutalist-style concrete buildings alongside the magnificent european bauhaus jewels of tel aviv, and the arabic towns on the mountainside seen by the 2,000-year-old western wall in jerusalem. growing up amidst this world of beautiful contradictions has definitely influenced my work. the fact that in an hour's drive from tel aviv you can be in jerusalem, the historical city of all religions, or go south to the desert where bedouin tribes live in tents and ride camels, or north to haifa where jews, muslims and christians live side by side, developing the most cutting edge world technologies. for me, it was all so fascinating, especially the human aspects that still remain unsettled. at ODA, we embrace diversity and see conflicting forces not as obstacles, but as opportunities for unique design solutions, and I'm sure that that outlook stems, at least partly, from being raised among those contrasts.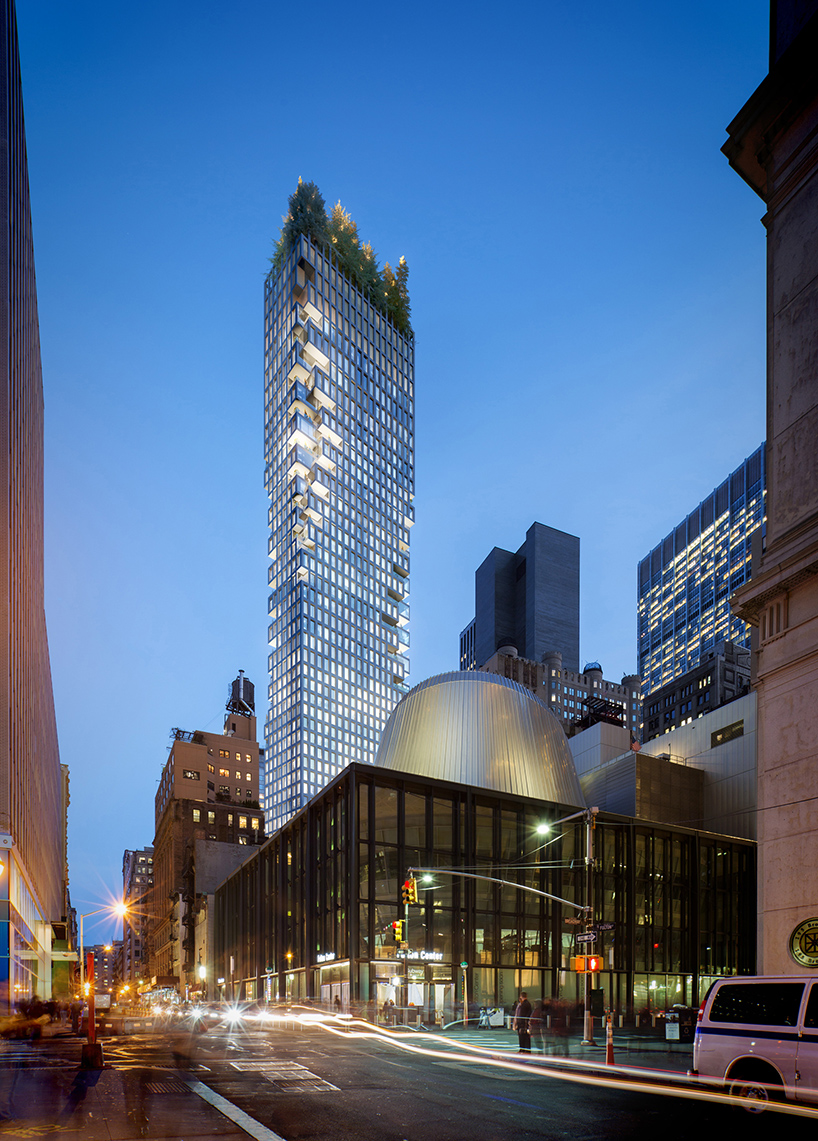 '75 nassau' brings the qualities of residential living to a neighborhood populated by office towers
image by MOSO
EC (continued): I discovered the wider world slowly, ultimately traveling to more than thirty countries, where I have always recorded both people and spaces. for me, the opportunity to be able to shape those dynamics through my work is a wonder, and I am very grateful for it.
as for architects, as a student back in the 90s I admired richard meier for his fragmentation of form and moshe safdie for habitat. a little later in my career jacques herzog taught me that beauty is not a sin, and from norman foster, that success is not a sin.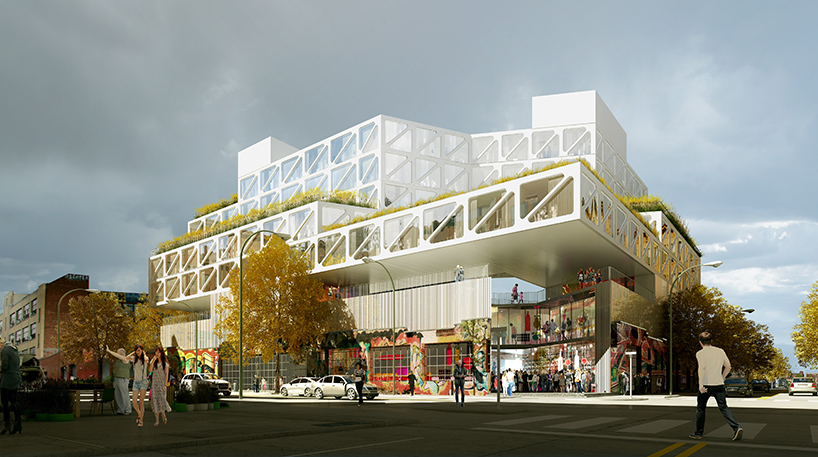 '71 white' is a 100 key hotel cantilevering over an elevated market square
image by labtop
DB: overall, what would you say is your strongest asset, and how have you developed that skill over time?
EC: I never really saw myself as being the best at anything, but strong enough in many diverse fields — more of a generalist then a specialist, I guess. I was not a 'straight A' student, yet was always perceived as the go-to guy to get things done, by both students and teachers. the person they trusted to come up with creative ideas. during my Army days, I discovered that I could overcome even great challenges, and in the process, inspire others towards their best. so, in terms of assets, I would like to think that I am a nimble guy with strong leadership skills. my name, Eran, which in hebrew means lively or alert is, perhaps, somewhat appropriate.
at ODA we cultivate a diversity of strengths. we are armed with extensive experience and expanding expertise, which allows us to work within the constraints of the system in order to augment it. we don't see the challenges of any given reality as limiting, but rather, as opportunities that can inspire us towards innovation.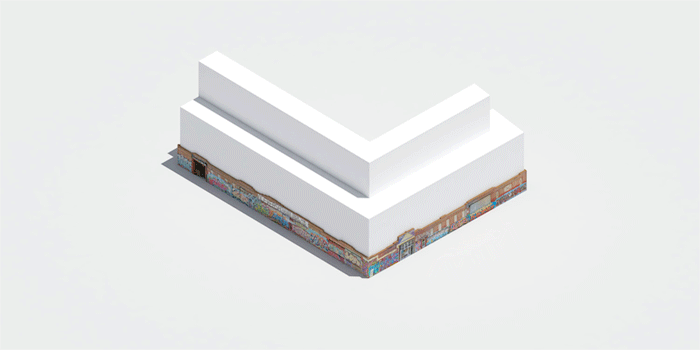 '71 white' borders east williamsburg's industrial blocks and bushwick's residential fabric
DB: what characteristics does new york city have that make it both so challenging and rewarding for an architect?
EC: manhattan's growth over the last decade, like many other major cities around the world, can be characterized by reflexive adaptation to the ever-increasing demand for both housing and office space. traditionally this has taken the form of vertically extruded boxes built in celebration of corporate power. when designing a project in manhattan you are met by a rigid set of rules and regulations overlapped with impossible timelines, stringent budgets and extremely demanding clients, the combination of which could make your head spin! but the beauty within this madness lies in the great dynamic intensity, the cultural diversity and the almost endless possibility. for those reasons I like to think that NYC is a microcosm of the modern world. one that most closely represents the urban realities of our future.

'100 norfolk' combines unused bulk from the surrounding properties to create a stepping volume
image by MOSO
EC (continued): over time, the previous balance between private and public spaces, between civilization and nature, became so radically distorted that we surrendered certain fundamental elements that we, as humans need in order to flourish. I believe that we must restore what we've lost, but in a new and thoughtful way. one that reconciles density and vertical living with fragmentation and porosity — individualism with community, man-made with nature. as our ability to manipulate our surroundings continue to improve, we need to focus on designing new types of built environments, and what better starting point than NYC?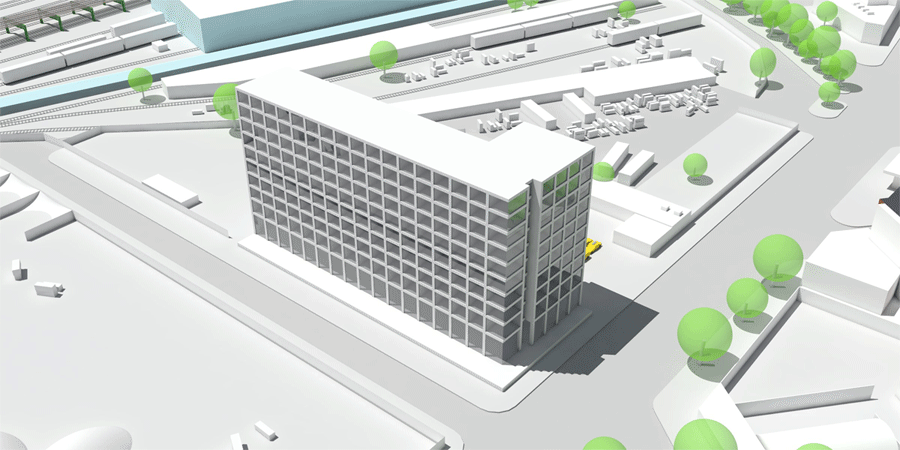 '2222 jackson avenue' employs a modular design
DB: now that computer generated visualizations are so commonplace, do you still use physical scale models or sketch designs by hand?
EC: when I was in architecture school, I read a biography about le corbusier who described the kind of pencil or pen he used as having a will of its own, that the specific kind allowed his ideas to flow better in some kind of partnership. computers are similar in the sense that they can influence our designs and might have a will of their own, but as long as we treat them as an extension of our thoughts, they are not much different than a 6B pencil. my personal preference is still to draw on paper. I know the general consensus is that computers have totally changed and revolutionized the world of architecture, but I think of it as yet another tool we use in order to communicate our purpose and achieve the goal of enriching people's lives through architecture.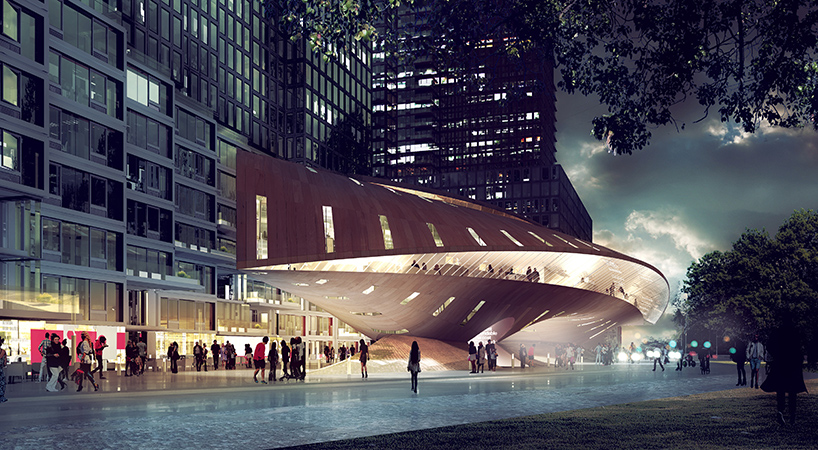 the 'hunters point library' proposal drew inspiration from the site's relationship with the neighboring park
image by labtop
DB: outside of architecture, what are you currently interested in and how is it influencing your designs?
EC: lately, I've become very interested in the historical details of the first agricultural revolution, and the way it transformed pre-historic, small and mobile hunter-gather groups some 10,000 years ago from an insignificant part of the world — as they had been for millions of years — into a controlling force. these newly founded settlement societies exchanged their well-being for power over nature. I keep thinking about how architecture has the power to transform our power back into well-being.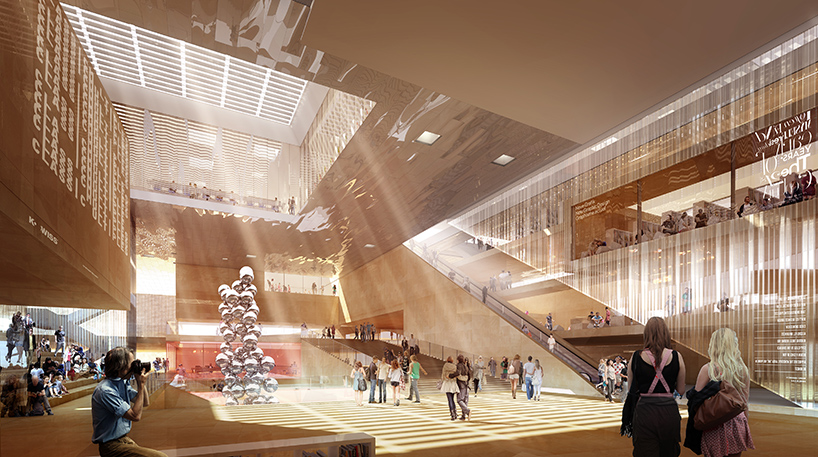 proposal for the 'national library of israel' in jerusalem
image by labtop
DB: which architects, designers, or artists working today do you most admire?
EC: I was recently introduced to neri oxman, an american-israeli architect, designer, and professor at the MIT media lab, where she leads the mediated matter research group. she is known for art and architecture that combine design, biology, computing, and materials engineering. her work frames the notion of a shift from nature-inspired design to design-inspired nature. although her work is hardly what I would consider pragmatic, I think it opens the door to questions we should ask ourselves regarding the ability of buildings to inspire new ways of creating nature in urban settings. I also love neo-realistic artists like ron mueck and own a large collection of paintings by the artist aram gershuni.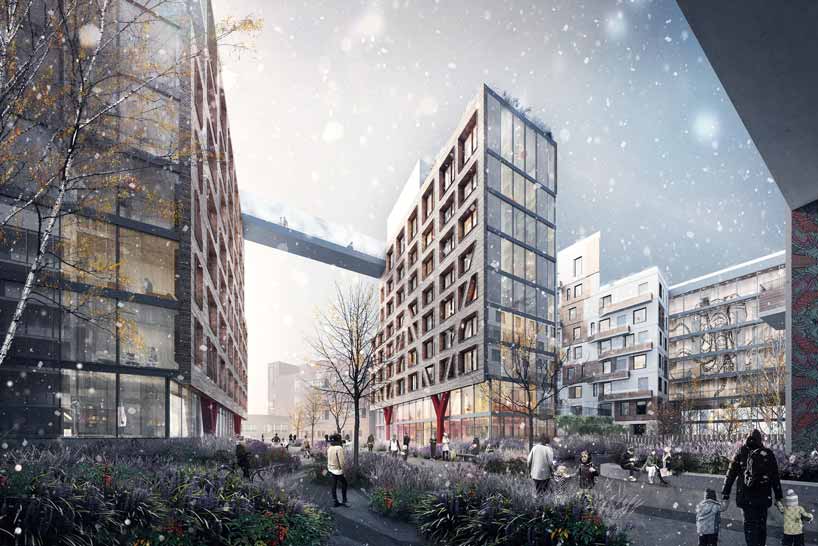 '123 melrose' spans a pair of new york city blocks
image by bloomimages / see more of the project on designboom here
DB: can you tell us about any projects you are currently working on that you are especially excited about?
EC: one of our most exciting projects is a 1.3-million-square-foot mixed-use development in bushwick, brooklyn, currently under construction, in which we are overlapping the NYC grid with that of an old european city. instead of organizing some buildings on an empty lot, we have opted to carve public and communal spaces out of a solid mass, creating a network of pedestrian streets and courtyards framed by commercial and amenity spaces. by opening typically internal courtyards to the public as well as to the residents, we transform the systematic, dead-end live-work boxes into a three-dimensional living experience. this project takes our notion of 'unboxing buildings' and applies it on a city scale.
I'm also excited about a waterfront office complex in DUMBO — 10 jay — which combines an historic building with a cutting edge 3D façade recently approved by landmarks. we have also been asked to conceptualize and design some truly transformative buildings in washington DC, atlanta, los angeles, and london.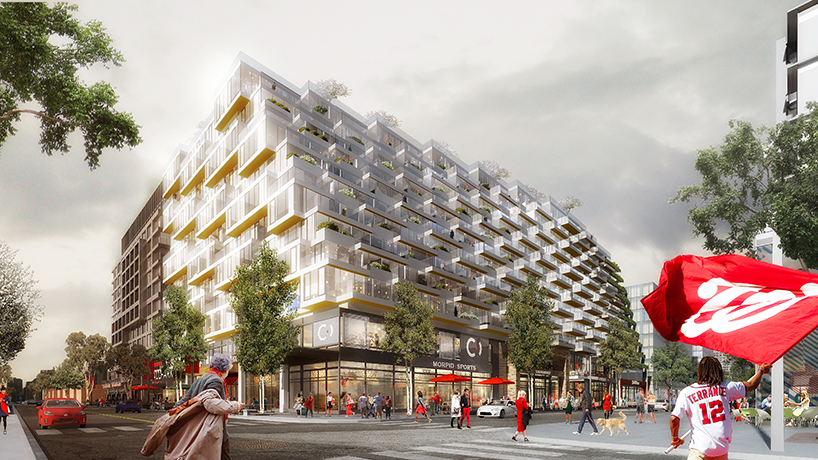 'west half' is a mixed-use development near nationals park baseball stadium in washington, DC
image by luxigon / see more of the project on designboom here
DB: how do you see the future of architecture progressing? are you optimistic about the future?
EC: I am very optimistic about the future. I'd like to change the way we view the built environment, so that our buildings are not just conforming contextually or performing technically, but instead, making strides towards engaging and connecting us back to nature and to each other. considering all the technological advances in computing and manufacturing, chances are that some of the most generic architecture being built in cities may no longer require architects at all. the profession of architecture as we know it, which is often described as service-based, may become obsolete. what will remain, however, is the need for innovation and adaptation, so all architects will need to become theorists in the field of improving the way we live, or find another line of work!

the proposal for 'monad terrace' in miami maximizes views and sunlight
image by labtop
DB: what is the best advice you have received, and what advice would you give to young architects and designers?
EC: my professor at school once told me that I need to explain how a wall knows it's a wall, which I guess, is similar to louis kahn's dilemma about what the brick 'wants to be'. it wasn't until later in life that I realized he gave me great advice.
these days, we are all bombarded with images of magnificent buildings and structures from around the world. images on the internet and social media can become more powerful than reality, and buildings are often evaluated only based on form rather than the human experience. with this overwhelming visual distraction, it's hard for young architects to ask the simple basic questions, and even harder to answer them. if we forget that architecture, at its most basic, is a tool for improving people's lives, we then also forget why we make the choices we do. I always push our architects at ODA to ask those basic questions: why are we doing this? what purpose does it serve? and how does it make life better? I often tell students: embrace the wealth of visuals available to you but don't let them define your work.

'251 1st street' marries two distinct scales and typologies
image by PS new york / see more of the project on designboom here
DB: do you have a personal motto?
EC: the unbuilt idea is a dream, building with no idea is a waste, but building with an idea articulates a fragment of who we are.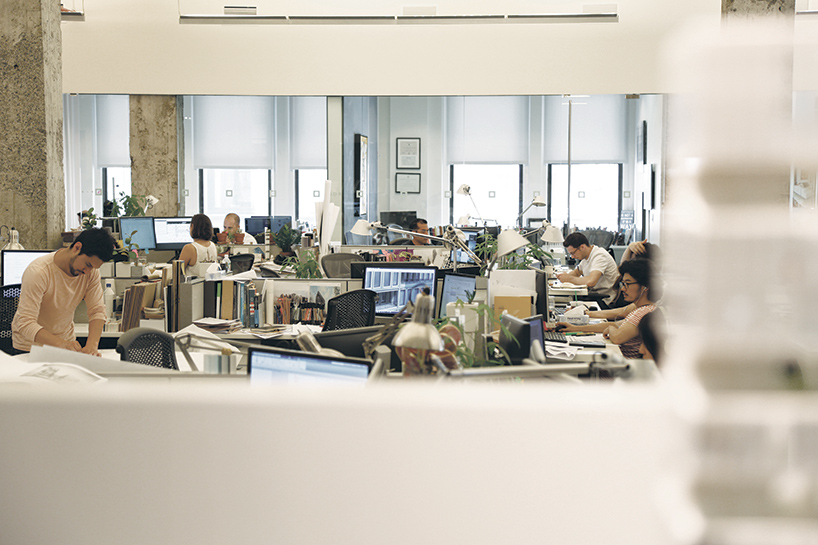 ODA's office in new york
image by carolina moscoso
Save
Save
Save
Save
Save
Save
Save
Save
Save
Save
Save
Save
Save
Save
Save
philip stevens
I designboom
jan 10, 2017
KEEP UP WITH OUR DAILY AND WEEKLY NEWSLETTERS
a diverse digital database that acts as a valuable guide in gaining insight and information about a product directly from the manufacturer, and serves as a rich reference point in developing a project or scheme.
designboom will always be there for you
milan, new york, beijing, tokyo

,
since 1999