eVolo announces the winners of the 2019 annual skyscraper competition. out of 478 projects received, a jury comprising a group of established architects selected three winners and 27 honorable mentions. initiated in 2006, the annual award recognizes visionary ideas that challenge the way we understand vertical architecture, and its relationship with its surrounding contexts. designboom explores the winning entries alongside a selection of honorable mentions celebrated by eVolo magazine.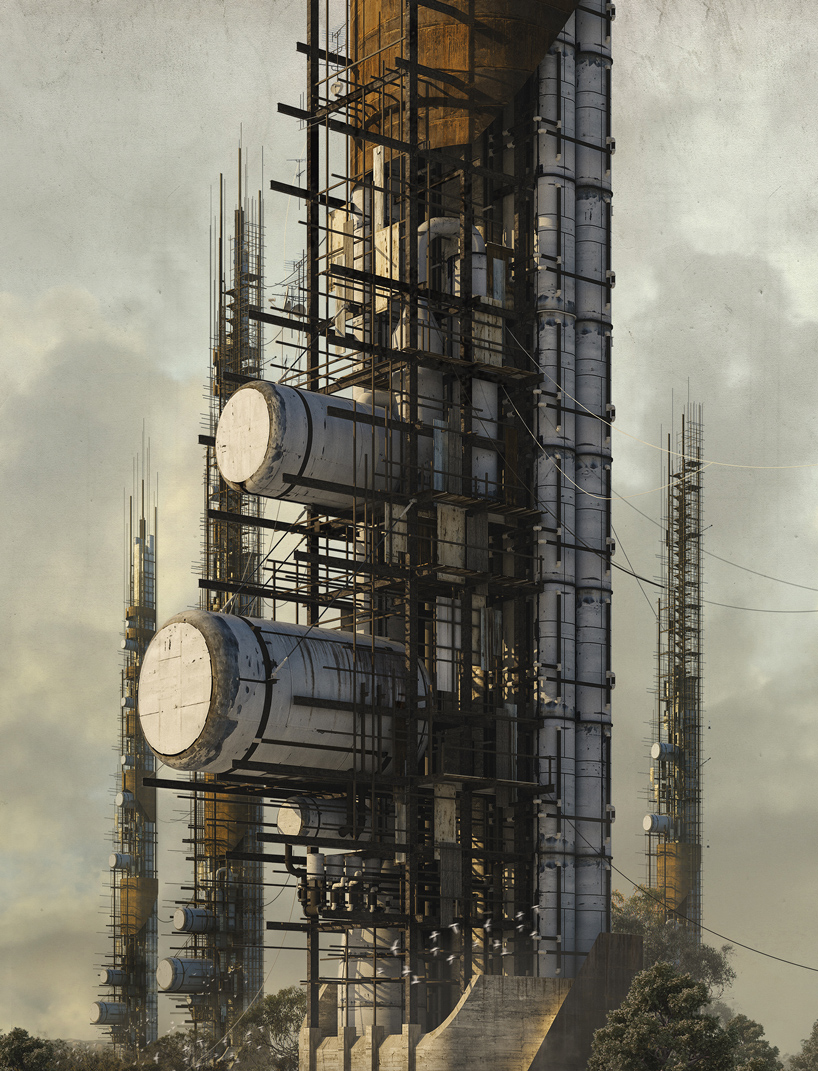 the first place winner proposes an enormous, vertical waste treatment plant that produces methane for energy. designer marko dragicevic of serbia elaborates: 'the towers are module-based, and every tower is consisted of waste capsules that are attached to the concrete core. firstly, city waste is being delivered to sorting facility, where it is categorized by type (glass, plastic, organic matter, paper, wood, metal), after which it is sent to temporary landfill. the recyclable waste is taken to recycling facility, and organic matter, parts of wood and paper materials are gathered and disposed into modular waste capsules. these capsules are attached to the tower core by cranes. every capsule is equipped with inhaler and pipeline that connects to the methane tank, and when organic matter rots, methane produced by the process is drawn from each capsule and later transformed into energy.'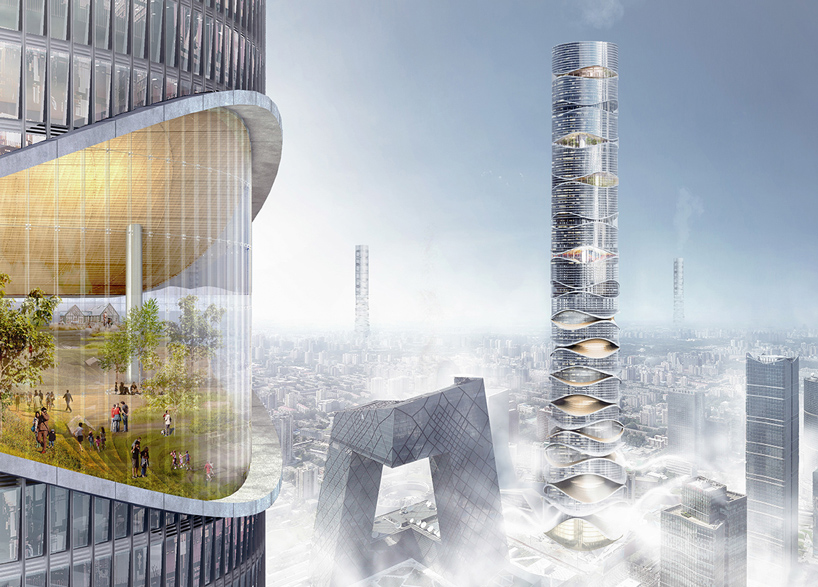 klaudia gołaszewska and marek grodzicki of poland propose a massive chimney which draws in polluted air at street level to be sucked upward through filters. the designers write: 'it incorporates a modular kinetic façade that helps to optimize the air intake… according to existing research such a system can clean the air with up to 80 % effectivity.' the tower's residential section incorporates green garden modules located 'where the layer of smog doesn't reach. the green-gardens include dense vegetation of various kinds, which not only help to adjust air oxygen levels and balance the micro-climate of the tower, but also provide attractive and healthy public areas to serve the wellbeing of the tower occupants and improve the daylighting of the inner chimney atrium.'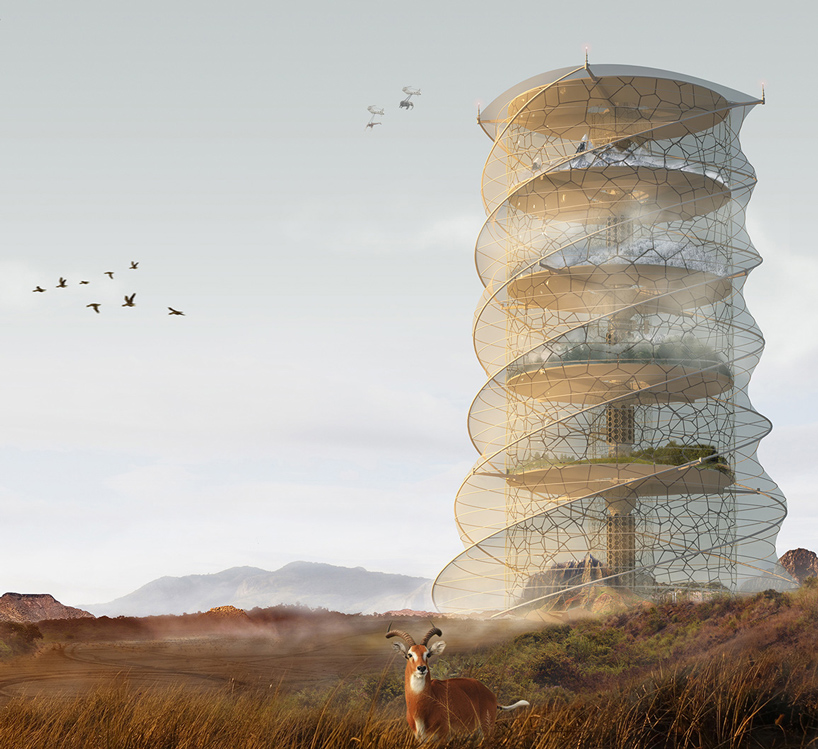 the third place winner is a proposal to maintain a dynamic balance within a complex, continuously changing natural ecosystem. UK-based team zijian wan, xiaozhi qi, and yueya liu writes: 'our concept of this vertical nature reserve equipped with a central research station is inspired by the classification of climate groups on earth. referring to the relationship between latitude and climate zones, the skyscraper divides and simulates each climate group at a different height… the residents in the building are endangered animals living within the simulation environment, while the research team and public tourist should be only considered as temporary visitors.'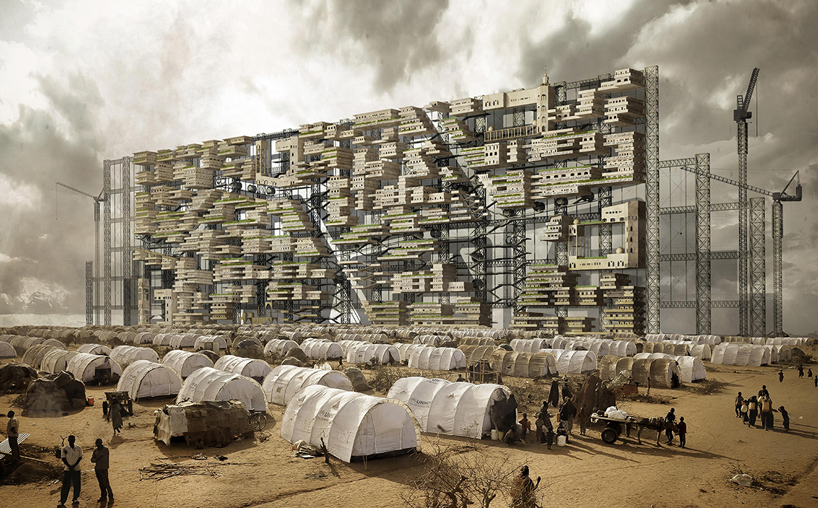 the horizontal city of no nation proposes a response to the unprecedented global displacement levels. the project was developed by chinese design team, zhichen gong, yong chen, tianrong wu, yingzhi he, and congying he. the team explains: 'we propose to build a skyscraper along the border between two countries which provides shelter with security and development opportunities for refugees. the core part of this proposal is how to conserve their original environment and provide adequate space. based on the narrow buffer zone, the skyscraper introduced here should not be simple stack of broken layers, but a transformation from a horizontal lifestyle to a vertical one.'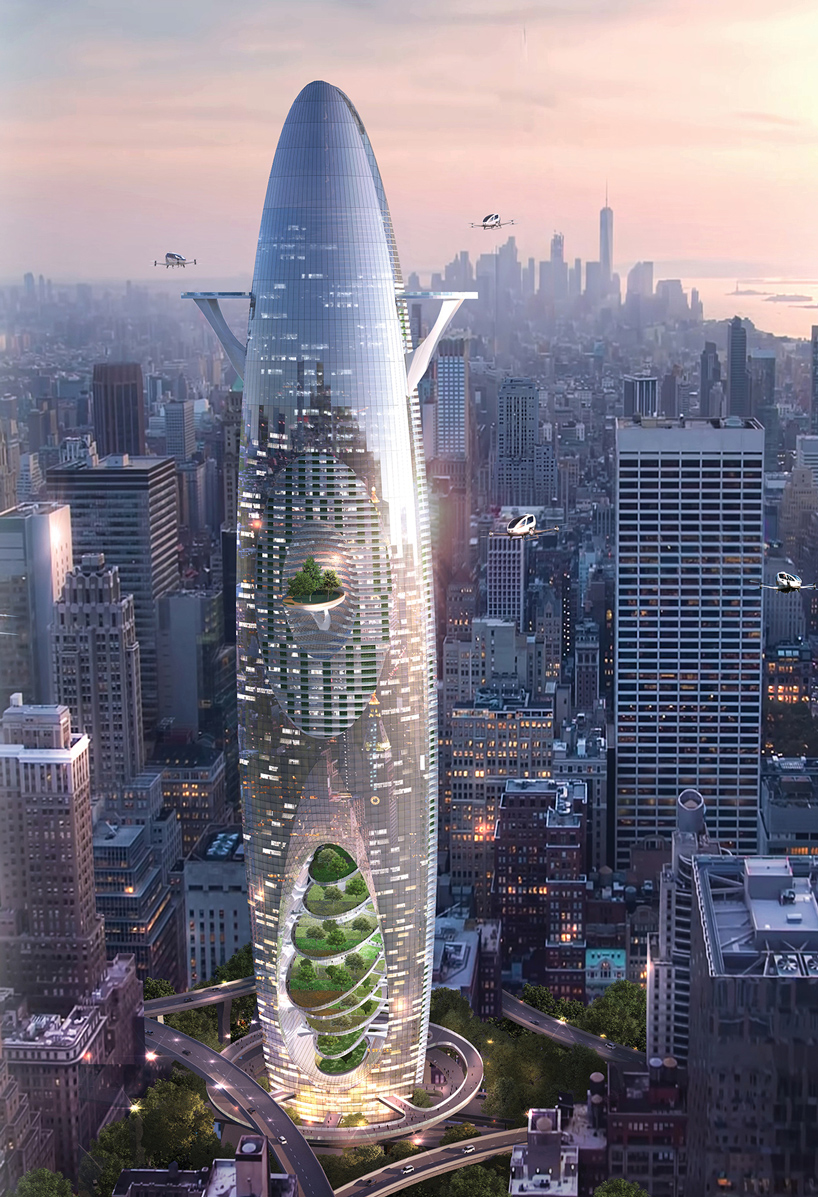 united states-based design team BKV group writes: 'the supertall skyscraper concept is an expression of the opportunities and constraints urbanistic contexts present to architects. juxtaposing the idea of a sprawling, urban development, the vertical shape of the tower is a direct response to minimizing the structure's footprint. the ground floors house commercial areas framed within a vertical mall concept, with a food production area directly above where residents and visitors are treated to a vertical, urban farm.'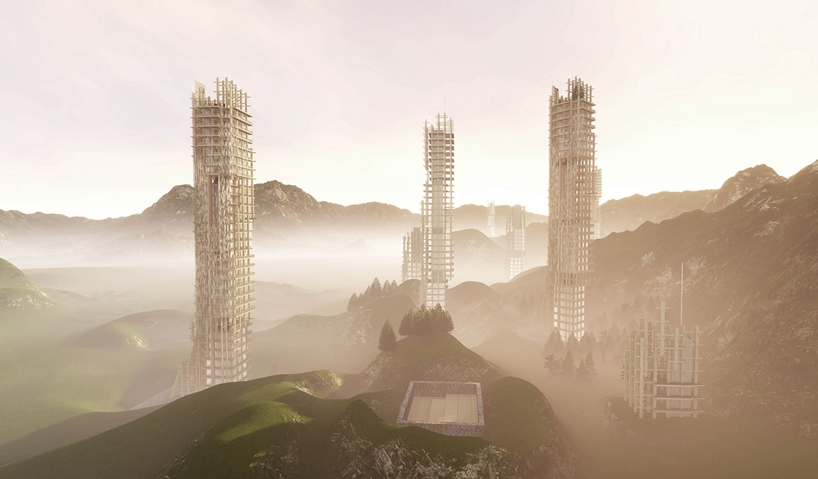 united states-based design team amanda gunawan and joel wong write: 'over-pollution and overpopulation will occur and efficacy becomes compromised with growth. when the drawbacks of automation start to outweigh its benefits, where do we go next and in what direction? … wood is a natural resource and is therefore readily accessible. we start off with a clean slate, returning to days where we were not reliant on machines. like the primitive hut, existing since the beginning of time, we apply a similar idea via a building block and a set of rules that are meant to be bent. the end result is a skyscraper composed of an array of building blocks'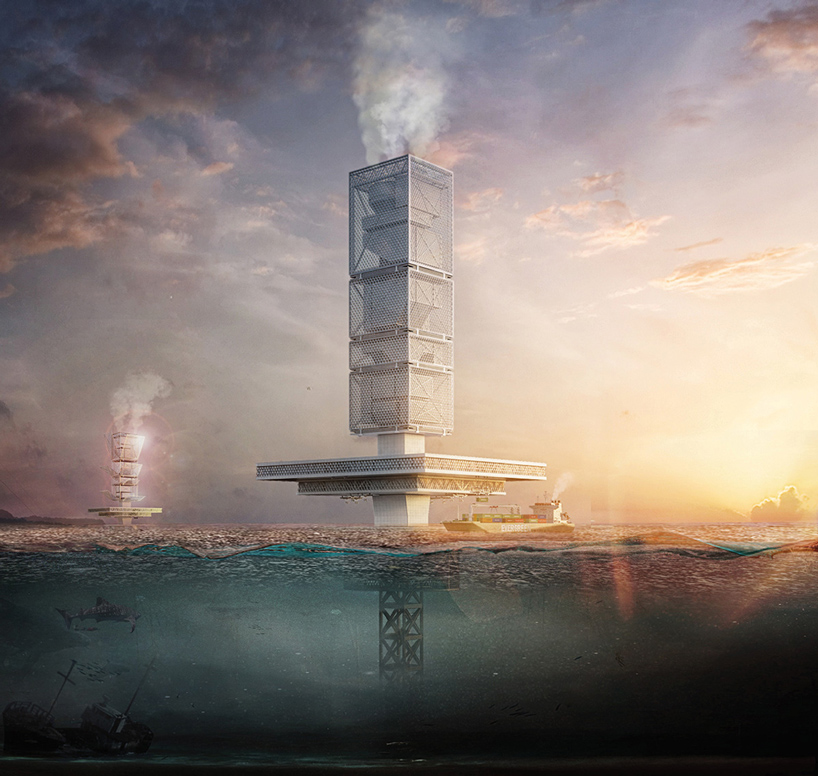 united states-based designer honglin li writes: 'FILTRATION essentially is a highly modularized prefabricated waste-management and waste-to-energy power plant megastructure that contains several material recovery facilities and water treatment plants to recycle the floating garbage continent and clean the seawater in all levels from the different ocean across the world. innovative not only for self-sustaining but also helping resolve the world energy crisis for this coming century… FILTRATION uses seawater to pump the garbage with polluted water together to the highest location of the building and filter the water and recycle the material for the top to bottom of the building.'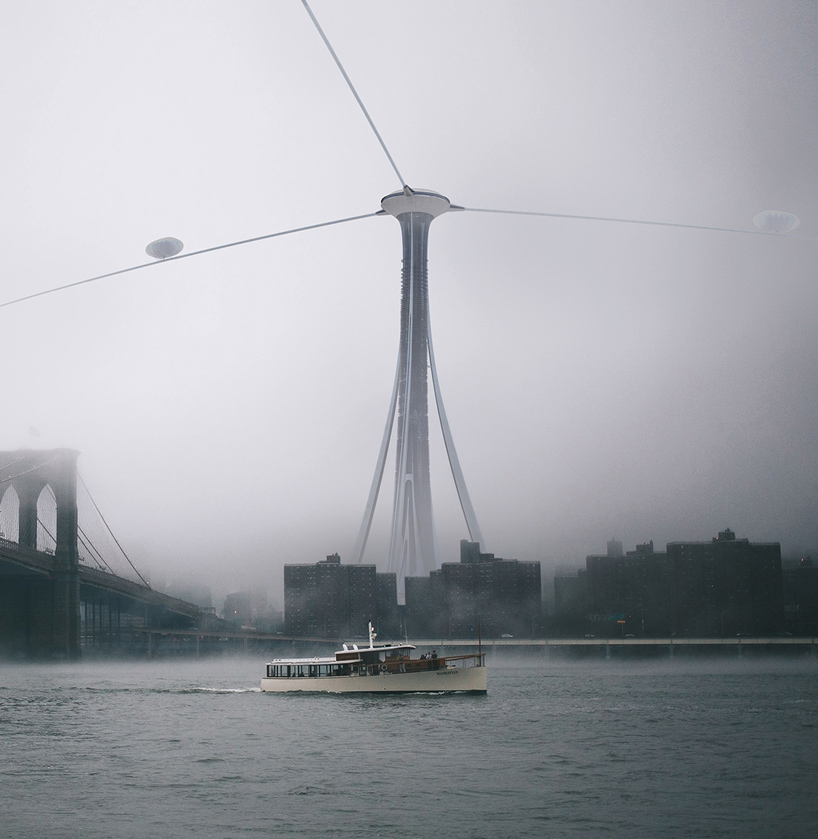 austria-based designer thomas gössler writes: 'compared to other modes of transport traveling by air has a more harmful environmental impact per passenger-kilometre. however, the number of airplanes is increasing, and they are expected to fly more frequently… this project aims to use high-rise architecture in order to address problems of modern transportation systems and to give an alternative to airplane traveling. therefore, new technologies like hyperloop are incorporated into the project… how does hyperloop work? the pods in the pipes move forwards, accelerating until they reach a speed where they lift up, and are guided by magnets.'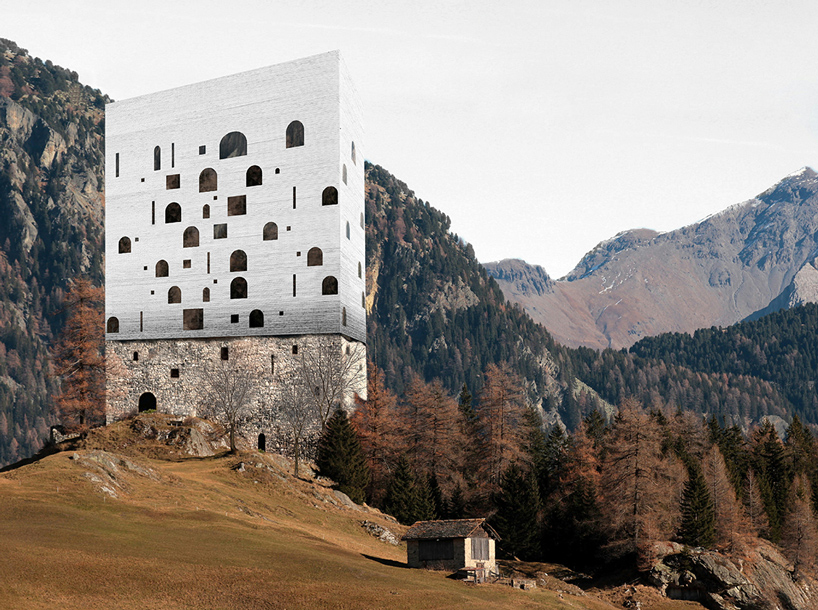 switzerland-based designer fábio ferreira neves writes: 'known as a perfect place for winter sports, switzerland has many special and long hikes to do in summer as well.the design works with these elements, a family of reused fortresses along the trails. to be able to protect the ancient structures, some monolithic roofs are added to bring a new life to these ruined fortresses. its existing stone walls frame the floor of the new volumes. this addition covers, protect the old ruins and provide new shelters for the hikers. the new landmarks have an important impact that guides the hikers.'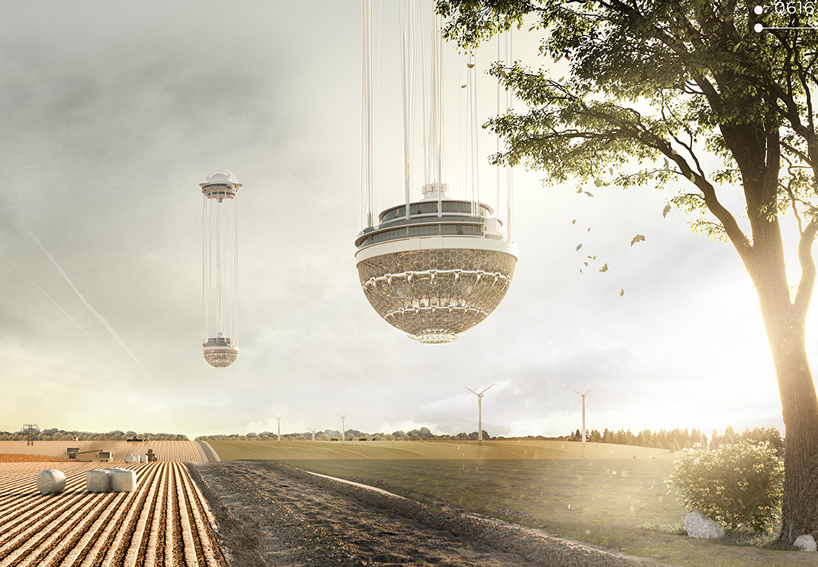 belarus-based studio piotr yurchanka, alexey kunko, vladislav sidorenko, and dmitry tkachuk write: 'swamps are the 'lungs of the planet.' the benefits they provide are comparable to the benefits of forests… swamps absorb carbon dioxide and constantly emit oxygen… the swamps are home to hundreds of different types of animals and plants. this is an unknown world, with its own laws and rules. unfortunately, mass swamp reclamation (drainage), which began in the middle of the last century, led to irreversible consequences… the goal of the the floating tower is to restore drained swamps by abundant irrigation of these lands. the construction consists of two spheres united by a system of cables.'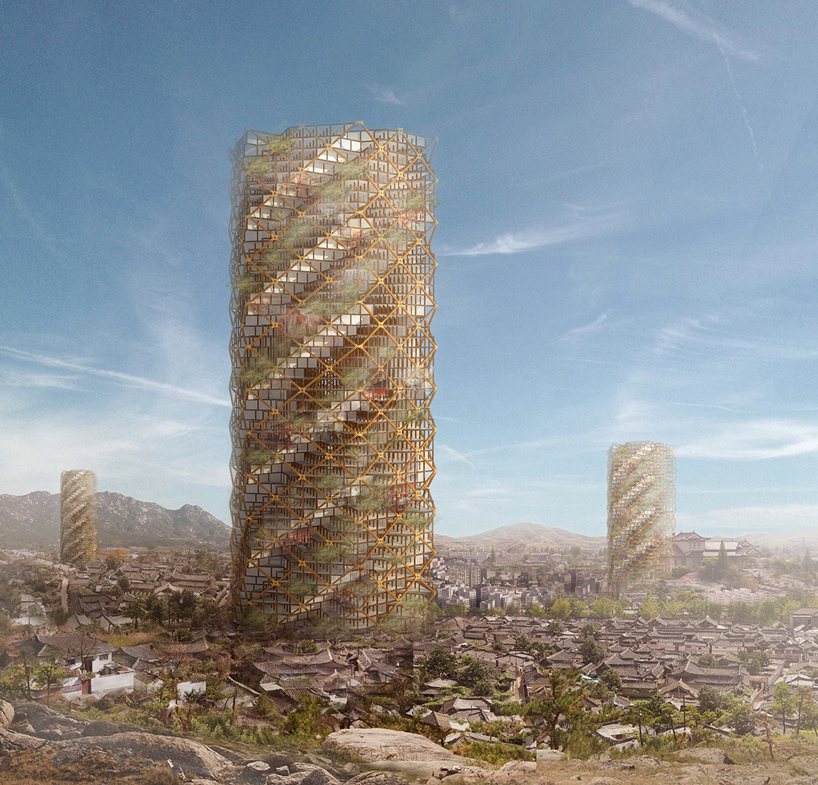 south korea-based team you gundon, lee minwi, kang ryunhong, moon junho writes: 'vertical city in kaesong is a plan to build a town that concentrates residential, production, infrastructure and energy vertically by setting several bases in the existing city. instead of demolishing traditional buildings, they build up a high-density unit town of eight floors with self-sufficient programs. unit villages can be added or dismantled on demand in the city.'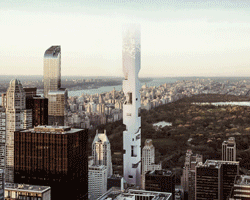 apr 30, 2020
apr 30, 2020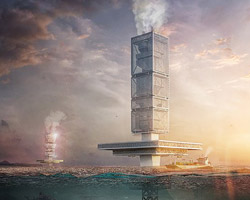 jul 31, 2019
jul 31, 2019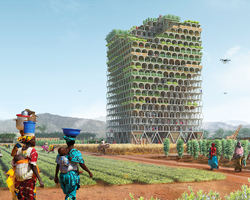 apr 12, 2017
apr 12, 2017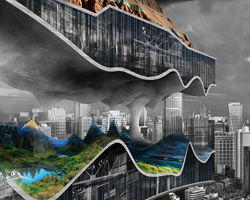 apr 12, 2017
apr 12, 2017
mar 25, 2016
mar 25, 2016
mar 08, 2011
mar 08, 2011
jun 30, 2020
jun 30, 2020
jun 28, 2020
jun 28, 2020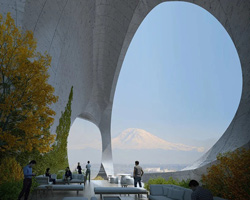 jun 04, 2020
jun 04, 2020
a diverse digital database that acts as a valuable guide in gaining insight and information about a product directly from the manufacturer, and serves as a rich reference point in developing a project or scheme.