in 2015, milan's fondazione prada opened its doors to the public for the first time. rem koolhaas' OMA had completely transformed the site, converting what was once a gin distillery on the southern edge of the city into a bold and diverse complex of challenging exhibition venues. upon inauguration, the 19,000 square meter-campus comprised seven existing buildings and two new ones. however, one of the site's most important components was still under wraps — a nine-storey tower designed to display the foundation's permanent collection.

the former gin distillery is located on the southern edge of the city
image © designboom (also main image)
now, two years after fondazione prada first opened, the final part of OMA's ambitious project is nearing completion. named 'torre', or 'tower', the soaring structure rises above the neighborhood, protruding as a prominent landmark. visible from afar, the tower's irregular geometry follows a structural logic. 'the tower is built from large-span concrete beams that alternate in orientation from level to level, creating an alternating open/closed pattern on each façade,' says the team behind the project. 'these beams are tied to a slender concrete core which contains all the services and circulation.'

the nine-storey tower will display the foundation's permanent collection
image © designboom
the tower is divided vertically into four sections, with two wedge-shaped plans following the site's outline, and two rectangular plans cantilevering above the adjacent street. in addition to the entrance at ground level, the nine-floor building contains six storeys of gallery space. the tower's sixth and seventh levels house a restaurant and kitchen respectively. once complete, an independent entrance at street level will allow torre to function autonomously. see designboom's ongoing coverage of fondazione prada here.

two rectangular floor plans cantilever above the adjacent street
image © designboom

meanwhile, two wedge-shaped plans follow the outline of the site
image © designboom

the soaring structure will contain six storeys of gallery space
image © designboom

an independent entrance will allow torre to function autonomously
image © designboom

large amounts of glazing will offer views across the italian city
image © designboom

the tower forms the final piece of the ambitious project
image © designboom

the concrete structure seen from the heart of the existing campus
image © designboom

initial work on the project started almost ten years ago
image © designboom

the tower's irregular geometry follows a structural logic
image © designboom

the building remains visible from across milan
image © designboom

fondazione prada opened to the public in may 2015
image © designboom
Save
Save
Save
Save
Save
Save
Save
Save
Save
Save
Save
Save
Save
Save
Save
oct 15, 2017
oct 15, 2017
oct 04, 2017
oct 04, 2017
oct 01, 2017
oct 01, 2017
sep 26, 2017
sep 26, 2017
sep 05, 2017
sep 05, 2017
aug 29, 2017
aug 29, 2017
may 10, 2017
may 10, 2017
may 08, 2017
may 08, 2017
dec 19, 2016
dec 19, 2016
nov 02, 2017
nov 02, 2017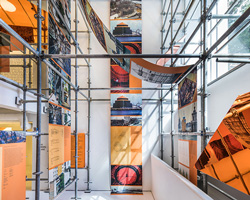 oct 27, 2017
oct 27, 2017
oct 11, 2017
oct 11, 2017