dec 27, 2012
gold line bridge by andrew leicester completed
'foothills basket bridge' by andrew leicester, california, USAimage courtesy of metro LA
american artist andrew leicester was commissioned by the foothill extension construction authority to design the metro gold line's bridge extension to capture the character of the local culture and history. recently opened to the public, the unique bridge spans 584 feet over the I-210 freeway in arcadia and will connect two new stations in azusa and pasadena, with an integrated rail line that is set to be completed in 2014. the design took inspiration from two primary sources: the basket-like structures evoke the nature of the indigenous native americans that flourished in the area, and its location over an american highway informed their garish size, echoing the iconic architectural traditions surrounding route 66's history. costing a total of 18.6 million USD, many technological features are integrated into the construction: 'time domain reflectometry' technology and a smart column technology system allows engineers to asses damage immediately following an earthquake.
spanning over the I-210 highwayimage courtesy of metro LA
using a simple 'post and lintel' system on a much larger scale, the 25-foot baskets act as the anchor columns, with a rebar cage skeleton infilled with cast-in-place concrete. the basket section exemplifies a construction similar to the way an actual basket would be made, with vertical 'reeds' and interwoven bands left to fray at the top as part of the artistic language. the ribbed underside of the span exposed along a serpentine edge and scale-like etchings of exterior skin also alludes to the rattle snake that is so embedded into the history of the area.
sculptural basket structures anchor the spanning bridge into the groundimage courtesy of metro LA
the sensuous curvilinear structure features a basket form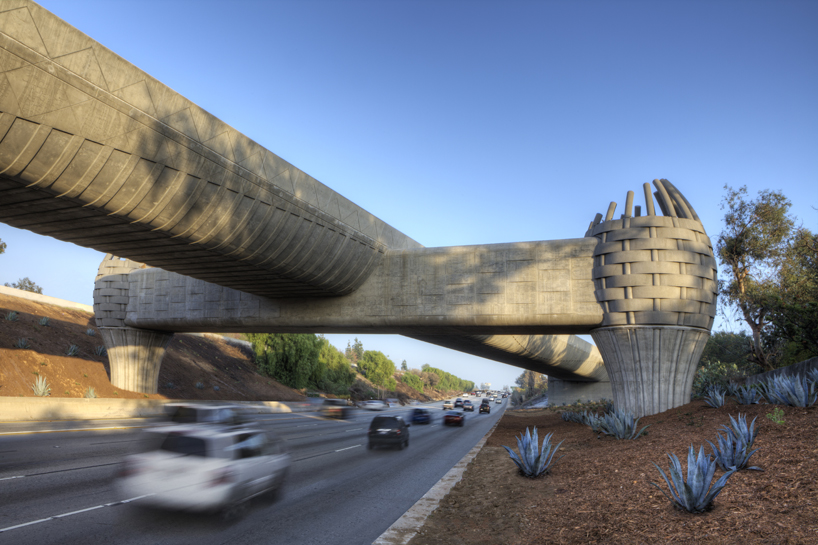 the 'gold line bridge' is the first mass transit crossing in california to be designed by an artist
a serpentine pattern was cast into the concrete to simulate patterns found on the western diamondback rattlesnake
image courtesy of metro LA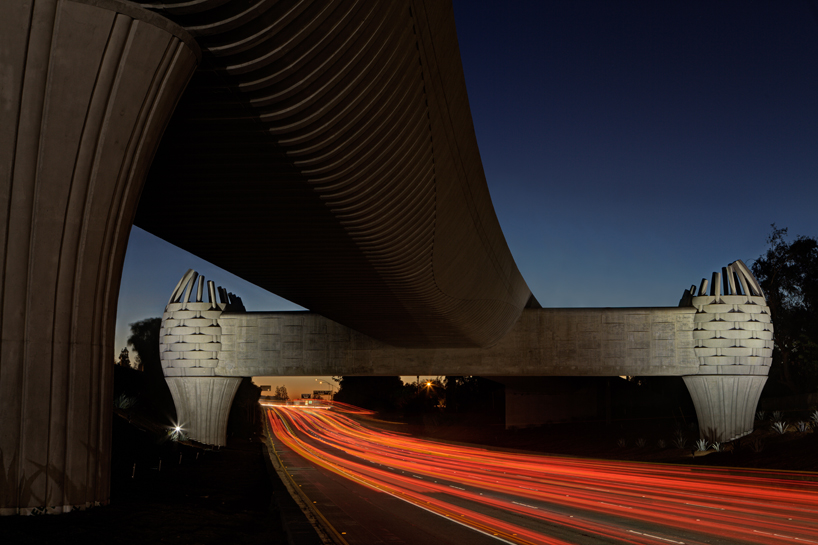 the light rail bridge was built by skanska, designed by AECOM, and conceived by andrew leicester
the bridge by night
the structure is a sculptural addition to the gateway to san gabriel valley
interwoven concrete basketimage © andrew leicester
constructionimage © andrew leicester
basket column constructionimage © andrew leicester
construction progressimage © andrew leicester
renderimage © andrew leicester
renderimage © andrew leicester
site planimage © andrew leicester
concept sketchimage © andrew leicester
watercolorimage © andrew leicester
earlier concept sketchimage © andrew leicester
aug 07, 2017
aug 07, 2017
aug 01, 2017
aug 01, 2017
jul 14, 2017
jul 14, 2017