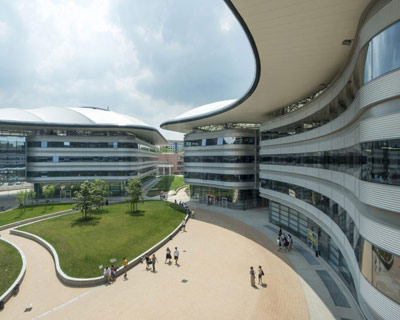 aug 22, 2013
foster + partners complete turin university faculty building
foster + partners complete turin university faculty building 
image © foster + partners
foster + partners have completed a sweeping structure for the university of turin campus. a composition of brushed metal bands and sky-reflecting glazing, the new building set to accommodate 5,000 students. the design consolidates the faculties of law and political science within two volumes linked by a single roof canopy. with a depth determined by solar path analysis, the large overhang is a particularly effective passive cooling strategy; combined with intelligent building systems and tri-generation heating and cooling, the structure requires 20 percent less energy than an equivalently-sized building sans sustainable measures. a landmark hardscaping measure employs 7200 photocatalytic paving tiles that help neutralize the movement of pollutants like dust. bordered by a meandering green 'philosopher's walk', the design encourages pedestrian movement through linking pathways and easy access to local rail and bus services, while still providing roof gardens and light-filled quiet study spaces.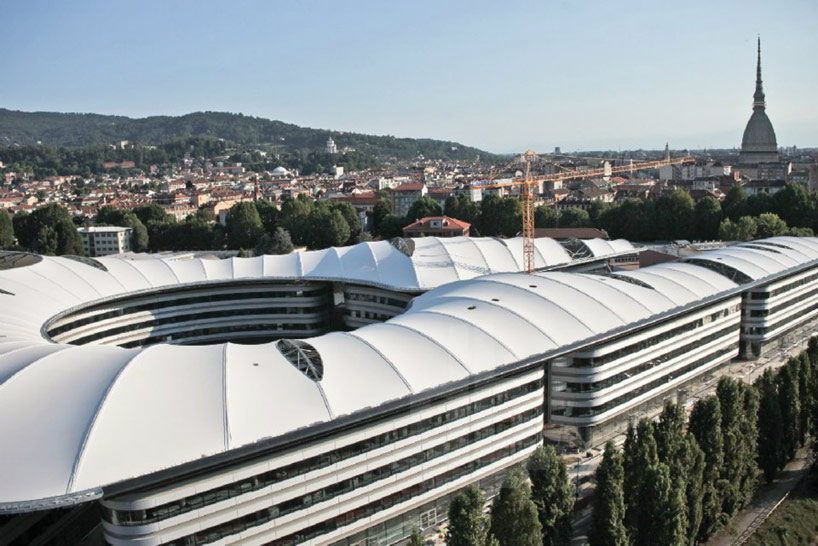 aerial view shows the massive roof canopy
image courtesy university of turin

brushed metal and ribbons of glazing characterize the facade
image © foster + partners

a central courtyard organizes the two main volumes
image courtesy of turin university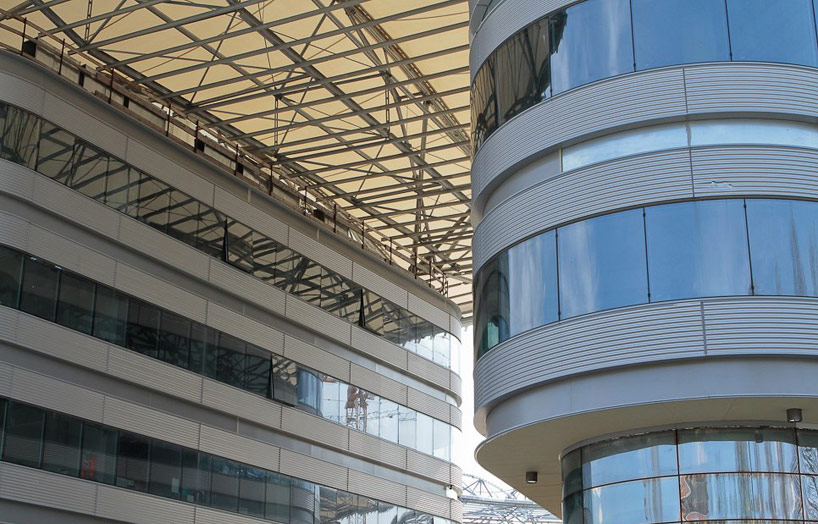 a large, overhanging roof links the two main architectural spaces
image courtesy turin university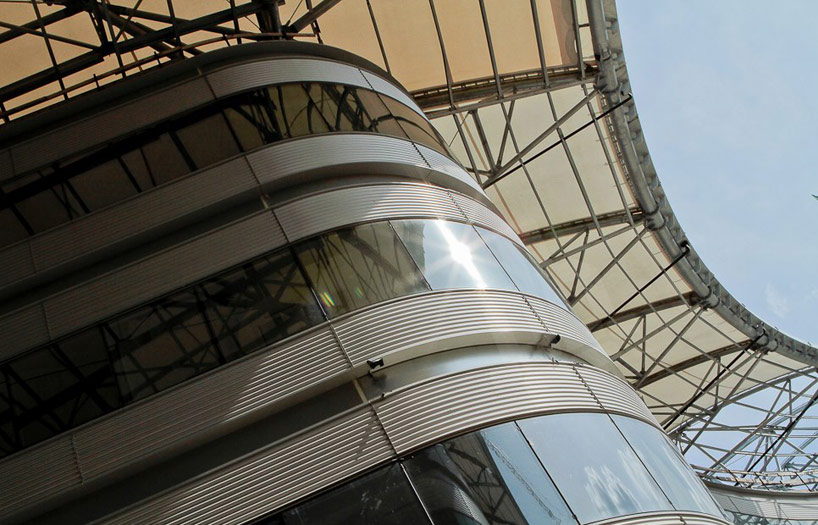 intelligent building systems work together to reduce energy consumption
image courtesy turin university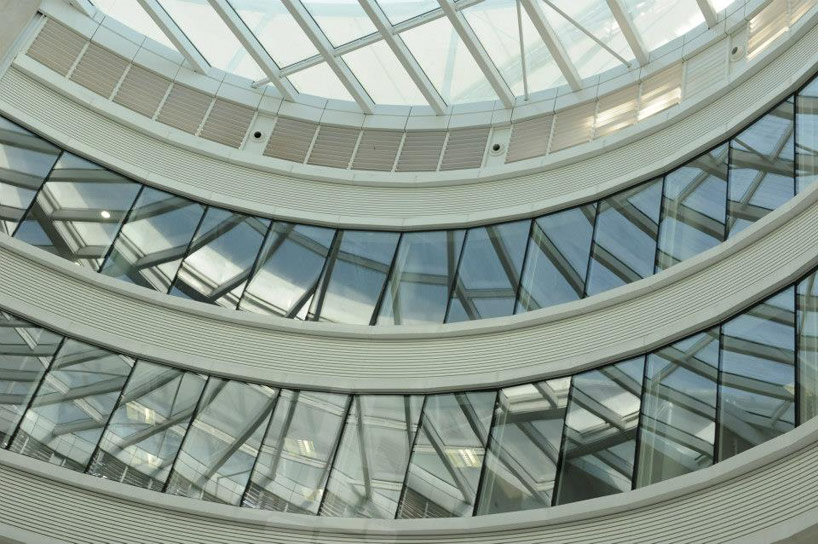 covered outdoor areas allow diffused daylight in both interior and exterior spaces
image courtesy turin university

view of the 4 level library
image © foster + partners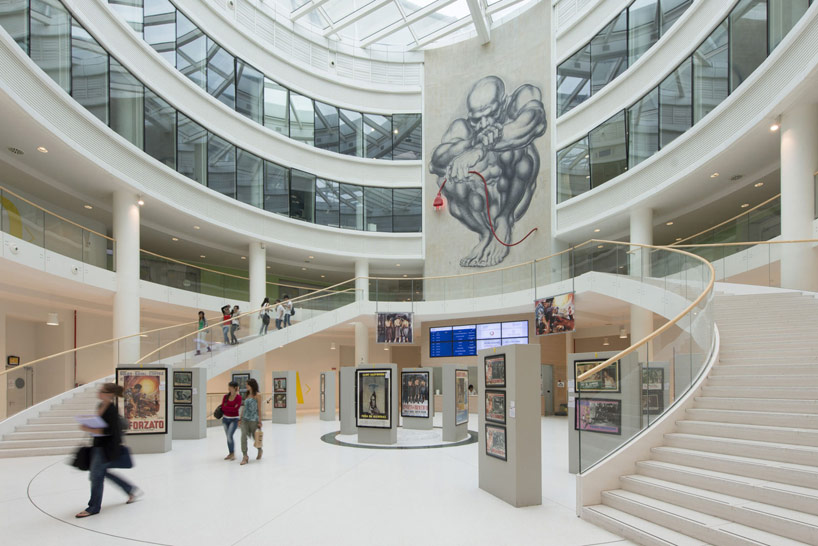 interiors are awash with light
image © foster + partners
the gestalt of the triangular complex is a reinterpretation of a traditional cloistered quadrangle that organizes the built space. the round courtyard additionally serves as event space for more informal programming. sensitivity to the site, both historical and environmental, characterizes the round-edged building. a former piccollo italgas building, once the home of the state-controlled gas supplier, signals the garden-filled entrance space to the new structure, while other existing buildings on the university grounds have been refurbished to house student services and cafes.

the campus is flexible enough for myriad programming
image courtesy turin university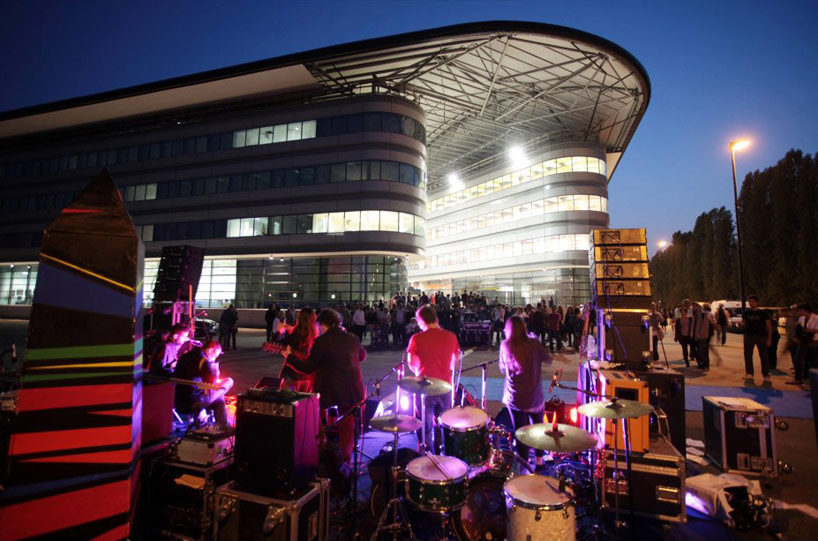 image courtesy turin university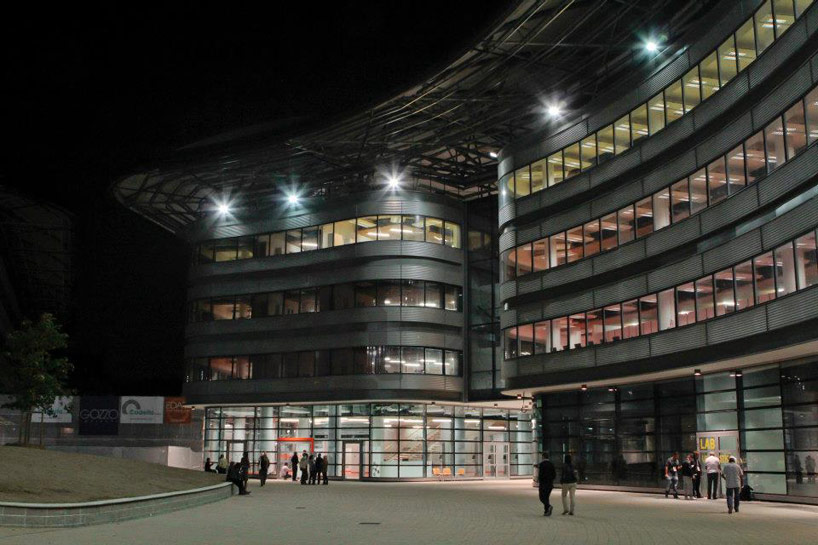 image courtesy turin university
project info:
appointment: 2007
completion: 2013
area: 44 928 m²
client: università degli studi di torino
collaborating architect: icis srl
structural engineer: giugiaro architettura, studio garzino, studio ossola
quantity surveyor: tecnimont civil construction spa
additional consultants: electrical and special systems: maire engineering (now tecnimont) and teksystem
mechanical systems: maire engineers
quality insurance: tecnimont civil construction spa
safety control: tecnimont civil construction spa
signage design: cp associates
jul 10, 2017
jul 10, 2017
jun 25, 2017
jun 25, 2017
jun 20, 2017
jun 20, 2017
aug 09, 2017
aug 09, 2017
aug 07, 2017
aug 07, 2017