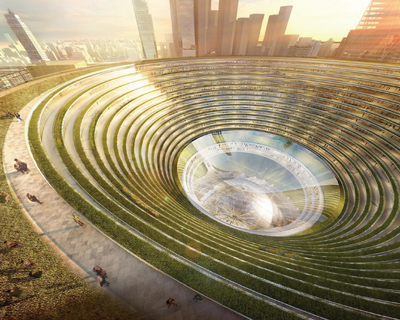 may 30, 2013
four top firms re envision penn station and madison square garden
four top firms re-envision penn station and madison square garden, new york, USA (above) a view of SOM's circulation-focused green roof for the future stationimage © SOM
the municipal art society of new york, an important catalyst in the in the discourse about creating a more livable new york through intelligent urban planning and design, has challenged four top firms to re-envision penn station and madison square garden. diller, scofidio + renfro, SOM, SHoP architects and h3 hardy collaboration architecture all presented a range of possibilities for arguably the biggest transit hub in the western hemisphere, focusing on ways that design strategies and the built form could re-conceptualize transit access and posit solutions to the pedestrian congested nexus.
the challenge is timely– while penn station recieves well over half a million people each day, it is a particularly exigent time to think about unlocking the possibilities of the busy node. madison square garden's special arena permit has expired, permitting the city to think about integrating the critical, yet cramped and dismal, station more readily into the urban fabric. since the original station was constructed in the 1960's the amount of daily passengers has nearly tripled, and yet madison square garden, which sits atop the station, is on the verge of asking the city to renew its operating permit 'in perpetuity' thereby saddling future generations with and inadequate major transit hub that limits the growth of the area as a whole.
in addition to reframing penn station as a city-wide symbol of design, engineering and urban culture, the brief also called for a clear narrative for the greater midtown area that incorporates exciting possibilities for the 16 acre west side waterfront hudson yards site. the four firms, chosen for their vast experience with complex urban issues, presented their compelling solutions in timescenter yesterday followed by a roundtable discussion moderated by new york times architecture critic michael kimmelman.
the new york city council will vote on the fate of the madison square garden permit extension on june 19. of the critical event, the municipal art society president spoke frankly about the opportunity at stake:
a site which should be an economic development anchor for midtown and hudson yards is instead a serious challenge to the global competitiveness and economic health of new york city, a new penn station and a new arena will be an economic engine for new york city – creating thousands of jobs, unlocking billions of dollars in additional private investment, making millions of commutes a year faster and more comfortable, and re-affirming our sense that new york city can take on big projects and get them done.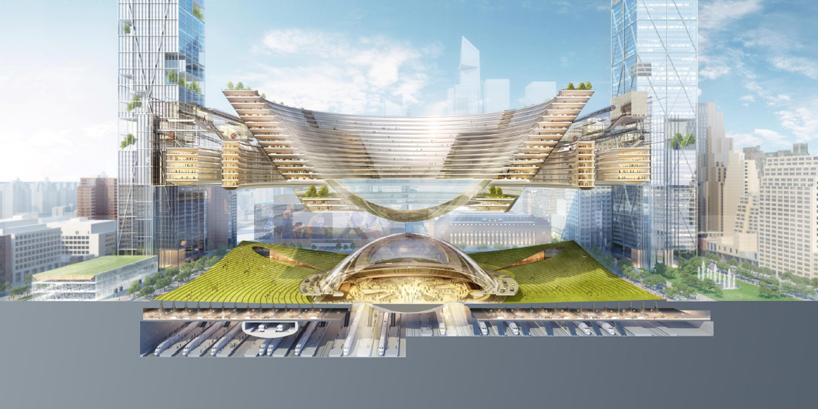 a sectional perspective view shows that central transparent ticket hub and expansive green space by SOMimage © SOM
SOM:
the mega firm proposed to move madison square garden to an adjacent site, while fantastically expanding penn station into an efficient, green vortex of circulation. sporting vegetated space four times the size of bryant park, more offices that rockefeller center and more cultural hotspots than lincoln center, the green-clad funnel of circulation is organized by a large, transparent ticketing hub and four mixed-use towers at the corners greatly expanding footprint of the station:
'with all of these networks intersecting at penn station, its central hall would become the iconic gateway for nearly every visitor around the world.'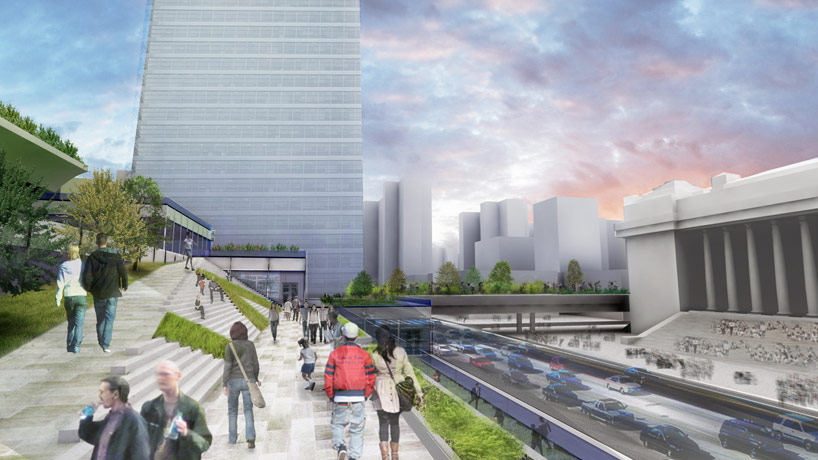 penn station is a democratized network of circulation in the proposal by h3image © h3 hardy collaboration architecture
h3 hardy collaboration architecture:
the firm was people-focused, seeking to move the complex to the west side waterfront and prioritizing a range of access, namely in form of a network of bike paths, a three acre public park and a two acre roof garden. rendering the rail a 'mode of choice' was a point of focus. madison square garden would be entirely moved off site.
'24 million square feet of private development around penn station and up seventh avenue serves as an economic engine for improvements and a revived world class commercial district.'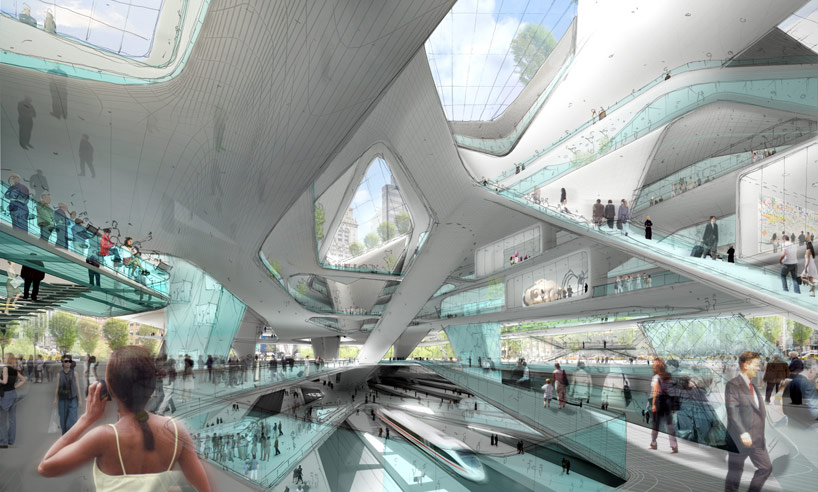 the 'city within a city' proposed by diller, scofidio + renfroimage © diller, scofidio + renfro
diller, scofidio + renfro:
the firm behind the high line, proposes to conceptually reframe the idea of waiting and increase the value of 'downtime' by making the station an attractive light-filled and layered space. ' penn 3.0' seeks to be a destination, not merely consolidated gateway, by providing 24 hour programming and hosting residents and transients alike:
'not just a gateway to new york, the station will be a destination in itself with fast, transit oriented programs layered with slower destinations in a gradient of decelerating speed from tracks to roof.'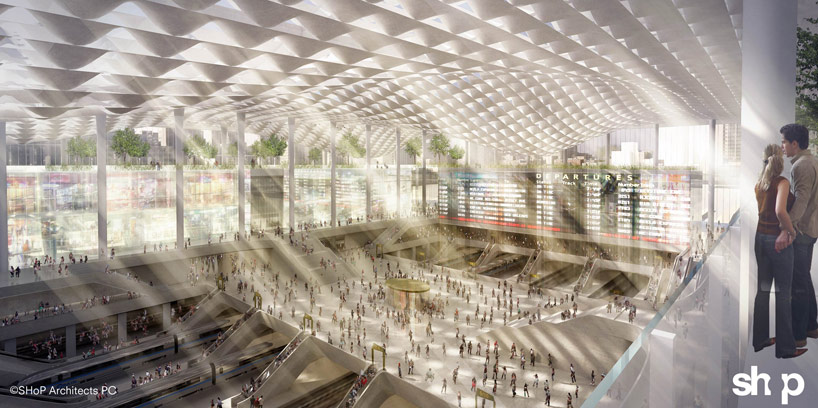 the SHoP proposal breaks up light in the centralized hall for the 'gotham gateway'image © SHoP architects
SHoP architects:
the hall of penn station will be a bright, dematerialized, open plan space characterized by intuitiveness. to help defray public investment, the firm suggested a poignant level of civic and architectural synthesis by proposing to extend the highline so that the new station is connected to an offsite madison square garden. a front-facing gateway park would serve as a grand civil feature.
vishaan chakrabarti, a principal architect at SHoP, told the new york times on the aim of the design:
'when's the last time you heard someone say, 'let's meet for a drink at penn station? people say that about grand central all the time.'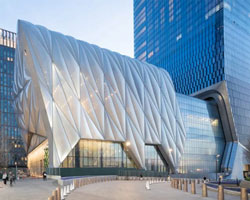 jan 20, 2020
jan 20, 2020
oct 10, 2019
oct 10, 2019
oct 03, 2019
oct 03, 2019
aug 27, 2019
aug 27, 2019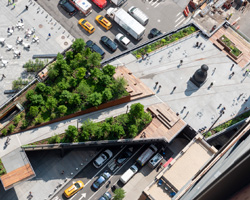 jul 10, 2019
jul 10, 2019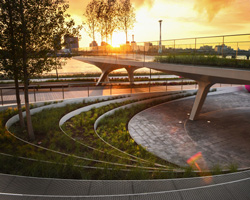 jul 09, 2019
jul 09, 2019
jun 30, 2020
jun 30, 2020
oct 29, 2019
oct 29, 2019
jun 14, 2019
jun 14, 2019
SOM
(52 articles)
oct 17, 2019
oct 17, 2019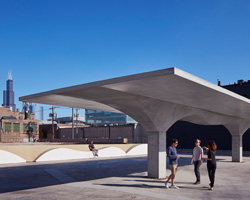 sep 20, 2019
sep 20, 2019
jun 12, 2019
jun 12, 2019
a diverse digital database that acts as a valuable guide in gaining insight and information about a product directly from the manufacturer, and serves as a rich reference point in developing a project or scheme.