influenced by the community-driven atmosphere of burning man, architect fernando romero of FR-EE co-founds the design group 'planet collective' and envisions the 'holon temple'. the temporary timber pavilion could be constructed for the annual festival in nevada's black rock desert, to stand for a week-long experiment in communal living and spiritual reflection. the team at planet collective comes together to generate a pavilion temple space at burning man — an event which draws tens of thousands of people — for gathering, meditation, and reflection.


image by juan carlos ramos
the holon temple proposal by FR-EE and planet collective expresses influence from the ancient greek 'holon' — a word which describes an object both complete unto itself and an integral part of a larger system. guided by this concept, together with the principles of burning man, the temple takes the form of an oblong wooden ellipsoid housing a smaller version of itself that serves as an altar. the altar itself contains an even smaller replica, creating a nested system of objects that invites contemplation and embodies the idea of a holon.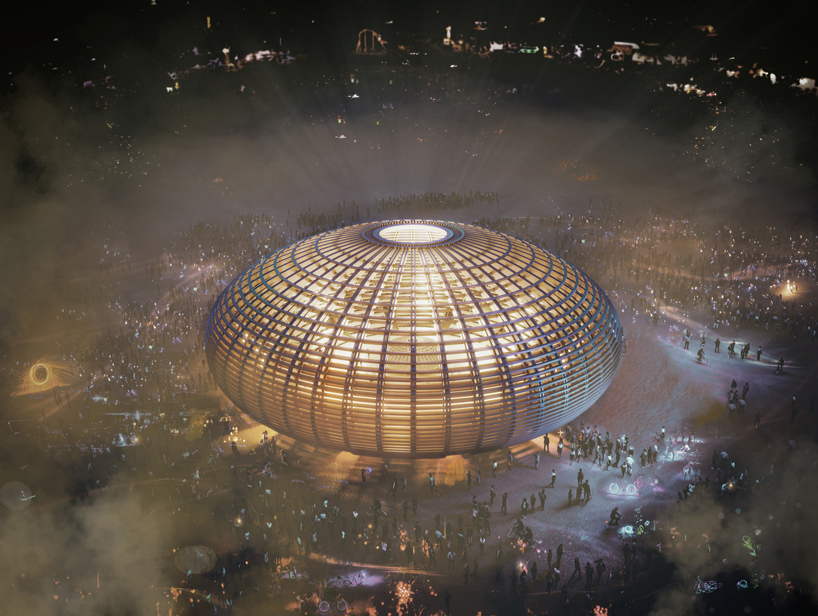 image by juan carlos ramos
to achieve the holon temple's distinctive geometry, FR-EE conceives a system of wooden trusses which sculpturally bow outwards. these timber elements are braced by thirty-four circular horizontal members, each a symbolic representation of each year of burning man's existence. the trusses culminate in the compression ring member number 35 — representing the festival's 2020 edition — which opens to the sky to let in natural sunlight. recalling the oculus of the pantheon, the crowning compression ring incorporates millennia-old traditions of religious and spiritual architecture into the design of this contemporary temple.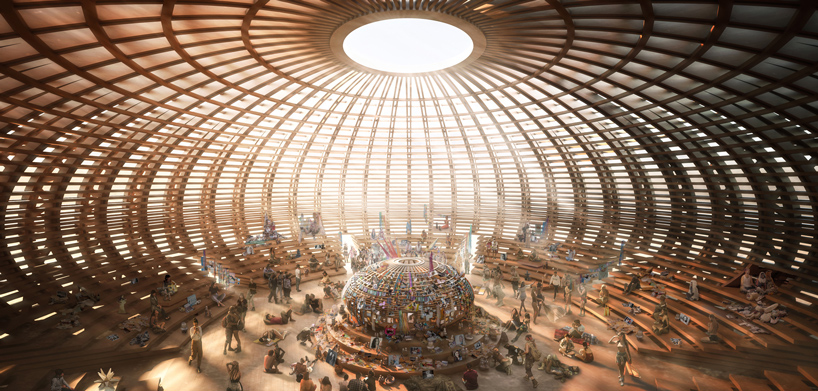 image by juan carlos ramos
rather than cladding the structure, the design allows the complex and expressive system of wooden trusses and rings to define the interior experience. interstitial space within the structural system let in daylight, wind, and sand, generating an interior which feels at once enclosed and intertwined with the surrounding landscape. as the structure nears the ground, the horizontal rings broaden to form benches that wrap the perimeters of the interior and invite festival goers to congregate, reflect, and meditate. in keeping with burning man's tradition of leaving no trace, the temple is designed to be burned to the ground at the end of the week-long gathering. as part of this process, the design team plans to plant the number of trees required to counterbalance the amount of pollution the burning would generate.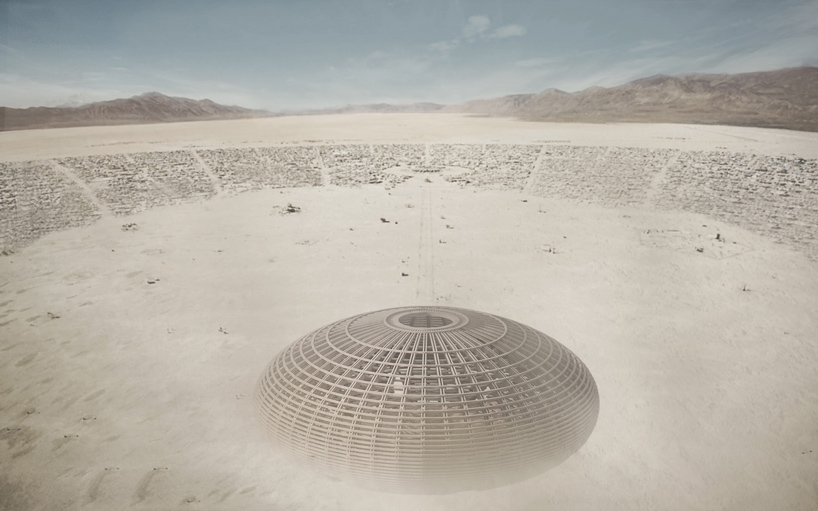 image by juan carlos ramos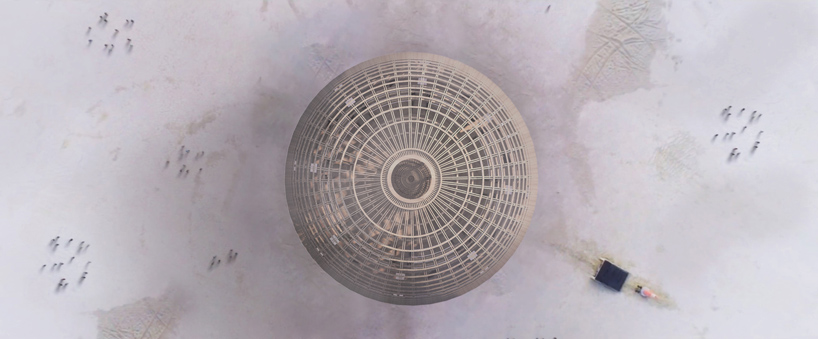 image by juan carlos ramos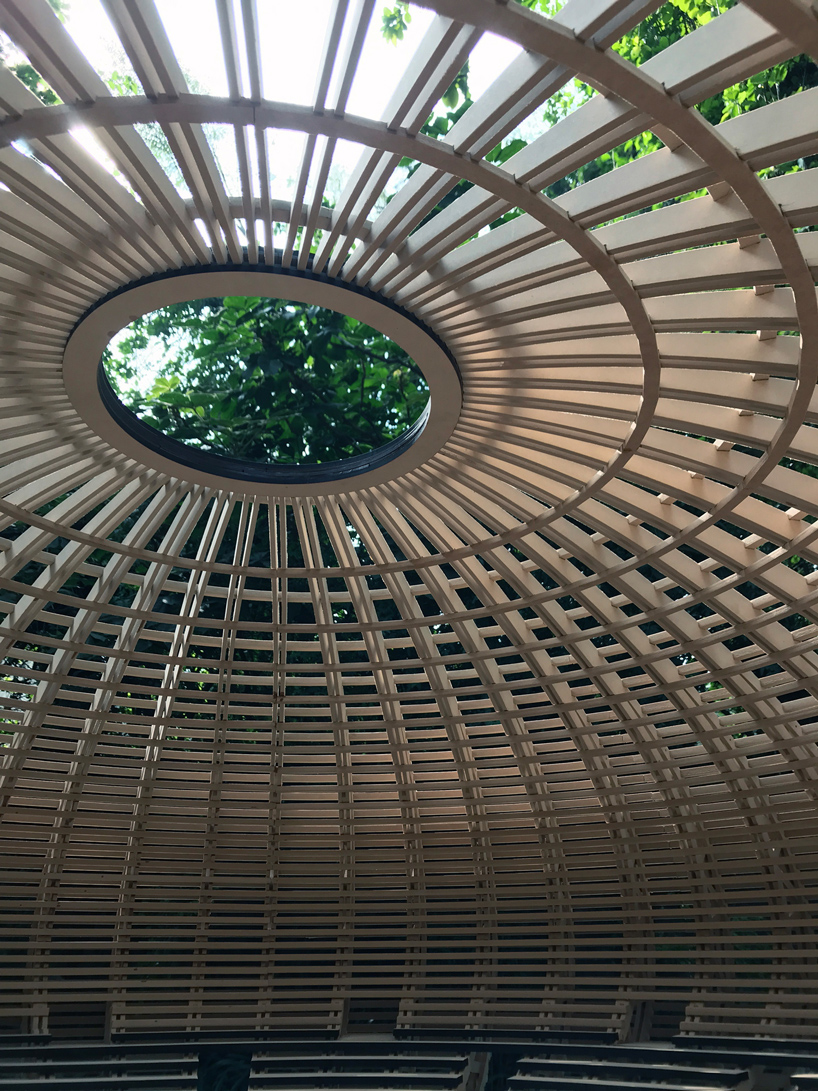 model image, courtesy of FR-EE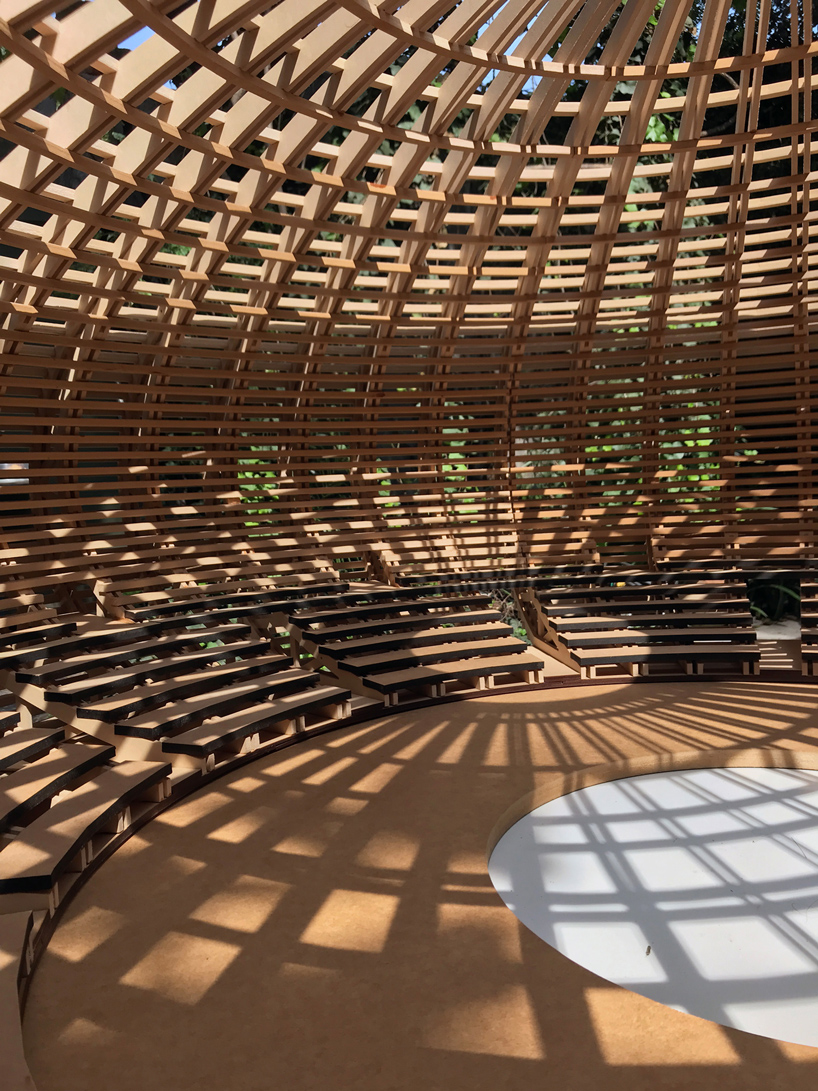 model image, courtesy of FR-EE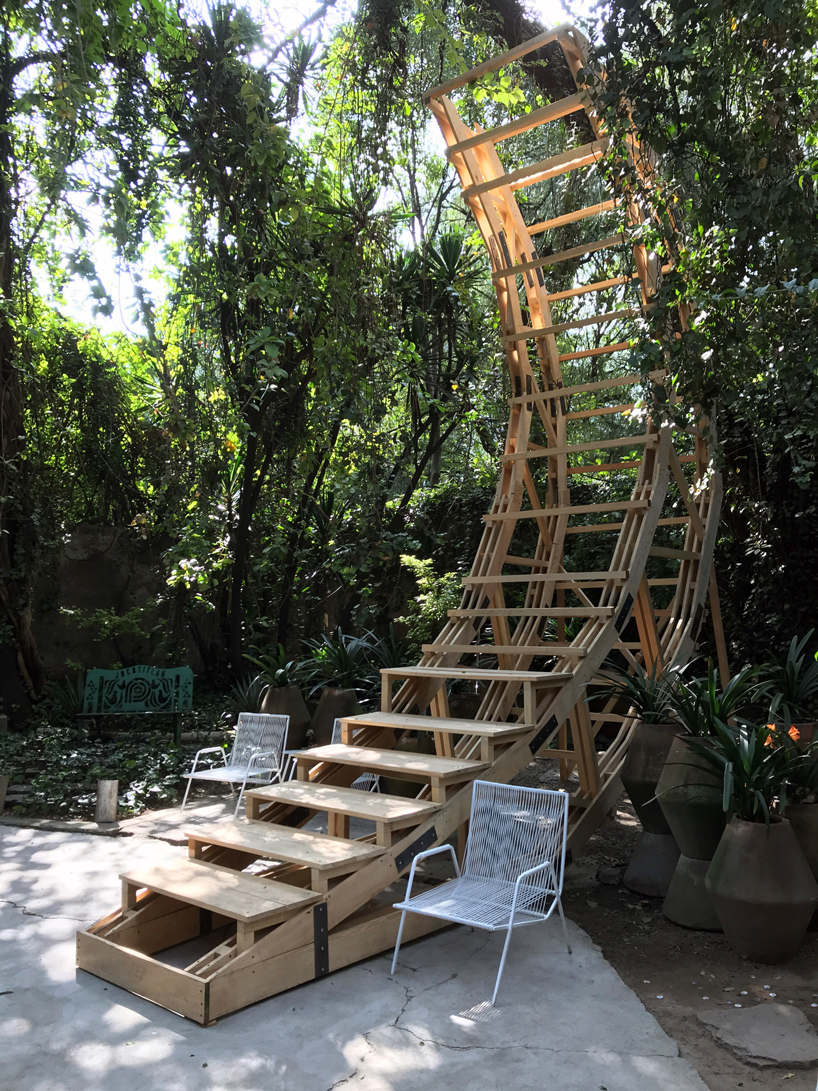 model image, courtesy of FR-EE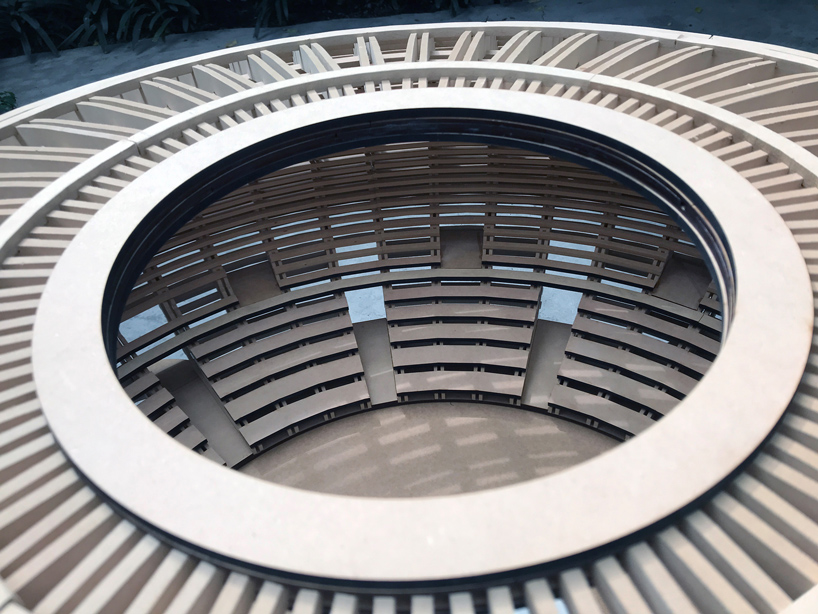 model image, courtesy of FR-EE
project info:
project title: holon temple
architecture: fernando romero enterprise (FR-EE) + planet collective (PC)
location: burning man, black rock city, nevada
status: in-development
design (FR-EE): fernando romero
project architect (FR-EE): romain thijsen
project coordination (FR-EE): liliana viveros, hugo vela, daniela gallo, nicholas dolan, jean-françois goyette
project team (FR-EE): germán sandoval garduño, pablo morales contreras, alejandro hernández morales, federico serna giraldo, libia castilla, adriana merchant, pierre tairouz
project support (FR-EE): aldo domínguez chávez, josé manuel soto álvarez, aníbal cárdenas escobar, edson rodríguez francisco, armando montiel camarena, jessica valdés huacuja, pamela hernández hernández, eduardo hernández morales
planet collective: james barlow, john spetrino, fernando romero, emma schwartz, jason sidelko, gerardo broissin, juan carlos quintero, oscar soto
media (FR-EE): oscar caballero, ariadna chavarria
media (PC): juan carlos quintero
structural engineer: broissinarchitects
structural optimization (PC): jason sidelko
on-playa construction lead (PC): john spetrino
fire performance design: FKB
burn liaison (PC): james barlow
renders: juan carlos ramos
apr 14, 2020
apr 14, 2020
mar 25, 2020
mar 25, 2020
oct 27, 2019
oct 27, 2019
sep 03, 2019
sep 03, 2019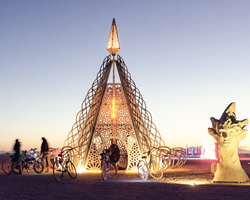 sep 02, 2019
sep 02, 2019
aug 27, 2019
aug 27, 2019
oct 29, 2018
oct 29, 2018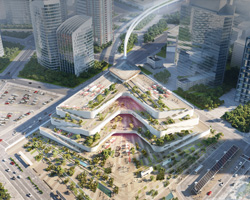 sep 18, 2017
sep 18, 2017
dec 23, 2016
dec 23, 2016
jul 22, 2020
jul 22, 2020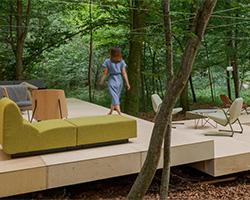 jun 29, 2020
jun 29, 2020
jun 05, 2020
jun 05, 2020
aug 06, 2020
aug 06, 2020
jul 30, 2020
jul 30, 2020
jul 25, 2020
jul 25, 2020
a diverse digital database that acts as a valuable guide in gaining insight and information about a product directly from the manufacturer, and serves as a rich reference point in developing a project or scheme.