architect francis kéré was born in the small west african town of gando in burkina faso. after being awarded a scholarship to apprentice in germany, kéré went on to earn a university degree in architecture and engineering. in 2001, he was awarded the aga khan award for his design of the gando primary school, a project realized with the help of the kéré foundation — a organization set up to help improve the lives of people in west africa. today, francis kéré is regarded as one of global architecture's most influential figures. in addition to his work in burkina faso, he has projects underway in three other continents, and has designed this year's serpentine pavilion.
at milano arch week — where francis kéré was speaking as part of a seven day program of events, activities, and lectures — designboom met with the architect, who discussed his approach to teaching, his views on the state of architecture in burkina faso, and his insight into socially conscious design. read the interview in full below, and see milano arch week's full program of events here.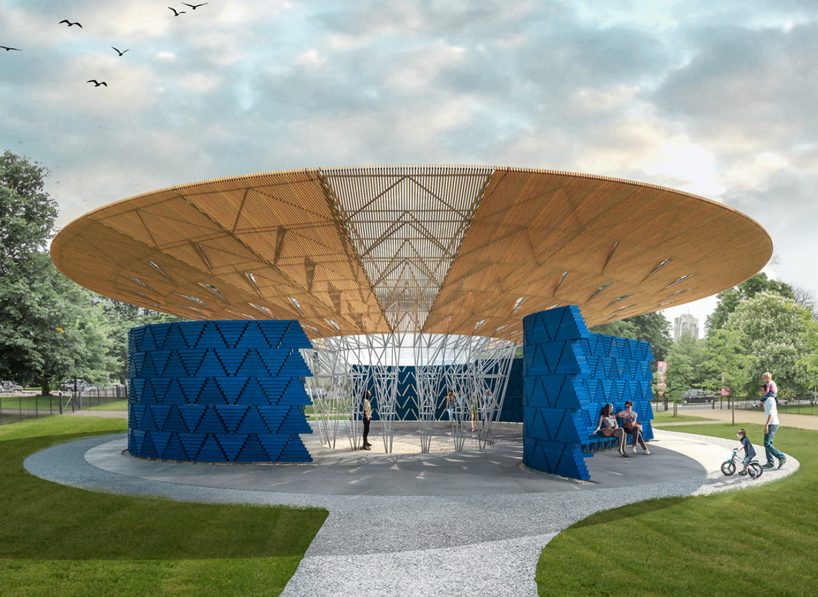 serpentine pavilion 2017 / see more of the project on designboom here
image © kéré architecture
designboom (DB): having been a professor at the technical university of berlin, harvard university, and university of wisconsin, what are your views on how architecture is being taught? what is your personal approach?
francis kéré (FK): I would say my approach is very simple: to get the student to learn how to connect the teaching, the thinking, and the making. that's what I try to do. I try to bring them to reality. one thing that I often try to do is get the student involved in a real project, to learn about the process of making, even in terms of material approaches. this is very important to me. we design a lot and we do a lot of big mock-ups, just to get them to understand the reality of making. that is what I'm always trying to do. sometimes, I try to push them to be visionaries, to be strong in ideas — not to consider every idea as something that can be built, but to go behind the thinking and to foster the thinking. that is what teaching is about.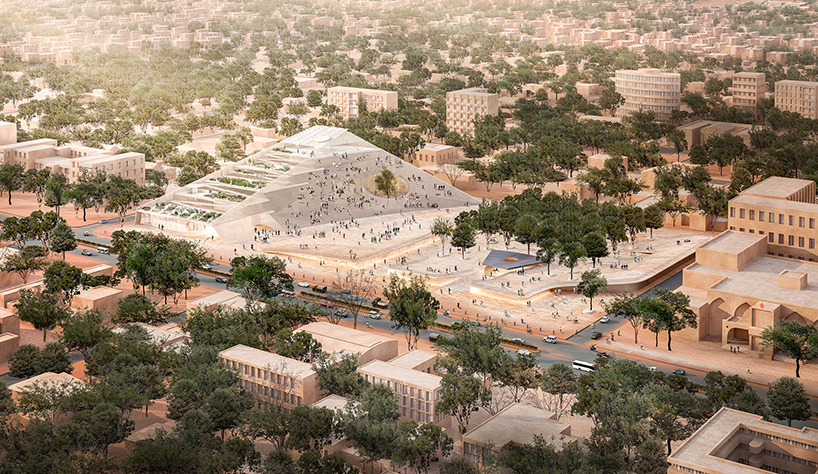 burkina faso national assembly and memorial park / see more of the project on designboom here
image © kéré architecture
DB: what's your view on burkina faso's local architecture? how do you see the development and future of your country in terms of architecture and design?
FK: it's the future, if we learn to say we are not forced to do what colonial times told us to do. some good structures we could keep, but just make them our own… if we learn a lot about this, I'm sure africa will have a great future.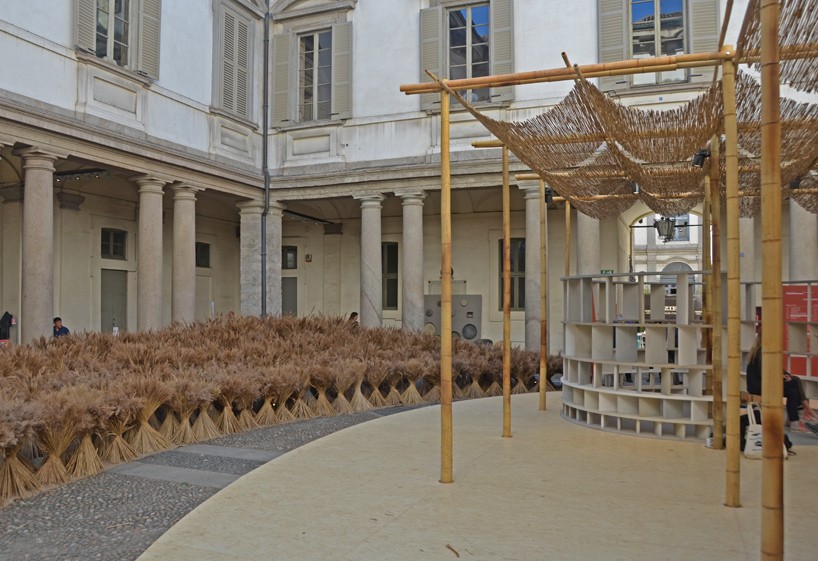 courtyard village / see more of the project on designboom here
image © designboom
DB: you have a lot of insight into socially conscious design — how can you share this point of view with your fellow architects in burkina faso. do they think like you do, or do they prefer commercial projects that use materials like glass and concrete?
FK: I think both are part of architecture. for sure, we will have to use concrete and glass — they are elements of architecture. depending on what kind of project, you might be forced to use it. it's just part of the project. I think the profession teaches you how to use both. I was lucky enough to be able to highlight and create awareness for social projects, but it doesn't mean that all projects should be that way. commercial projects are needed. if we need a hotel, it's up to us how to put good ideas inside hotels — that's what makes the difference. all architects in africa, and in burkina faso, have access to information. they are improving their way of making things and seeing things. there is a movement and it's going to be great for the future.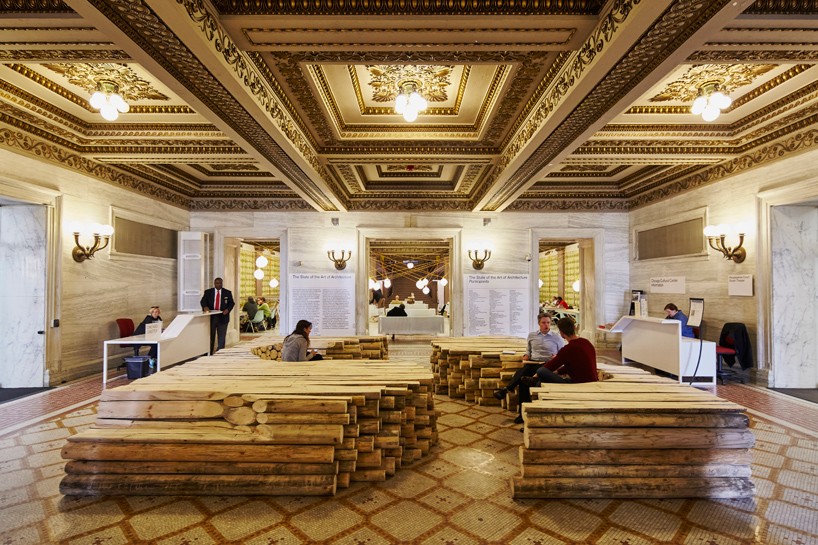 chicago biennale I / see more of the project on designboom here
image by tom harris / © hedrich blessing
DB: you mentioned that you worked with an artist for the opera village. do you see yourself working with more artists in the future?
FK: oh yes! I'm still working with a lot of artists. if people come and they're connected to art, I'm even more happy because you're going to learn and discover a lot. we have some clients that are even artists themselve. it is really challenging, but also rich because you learn a lot — you learn two professions. artists who have a vision don't care about making a basement just to get the structure to work. artists with a vision see a big picture, and just go for it. we (architects) have to go in detail and try to fix things.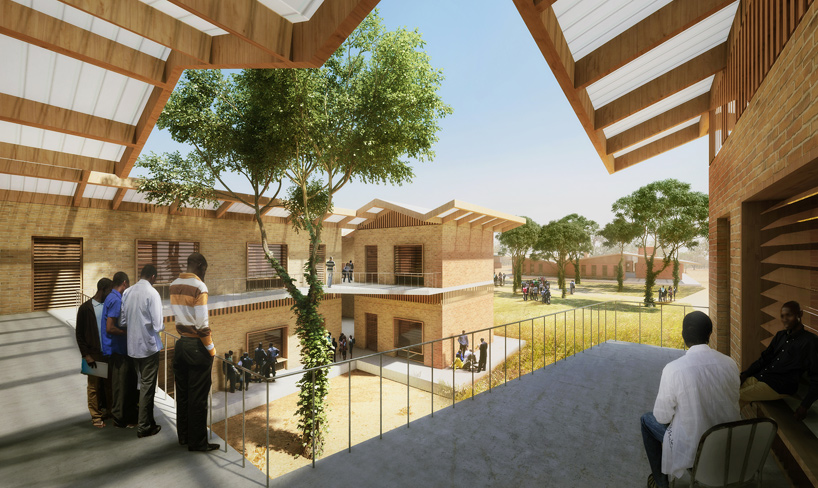 obama legacy campus / see more of the project on designboom here
image © kéré architecture
DB: do you face any particular challenges when working with artists?
FK: yes, but artists open your viewpoint. they foster your view to make you think forward so as to not get stuck. sometimes we're stick too to much detailing and forget the big picture. they inspire and create something that is new and fresh. we often forget that.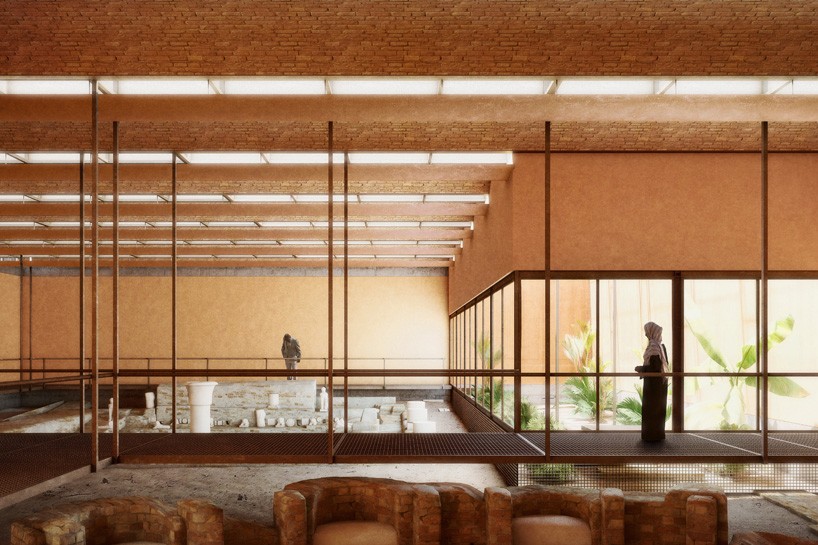 meroe royal baths protective shelter / see more of the project on designboom here
image © kéré architecture
DB: what is the response you want people to have towards your projects?
FK: in africa, to say that the profession of architecture can't be learned isn't correct — it's not just some exclusive club. if you have access to architecture you can learn, you can study, and you can do similar things to what I'm doing, or even better. that is a mission I want people to discover. it's not just for a few very privileged people. at the same time, I want people to be naive and say, 'lets do it like he did. he started very naive and he was able to create a structure for his people, and now it helped him in his career.' just be naive, explore, and do things differently.

camper pop-up shop / see more of the project on designboom here
image © eduardo perez
DB: during your academic career, was there anybody of influence that led you towards the mindset that you have today?
FK: of course. I had a great teacher, professor peter herrle, he was great! he was my teacher and I graduated with him. he understood the idea that I had, and pushed me to consider these ideas as a potential contribution to architecture. the rest, I learned myself. the choices of material just happened in the most natural way for me — to just use the most available things to create. I didn't have a lot of money and the material was there. it is the tradition of burkina faso to deal with nature, and I just introduced that to my profession.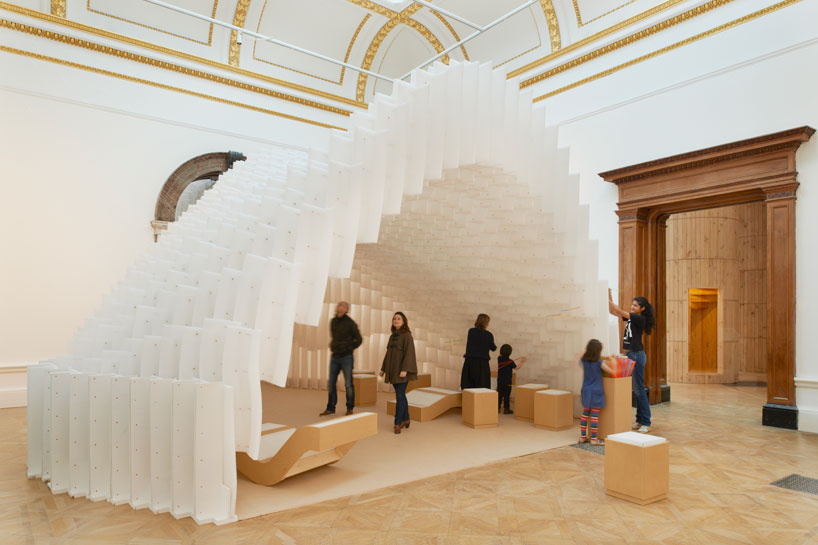 RA sensing spaces pavilion / see more of the project on designboom here
image by james harris / © royal academy of arts, london, 2014
DB: now that you build in both burkina faso and outside of africa, do you address projects in the same manner?
FK: to create great spaces for people to come together and enjoy life is universal. it transcends time, place, and location. if you have to deal with specific climates and economies, that is much more delicate. the thing is, you have to just connect it and see what is possible in the given climate. what can I do in this specific place to create this space for people?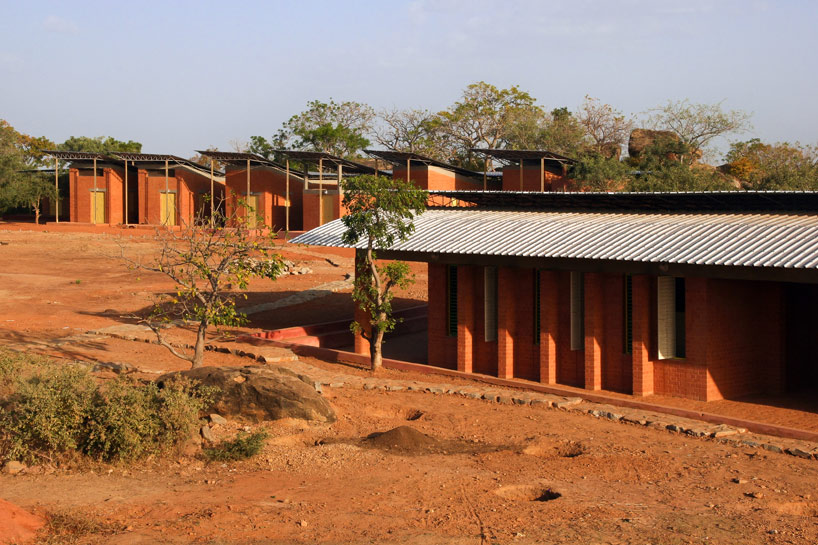 opera village / see more of the project on designboom here
image © kéré architecture / operndorf afrika
DB: in what ways would you recommend developing countries with no public space address the issue?
FK: we human beings need space. we also need resources, such as water, energy, and public space. I think those architects that will, in the future, be able to use these in a harmonious way to create space will have the most success — there is no time to wait. we have to just fight and address these issues, and then we will be much more successful. forget those who just want to build skyscrapers, they will be forced to open their skyscrapers. there are some good examples where the public level, the ground level, is always open to the public. this is what we have to do, we have to think about the position of the human being and their needs. you have to link resources and space and use this in the best way. that is what I recommend to everyone. to try to push — in the future, you will be successful.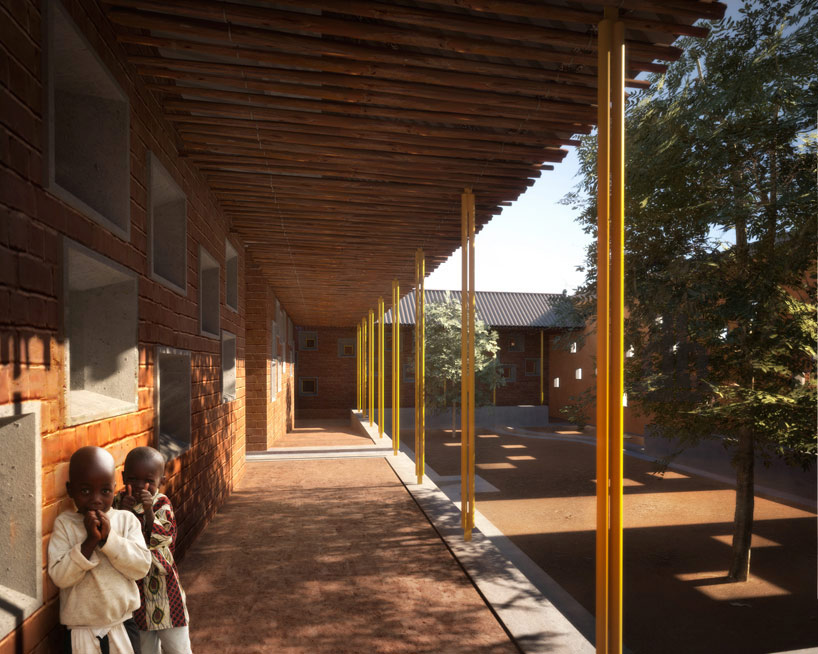 centre de santé et de promotion sociale / see more of the project on designboom here
image © kéré architecture
DB: what are some projects you are currently working on?
FK: I have a lot of ongoing projects in burkina faso, from huge clinic centers to orphanages, as well as many schools, housing, the parliament house, some cultural centers — all across africa now. here, I'm involved in some really important competitions where we are on the last round with very exclusive offices, so we're working. I just keep pushing. I'm confident for the future.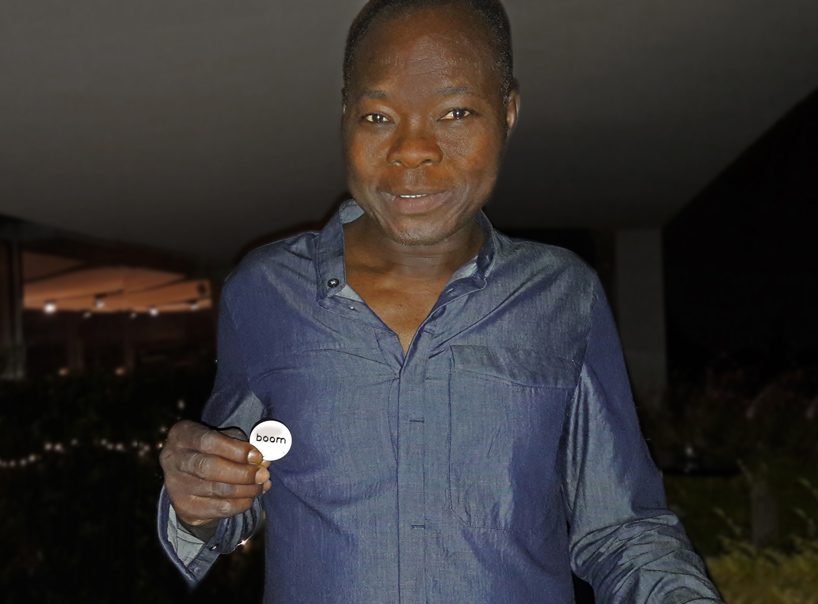 portrait of the architect at milano arch week
image © designboom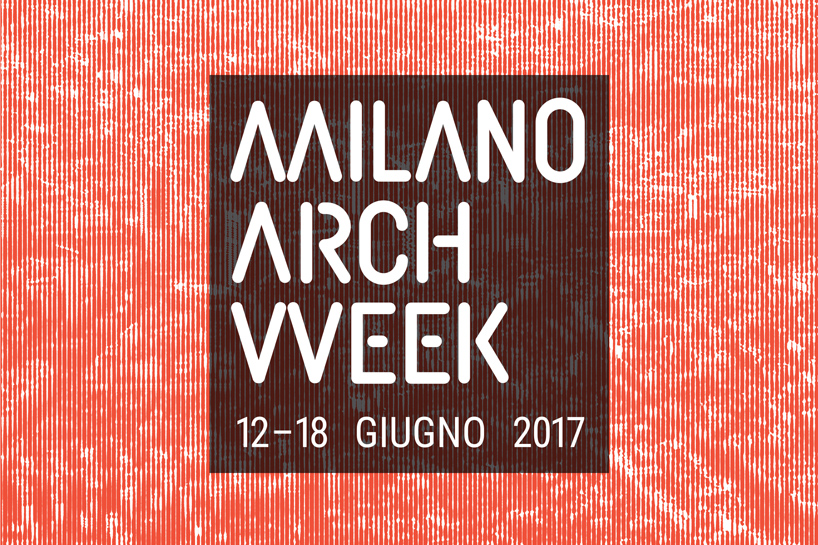 the inaugural milano arch week — from june 12-18, 2017 — is a seven day platform dedicated to exploring the 'future of architecture and cities'. curated by architect stefano boeri, the program includes a wide range of activities, events, and discussions hosted by the city, alongside la triennale di milano and politecnico di milano. the event unites a number of internationally acclaimed names — such as peter eisenman, francis kéré, and elizabeth diller — with globally established italian creatives such as benedetta tagliabue, michele de lucchi, and carlo ratti. attention is also given to the relationship between architecture and other arts, including cinema, photography, and music.
Save
Save
Save
Save
Save
Save
Save
Save
Save
Save
Save
Save
philip stevens
I designboom
jun 16, 2017
KEEP UP WITH OUR DAILY AND WEEKLY NEWSLETTERS
a diverse digital database that acts as a valuable guide in gaining insight and information about a product directly from the manufacturer, and serves as a rich reference point in developing a project or scheme.
designboom will always be there for you
milan, new york, beijing, tokyo

,
since 1999