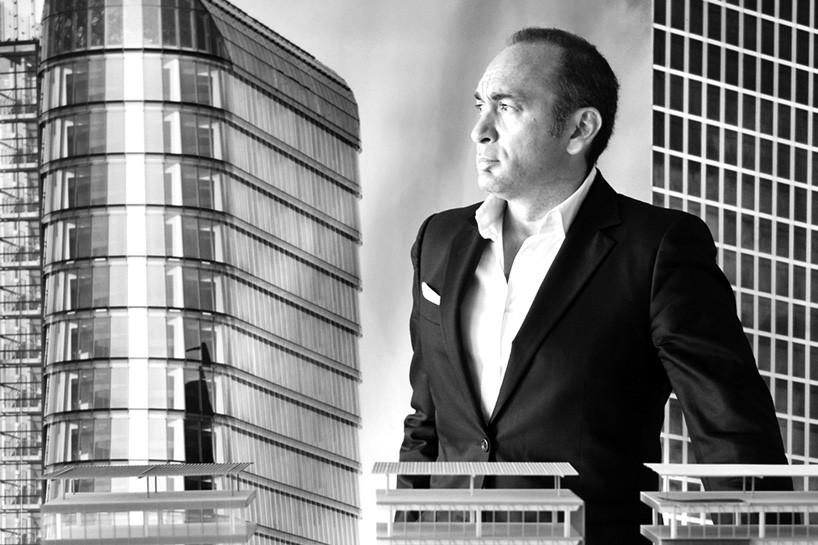 francisco gonzález-pulido is a mexican architect based in chicago. he is currently the director of JAHN, the architectural firm founded by the acclaimed german architect helmut jahn. gonzález-pulido seeks to approach each project with the belief that architectural and engineering ideas and principles are equal in challenging, and ultimately transforming, a place or an experience. in this in-depth interview given to designboom español, gonzález-pulido talks about his current projects, his strongest architectural influences and his first orchid garden in mexico.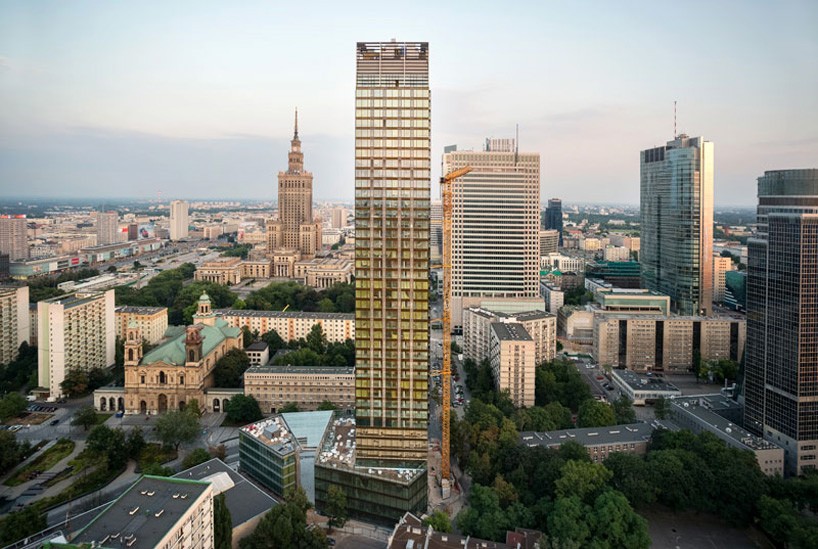 the cosmopolitan twarda in warsaw
see more of this project on designboom here
designboom: francisco, you are an international architect with projects all over the world, can you tell us about any of your recent projects?
francisco gonzález-pulido: the first thing that I would like to mention is a little pavilion in the oaxaca ethno-botanic garden. each side is about 36 feet (11 meters), so it is significantly small in size. its maximum height is only 18 feet (5.5 meters), keeping the adjacent santo domingo church's image from the street intact. it is an 'orchid greenhouse' — a machine for growing orchids.
the project started obliquely: it developed as an invitation from the artist luis zárate, and the most important contemporary art gallerist in oaxaca, manuel garcía. it took time to get the money: a twelve year period. for this, the whole credit goes to alejandro de ávila, the garden director and an extraordinary man.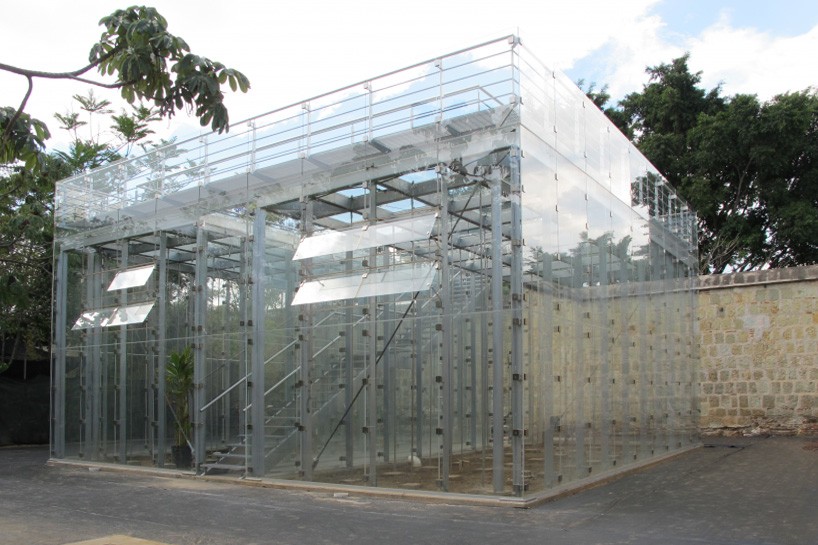 the 'orchid greenhouse' in the oaxaca ethno botanic garden
in terms of the manufacturing processes and the sustainable systems, the concept is unique in mexico. this 'geothermy' is unique in the country, a concept that allows the elimination of systems of air conditioning to regulate the chamber's temperature. the central part of the building has a water catchment stock, so upon reusing it the chambers will be nebulized. the little energy that is used in this process is provided by solar panels.
the workforce is completely local, we hire only oaxaca inhabitants. for example, it was a blacksmith who worked on the steel, not a specialist. also, the crystal ironwork supporting the vertical panels is a compressed design that hasn't been used in mexico yet. alejandro de ávila and his team are working on the landscaping to integrate it with the rest of the garden, as it is located at the northwest corner of the property.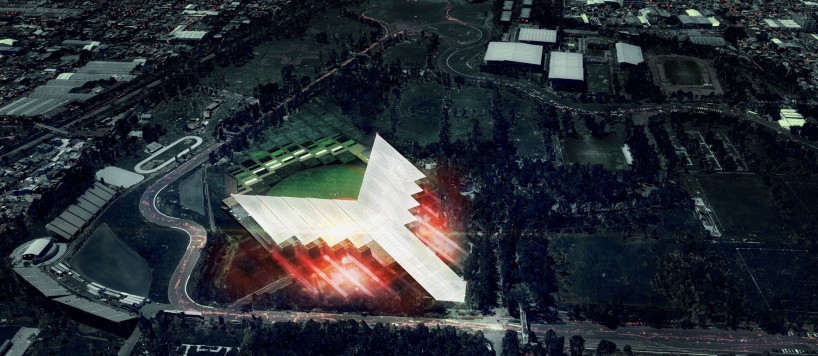 the new diablos rojos baseball stadium
DB: the businessman alfredo harp is a tireless fighter for oaxaca. you are going to build the new stadium of his baseball team in mexico city. did your contact come because of this project?
FGP: the contact came rather during the recent contest for the design of the new international airport for mexico city. I was invited by alonso de garay. harp was working with an international studio with large experience in typology, but apparently he wasn't very convinced with the results. thanks to alonso, last november we could present him with a different proposal that received not only his own approval but even his wife's, isabel. our differentiating factor was the building's perfect integration to its context.
for them, the surroundings are as important or even more important that the work itself. the key factor was how to integrate the perimeter. my central idea was to destroy the typology of the typical american stadium: I wanted to make an open, porous, urban building, not a parking lot with a stadium in the middle. at the moment, this is our most important project in the latin american market.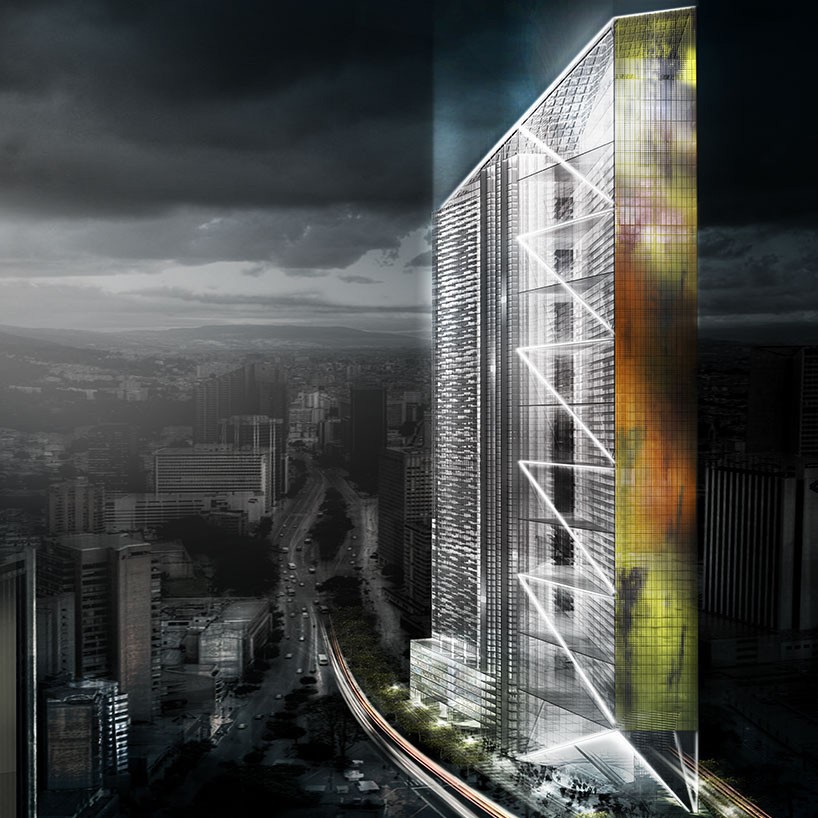 the 1300 feet tall tower in bogotá, colombia
in colombia I proposed a tower for bogotá with a total height exceeding 1,300 feet (400 meters). for this contest, we were invited alongside three other studios: foster + partners, césar pelli and arquitectonica. we are still waiting for the jury's outcome.
in spain I am very busy with three projects. in santander, I am masterplanning an area of land measuring almost one million square meters (more than 10,700,000 square feet) which will be developed over the next fifteen years. it belongs to a mexican visionary and a good friend of mine, francisco garcía díaz. in addition to making it sustainable, he places a great emphasis on alternative mobility.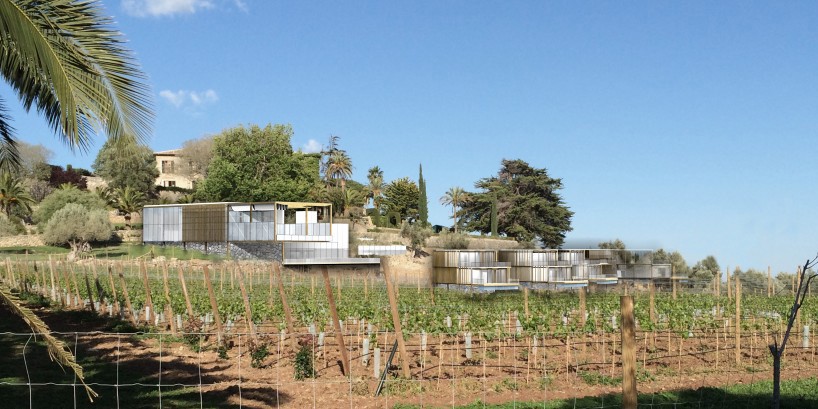 the boutique hotel's crystal boxes in palma de mallorca
in the same city I have planned together with my wife, who is also an architect, a multigenerational and super adaptable six-level housing complex. the third project is on palma de mallorca. the property was formerly a vacation country house that had been recently transformed into a boutique hotel. now we are going to extend it further. the distinctive thing about the scheme is that there are six glass boxes enclosed within the hillside of the original property.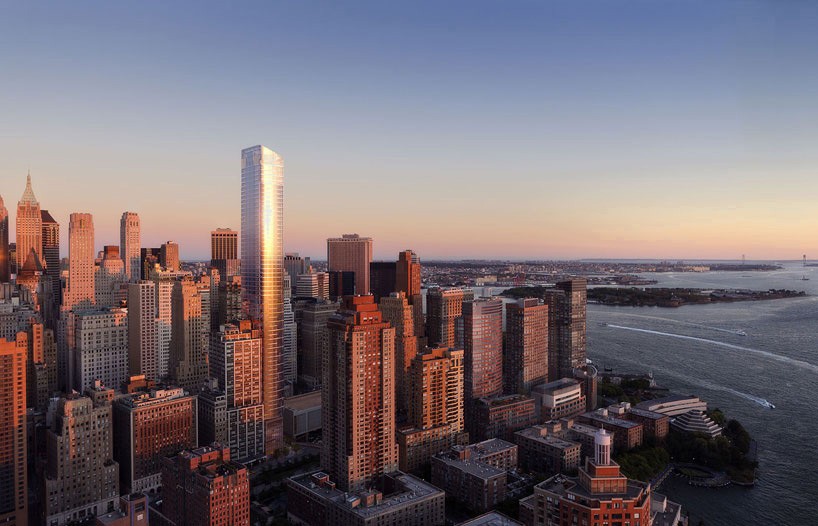 50 west tower in new york by JAHN
see more of this project on designboom here
DB: how do you feel about the impact that technology is having within the field of design?
FGP: when I began my professional career in 1992, we worked manually. there wasn't big technology, nor internet or computers with today's creative tools. today's technology has an immense potential. what we see now is a little bit of what is waiting for us in the next decades. right now we are designing buildings that we couldn't even draw 25 years ago. the progress is enormous. 3D printing will allow us more congruent designs. for example, during the last decade architects have put a lot of emphasis on the image of things, and with odd exceptions, the majority are very illogical projects. the exteriors present double curvatures and pretentious covers, but the interiors are built like a simple balloon frame.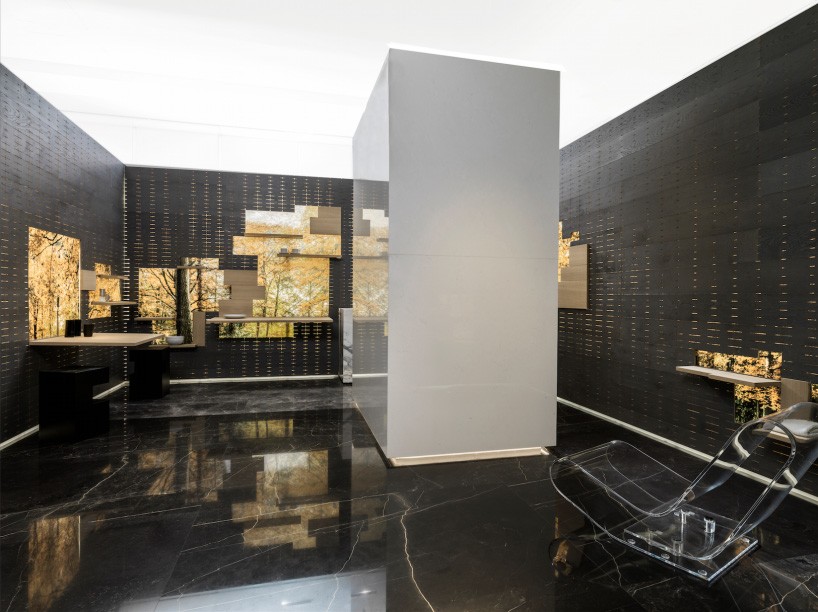 spacecraft, francisco gonzález-pulido's proposal for porcelanosa | espacios de autor 2015
the new technology will allow us tremendous possibilities. for instance, I completed a small intervention in spain for espacios de autor, by porcelanosa. the challenge was how to think differently in the use of space, and how to apply digital tools to rebuild the future space. the focus of the proposal was this: we don't use the same amount of space in the same hours. so, how do you make an adaptable habitable space in 269 square feet (25 square meters)? this was the materialization of a theory about elastic space that I have been pushing since the mid-90s and which had had not found resonance, because society hadn't thought in that way yet; but now everything has changed.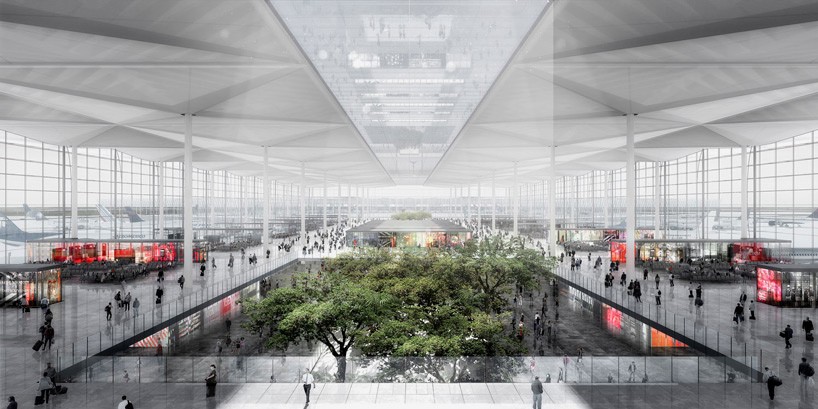 JAHN's proposal for new mexico city airport competition
see more of the project on designboom here
DB: could it be said that you are the most known mexican architect outside of mexico and the most unknown inside the country?
FGP: it could be. when the winner of the contest for designing the new terminal 2 of the international benito juárez airport in mexico city was announced, it was very hard to accept second place. at that time, things in mexico were made in another way. our proposal was going towards sustainability from a very particular angle. we proposed something fantastic: a light and super adaptable building which could be recycled, assembled and disassembled if necessary. we made a detailed memoir with all the studies about traffic, luggage, platform, flow, etc. back then, the media published something about my work, but definitely the new baseball park for the diablos rojos has received a bigger reception by the national public.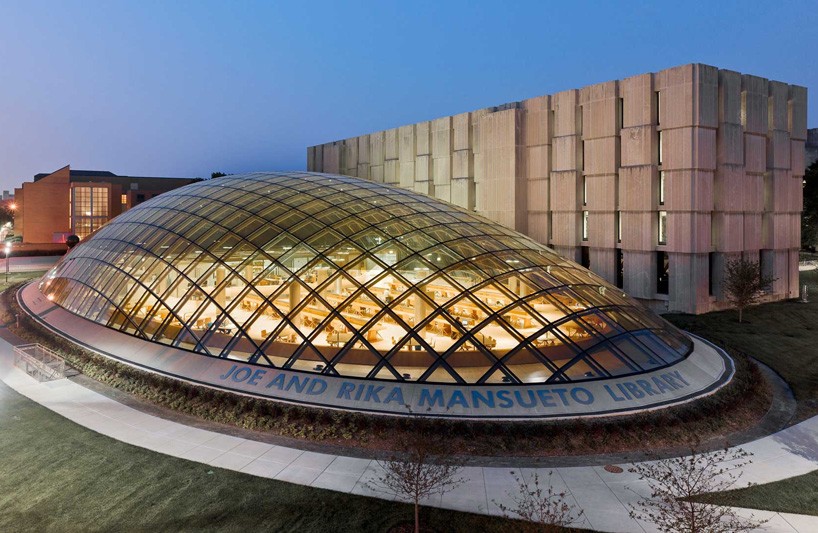 the joe and rika mansueto library at the university of chicago
DB: which are your most important influences outside architecture?
FGP: no doubt about it: movies, music and literature. I am a lone musician, I play the drums and the bass, and I have always been seduced by the idea of stepping into the world of rock… although in my job I do not receive as much influence from music as I do from movies. however, I do not believe in sudden strokes of inspiration. it is all about working. films nourish a lot, images fill my job. I am very interested in the work of alejandro jodorowsky, eliseo subiela, andréi tartovski and berando bertolucci.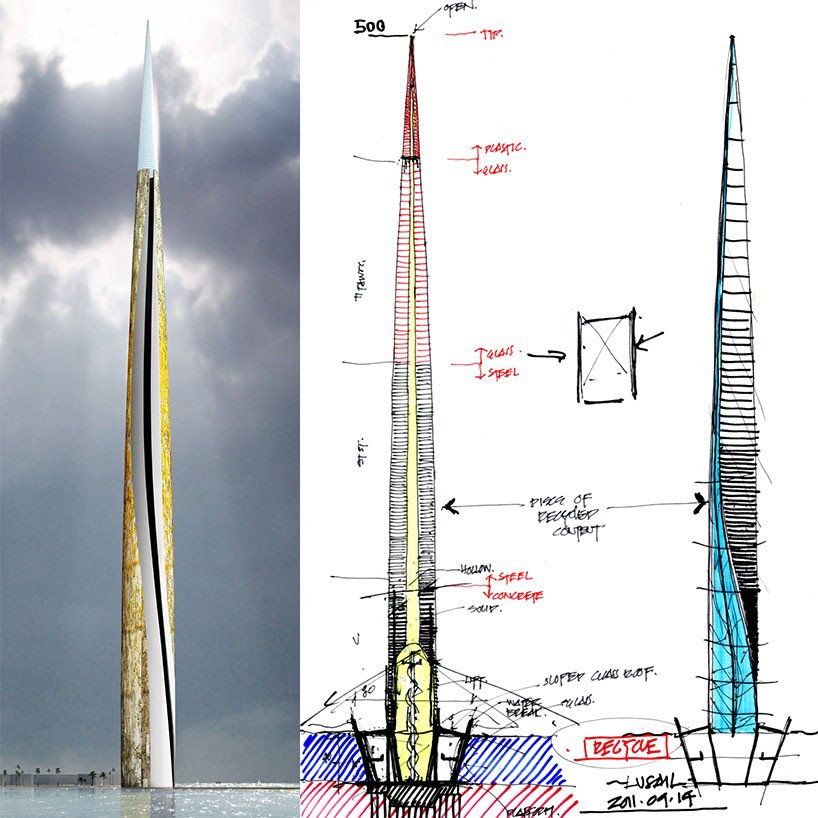 tower for lusail, qatar, inspired by the movie 'gomorrah'
there is a movie, 'gomorrah', which thanks to its pop music and crude images, served as an inspiration for a project we developed in middle east. I also get nourished from images of poetry, like espantapájaros, of oliverio girondo, or the work of felisberto hernández. poetry offers me images, which are essential to humanize my work. they have a human side, they help to understand how people interact and how they penetrate those spaces.
my first reference perhaps came from a very loved cousin, a student of philosophy, who gave me italo calvino and michael ende to read. back then, I understood that I had to think in terms of flows and sequences, I witnessed how literature gets to describe spaces with words, something that architects not always achieve.
— – —
click here to see the original interview on designboom español, designboom's spanish speaking sister site.
philip stevens
I designboom
jul 12, 2015
a diverse digital database that acts as a valuable guide in gaining insight and information about a product directly from the manufacturer, and serves as a rich reference point in developing a project or scheme.
designboom will always be there for you
milan, new york, beijing, tokyo

,
since 1999