jan 27, 2011
frank gehry: new world center
the 'new world center' by frank gehry in downtown miami, florida all images courtesy gehry partners image © claudia uribe
'new world center' designed by internationally recognized architect frank gehry hosted its inaugural concert yesterday, welcoming for the first time visitors to its 756-seat performance hall since ground broke on the design in january 2008. located in miami beach's new city center, the building will serve as the new world symphony's campus, dedicated to the artistic development and education of the next generation of classical musicians. the design is gehry's first commission in florida and is one of a three-part city redevelopment project.
glass curtain wall image © claudia uribe
defining the east facade is an expansive 80-foot high glass curtain wall that offers absolute transparency into the main atrium space. containing no iron content, the glass seemingly disappears when lit from behind. the open interface also allows the building and its inhabitants to be visually connected to the 2.5-acre 'miami beach soundscape' park outside, designed by dutch landscape architects west 8. the main entrance, also on the east side, features a white and organic canopy that extends out over the 'mary and howard frank plaza'. a 7,000 square foot projection wall provides a surface for outdoor movie screenings and projections.
view into the main atrium image © claudia uribe
naturally lit by the glass-front and skylight, the open atrium serves as a dynamic entry point into the building. to present the interior architecture as a performance in and of itself, large geometric forms are seemingly stacked on top of one another over the six-storey space. dramatically lit by 44 programmable, multi-directional colored lights, the tumbling figures can be observed from outside, giving the center an identifiable face and presence.
sun shade on north facade image © tomas loewy
main atrium image © claudia uribe
stair forms image © claudia uribe
(left) open sky light image © todd eberle (right) staircase image © claudia uribe
box office and entrance image © claudia uribe
from the atrium, the performance hall can be entered through two serpentine corridors that subtly narrow then widen for a striking 360-degree reveal. the flexible organization allows for fourteen different configurations for a specific performance experience. spanning the top half of the performance space are large, curvilinear acoustic sails that double as projection surfaces. natural light is permitted through an overhead skylight and a panoramic window behind the stage.
performance hall image © claudia uribe
the new world symphony performing the world premiere of 'polaris: voyage for orchestra' on the night of the inaugural concert (music by thomas adès and film by tal rosner) image © rui dias-adios
outside the center on opening night
in urban context image © claudia uribe
architect frank gehry with founder and artistic director of the new world symphony, michael tilson thomas
project info:
design partner: frank gehry project designer: craig webb managing partner: terry bell project architect: brad winkeljohn project manager: kristin ragins project team: curtis christensen, dan sokolosky, molly forr, lisa cage, shikha doogar, petar vrcibradic, leon cheng, vartan chalikian, armando solano, luciana vidal, rolando mendoza acoustician: nagata acoustics america, inc acoustical team: dr. yasuhisa toyota, motoo komoda, kayo kallas, daniel beckmann, robert mahoney structural engineering: gilsanz, murray, steficek, LLP MEP-FP engineering: cosentini & associates theater consultant: theatre projects consultants lighting designer: LAM partners, inc. sound & projection consultants: acoustic dimensions, sonitus, LLC landscape architect: raymond jungles associates civil engineer: kimley horn and associates, inc. construction manager: hines performance hall seating: poltrona frau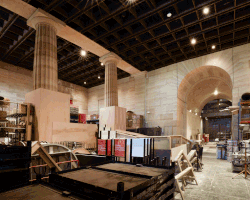 sep 29, 2017
sep 29, 2017
aug 09, 2017
aug 09, 2017
mar 31, 2017
mar 31, 2017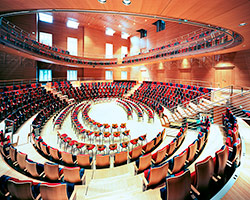 mar 11, 2017
mar 11, 2017
sep 21, 2016
sep 21, 2016
oct 24, 2015
oct 24, 2015