in 1940, frank lloyd wright established a foundation to — in his own words — 'make life more beautiful, the world a better one for living in, and to give reason, rhyme, and meaning to life.' for the past eight decades, the frank lloyd wright foundation has continued with the mission of inspiring people to discover and embrace an architecture for better living through meaningful connections to nature, the arts, and each other. as with many organizations, 2020 was a difficult year for the foundation with its tours, performances, and lectures cancelled and much of its programming moved online.
to learn more about the foundation, and its plans for 2021 and beyond, designboom spoke with its president and CEO stuart graff. in the interview, which can be read in full below, graff discusses what he and his team learned from a challenging 12 months and the significance of having eight frank lloyd wright sites inscribed on the UNESCO world heritage list.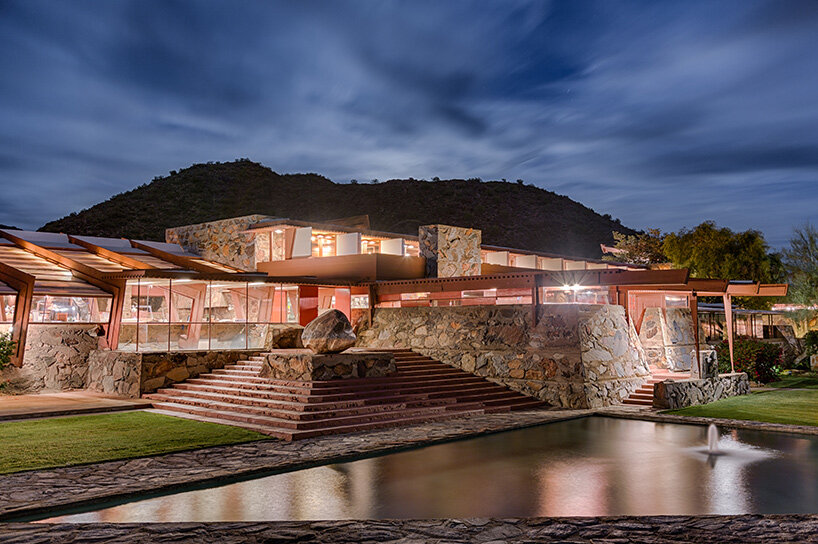 taliesin west, arizona | image by andrew pielage, courtesy of the frank lloyd wright foundation
designboom (DB): can you start by briefly explaining the role of the frank lloyd wright foundation, and what your position as president and CEO entails?
stuart graff (SG): the frank lloyd wright foundation was formed by frank lloyd wright in 1940 to perpetuate his architectural ideas, known as organic architecture, 'to make life more beautiful, the world a better one for living in, and to give reason, rhyme, and meaning to life.' wright endowed the foundation with the two places that operated as his homes and studios — taliesin (WI) and taliesin west (AZ). we use the two campuses as places for inspiration and ideation that propel our mission: inspiring people to discover and embrace an architecture for better living through meaningful connections to nature, the arts, and each other.
as president and CEO of the foundation, my work is to assemble a team of people to carry out that vision through programs that impact the communities in which we do our work, and to impact the architecture and design professions through wright's ideas. the team that I mention consists not only our staff, but also donors, collaboration partners, and audience members — all working together toward wright's shared vision of a better way for us to build and live.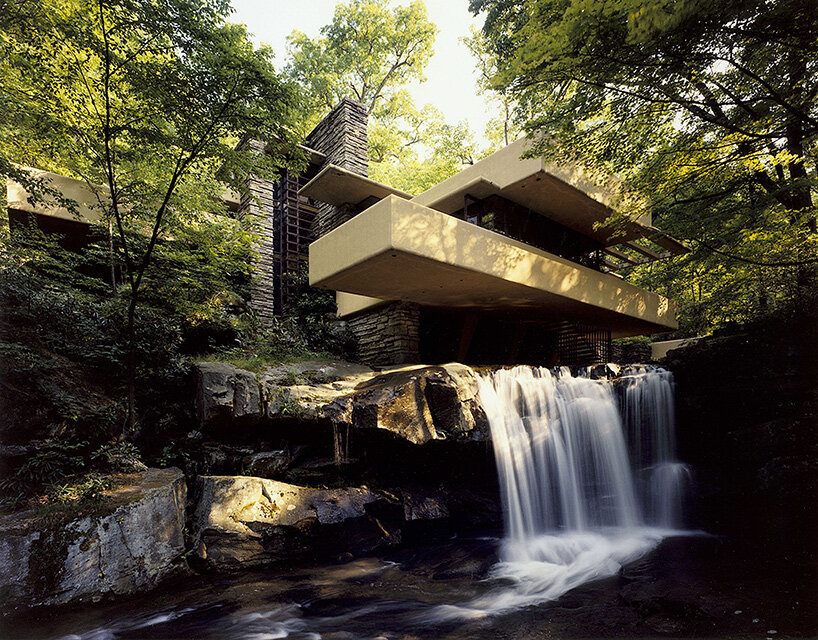 fallingwater, pennsylvania | image courtesy of the western pennsylvania conservancy
DB: how has the foundation been impacted by the pandemic? has it given you opportunities to try things you wouldn't normally have tried?
SG: in march of 2020, we had to close our campus-based operations (such as tours, performances, and lectures), resulting in millions of dollars of lost revenue and staff cut-backs, both temporary and permanent. at the same time, however, our brilliant team saw opportunities to serve at a time when so many needed help. so we shifted our K-12 and other youth programs from campus-based to online, and as a result we provided support to young people, families, and teachers. we also shifted other programs online to provide instructive and entertaining programs to people who were unable to visit the campuses while they were closed. all of this work engaged people from around the world in an way that was pleasing and unexpected — so we began to think about the transformation from being place-based in our work to becoming more expansive.
we also used the time we were closed constructively, to make changes and improvements on the campuses. taliesin west is now more welcoming for people with mobility challenges than ever before. physical infrastructure improvements restored many of wright's original designs, which had been modified over the decades since his death. this work would have been much harder to do with thousands of visitors on the campus — so we were able to work more efficiently and effectively by not letting the crisis go to waste.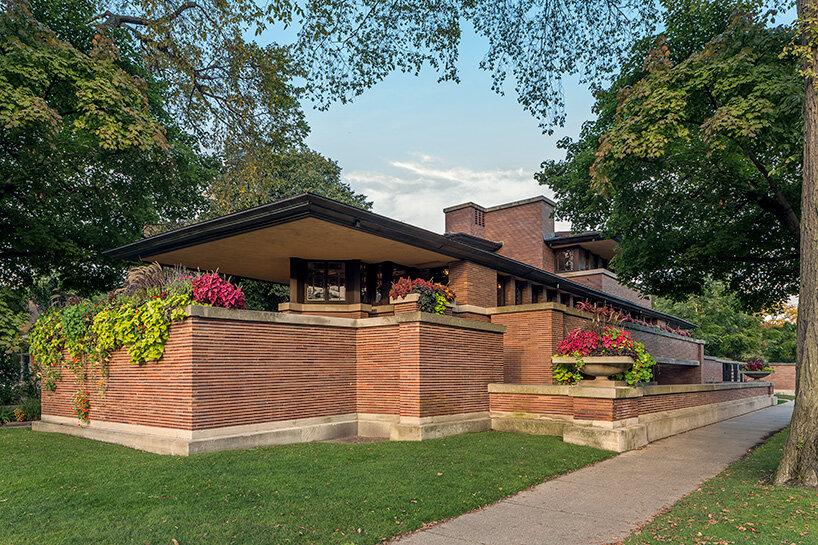 robie house, illinois | image by james caulfield, courtesy of frank lloyd wright trust
DB: in what ways have you been able to engage with the architecture community throughout the pandemic? how important have digital initiatives been?
SG: we used 2020 to begin planning work to explore new ways to activate our efforts to influence the design professions. because everyone was working remotely, the pandemic in some ways made it easier to connect with architecture schools and practitioners from all over the globe and build an understanding of the role that the Foundation and the two campuses can play in shaping the future of architecture. as all of us recover from the pandemic, we're starting to identify concrete programs and collaboration partners for these new programs — ranging from extended design studios taking place on our campuses, to intensive visitation-based programs where students from schools around the world will come to learn at the two taliesins. and we are even bringing back an active architecture practice to taliesin west so that professional design work is once more created in the place where so many architecturally important works were created by wright.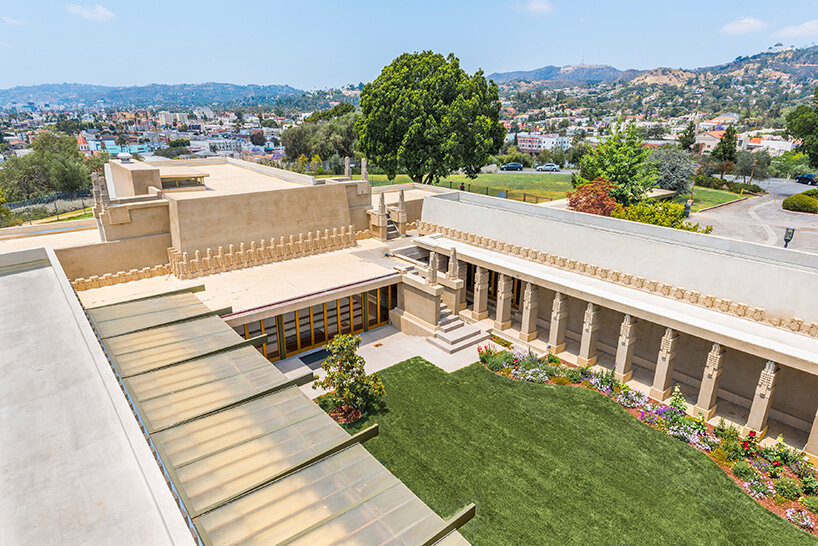 hollyhock house, california | image by joshua white
DB: in july 2019, eight frank lloyd wright sites were inscribed on the UNESCO world heritage list. how significant was that achievement, and what impact will it have moving forward?
SG: the inscription of wright's work on the world heritage list reflects on the relevance of his ideas — not only the pivotal role that he played in the development of global modernism, but also the influence that his work does and should have today as we think about building in a way that incorporates and honors the landscape rather than consuming it. as so many of us have been locked away in our homes, often in the middle of cities, the need for us to connect with nature has never been more evident. that's the heart of wright's approach — inspiration from and connection with nature — and through the research in biophilic design now shows us how vital it is for us to be a part of the natural landscape, and not merely in it. it makes our lives better in every way.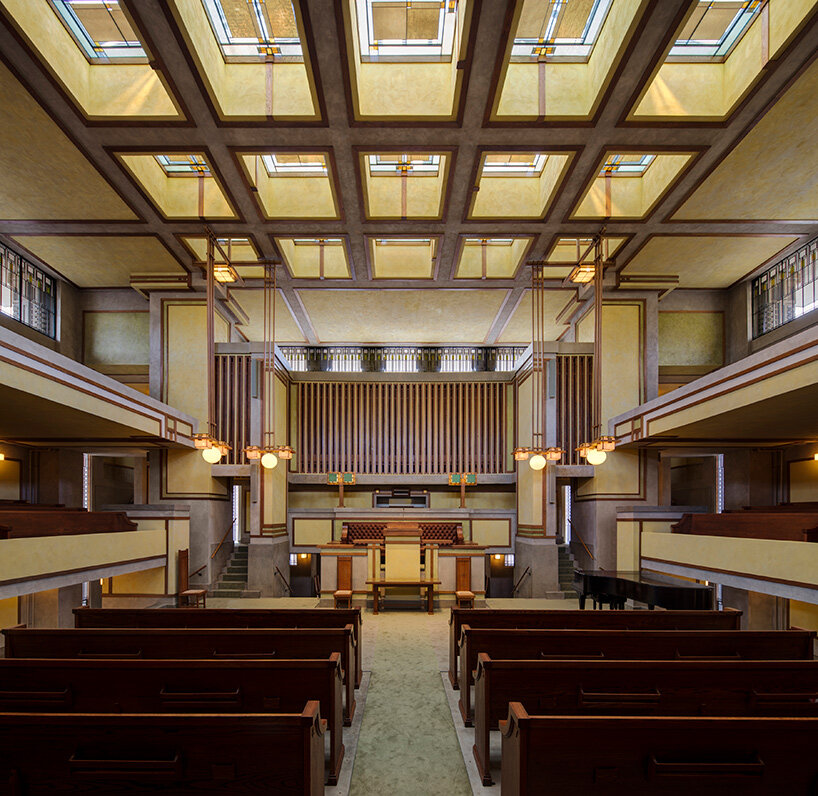 unity temple, illinois | image by tom rossiter, courtesy of harboe architects
DB: how important is a sense of collaboration among the more than 70 public frank lloyd wright sites? what can be done to develop these relationships further?
SG: one of the things we're most proud of this year is the collaborative effort of the wright sites — including even some not open to the public — to share resources and work together to bring the places through 'virtual visits.' we brought global audiences to dozens of wright's buildings, and because we were using cameras instead of footsteps, we were able to see things that one doesn't normally get to see on a visit. we were also able to show sites simultaneously — so that the audience could see how a single idea might be expressed differently through the use of materials or the relationship to the landscape. when you explore the whole body of wright's work, the ideas underlying that work take clearer form than they do when you see only one building.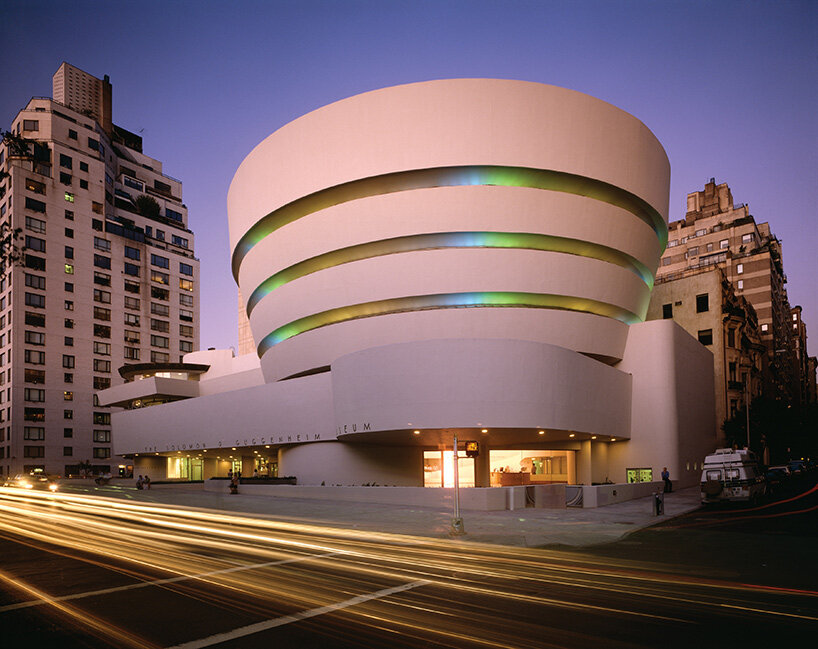 guggenheim museum, new york | image by david heald, courtesy of the solomon r. guggenheim foundation
DB: personally speaking, can you remember your first experience of frank lloyd wright's architecture?
SG: my first experience came on a school field trip in grade school — looking at the lobby of the rookery building in chicago that had been remodeled by wright (with subsequent remodeling by wright's associate, william drummond). that first impression created a lifelong passion for his work — but also for his story. wright's origins are humble, but his hard work, intelligence, and prodigious talent placed him at the top of his profession where (as reflected by the world heritage recognition) he changed the world. for a working class kid from chicago, that story was deeply motivating.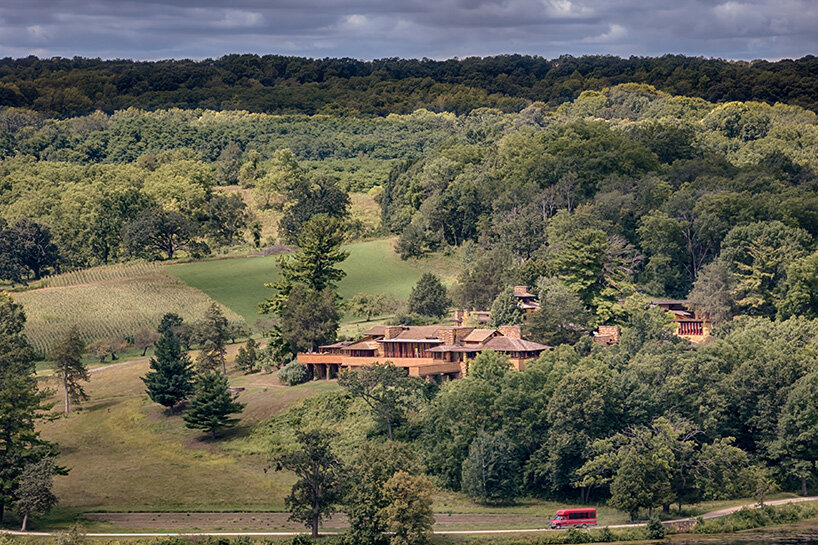 taliesin, wisconsin | image by andrew pielage
DB: do you have a favorite frank lloyd wright building? why does that particular project stand out to you?
SG: my favorite frank lloyd wright building is usually the one that I am in on any given day. but with travel being limited for the last year, the one that my mind keeps coming back to is taliesin in wisconsin. for me, his home represents the purest and most complete expression of his ideas of organic architecture, and the change of seasons in wisconsin, and the work of the farm there, reveal the living quality of those ideas like no other place. my heart and mind look forward to returning there soon.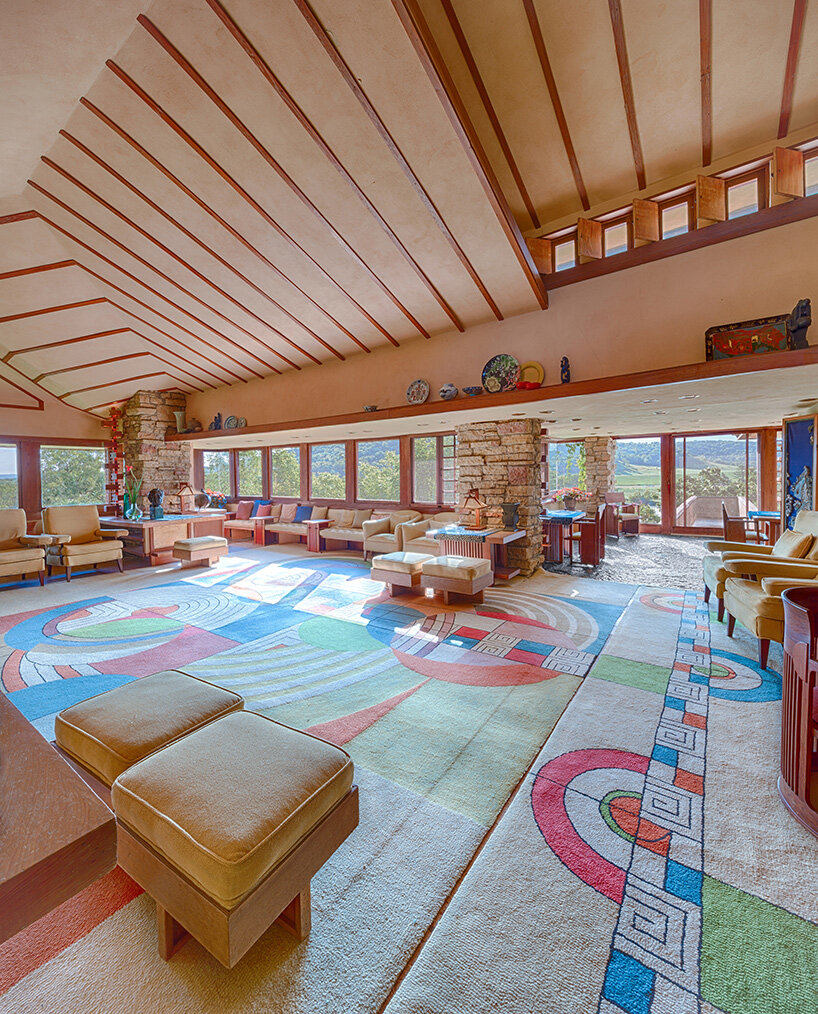 taliesin, wisconsin | image by andrew pielage
DB: what are your plans and hopes for the foundation for the rest of 2021 and beyond?
SG: in 2020, the foundation had an opportunity to look deeply into how we can impact the world for the better through our work. some of the resulting ideas are described above, but there's so much more. we've never wanted to be a museum of artifacts; we embrace the more contemporary vision of museums as places where the past and future come together in dialogue. we see history not has the story of the past, but as the continuous story that we are writing, that we are a part of, and we are developing new programs that engage the public and the professions to be a part of wright's story. we also see wright's work to build community around the idea of 'american' as being insufficiently inclusive, so we are working toward a path that truly realizes his ideals in a way that invites, and honors, the contributions and participation of everyone. in this way, wright's architecture of ideas can triumph so all of us can live better and with more beauty in our lives.

stuart graff, president and CEO of the frank lloyd wright foundation
philip stevens
I designboom
feb 25, 2021
a diverse digital database that acts as a valuable guide in gaining insight and information about a product directly from the manufacturer, and serves as a rich reference point in developing a project or scheme.
designboom will always be there for you
milan, new york, beijing, tokyo

,
since 1999