located on the foothills of the franklin mountains in texas, this expansive residence designed by tucson-based studio hazelbaker rush, seeks to be a sustainable and eco-friendly sanctuary for the family. rising 2,500 feet above the rio grande river valley, 'franklin mountain house' has adapted sympathetically to the site's undulating and steep topography with the three-storey home maintaining a direct connection to the outside at each level.

all images © casey dunn
a white lime stucco volume houses the bedrooms and private area of the family and rests on a stereotomic mass rendered in local basalt grey stone using the rubble wall style visible around town. hazelbaker rush established this juxtaposition in material to closely match the surrounding native environment, but at the same time allow the dwelling to stand out in its unique environment. the steep site visualizes as a series of terraces that complements the architecture and the calmness magnified by the succulents, cacti and colorful grasses existing.
inside, the utilitarian spaces are based on the first level with the entertaining functions of the living, kitchen, and dining on the second. the more private bedroom and family play areas on the third level and the material expression directly relating to the vernacular craft of el paso. stone masonry, smooth troweled stucco, steel work links to the railroad, and leather goods taken from the cowboy heritage of the city.

a white lime stucco volume houses the  bedrooms and private area of the family

the bedroom opens up to the unique desert lanscape

natural, honest, and conventional materials have been used in slightly unconventional ways throughout

each room offers a glimpse of the landscape outside

the scheme serves as a nature-immersive home for the family residing

the severity of the slope allows the three story home  to maintain a direct connection to the exterior at each level

the home site is set in the foothills of the franklin mountains 800 feet above the city
Save
Save
Save
Save
Save
Save
Save
Save
Save
Save
apr 13, 2017
apr 13, 2017
jul 01, 2016
jul 01, 2016
jun 29, 2016
jun 29, 2016
may 17, 2016
may 17, 2016
apr 29, 2016
apr 29, 2016
jan 26, 2016
jan 26, 2016
oct 30, 2017
oct 30, 2017
oct 30, 2017
oct 30, 2017
oct 30, 2017
oct 30, 2017
oct 29, 2017
oct 29, 2017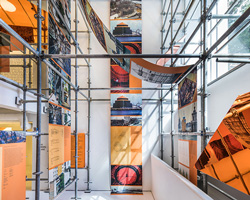 oct 27, 2017
oct 27, 2017
oct 26, 2017
oct 26, 2017