mar 31, 2013
fujiwaramuro architects: house in matsubara
'house in matsubara' by fujiwaramuro architects, osaka prefecture, japanimage © toshiyuki, yanoall images courtesy of fujiwaramuro architects
on another trying site on the corner of two narrow streets, japenese studio fujiwaramuro architects have come up with a housing solution to accommodate a family and their hobbies on what amounted to a 47 square meter footprint after setback regulations and zoning ordinances. the steel structure features a faceted form and sloping roof following the contours of the roads, overhanging a small driveway to protect the car and provide more interior space.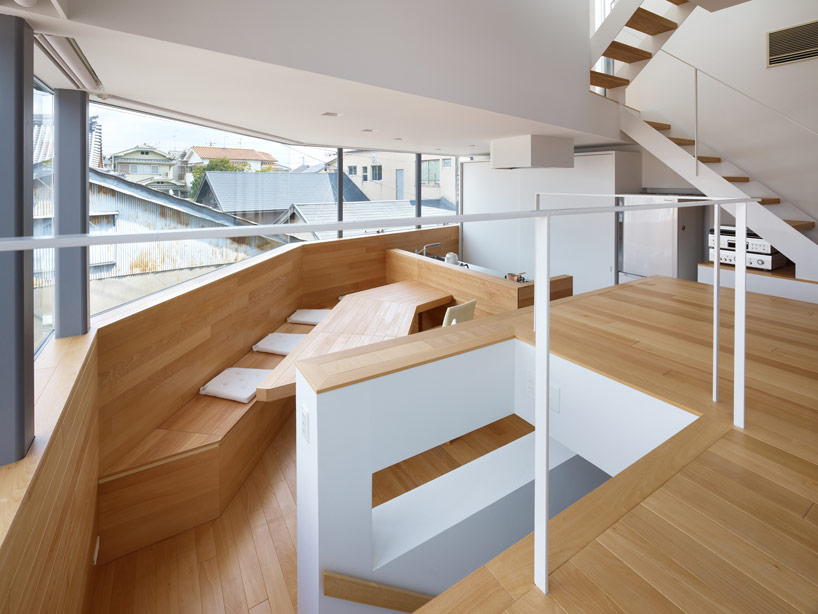 living and dining roomimage © toshiyuki,yano
a series of skip-levels connected by a staircase allocated to the innermost portion of the site offer a more dynamic layering of functions. the ground floor contains the main entry, a music room/gathering area for the wife who is a gospel instructor, and a bathroom on the way to the second storey housing the living and dining rooms and kitchen on slightly offset elevations.
view from the living areaimage © toshiyuki,yano
from the sunken dining area, a horizontal strip window offers a panoramic view of the neighborhood rooftops. the living room in turn enjoys a higher degree of privacy slightly elevated above the glazing. protruding metal frame windows and the titanium zinc alloy cladding match the industrial nature of the city and the adjoining factory currently run by the client's parents. the third floor contains the children's and master bedroom, with access to a small rooftop terrace from which the owners can watch the yearly fireworks display.
project info:
location: matubara, osaka, japan
principle use: single family house
site area: 46.95 m2
building area: 30.43 m2
total floor area: 73.50 m2
project architect: shintaro fujiwara,yoshio muroproject team: fujiwarramuro architects
structure: steelphotographer: toshiyuki,yano
Save
Save
Save
aug 14, 2017
aug 14, 2017
aug 11, 2017
aug 11, 2017
aug 02, 2017
aug 02, 2017
aug 11, 2017
aug 11, 2017
jan 09, 2017
jan 09, 2017
apr 01, 2013
apr 01, 2013