fuksas studio, headquartered in rome, paris and shenzhen, is lead by artists turned architects doriana and massimilano fuksas. over the past 40 years the award-winning company has developed an innovative approach through a strikingly wide variety of projects, ranging from urban interventions to airports, from museums to cultural centers and spaces for music, from convention centers to offices, and from interiors to private houses and design collections.
on a recent trip to the eternal city, designboom met with massimiliano and doriana fuksas at their studio, where they discussed their philosophies on architecture and define what it means to be an artist. read the full interview below, and see our extensive archive of fuksas studio's work here.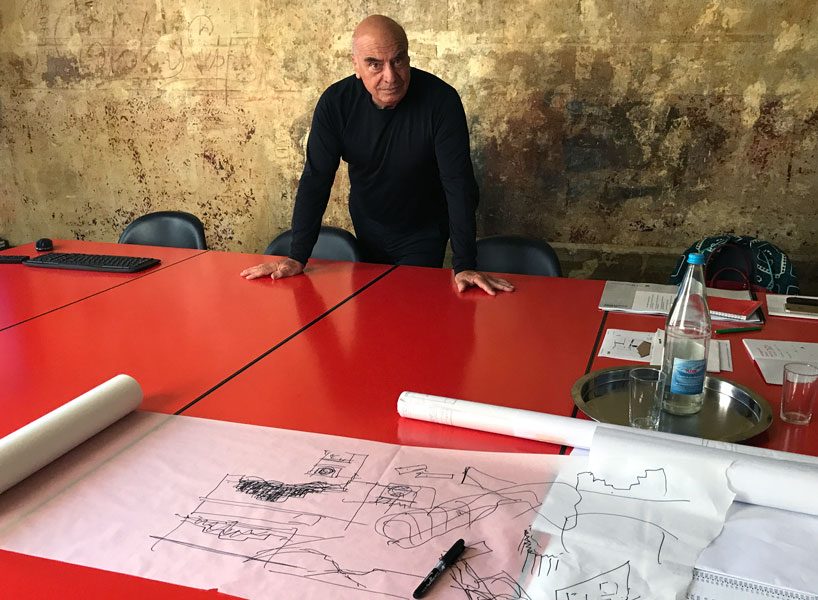 massimiliano fuksas' creative process
image © designboom
designboom (DB): how has your background affected the work that you do now?
massimiliano fuksas (MF): I forget after 50 years. you only have the future the think about, you forget the past. I want to forget. for me, architecture is the art of forgetting. otherwise you become nostalgic. you don't move and you'll never change. you have to forget everyday what you did the day before.
DB: what is the fuksas' main philosophy?
MF: first of all, our firm uses expression versus strategy. we don't believe in strategy. people think we have to give something else, but what we try to give is the possibility of expression, the possibility of emotion. emotion and strategy are opposite. I don't think that you have to use strategy for emotion. perhaps you can use emotion for strategy, but never strategy for emotion.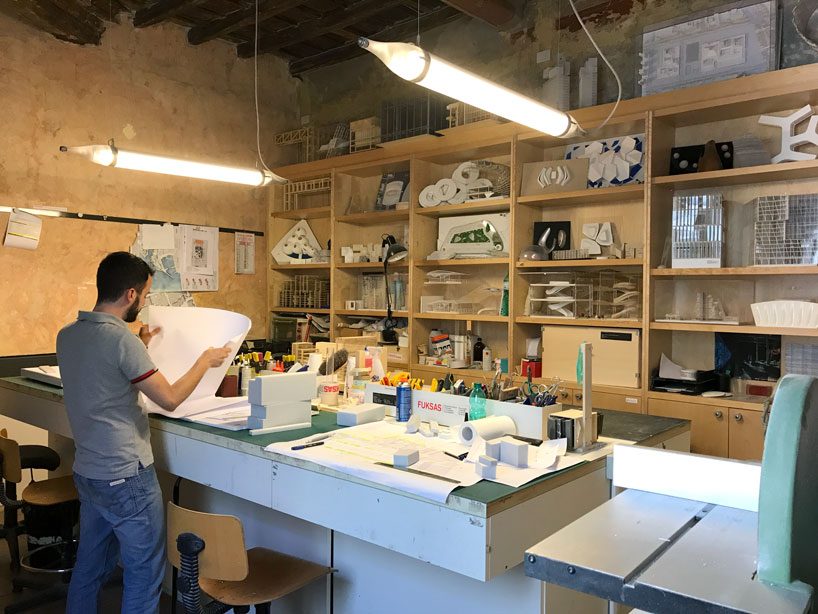 the studio has a room designated to large scale modeling of the various projects
image © designboom
DB: is there anything from your past that has influenced the work you do today?
MF: what influences me? I have no big influence. if you don't discover and if you don't look, if you don't touch, you won't learn. my life was the life of everybody.
doriana fuksas (DF): it was not mine! I did not start from architecture, before architecture I had studied art. I have a degree in art history. this was important because before architecture I studied the history of architecture. I was very curious about that — but I also love contemporary art. after this I studied architecture with a different set of eyes. it's not that now I think classically — like 'la madonna di mantegna' — but the proportions, the colors and the materials influence the way you think.
MF: me too, before architecture, I wanted to be a painter, never an architect. after two years, I said, 'perhaps it's not so bad', but before that, I was a painter… just an artist.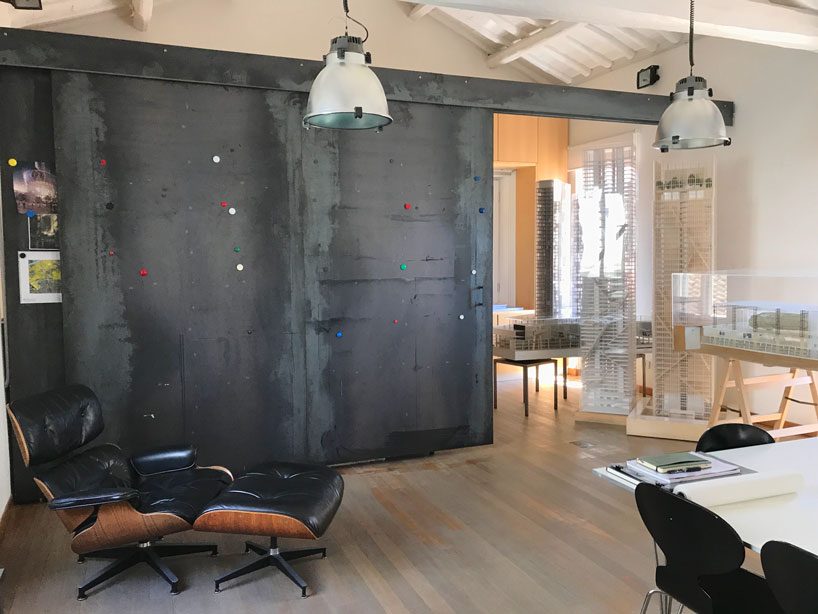 one of the various conference rooms found in the studio
image © designboom
DB: as artists, what kind of art particularly interests you?
DF: if there is an exhibition on futurism art and one, say, featuring antony gormley, I prefer to see gormley. this is because the others you see so many times, in all the museums. contemporary art is always moving and changing and it is living and growing with you.
DB: what is the importance of art in architecture?
MF: this is the problem. everybody says that they are interested in art. perhaps they don't care. they copy some text, some images. this is awful for the architects! I think it is hurtful because the reality is that either you are an artist or you are not. you can love art, but you are either an artist or you're not.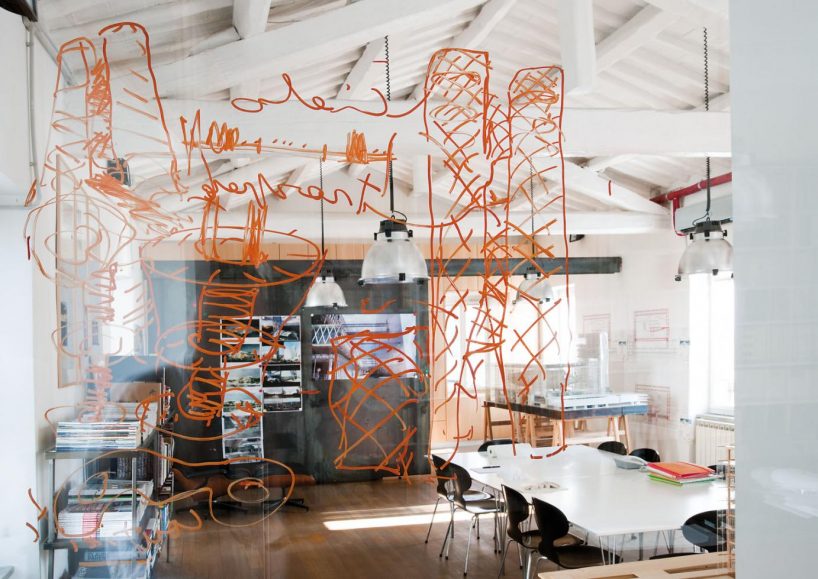 some sketches drawn in true fuksas fashion
image © gianni basso
DB: what do you consider an artist, then?
MF: what is an artist? a person that has strong emotions. stronger than others.
DF: someone who has sensibility. even if it is a bad sensibility, that can also be an artist. because an artist does not have to be a sweet person, they can be hard. it is another form of art. recently, there was a poetry competition, and the winning piece was a poem written by an automated computer. nobody knew who it was because you submit the poem, and there is a jury that chooses, but the winning entry was a computer-generated poem! of course, there was a human being who invented the software, but there is some element of art.
DB: how does technology help you in your practice?
MF: it is a friend and a big help for us. we are not afraid of using it. I live in the same way everyday, but the days change. I have my coffee, my croissant and my newspaper, but everyday, the newspaper changes, the coffee changes, the flavor of my croissant changes. you have to live with today's life. live with the life and not against it. you always think about what you can do for the future. what is important is how much we give others and not how much others give us.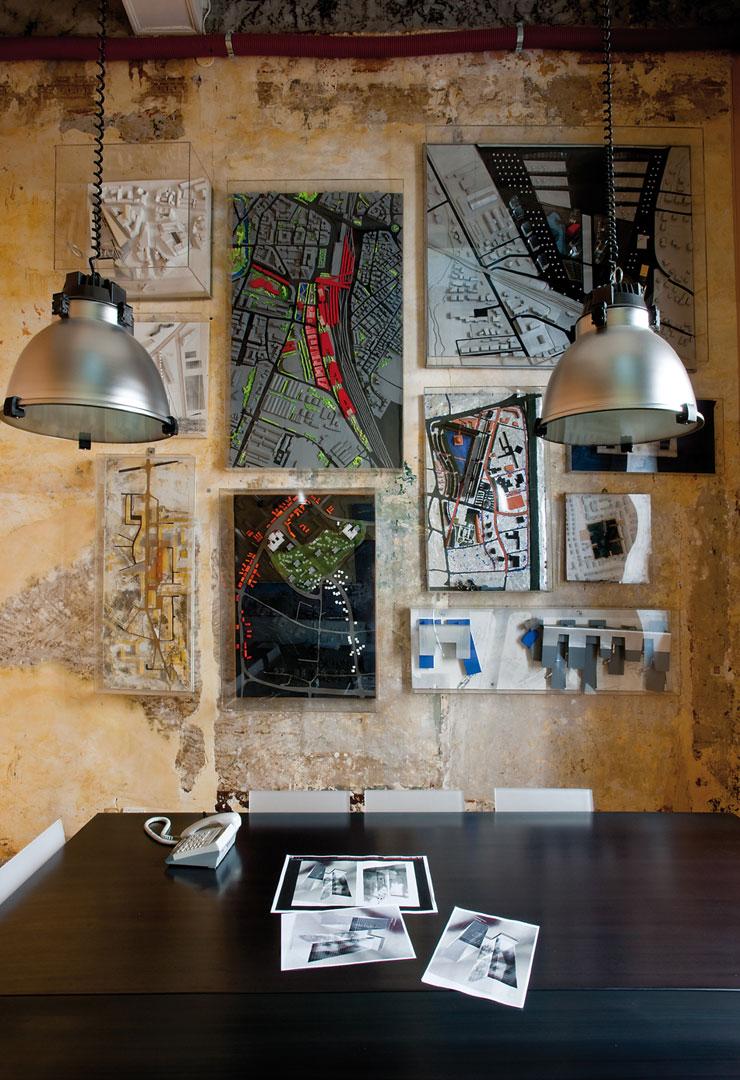 throughout the studio, models of the projects are displayed on the walls
image © gianni basso
(continued) DF: also, I like social media. I think in some ways it can be a joke, but it is a real source of communication.
MF: it is like a piazza! before it was television, and before that it was a real piazza. 40 years ago, I wrote something that was along the lines of 'television is a piazza'. and a theater is a piazza. the piazza is a social space. tomorrow there will be other things. there is always this idea of 'agora'. agora is the piazza of the greeks.
DF: but now it is a virtual piazza.
DB: what is the feeling you want people to have when they walk into your buildings?
DF: to feel well. to be surprised!
MF: the EUR building to me is like a piazza, as we said. underneath is a place for exhibitions, and everything else. inside there is an auditorium, a place you can stop and have dinner, or just a coffee, something like this. the whole building works. this is the idea… you have to feel normal and refreshed. it should be a place where you could sit there and stay.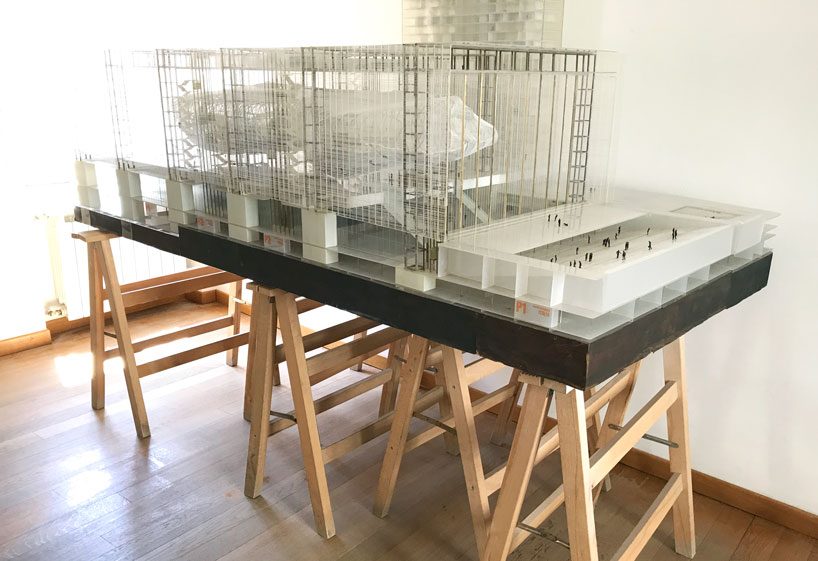 a large scale model of rome's EUR building, designed by massimiliano and doriana fuksas
image © designboom
DB: what is the role of art and architecture in humanity?
DF: good architecture can help. the right proportions is a place where you feel home. if you live in a horrible place, in a house that is no so nice, you don't feel well — it is much more difficult. if you can help people live better, this is important. these are our thoughts on architecture. it is not necessarily the monument that is important, the house is what is important. I think there will be a lot of work to do concerning the new houses — a new way of living for the younger generation. the houses we have now are not for young people with new smartphones and technology. so you do not need as much space as you once needed.
MF: a library for example. imagine a future without libraries!
DF: small spaces are enough, so you can improve the way people live. now there is car sharing, there is airbnb. technology is changing the way we live, it is a big deal.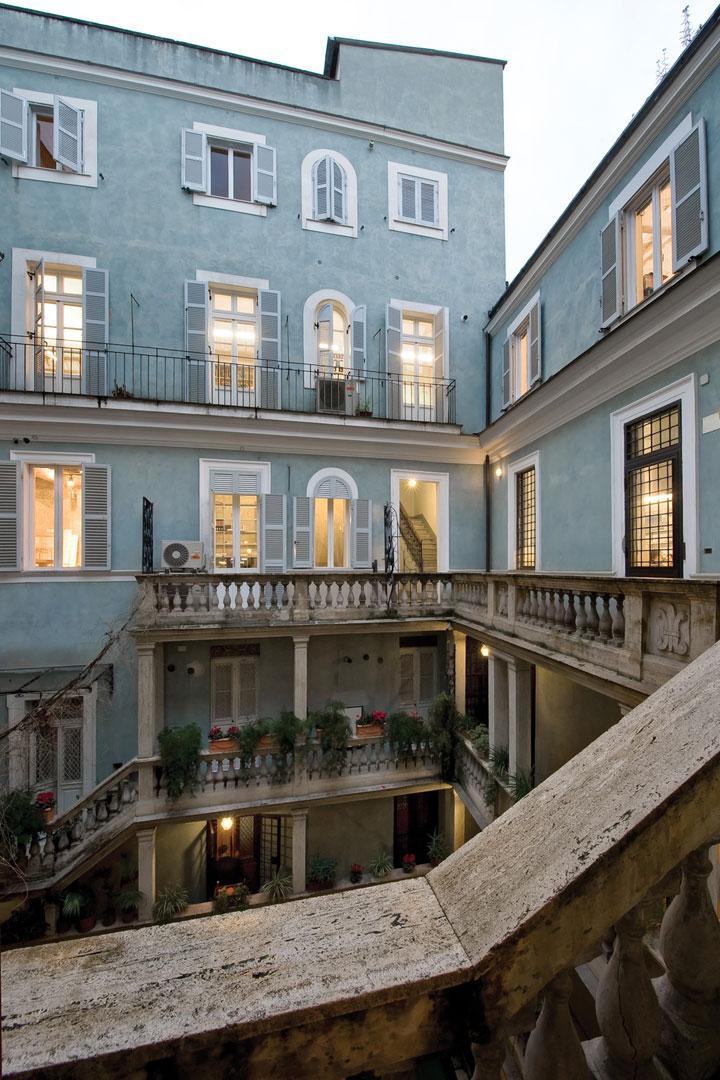 the studio is sprawled across three floors of a history-filled roman building
image © moreno maggi
DB: if you were given the opportunity to do a project anywhere in the world, where would it be?
MF: it needs to be a place with history. a place that is culturally strong, a place that has ideas for the future. like in new york, or like the project we're doing now in beijing.
DF: the desert could be nice. I would also love india! we have a project, but it hasn't started yet. I would love to do a project in india because I love the culture.
MF: we've worked in so many countries. but perhaps I would love to do scandinavia. we have never built in scandinavia. it was my first love! because it has good education, good culture and it is not very populated. I love it.
Save
Save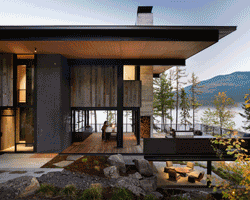 jun 23, 2020
jun 23, 2020
jun 10, 2020
jun 10, 2020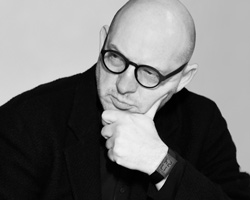 may 07, 2020
may 07, 2020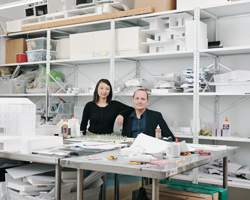 apr 19, 2020
apr 19, 2020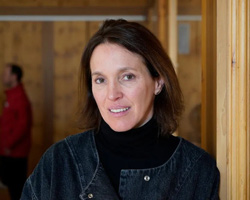 mar 13, 2020
mar 13, 2020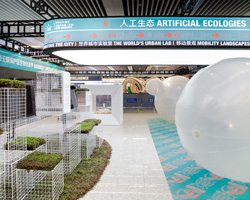 feb 26, 2020
feb 26, 2020
apr 20, 2020
apr 20, 2020
dec 28, 2019
dec 28, 2019
dec 03, 2019
dec 03, 2019
sep 12, 2019
sep 12, 2019
mar 13, 2019
mar 13, 2019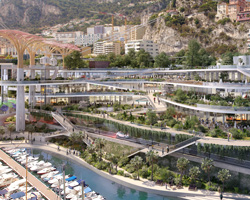 jan 29, 2019
jan 29, 2019
a diverse digital database that acts as a valuable guide in gaining insight and information about a product directly from the manufacturer, and serves as a rich reference point in developing a project or scheme.