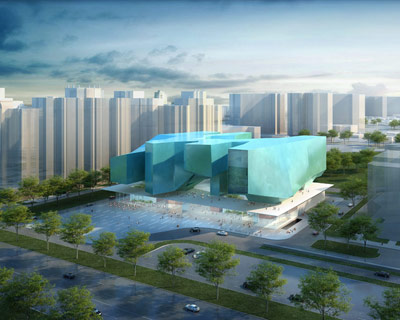 mar 30, 2013
studio fuksas + SPEECH win international competition for moscow museum
'moscow polytechnic museum and educational center' by studio fuksas + SPEECH, moscow, russia 
image © studio fuksas / SPEECH
all images courtesy of studio fuksas
massimiliano and doriana fuksas in collaboration with moscow-based SPEECH tchoban / kuznetsov have won the international competition for the design of 'moscow polytechnic museum and educational center.' the building will be located in sparrow hills, an area near the red square that
houses several socialist classism buildings. among these monumental tiered neoclassical towers, the new proposal will employ large blocky
volumes of irregular geometry shaped by the force of the wind. in an effort to both confront and connect with the surrounding architectural history,
the building will be clad in pre-oxidized copper. the architectonic gesture the will ensure that streaks of a vibrant blue patina will envelop a
glazed case that allows city views, while the vertical cuts between auditoriums will bolster a skylight that pierces all storeys of the museum with
natural illumination.  a basement level allows the loading and unloading of artwork, while two interior levels accommodate space for
art installations, a cafe, shop and two redwood-clad auditoriums. the project is set to be realized by 2017. 
winter view
image © studio fuksas / SPEECH
the building proposes to be a meeting of forms
image © studio fuksas / SPEECH
interiors are cut with light and informed by wind
image © studio fuksas / SPEECH
redwood, copper and glazing meet in the sunlit lobby area
image © studio fuksas / SPEECH
a massing model shows overall the volume and the vibrancy of the patina
image © studio fuksas / SPEECH
model of the winning proposal shows a pragmatic basement level topped by the asymmetric monumental forms
image © studio fuksas / SPEECH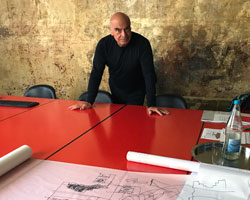 jul 10, 2017
jul 10, 2017
mar 26, 2017
mar 26, 2017
mar 05, 2017
mar 05, 2017