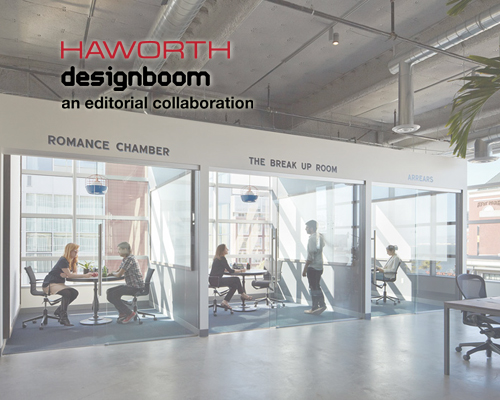 oct 01, 2015
interview with lauren geremia, the designer behind offices for instagram & dropbox
interview with lauren geremia, the designer behind offices for instagram & dropbox
all images courtesy of geremia design
designboom partners with leading office furniture company HAWORTH on an editorial series that investigates the future of the contemporary office environment and new ways of working. our alliance brings forth insights into the workplace and how it has evolved from something more static, into an active and modular condition.
in this twelfth feature, we interview geremia design's founder and principal, lauren geremia. the san francisco-based studio has a portfolio which includes the interiors for dropbox, hightail, instagram and lumosity's headquarters; each one transformed through the incorporation of bespoke furniture and custom details that offer employees a working environment that encourages creative collaboration. she speaks with designboom about how technology has influenced the way she designs office spaces, and what she thinks are key components to generating employee satisfaction in the workplace.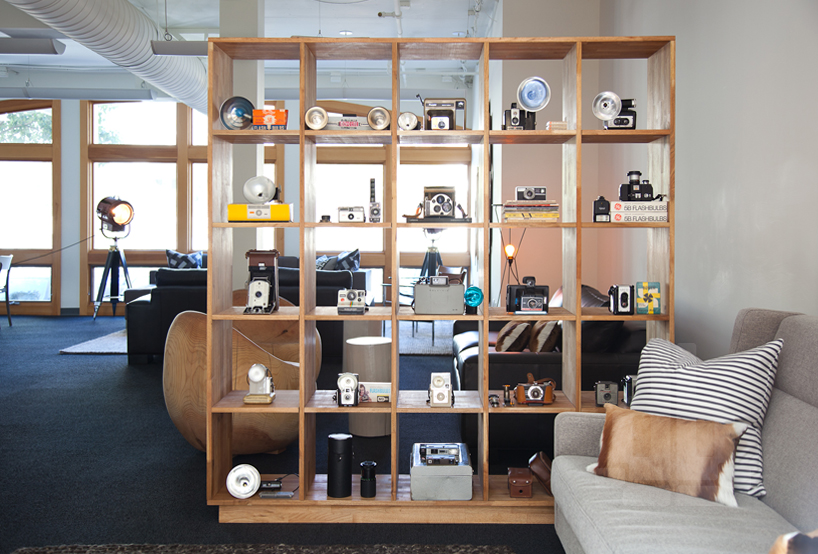 instagram's san francisco headquarters
see more about this project on designboom here
designboom: what originally made you want to study design and architecture?
lauren geremia: I began my creative training as a painter at the rhode island school of design. I entered the design world to combine all my interests – art, interiors, color, and photography. it was a great route, allowing me to deeply explore fine art, and then later approach interior design from a fresh perspective. it was thrilling to develop a business practice from a self-driven stance and unexpected background.
DB: what particular aspects of your background and upbringing have shaped your design principles and philosophies?
LG: my education at RISD shaped my perspective, and offered a conduit that I consistently tap into for talent. my philosophy is constantly evolving though, as I respond to my environment. I listen to my gut to determine creative direction, keenly notice my client's response and pay attention to what works.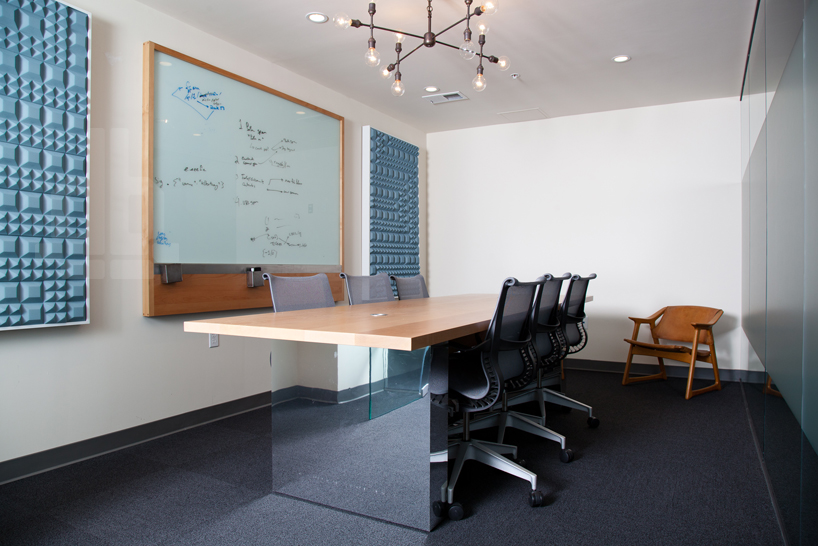 the conference room at instagram's HQ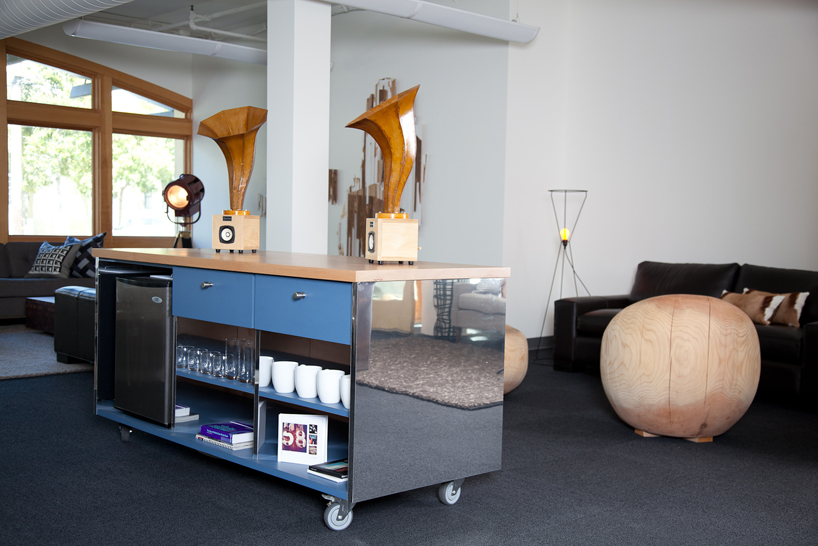 instagram's communal kitchen space outfitted with a custom portable trolley for cocktails and beverages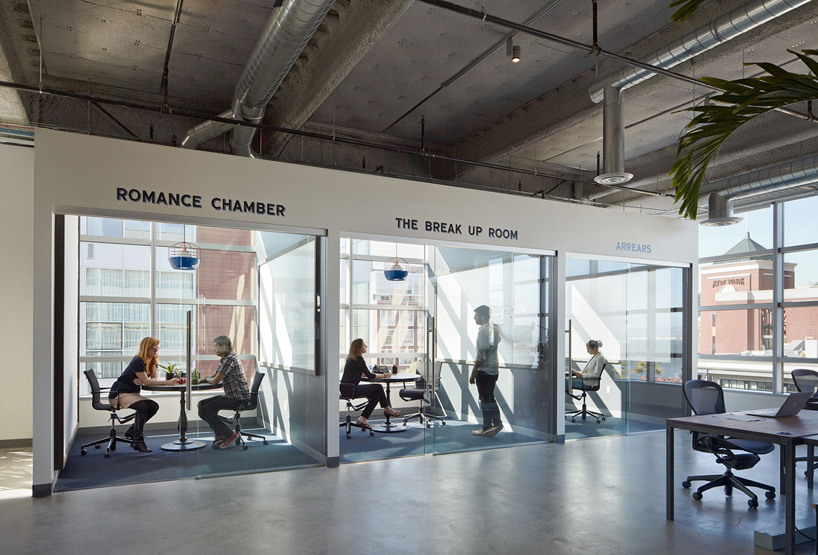 dropbox's san francisco offices realized in collaboration with boor bridges architecture
see more about this project on designboom here
DB: you have conceived offices for a number of global start­ups, including dropbox, hightail, and lumosity. each of these companies' business success is deeply reliant on social engagement, interaction and feedback of their users online. how do you translate this into the physical space?
LG: we prioritize our clients' value for connection by designing with community in mind. each space is formed to support the firm's day-to-day communication, as well as to inspire innovation and productivity.
DB: as a designer, how have you responded to the evolution of the open office space in your schemes?
LG: each client has different needs – no one sizes fits all. many prefer openness, which works well as long as we include secluded area. other firms focus on privacy and steer towards enclosed spaces. ultimately, it's our goal to listen to our client needs and then provide solutions. personally, I love designing spaces with lots of openness, which is how my personal live / work space functions.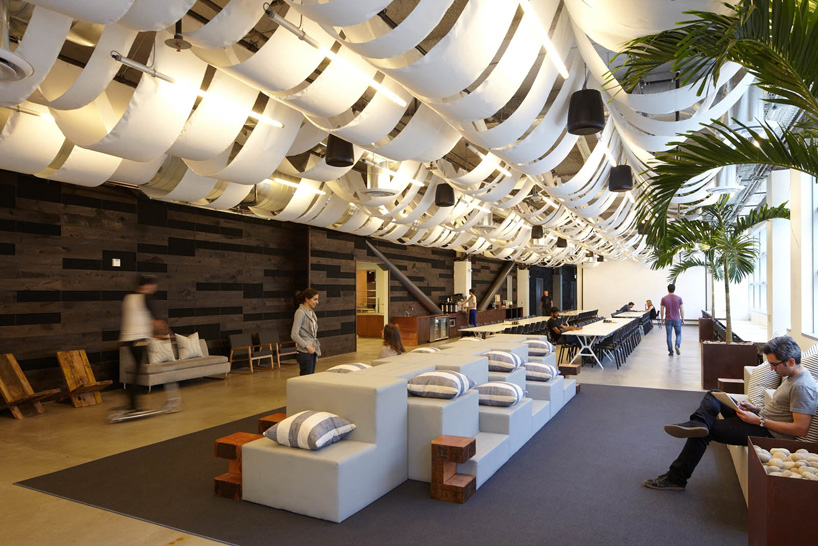 communal work and social area at the dropbox offices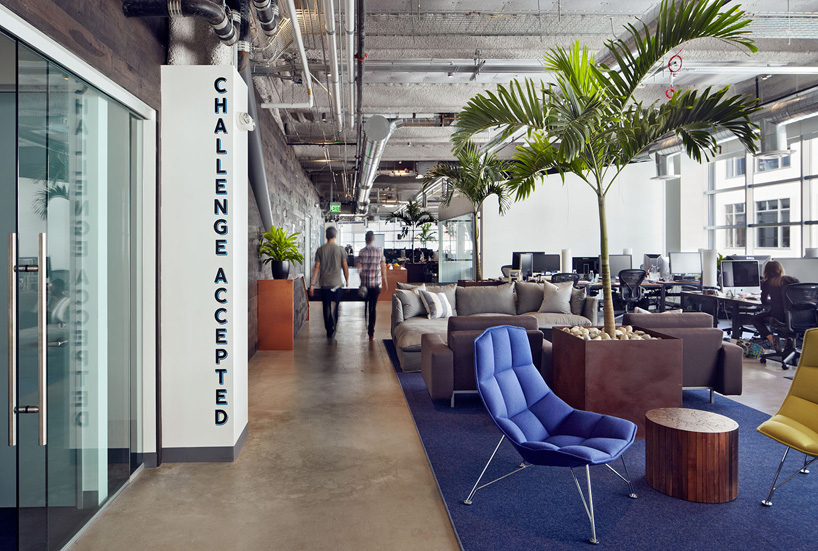 the dropbox offices offer a good balance of private and public areas
DB: in what ways have technological advancements affected the way you design office spaces?
LG: communication is huge for us. we utilize pinterest boards, presentations and social media to allow our clients to express their taste with ease. these platforms have provided access to ideas and visual concepts, which improves collaboration on both ends.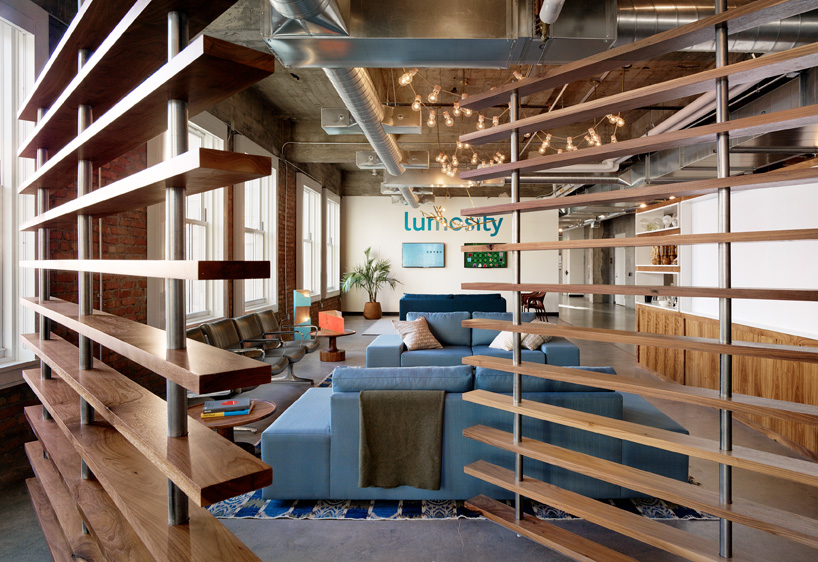 lumosity's san francisco headquarters
DB: what kind of atmosphere do you feel is most conducive for effective group work?
LG: when employees feel empowered in their space, there is more ease in collaboration. natural light energizes people, and we work with plants and natural materials to introduce tactility. we offer variety, such as the opportunity to stretch legs and stand, to sit at desks, or at couches. we inspire creativity by offering a variety of workspace formats, and interactive ways to respond to the architecture.
DB: what do you think are key components in generating employee satisfaction within the office?
LG: good lighting, comfort, style, ample personal space, and access to comforts and amenities.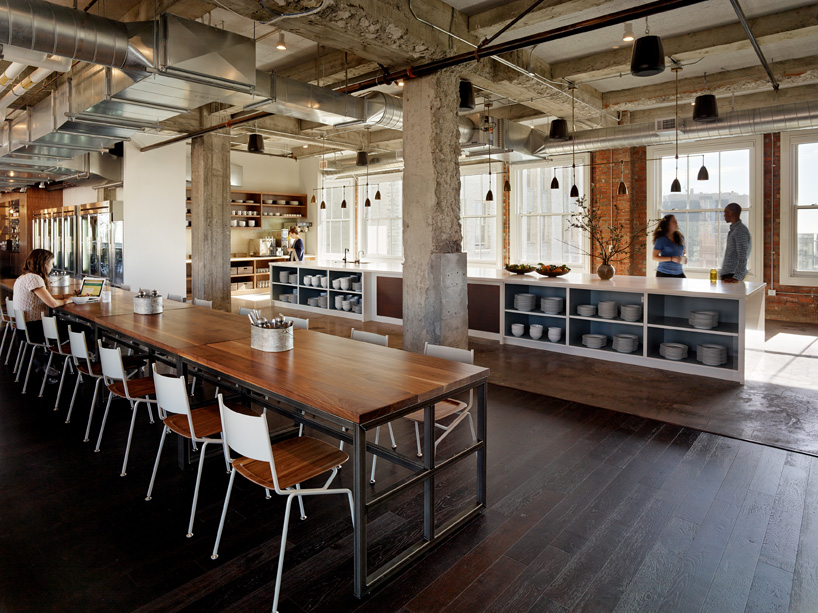 the lumosity offices offer a large open concept kitchen where employees can work and enjoy a good meal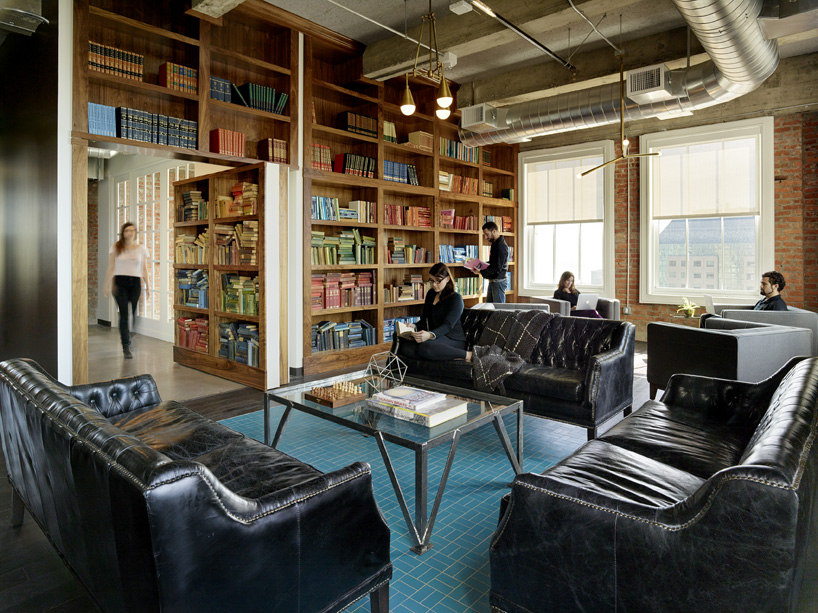 the library room at the lumosity offices provide a cozy environment for working individually or collaboratively
DB: what is the most common client request you have received when designing a work environment?
LG: our clients want work environments that foster a sense of community. we often get requests for large gathering spaces, where the entire employee population can meet at once. strategizing for this space is a top priority, different for each project, and always a lot of fun.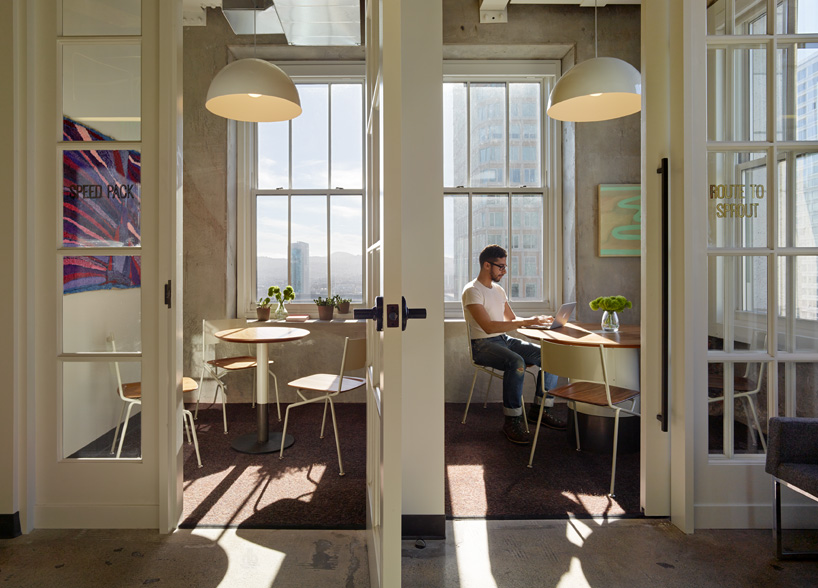 lumosity's private work rooms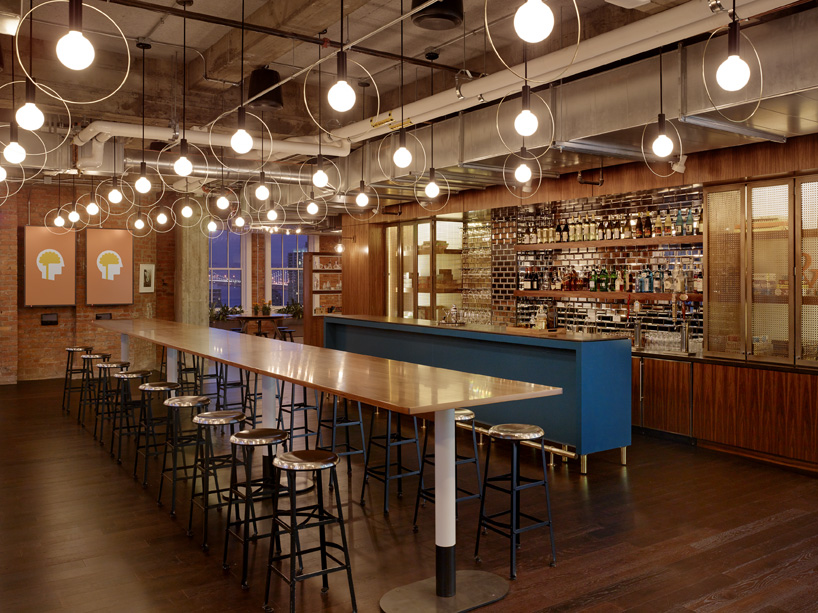 a bar has been incorporated into the lumosity office to encourage socializing after work
DB: could you outline your day­ to ­day work habits, and how your own workspace is designed to ensure productivity?
LG: we start our office mornings with energetic and brief stand up meetings. each designer shares goals and then we break out into individual meetings. while my residential and commercial teams are working, I set aside time to research new artists and concepts. my design team's office is located in my home, so we make lunches together, hang out in the backyard, and hold meetings in my kitchen. the feeling of the environment is comfortable, yet focused and ambitious.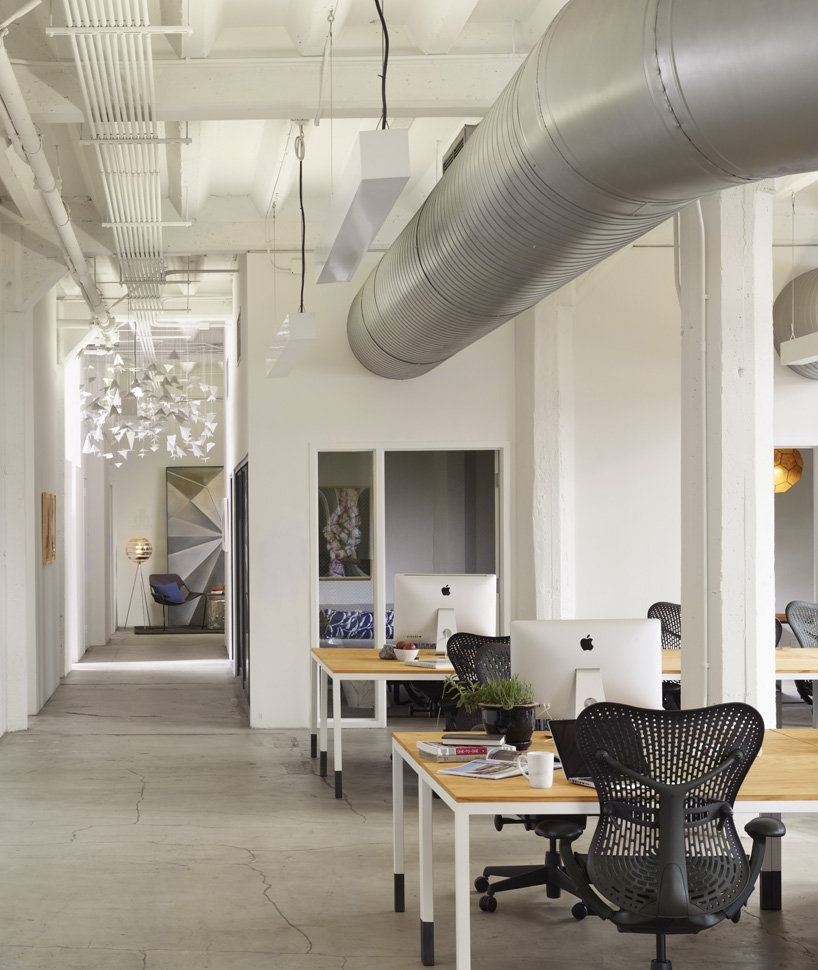 hightail's san francisco headquarters
see more about this project on designboom here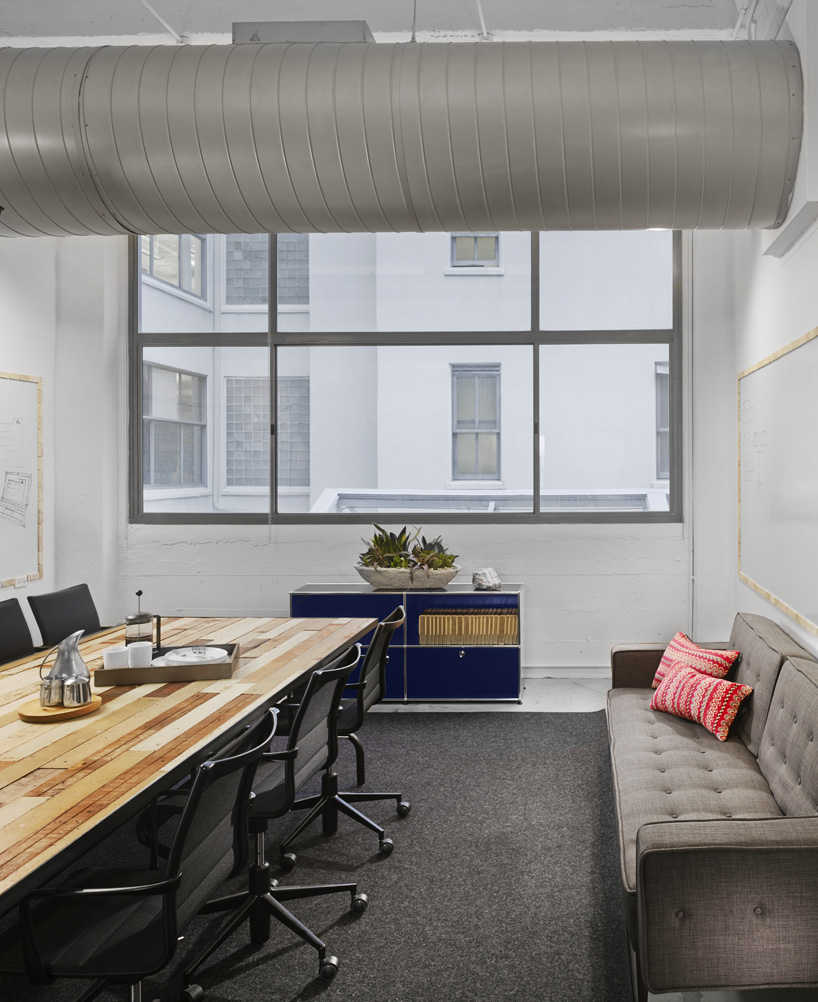 hightail's meeting room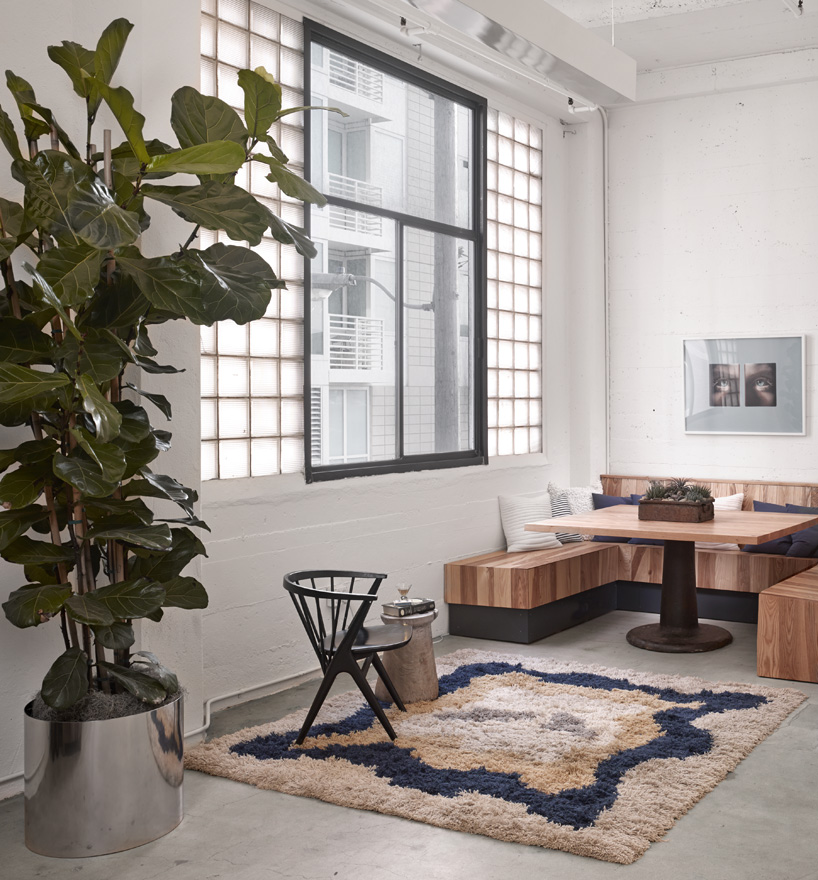 plants and natural materials are incorporated into the hightail offices, offering a comfortable, casual interior
DB: in your opinion, what is the future of the workplace?
LG: workspace trends are rapidly evolving, with functionality issues always changing. as companies' products become more virtual, office spaces require less storage and analog materials. efficiency is the most important thing to solve for. I have some forecast of what I think might happen, but I'm more inspired to respond to the needs of my clients in the moment.
Save
sep 28, 2016
sep 28, 2016
feb 20, 2016
feb 20, 2016
dec 11, 2013
dec 11, 2013
dec 06, 2013
dec 06, 2013
dec 05, 2013
dec 05, 2013
oct 26, 2015
oct 26, 2015
aug 06, 2015
aug 06, 2015
jun 30, 2015
jun 30, 2015
oct 26, 2015
oct 26, 2015
aug 06, 2015
aug 06, 2015
jun 30, 2015
jun 30, 2015
aug 10, 2020
aug 10, 2020
jul 30, 2020
jul 30, 2020
jul 16, 2020
jul 16, 2020
a diverse digital database that acts as a valuable guide in gaining insight and information about a product directly from the manufacturer, and serves as a rich reference point in developing a project or scheme.