jan 29, 2014
glamping for glampers doughnut-shaped tent village by archiworkshop
'glamping for glampers' tent village in korea by archiworkshop
image © june young lim

set amid the undulating korean countryside, seoul-based practice archiworkshop has developed a tent village which comprises a series of glamorous camping units. combining the principles of ecology, comfort and modern design, 'glamping for glampers' enables guests to establish a closer connection with nature through two distinctive typologies. the first shelter, entitled 'stacking doughnut', reflects the circular nature of pebble stones, while 'modular flow' is envisioned as an extendable structure which comprises juxtaposed floor plans. both typologies offer flexible, transportable and high-standard accommodation. the units have been named sea, dessert, creek, mountain, cave, forest, river and city.

image © june young lim
internally, each tent has a toilet booth with an art wall finish. bespoke furniture, also created by archiworkshop, features folding sofas which become beds during evening hours. shelters are wrapped in a water and fire proof membrane which also protects against UV penetration, while the double-layered skins provide resistance against the region's harsh climate. guaranteeing absolute water tightness, computer animated surface plans are plotted with 2D cutters and welded with a high frequency technique.

the tent-village is set amid the undulating korean countryside
image © june young lim
image © june young lim
the site enables guests to establish a closer connection with nature through two distinctive types of structures
image © june young lim
image © june young lim
the units have been named sea, dessert, creek, mountain, cave, forest, river and city
image © june young lim
image © june young lim
each 'glamping unit' has an art wall finished by young korean artists
image © june young lim
bespoke furniture, also created by archiworkshop, features folding sofas which become beds during evening hours
image © june young lim
jul 17, 2017
jul 17, 2017
apr 14, 2017
apr 14, 2017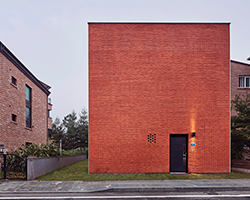 jan 03, 2017
jan 03, 2017
tents
(29 articles)
nov 23, 2016
nov 23, 2016
mar 21, 2016
mar 21, 2016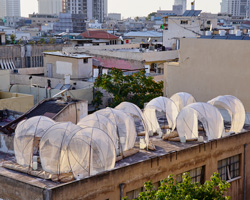 aug 28, 2015
aug 28, 2015