jun 04, 2013
GLUCK+'s tower house designed like an observatory
'tower house' by GLUCK+
photo by paul warchol
designed with the idea of an observatory in mind, GLUCK+'s 'tower house' offers uninterrupted views over its surrounding wooded environment. functioning as a vacation home in upstate, new york, the structural core of the building is a four storey glass enclosed tower which features a bright yellow staircase connecting each of the levels to one another–the first three have each been designed as private suites, with a small bedroom and bath. the fourth floor is a cantilevered volume which hangs over the forest, like a canopy. the kitchen and main living space are located on this uppermost tier with an outdoor roof terrace above; extending the interior into the fresh air, with views of the lake and mountains.
the dwelling has been designed to be sustainable and energy efficient–taking advantage of its positioning within the natural setting–to benefit the overall well-being and comfort of the dwellers. considering it is only used as a part-time residence (a few weekends in the winter and most weekends in the summer) it has a minimal footprint and operating costs. the exterior features dark green, back-painted glass which camouflages the dwelling, by reflecting the surrounding trees and other greenery onto its surface. the stacked north-facing bedrooms take advantage of the natural light and views with floor to ceiling window walls. to optimize the overall heating and cooling system of the home, a two part sustainable strategy has been employed reducing the energy exerted in the winter to keep it warm, while eliminating the need for air conditioning during the summer months.
though the 'tower house' is heated in a conventional manner, the arrangement of the wet zones on top of one another forms a central insulated core which allows for much of the living quarters to be 'switched off' during the winter season. when it is not in use, only 700 of the entire 2,545 square foot residence is actually heated. by reducing the building's function to just a concentrated section, decreases energy by 49%. in the summertime, it stands comfortably without the employment of air conditioning, where the benefits of implementing the stack effect are seen once again. south-facing glass on the stairwell create a solar chimney. as hot air rises, it is exhausted out of the top, thus drawing fresh air through the core from the cooler north side.

the residence blends into its surroundings via its glass façade which reflects the immediate greenery
photo by paul warchol

the four-storey home stands with a central core tower and a cantilevered volume as its top level
photo by paul warchol

the observatory-like architecture of the home offers expansive views of its natural surroundings
photo by paul warchol

a bright yellow stairwell connects the four floors
photo by paul warchol

the fourth floor houses the main living space and kitchen
photo by paul warchol

panoramic views
photo by paul warchol

photo courtesy of GLUCK+

photo by paul warchol

photo courtesy of GLUCK+

photo courtesy of GLUCK+

photo by paul warchol

photo by paul warchol
project info:
project: the tower house
location: upstate, NY
area:  2,545 sf
year:  june 2012
project team:
architecture and construction by GLUCK+ –
peter l. gluck, thomas gluck, david hecht, marisa kolodny, A.B. moburg-davis
consultants:
structural engineer: robert silman associates P.C.
mechanical engineer: rosini engineering P.C.
façade: bill young
environmental engineer: IBC engineering
lighting: lux populi
Save
aug 17, 2017
aug 17, 2017
aug 11, 2017
aug 11, 2017
aug 03, 2017
aug 03, 2017
GLUCK+
(5 articles)
may 03, 2017
may 03, 2017
jun 09, 2013
jun 09, 2013
jun 09, 2013
jun 09, 2013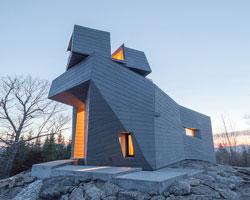 jul 30, 2017
jul 30, 2017
jul 28, 2017
jul 28, 2017
jun 16, 2017
jun 16, 2017