aug 07, 2014
GM architects sinks museum of civilizations into beirut square
GM architects sinks museum of civilizations into beirut square
all images courtesy of GM architects
as a proposal for a reflective experience deeply rooted in its city's history, lebanese studio GM architects has envisioned 'museum of civilizations', sunk into the landscape of beirut's martyrs' square. the proposal excavates through various strata of earth, which contain traces from greek, roman, byzantine, ottoman, and french societies. the large hole is then infilled with two structures – a massive gridded scaffold and tall white tower – which are connected by a singular circulation path. a succession of voids break through the tressle-like block, and are occupied by platforms for exhibition use as well as general observation. below, a walkway passes over the site's watery bottom to access a staircase wrapped by the high white wall.
the project is currently being presented at the 2014 venice architecture biennale, for the collateral event 'time space existence' in palazzo bembo. see here for more information on work and pavilions at the international architecture exhibition, which runs from june 7 – november 23, 2014.
from grade, visitors pass over a bridge to access the gridded scaffold structure
the earth walls surrounding the sunken site express lebanon's rich and multicultural history. this dense legacy has produced what the designers describe as, 'an amalgamation of arrangements and styles' in the built environment. in turn, the proposed structures, although visually and spatially non-referential, serve as an addition to the culturally complex mixture.
since the design's completion and dissemination, the 'museum of civilizations' has attracted many proposals from potential financial supporters, and has a hopeful completion date of 2017.
voids break the 3D-trestle form to create exhibition spaces and views outward
measuring 20 meters in depth and 60 meters in length, the gridded scaffold structure is approached at grade by a bridge. a sequence of platforms descend through the excavated site, containing exhibition spaces dedicated to each of the historical civilizations that once inhabited the city. the moments for pause to observe views through the porous building. below, a pool of water fills the hole's bottom and represents the mediterranean sea, which through all of history has served as the cradle for each of lebanon's societies. 
a lower walkway passes over water to connect the museum's tower
the white tower, regarded as a 'totem', expresses itself as a blank wall when viewed from its primary approach. however, its opposite side reveals its 3-dimensional pixelated form, and contains a staircase to connect visitors back to the city level. the dissolving form is intended to, 'evoke the inherent uncertainty of the future.'
the excavated earth walls represent a layering of civilizations in beirut's history
GM architect's founding principal, galal mahmoud, elaborates on the projects intention's:
'we set out to explore the inherent influence of these civilizations across our history in juxtaposition to the globalized dynamic of influx and influence in the 21st century. we retreat to an architectonic measured against the scale of our social geology, against the tectonics of the migration of people throughout our past, and the migration of information and technology in our future; an articulation with history and a dialectical journey through an evolution of a stratified national vernacular identity, set within a context of excavation, and a choreography of construction.'
the proposed project is located in beirut's martyrs' square
longitudinal section
diagram clarifying the museum's circulation
terraced landforms clarify the various strata of earth
sep 29, 2017
sep 29, 2017
aug 31, 2017
aug 31, 2017
aug 12, 2017
aug 12, 2017
jul 13, 2017
jul 13, 2017
may 16, 2017
may 16, 2017
apr 24, 2017
apr 24, 2017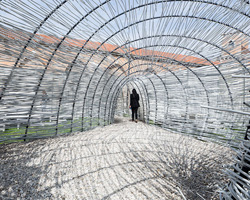 nov 19, 2014
nov 19, 2014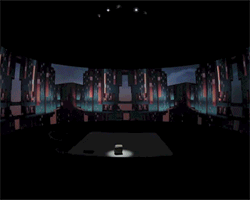 nov 17, 2014
nov 17, 2014
oct 15, 2014
oct 15, 2014