german firm gmp architekten has won the commission together with SBP to realize the proposal of fitting a folded roof cover for the historic and well-known amphitheater in verona, italy. the international competition saw 87 proposals withered to one winning scheme; a retractable roof that can be automated to open and close in case of bad weather.

all images © gmp architekten
working with the engineers from schlaich bergermann and partners (SBP), gmp architekten's roof covering will feature a cover sheet of approximately 12,000 sqm installed on a single side sliding of a fabric material. the innovative engineered element will see cables being stored underneath the compression ring cantilever, allowing the arena to be fully open or closed with the cables completely out of sight.

the arena is still a popular choice for concerts and events
dating back to 30 AD, the characteristic venue is still used to this day for music concerts, performances and shows. for this project, the choice of cloth for the roof will allows a subtle intervention that will not take focus away from the architecture of the historical arena, fundamentally preserving the roman amphitheater from future damage caused by the weather.

aerial view of the proposed folded roof system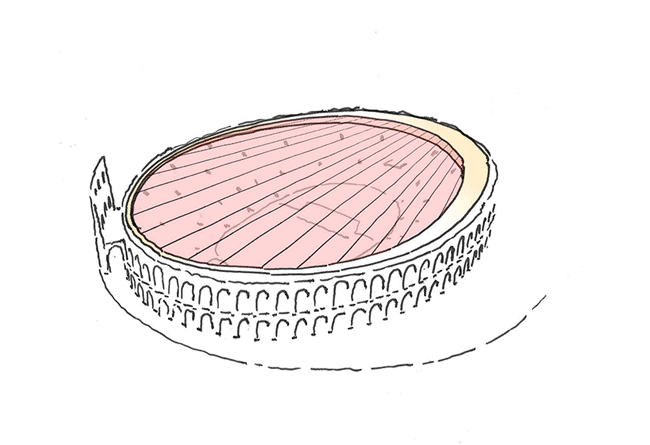 the cables and roof covering will be able to be completely hidden when not in use
Save
Save
Save
Save
Save
Save
Save
Save
Save
Save
Save
Save
Save
aug 14, 2017
aug 14, 2017
jul 26, 2017
jul 26, 2017
jul 17, 2017
jul 17, 2017
apr 25, 2017
apr 25, 2017
jun 06, 2016
jun 06, 2016
jun 17, 2015
jun 17, 2015