mountain view city council has approved plans for 'google charleston east', the 595,000 square foot-canopied campus designed by bjarke ingels group and heatherwick studio. located in north bayshore, the scheme will include a public park and plaza, as well as walking trails and ground floor retail outlets. construction could begin as early as april, with a tentative completion date slated for 2019.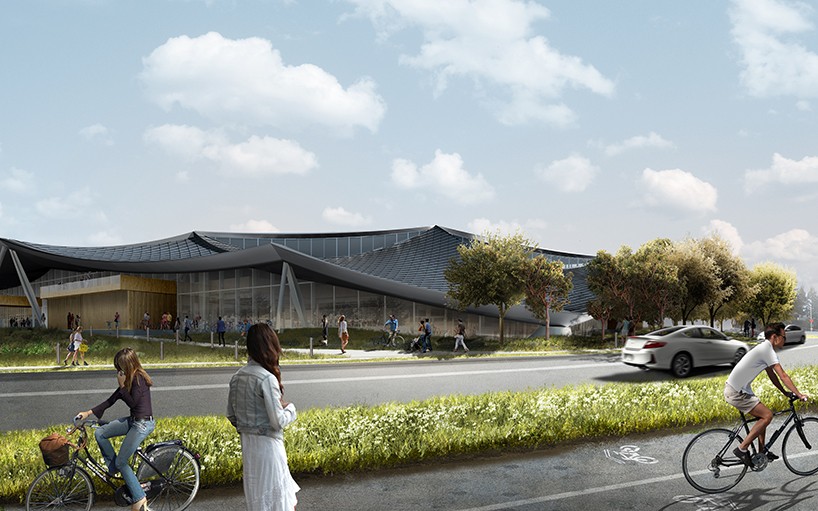 the 595,000 square foot campus is located in north bayshore
all images courtesy of google inc
original plans for the project were announced in march 2015, before the scheme ran into difficulty when google was refused the land it needed to complete the masterplan. a year later, a revised proposal was drawn up showing a reworked design for a smaller site. now, almost exactly two years after the original announcement, the ambitious project is set to get underway.

small pathways between the pavilions provide quieter and more intimate spaces
the building has been designed by a collaborative team of bjarke ingels group and heatherwick studio, with hargreaves jones landscape architecture (HJLA) responsible for the landscape design. the ground level will comprise of a series of pavilions wrapping around a public 'green loop' that cuts through the building. cafés and shops will line the artery, hoping to enliven the area and create a social and retail destination open to both google employees and the public.

the ground level comprises a collection of pavilions with a public 'green loop'
the vast headquarters will be topped with an expansive tent-like roof canopy that will regulate indoor climate, air quality, and sound. the square plan of the campus will be surrounded by greenery and landscaping, with a multitude of indoor and outdoor spaces. it has been reported that the roof structure will capture water for reuse, while integrated solar panels will create about four megawatts of power.

the biosphere courtyard
'in an ongoing partnership, to implement the city's adopted north bayshore precise plan, this project is part of the city's vision to prioritize mobility for pedestrians, buses and bicycles in order to reduce traffic in the area,' said google in a statement. 'the project also continues the city and google's effort towards restoring and preserving the vitality of local ecology and native habitats in the north bayshore area and incorporating energy-efficient sustainable design to deliver greater health and accessibility for our employees.'

the structure's large canopy will regulate indoor climate, air quality, and sound

the entrance into the campus

a focus is to prioritize mobility for pedestrians, buses and bicycles in order to reduce traffic in the area

the project also continues the city and google's effort towards restoring and preserving the vitality of local ecology

the site is nestled between an urban area to the south, and natural frontier to the north

the campus aims to promote a strong commitment to creating an innovative building that benefits the community

the completion date is slated for 2019
oct 30, 2017
oct 30, 2017
oct 30, 2017
oct 30, 2017
oct 30, 2017
oct 30, 2017
oct 29, 2017
oct 29, 2017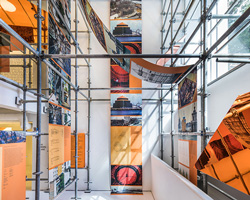 oct 27, 2017
oct 27, 2017
oct 26, 2017
oct 26, 2017
oct 19, 2017
oct 19, 2017
oct 03, 2017
oct 03, 2017
sep 28, 2017
sep 28, 2017
sep 27, 2017
sep 27, 2017
aug 30, 2017
aug 30, 2017
aug 28, 2017
aug 28, 2017
google
(75 articles)
oct 30, 2017
oct 30, 2017
oct 23, 2017
oct 23, 2017
aug 11, 2017
aug 11, 2017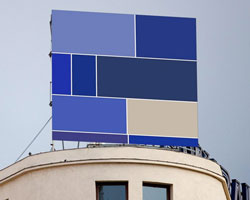 jul 26, 2017
jul 26, 2017
jul 21, 2017
jul 21, 2017
jun 01, 2017
jun 01, 2017
oct 12, 2017
oct 12, 2017
sep 15, 2017
sep 15, 2017
aug 14, 2017
aug 14, 2017
aug 08, 2017
aug 08, 2017
jul 31, 2017
jul 31, 2017
jul 19, 2017
jul 19, 2017