mar 14, 2012
GROUP A: workshop steigereiland
'workshop steigereiland' by GROUP A in ijburg, amsterdam, the netherlands all images courtesy GROUP A image © digidaan, amsterdam
dutch architecture practice GROUP A has sent us images of 'workshop steigereiland', a multi-level factory and office building on the edge of ijburg, amsterdam, the netherlands. conceived for two companies that required a large facility for simulations, the design stacks a set of 8-meter high factory spaces on top of the other to delineate a simple and pragmatic building.
in context image © digidaan, amsterdam
situated adjacent to the water of the ijmeer in an area set aside for the development of commercial buildings, the rectangular volume maintains the scale and proportions of the neighbouring buildings on site. the facade features a skin made out of 3 x 1 m corten steel sheets which lend a warm and reddish brown patina effect. the decidedly industrial treatment lends a distinct aesthetic to the building while referencing the character of the companies. the face which faces the water has an open and transparent character while the south facade strategically places strips of glazing to reduce interior heat gain.
from water image © digidaan, amsterdam
approach image © digidaan, amsterdam
translating the internal composition of the project to the exterior, a deep cut in the building mass which accommodates the access stairs visually divides the two levels. the excision continues along the south elevation to form a linear gallery for entering the premises. in addition to the factory space, the design also includes 4 meter height offices and research facilities on the first and second floor.
exterior view image © digidaan, amsterdam
image © digidaan, amsterdam
west elevation image © digidaan, amsterdam
south facade image © digidaan, amsterdam
detail of facade skin image © digidaan, amsterdam
external gallery image © digidaan, amsterdam
staircase image © digidaan, amsterdam
interior view of office space image © digidaan, amsterdam
image © digidaan, amsterdam
access image © digidaan, amsterdam
night view image © digidaan, amsterdam
floor plan / level 0
floor plan / level +1
facade scheme
project info:
client: maatschap steigereiland, amsterdam project architects: maarten van bremen, folkert van hagen, adam visser team: esther vlasveld, chris woltjes, birgitta rottmann, daniel hoewekamp structural consultant: van rossum raadgevende adviseurs / 1st phase, hercuton, nieuwkuijk / 2nd phase consultant M&E: heinsch engineering BV facade: VPT versteeg, heusden contractor: hercuton, nieuwkuijk dimension: 3,300 m2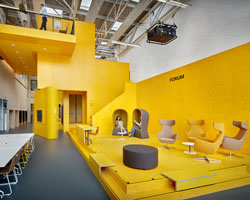 oct 13, 2017
oct 13, 2017
sep 20, 2016
sep 20, 2016
feb 01, 2012
feb 01, 2012