groupwork + amin taha have completed the renovation of '21 caroline place', a terraced house in central london that dates back to the 1950s. completed for a family of five, the restoration allows its residents to enjoy an open-plan lifestyle with tactile finishes found throughout. hidden from the passing street, behind the building's restored original façade, the extent and scale of the renovation is only apparent once inside the property.

all images by timothy soar
after carrying out early studies of the house, groupwork + amin taha discovered remains of original travertine flooring, densely plastered walls behind the 1970s pine boarding, and one room lined with dark cherry timber paneling. 'as travertine has a wide spectrum of textural and visual possibilities its reintroduction allowed for a hard wearing surface across each floor including the open courtyard and into garage/study,' explains the design team. 'varying from quarry tooled to polished these finishes emphasized and differentiated the journey from interior to exterior, from basement to ground and above.'

a basement contains music and family rooms alongside utility areas
consequently, each floor becomes a 'shell' of travertine and plaster, allowing the type of occupation to be defined by the home's inhabitants and their choice of furniture. the residence includes four storeys above ground, with a basement — which contains music and family rooms alongside utility areas — providing additional space below grade. at ground level, the entrance leads into a reception room and an adjacent kitchen via a glazed hallway. from here, the garden courtyard is found at the rear of the property.

the garden courtyard is found at the rear of the property
above, the first floor features a pivoting cabinet bookcase that can transform the single reception room with a corner study area into two separate enclosures. when pivoted, one of the bookcases can fold out a guest bed, converting the study into an additional bedroom. the master suite is found on the second floor, alongside an additional bedroom, while further sleeping accommodation is found on the uppermost storey.

the entrance leads into a reception room with an adjacent kitchen
the entire renovation is articulated around a load bearing cantilevered travertine staircase, which rises from the basement to the skylight at the building's roof. the carefully constructed stairs encircle a tensile and sculptural balustrade that spans the full height of the building. throughout the project, the architects sought utilize new technologies, which, they suggest at some time in the future, could be mistaken as original interventions.

each room's function is defined by the home's inhabitants and their choice of furniture

the first floor features a pivoting bookcase that can transform the entire room

a consistent material palette has been applied throughout the home

the glazed hallway provides access from the street

the building's original façade has been subtly restored
project info:
start on site: may 2014
completion: august 2016
gross internal floor area: 280 sqm GIA (3,013 sqf)
construction cost: £1.6 million
construction cost per sqm: £4,714 /sqm
architect: amin taha + groupwork
client: private
structural engineer: webb yates engineers
m&e consultant: MLM
QS: jackson coles
stone mason: atelier romeo – trani, italy
metal worker: eastnor
joinery: ecore
fire engineering: optimise
concrete specification: hanson
project manager: groupwork
approved building inspector: MLM
main contractor: london basement
annual co2 emissions (estimate): 25.00 kg/m2
Save
Save
Save
Save
Save
Save
Save
Save
Save
Save
Save
Save
Save
Save
Save
Save
Save
Save
Save
oct 24, 2017
oct 24, 2017
oct 24, 2017
oct 24, 2017
oct 21, 2017
oct 21, 2017
sep 28, 2017
sep 28, 2017
sep 17, 2017
sep 17, 2017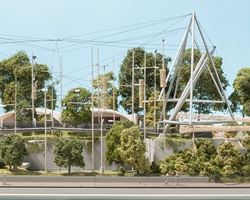 sep 13, 2017
sep 13, 2017
oct 31, 2017
oct 31, 2017
oct 24, 2017
oct 24, 2017
oct 24, 2017
oct 24, 2017