apr 07, 2015
hakusui nursery by yamazaki kentaro defined by stepped interior
hakusui nursery by yamazaki kentaro defined by stepped interior
image © naomi kurozumi
all images courtesy of yamazaki kentaro design workshop
japan GOOD DESIGN award: hakusui nursery school in chiba city, japan, is built on a gentle sloping hill adjacent to a small wooded area. designed by yamazaki kentaro design workshop, the japanese practice wanted the children to be exposed to as much of the surrounding nature as possible. by establishing the orientation, wind and topography of the site, the kindergarten has a capacity of 60 people and features a gradual stepped interior with a sloping roof supported by timber columns of varying inclinations. composed mainly of light timber, the building faces south, giving the child-friendly space a comfortable atmosphere and plenty of natural sunlight. the stepped nature of the interior allows the floor plan to be divided into different play zones whilst small pods painted in the primary colors provides a private space for learning activities. the glazing on either side of the architecture, and the large glass opening at the top, allows natural ventilation to travel through the space, providing the nursery a pleasant breeze, especially in the summer months.

image © naomi kurozumi
a mechanism built on the roof operates an automatic watering system where the rainwater that has been accumulated follows the sloped gradient of the roof, creating a waterfall at the edge and collected in the jabujabu pond underneath. proving popular with the children, yamazaki kentaro design workshop has conceived the outdoor area with the natural ponds and the timber decking encourages open-air playing and interaction whilst surrounded by natural scenery.

kids playing at the top level
image © naomi kurozumi

smaller steps on the side for access
image © naomi kurozumi

top platform
image © naomi kurozumi

the rainwater mechanism promotes roof cooling and creates a waterfall for children to play in
image © naomi kurozumi

jabujabu pond and the timber decking
image © naomi kurozumi

the top decked area
image © naomi kurozumi

side view in the evening
image © naomi kurozumi

the nursery from the outside at night
image © naomi kurozumi
project info:
location: sakura-shi, chiba
site area: 104,664 sqm
floor area: 53,028 sqm
principle use: nursery
structure: timber
structual design: ryuji tabata, takayuki tabata
facility design: yamada machinery office / hiroyuki yamada
graphic design: shunpei yokoyama design office / shunpei yokoyama
the hakusui nursery school is a winner of the 2015 japan GOOD DESIGN for the future award, presented during tokyo designers week 2015.

the GOOD DESIGN award was founded in 1957 by the japanese ministry of international trade and industry and is hosted by the japan institute for design promotion. the 'g mark' emblem reflects comprehensive design values and principles that aim to enrich lives, industries and society. 
Save
Save
Save
Save
Save
Save
jul 18, 2017
jul 18, 2017
jul 12, 2017
jul 12, 2017
jul 10, 2017
jul 10, 2017
jun 14, 2017
jun 14, 2017
jun 09, 2017
jun 09, 2017
may 18, 2017
may 18, 2017
dec 15, 2015
dec 15, 2015
nov 28, 2015
nov 28, 2015
nov 26, 2015
nov 26, 2015
dec 15, 2015
dec 15, 2015
nov 28, 2015
nov 28, 2015
nov 26, 2015
nov 26, 2015
jul 05, 2017
jul 05, 2017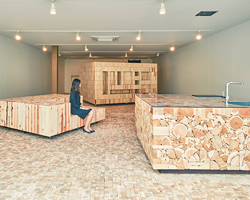 may 11, 2017
may 11, 2017
apr 12, 2017
apr 12, 2017