'architects are fond of characterizing the contemporary field as 'centerless,' but we think there is a remarkable coherence to work being produced by a generation of designers who teach in the american academy,' says andrew holder, harvard GSD's assistant professor of architecture and the co-curator of a new exhibition that seeks to illustrate this theory. titled 'inscriptions: architecture before speech,' the display includes 400 images and 26 models that help reveal the non-verbal agreements that have shaped architecture's contemporary moment.
to learn more about the exhibition, designboom visited the harvard GSD's druker design gallery where we received a tour of the exhibition from its curators k. michael hays and andrew holder.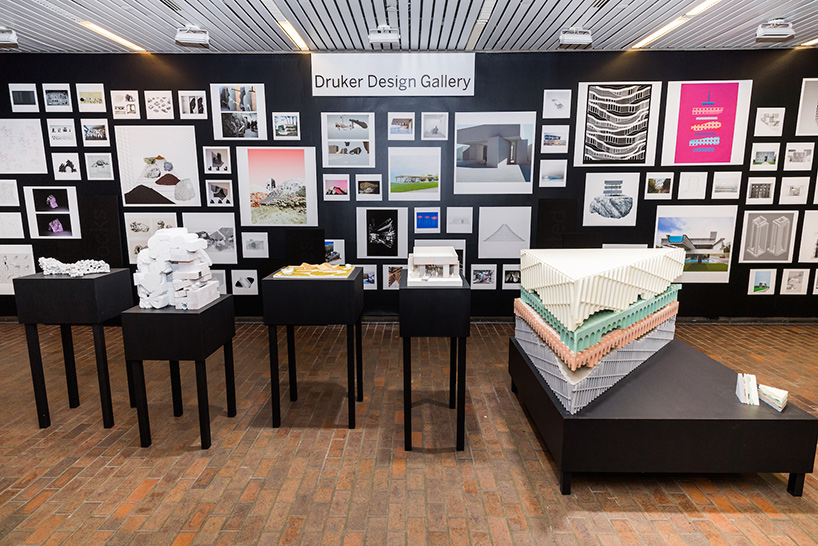 all images courtesy of harvard GSD, unless otherwise stated
on view at harvard GSD through march 11, 2018, 'inscriptions' aims to reveal 'shared cultural engagements, agreements, and fantasies of architecture's origins, offering a theory on the structural relationships that bind and organize the apparent delirium of the contemporary field'. starting with the notion that architects have arrived at a set of agreements on which forms the practice can take today, without explicit communication, hays and holder posit that in an age of ever-advancing technology, the de-skilled and the visceral are still able to thrive.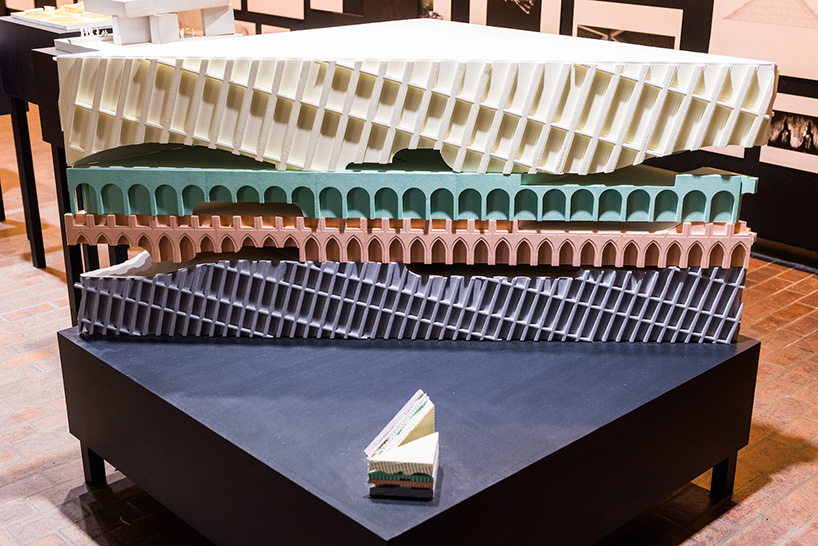 'best sandwiches' by jennifer bonner / MALL
'what the notion 'inscription' presupposes of architecture is not a particular meaning, but a specific kind of potentiality — a non-semantic materiality, a non-referential construct that can be developed into an actual architectural project,' says k. michael hays, who led the exhibition's curation alongside andrew holder. 'indeed, inscription presupposes architecture as a certain kind of being which is anterior to both signs and experiences.'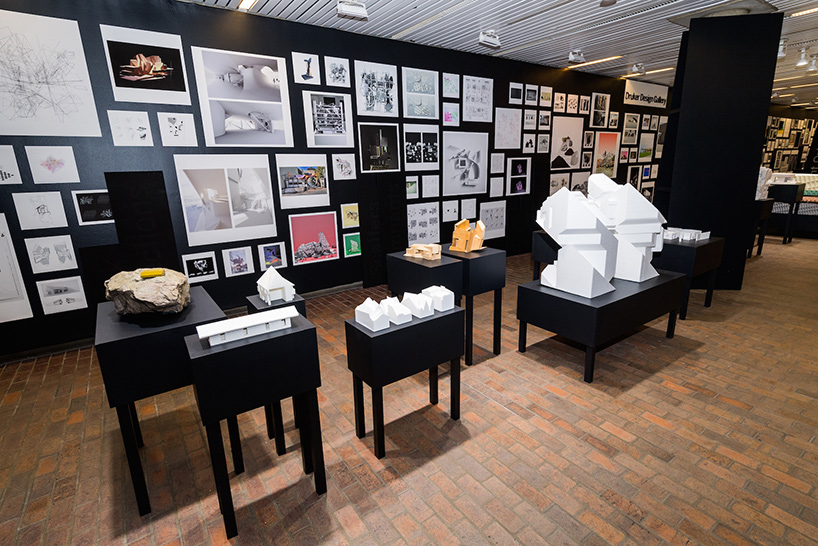 the work of over 70 practices is featured
in order to illustrate these theories, the work of over 70 practices is featured with significant projects by farshid moussavi, preston scott cohen, and mack scogin presented alongside works from emerging architects across the academy such as MALL, MILLIØNS, PARA project, T+E+A+M, BairBalliet, and first office. the presentation organizes a seemingly fragmented field by dividing the projects into four fluid categories ranging from what the curators call 'the immanent to the transcendental'.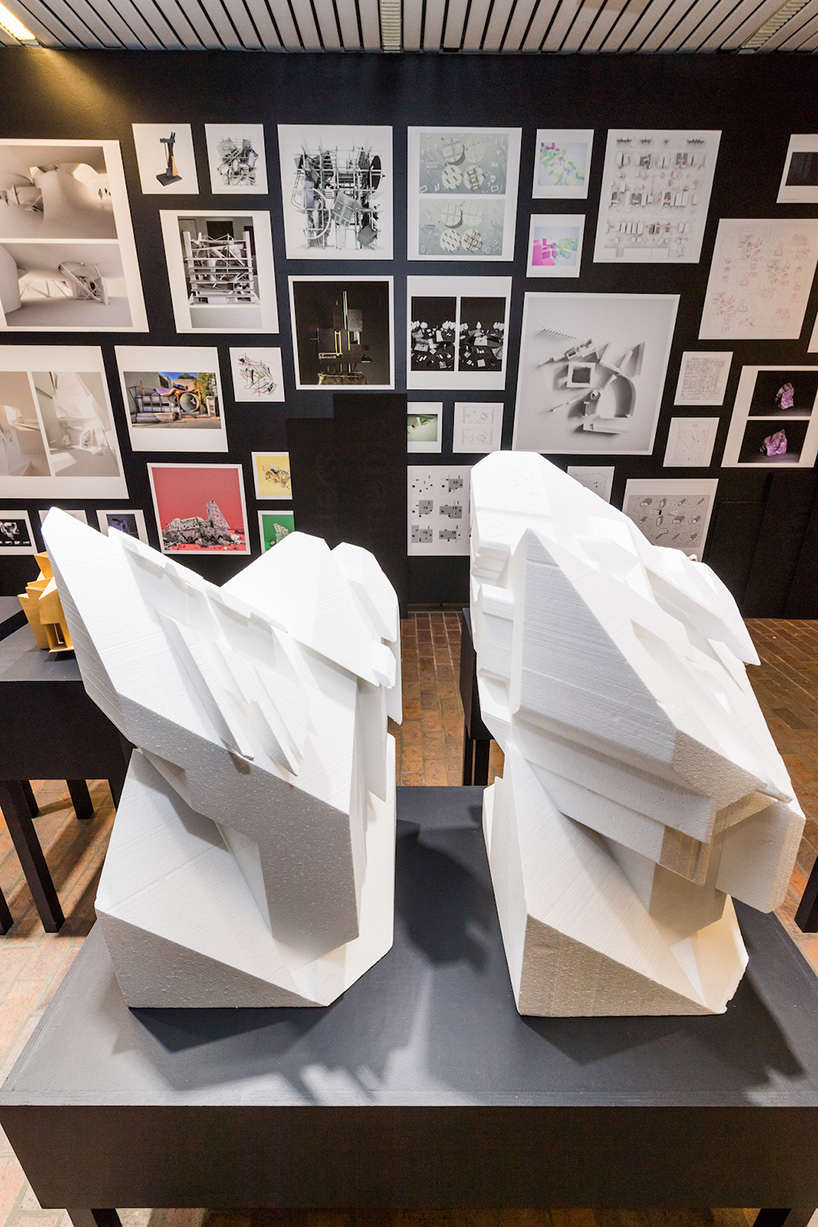 the display is divided into four related categories
the first category, 'transcendental originals', involves ideas, forms, and processes that are received intellectually. 'the transcendental does not resemble the actual; the virtual is not derived from the empirical,' the curators say. 'rather, the movement from the transcendental origin clarifies and refines a newly actualized architectural object; the transcendental is nothing but this movement and deferral, this working-through. and yet, once a transcendental original project is actualized (and only then), it appears that it was always already there, just waiting to be put to use. thus, certain unprecedented and eidetic images strike us as uncannily resonant and contemporary, yet, at the same time, archaic and out of reach. digitally generated labyrinths, booleans, or stochastic patterns in plan and elevation take on the mystery of glyphs without a code of translation. they must be understood as inscriptions anterior to any meaning, as material potentiality anterior to any phenomena.'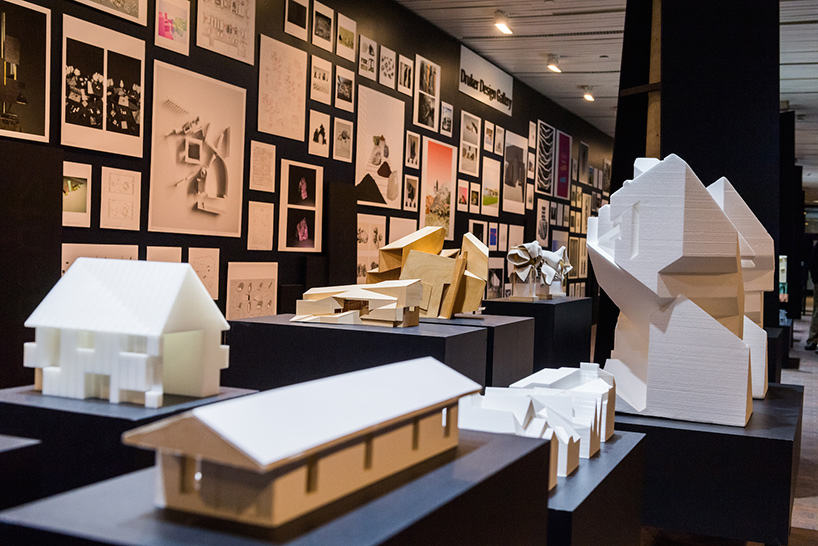 26 models are presented as part of the exhibition
'revealed originals', the second category, is characterized by a disciplinary drive to reveal or approach an end product through projective geometry and serial drawing exercises. 'certain constitutive concepts of architecture — orthogonality, symmetry, seriality, the distinction between interior and exterior — are produced not as actual substance but rather through their being held just out of reach,' explain k. michael hays and andrew holder. 'unlike the immanent tents and huts, which coincide with the natural rhythms of the site and building materials, the disciplinary drive to reveal is compulsive as well as compelling and often divorced from such organically regulated frames and cycles. on the other hand, like the encounter with the creaturely, the drive toward revelation retains a quasi-somatic force on the viewer. we see, in our insistent reinstantiations of unnatural logics, our own psychic projection that 'this is what architecture demands'.'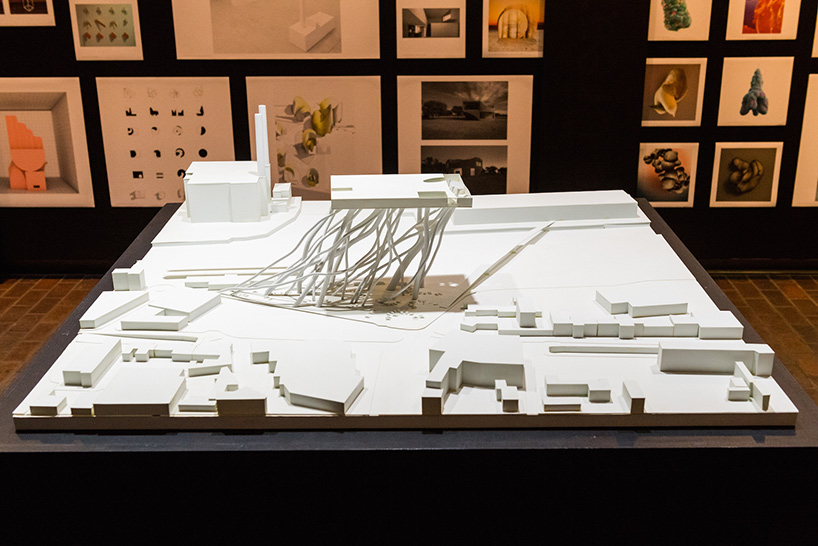 proposal for the wolfsburg science center by mack scogin merrill elam architects
the third category, 'immanent originals' focuses on the organic, earthly, or primitive, coinciding with the natural rhythms of the site and building materials. 'in traditional analyses, interpretation centers on the architectural image and asks a question of architectural language — of the interaction of signifiers and sensory pleasure,' the curators state. 'in the projects presented here, by contrast, image is immanent to material and construction processes. image in these cases derives from the tug of gravity, the exchange of heat, the propagation of light from sources unseen — image comes from these earthly conditions and can no longer be interpreted as self-contained, but rather is always in dynamic relation with what is outside its limits.'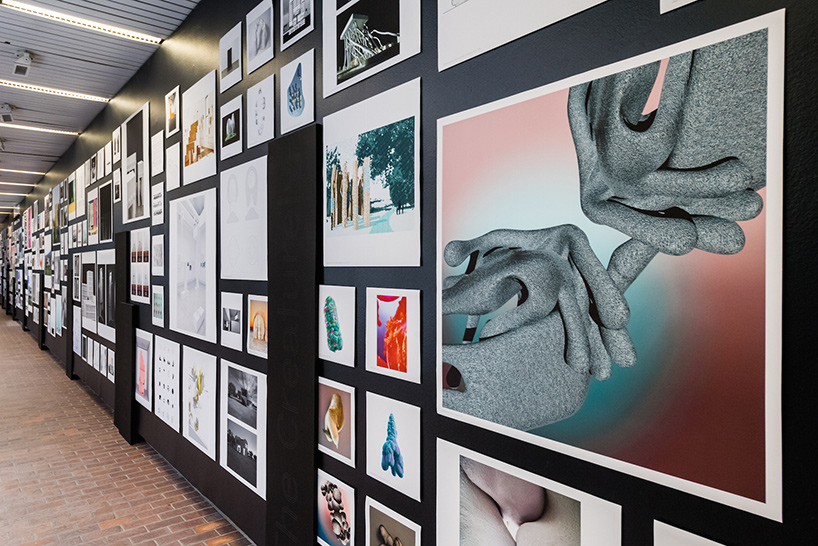 the display includes around 400 images of different projects
the final category explores 'the encountered', where projects attempting to evade contemporary clichés suggest that what is needed is 'a new kind of mimesis — materialist rather than idealist, figural rather than representational.' 'these responses involve a new relationship to body and materiality that might best be called the creaturely,' explain hays and holder. 'the creaturely introduces a mimesis whose proximity to the human body is anxiety-producing, mainly because the inscription of the body seems both symptomatic (it is a reflex of contemporary 'bare life' and the urgent need to imagine alternatives) and autonomous (we humans don't control it). it is the golem arrived, unsummoned.'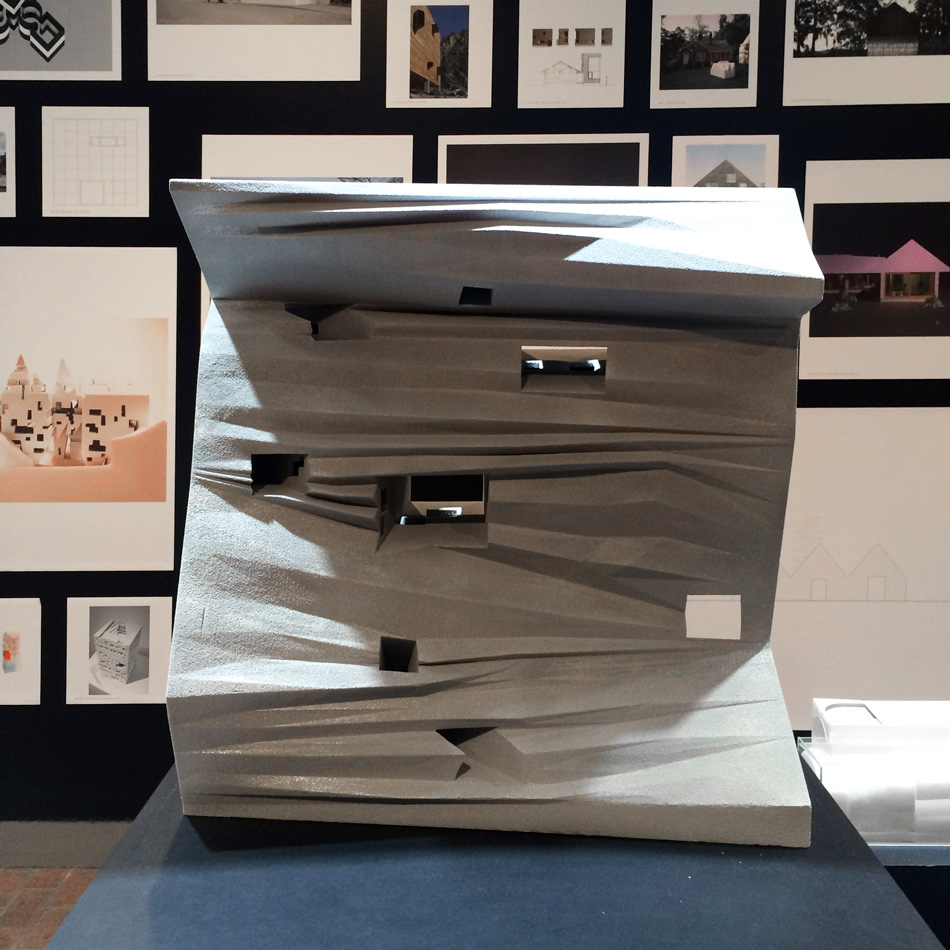 MILLIØNS, bust, 2015
image © designboom
here, one of the featured projects is the wolfsburg science center by mack scogin merrill elam architects, an entry for a 1999 competition that was eventually won by zaha hadid. 'there's this plinth, which is more or less modernist architecture as we know it, that's raised on a series of redundant semi-structural bent steel tubes — one of which is a functioning elevator,' andrew holder told designboom as part of the tour. 'you can't help but see it as a head and tentacles because of its proportion.'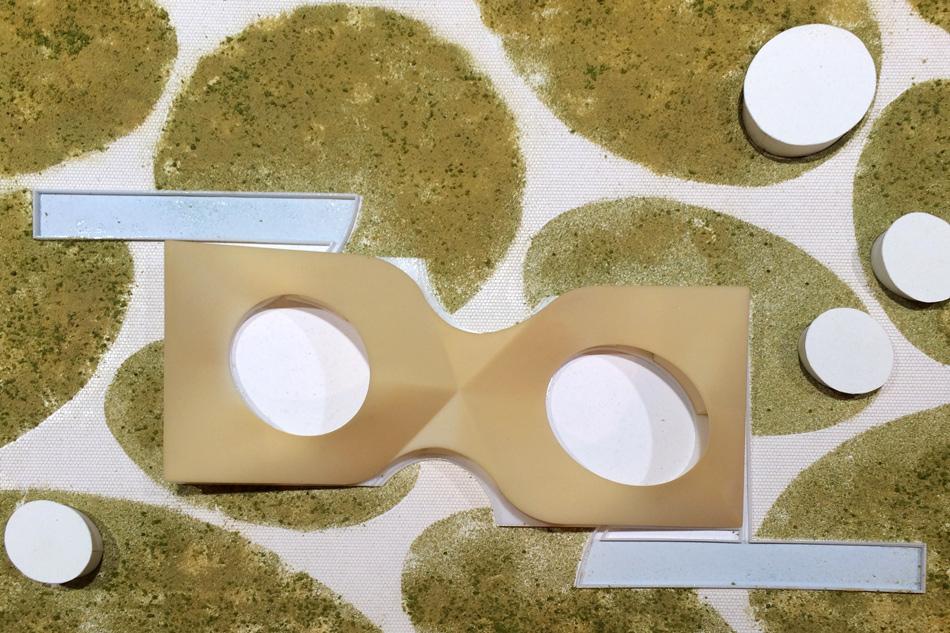 model of the THREAD cultural center designed by toshiko mori 
image © designboom
'one of the things that was important was that a lot of these projects come from certain social motivations,' added k. michael hays. 'for example, when merrill elam visited the site, which was where the VW was manufactured under hitler's regime, she said all you could see were industrial buildings and plumes of smoke. for her, it was very haunting. even though we are a long way from world war two, she still felt a sinister presence on the earth itself. so she insisted that the program had to be elevated to be up in the sky above the smoke stacks, but also above the earth. we've mentioned the idea of the golem that emerges in the jewish ghetto to protect it in certain moments of crisis, and I think we need monuments that are not the magical monuments of utopian modernism, but monuments that engage a different reality.'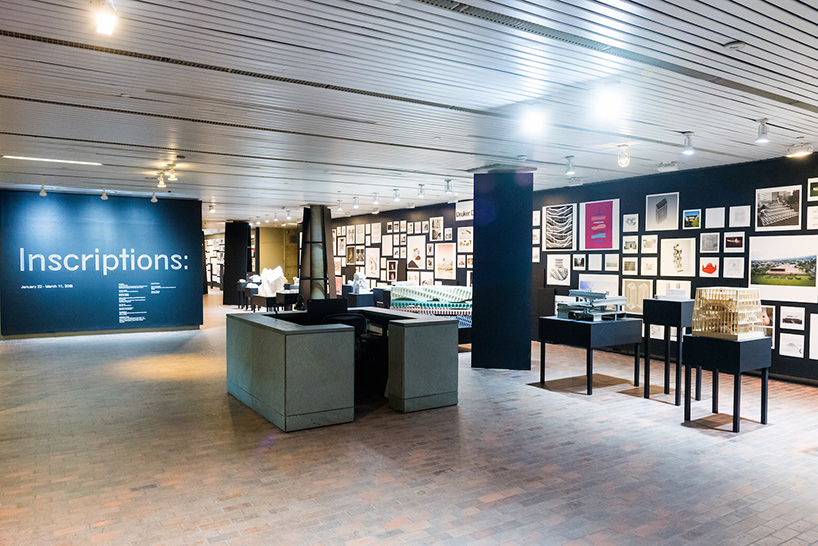 'inscriptions' remains on view until march 11, 2018
the curators say that by surveying the field and attempting to describe it, the exhibition raises the fundamental question of authorship. the presented work suggests that authors in the field are 'maintainers of the discipline, tending to agreements and memories that predate any single practice, and staging interventions out of which subsequent representations are produced, events staged, and rhetorics launched.' in this sense, the curators say, the projects exhibited are true examples of architecture before speech. 'inscriptions' remains on view at the harvard GSD's druker design gallery until march 11, 2018.
a diverse digital database that acts as a valuable guide in gaining insight and information about a product directly from the manufacturer, and serves as a rich reference point in developing a project or scheme.