swiss firm herzog & de meuron has revealed the first interior photographs of '56 leonard', the 60-story skyscraper sited in new york's tribeca neighborhood. the tower — which began opening to residents last year — has been nicknamed the 'jenga building', a moniker derived from its cantilevered balconies. as part of the development, artist anish kapoor has designed a two-story sculpture that will be sited outside the building's lobby at ground level.

all images by alexander severin
as well as 56 leonard's distinctive exterior, herzog & de meuron has also designed the building's interiors — including the 17,000 square foot private amenity space. connecting the tower's ninth and tenth floors, a sculptural concrete staircase joins the scheme's two levels of amenities. facilities for residents include a 75 foot pool with adjoining outdoor sun deck and hot tub, and a fitness center complete with yoga studio, steam room, and treatment room.

the 60-story skyscraper is sited in new york's tribeca neighborhood
other on-site amenities encompass a library lounge, an indoor/outdoor theater, a private dining salon, a catering kitchen, a conference center, and a children's play area. rising to a total height of 796 feet (243 meters), the 145-unit tower is topped with 10 penthouses that offer uninterrupted views across the city. each of these residences has wood-burning fireplaces, grand entry galleries, and private elevator access. take a tour inside the building in the new images below.

17,000 square feet of amenity space is contained within the ninth and tenth floors

a sculptural concrete staircase connects the two levels

a library lounge boasts exposed concrete surfaces

as well as the distinctive exterior, herzog & de meuron also designed the building's interiors

the fitness center features a yoga studio and treatment room

the 75 foot pool is brightly and naturally illuminated

the pool has an adjoining outdoor sun deck

the sauna is clad with traditional timber

the indoor/outdoor theater

the so called 'jenga tower' began opening to residents in 2016
Save
Save
Save
Save
Save
Save
Save
Save
Save
Save
Save
Save
Save
Save
Save
Save
Save
Save
oct 30, 2017
oct 30, 2017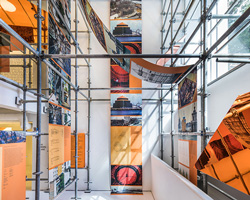 oct 27, 2017
oct 27, 2017
oct 22, 2017
oct 22, 2017
oct 21, 2017
oct 21, 2017
oct 19, 2017
oct 19, 2017
oct 17, 2017
oct 17, 2017
oct 30, 2017
oct 30, 2017
oct 30, 2017
oct 30, 2017
oct 30, 2017
oct 30, 2017
oct 29, 2017
oct 29, 2017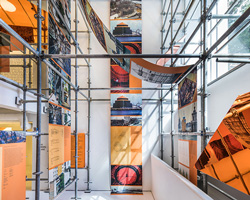 oct 27, 2017
oct 27, 2017
oct 26, 2017
oct 26, 2017
oct 23, 2017
oct 23, 2017
sep 19, 2017
sep 19, 2017
aug 23, 2017
aug 23, 2017
jul 23, 2017
jul 23, 2017
jun 20, 2017
jun 20, 2017
jun 07, 2017
jun 07, 2017
oct 22, 2017
oct 22, 2017
oct 19, 2017
oct 19, 2017
oct 13, 2017
oct 13, 2017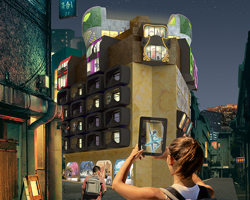 oct 10, 2017
oct 10, 2017
oct 06, 2017
oct 06, 2017
oct 06, 2017
oct 06, 2017