215 chrystie is a 28-story tower located on the bowery in new york's lower east side. after the building's mass and volume had been negotiated with the city, hotelier ian schrager tasked herzog & de meuron with designing a hotel with a residential component within the strictly defined criteria.

all images courtesy of public hotels / ian schrager company
'our idea was to stack these two very distinct typologies on top of each other, on one hand to express their difference, while on the other to unify them within the same building skeleton,' explained herzog & de meuron back in 2014. 'it was also our aim to complement them with a diverse mix of uses so that the building becomes like a city within the city'.

the development features a private and secluded garden
occupying the base of the 28-story tower is PUBLIC — the first in a new series of hotels conceived by ian schrager, which seek to offer luxury accommodation at an affordable price point. now open, with rooms starting at $150 USD per night, the hotel is looking to attract 'savvy and sophisticated' clientele. 'I truly believe that everyone deserves a one-of-a-kind experience that lifts their spirits and makes their heart beat faster, one that elicits an emotional response,' says schrager. 'to deliver this at a reasonable price point is even more on the mark for today's savvy and sophisticated traveler.'

all 367 rooms come with the fastest wireless internet new york city has to offer
according to the hotel, all 367 rooms come with the fastest wireless internet new york city has to offer, as well as a 50″ smart TV, floor-to-ceiling windows, and touch-controlled blackout shades. loft guest rooms feature open plan layouts with distinct zones for sleeping, relaxing, working, and entertaining.

dramatically illuminated escalators lead guests to the tower's upper levels
meanwhile, the hotel's restaurant is run by chef jean-georges vongerichten, and features a smoker, wood-burning oven, and wood burning grill. a large outdoor roof terrace — designed for weekend barbecues and communal congregation — offers panoramic views of the city, while the adjacent indoor venue will host guest DJ performances after dark.

'diego' is an intimate bar conceived as a 'private gentleman's club in london'

'louis' is 'part grocery, part coffee shop, part luncheonette, and part market'

the hotel's restaurant is run by chef jean-georges vongerichten

'PUBLIC kitchen' features a smoker, a wood-burning oven, and a wood burning grill

a rooftop venue will host guest DJ performances after dark

the hotel can also host weddings and other private events

the project was developed by ian schrager and long-time collaborators herzog & de meuron
Save
Save
Save
Save
Save
Save
Save
Save
Save
Save
Save
Save
Save
oct 30, 2017
oct 30, 2017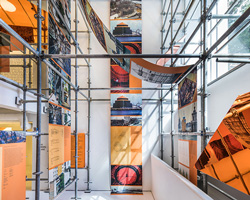 oct 27, 2017
oct 27, 2017
oct 22, 2017
oct 22, 2017
oct 21, 2017
oct 21, 2017
oct 19, 2017
oct 19, 2017
oct 17, 2017
oct 17, 2017
oct 30, 2017
oct 30, 2017
oct 30, 2017
oct 30, 2017
oct 30, 2017
oct 30, 2017
oct 23, 2017
oct 23, 2017
sep 19, 2017
sep 19, 2017
aug 23, 2017
aug 23, 2017
oct 31, 2017
oct 31, 2017
oct 27, 2017
oct 27, 2017
oct 19, 2017
oct 19, 2017