jul 08, 2008
home delivery exhibition at moma
'housing for new orleans' by lawrence sass and students

'burst* 008' by jeremy edminston and douglas gauthier
home delivery: fabricating the modern dwelling
at: moma, new york, usa
from: july 20th – october 20th, 2008
'home delivery: fabricating the modern dwelling' exhibition features historical drawings, models, photographs
and videos from renowned architects such as frank lloyd wright and jean prouvé. the exhibition focuses on
the past, present and future of pre fabricated homes. five firms were chosen by moma to design and erect
life size pre fabricated models and needed to work with a budget of $175 000. the models have been built over
a period of months and each firm has been keeping an online journal of their progress. these models will be
located on the vacant lot west of the museum.
read more
http://www.momahomedelivery.org
'cellophane house' by kierantimberlake associates
text from moma website this diverse collection of material illustrates how the prefabricated house has been, and continues to be,
not only a reflection on the house as a replicable object of design but also a critical agent in the discourse
of sustainability, architectural invention, and new material and formal research.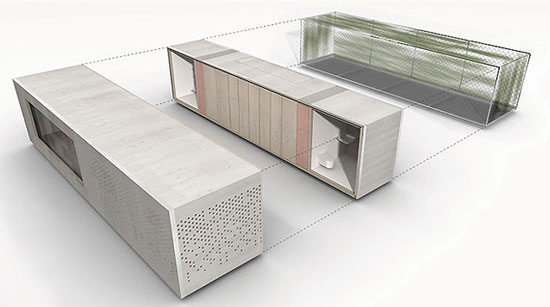 'system 3' by oskar leo kaufmann and albert ruf
'micro compact house' by hordern cherry lee architects and haack + hopfner architects

all images from the moma website