sep 02, 2013
house in itami by tato architects sits on a narrow cul-de-sac
house in itami by tato architects sits on a narrow site
photo by koichi torimura
'house in itami' by tato architects is situated in a dense urban neighbourhood of japan, positioned in the back of a narrow cul-de-sac. building laws in itami require that homes are set 500mm away from outer walls to form an interspace of 1000mm between the closely positioned dwellings. in keeping in line with these codes, tato architects included an additional 400mm to the boundary line between the northeast lying adjacent land, opening up a passageway and border of 900mm for easier access to the sidedoor entrance. this architectural decision also ensures that the eave is 9m high, avoiding the north side slant line.
the interior of the home is defined by open staircases that sits at the centre of the dwelling, allocating functional programs on either side to maximize the small site, while offering a rich spatial experience that presents views to all areas of the house. the narrow steps also stand as a supporting structure for the dining table which is placed over the stairs between the ground and first floor, allowing residents to easily pass below. this provides a ceiling height of 3,775m in the dining room, which also makes the room under the staircase landing usable–the rest of the height is divided into 1,880mm downward and 1,850mm upward.

a 'cabinet' of stairs leads inhabitants from the ground to first floor
photo by koichi torimura
the house succeeds to offer easy routing throughout via the integration of non-structural walls which appear more as furniture–a laundry space, closets, handrails and toilets are all disguised in this ay. upon entrance, one is invited inside a 'cabinet' of stairs, where they arrive under the dining table that faces a large south facing wall that receives a lot of natural sunlight; while moving between the first and second floor, one physically steps onto the sofa side table and drawers of a storage cupboard  to ascend towards the upper floor.
the overall structure of the house is built from 100mmx100m steel sections which act as columns and beams. 75mm deck plates for the floor construction are supported by 6mm flat bars and 50mm squared tie beams, positioned beneath the concave parts of these boards. the floors of each level are fixed to the horizontal supports at both ends so that continuity of stiffness between these is well kept.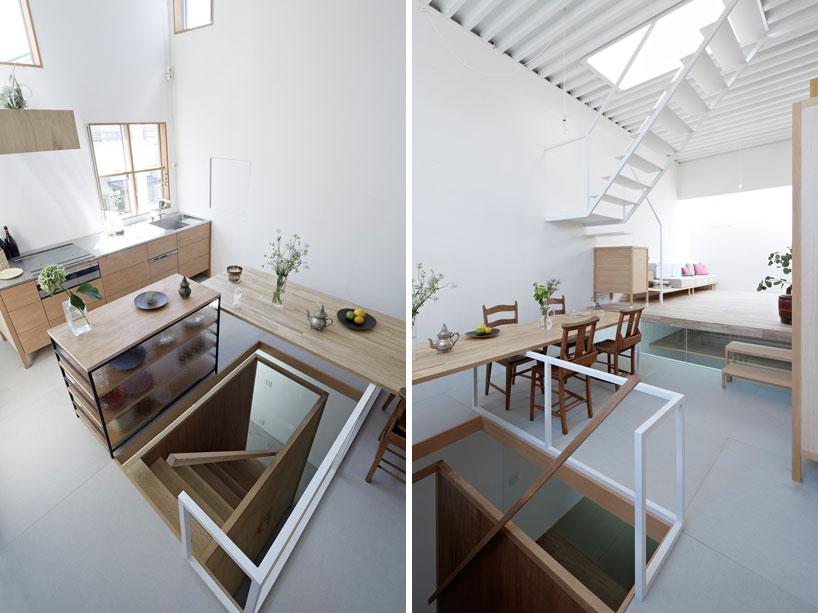 view of the first floor kitchen and living areas
photo by koichi torimura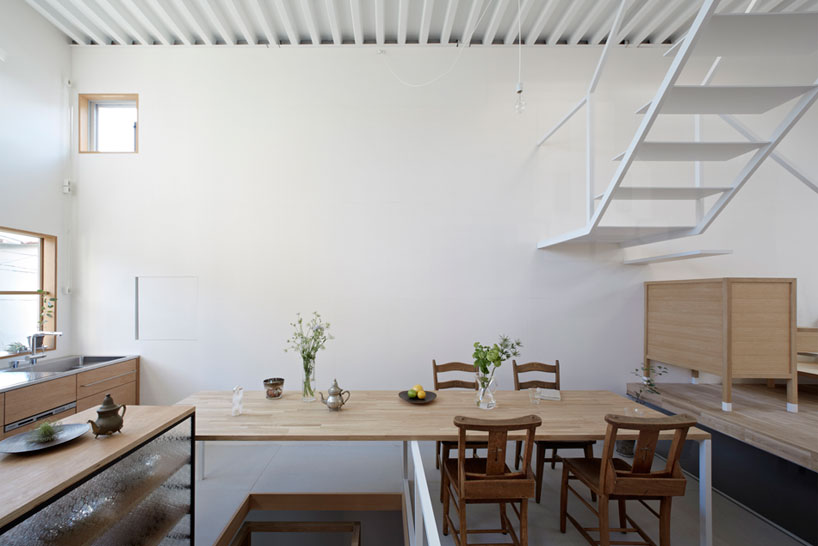 the kitchen table is placed over the staircase
photo by koichi torimura

photo by koichi torimura

staircases and transition areas double function as furniture
photo by koichi torimura

one steps onto the side table of a sofa and the drawers of a cupboard to move between the first and second floors
photo by koichi torimura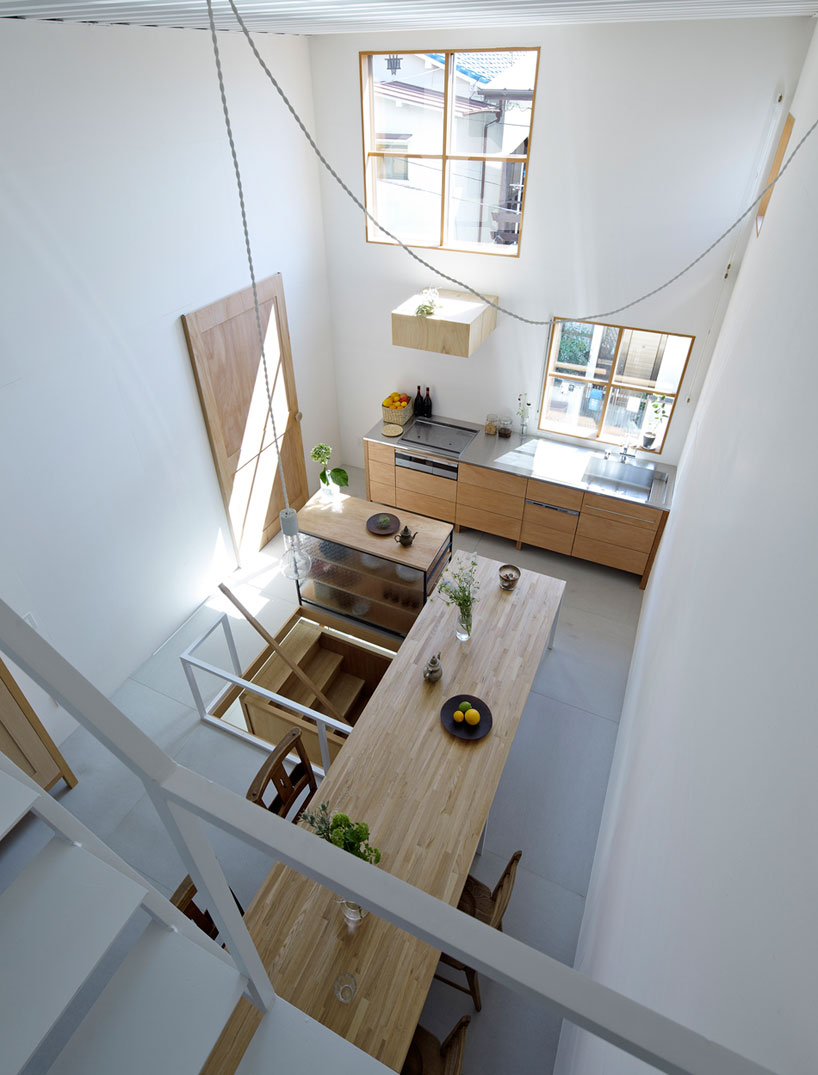 view from the stairs down onto the first floor kitchen
photo by koichi torimura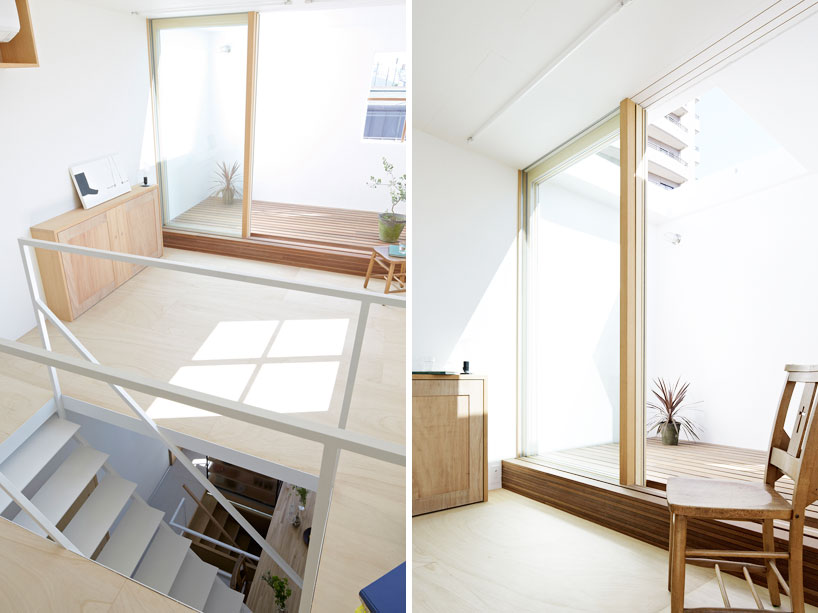 photo by koichi torimura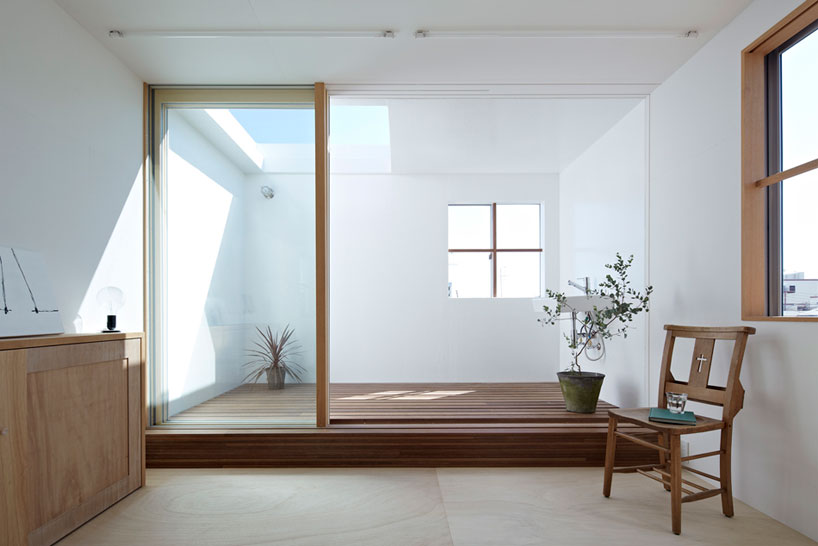 photo by koichi torimura

'house in itami' is located on a narrow cul-de-sac
photo by koichi torimura
project info:
project name: house in itami
location of site: itami, japan
site area: 59.16m2
building area: 34.95m2
total floor area: 95.79m2
type of construction: steel
program: house
project by: tato architects
principal designer: yo shimada
design period: june 2010 – october 2011
construction period: may 2012 – september 2012
feb 06, 2016
feb 06, 2016
jan 14, 2016
jan 14, 2016
jan 12, 2016
jan 12, 2016
jan 08, 2015
jan 08, 2015
feb 21, 2014
feb 21, 2014
oct 23, 2013
oct 23, 2013