dec 07, 2012
hudson yards master plan breaks ground on first tower
two days ago, the 'hudson yards redevelopment master plan' project by kohn pederson fox (KPF) — and developed by related companies — broke ground, beginning a 13 million square-foot (26 acre) project. the scheme is estimated to cost between 12 and 15 billion dollars and will bring in many times more in revenue and culture to manhattan's upper west side, with an expected LEED platinum stamp of approval. dubbed the 'city within a city,' the large-scale rezoning will contain sixteen skyscrapers with 24 million square feet of office space, 13,500 housing units, with almost 4,000 affordable units, 1 million square feet of retail space, 2 million square feet of hotels, a subway extension, restaurant, cafe, markets, bars, a culture center and a school all organized around 14 acres of public green space.

image © visualhouse (main image © mir)
the first tower, designed by KPF, will be anchored by international fashion brand coach, will stand 895 feet in the air and is projected to be completed in 2015. it is expected that around 40,000 people will live and work within the project and will be able to enjoy structures such as 'the culture shed' by local firm diller, scofidio + renfo and david rockwell, the 72-storey 'D tower' by the same DS+R or the 'E-tower' by SOM.

images © mir
'hudson yards must link to the prevailing industrial character of the west side, while also summarizing this context with a fresh visual dynamic,' says bill pederson of KPF. 'at a time when extraordinary urban projects are arising around the world, hudson yards will be an important symbol of new york's continued leadership in global urbanism.'

main towers face the hudson river
image via

adjacent to central park
image © visualhouse

base of the south tower
image © visualhouse

smaller scale commercial space relates to pedestrians
image © visualhouse

hudson yards park
image courtesy of HYDC

image courtesy of HYDC

the existing site
image © KPF associates

green space masterplan
image courtesy of HYDC

site plan
image courtesy of HYDC

concept diagram
image © KPF
Save
aug 17, 2017
aug 17, 2017
aug 11, 2017
aug 11, 2017
aug 03, 2017
aug 03, 2017
aug 17, 2017
aug 17, 2017
aug 16, 2017
aug 16, 2017
aug 16, 2017
aug 16, 2017
jul 10, 2017
jul 10, 2017
jun 21, 2017
jun 21, 2017
jun 15, 2017
jun 15, 2017
jul 02, 2017
jul 02, 2017
may 25, 2017
may 25, 2017
dec 08, 2016
dec 08, 2016
apr 14, 2017
apr 14, 2017
nov 17, 2016
nov 17, 2016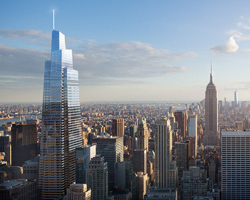 oct 13, 2016
oct 13, 2016
SOM
(39 articles)
may 17, 2017
may 17, 2017
apr 06, 2017
apr 06, 2017
dec 24, 2016
dec 24, 2016