jan 29, 2013
HWCD: bamboo courtyard teahouse
'bamboo courtyard teahouse' by HWCD, yangzhou, chinaimage © T+Eall images courtesy of HWCD
floating in a peaceful lake in the shiqiao garden just northwest of shanghai, the 'bamboo courtyard teahouse' design by architect sun wei of HWCD exemplifies ancient chinese cultural and architectural traditions interpreted tastefully in contemporary times. as the vernacular includes inward facing pavilions to create a more internal landscape, the floating teahouse is conceived on the overlaying of two regular square grids with individual structures that play on the solid-void characteristic to create a protected inner environment. the negative spaces also make ventilation possible throughout each construct. the project consists of two layers that together assure a symbiosis between building and nature as well as maintain key sustainable features. 
view from the waterimage © T+E
first, the free-standing earth-brick structures are clustered as an almost miniature urban plan, each with views across the lake. their thermal properties retain heat in the winter and reduce the need for extra resources, while their neutral tones blend into the landscape. over this, a thin translucent bamboo trellis defines vertical and horizontal elements that inform exterior spaces without completely enclosing them from the outside world. reminiscent of  the stocks emerging from the water, the bamboo screens help shade the constructs in the summer and from a distance give a more natural look to the complex.
a series of internal courtyard are createdimage © T+E
image © T+E
the corridors are lines with vertical and horizontal bamboo lattice image © T+E
the floating platform provides views and a connection to the water at every pointimage © T+E
image © T+E
doorway into the teahouseimage © T+E
reception areaimage © T+E
image © T+E
wrapping walkway around the lakeimage © T+E
structure is illuminated at nightimage © T+E
image © T+E
floor plan / level 0
project info:
design firm: harmony world consulting & design (hwcd)design partner in charge: sun weidesign team: shi jun, peter dykes, zhang qianqianlocation: shiqiao, yangzhou, chinaclient: building and construction authority of yangzhou economic and technological development zoneclient-side project manager: yaoqiangphotographer: t+ebuilding area: 400m2completed: may 2012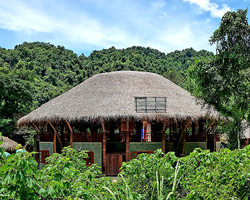 jul 12, 2017
jul 12, 2017
jun 21, 2017
jun 21, 2017
jun 14, 2017
jun 14, 2017