after meeting ten years ago in jürgen mayer H's kitchen, matthias hollwich and marc kushner went on to found HWKN, an architecture firm that spans the worlds of culture, branding and development. their diverse and wide-ranging portfolio includes retail spaces, pop-up installations and large-scale residential and commercial schemes. recent projects completed include the 'fire island pines pavilion' and 'mini rooftop', while 'wendy' was chosen as 2012's winning entry of MoMA's PS1 young architects program.
designboom recently spoke with the new york-based duo where we discussed the studio's origins, their energetic approach to architecture, and the current developments in the design field that they see as influencing today's built environment.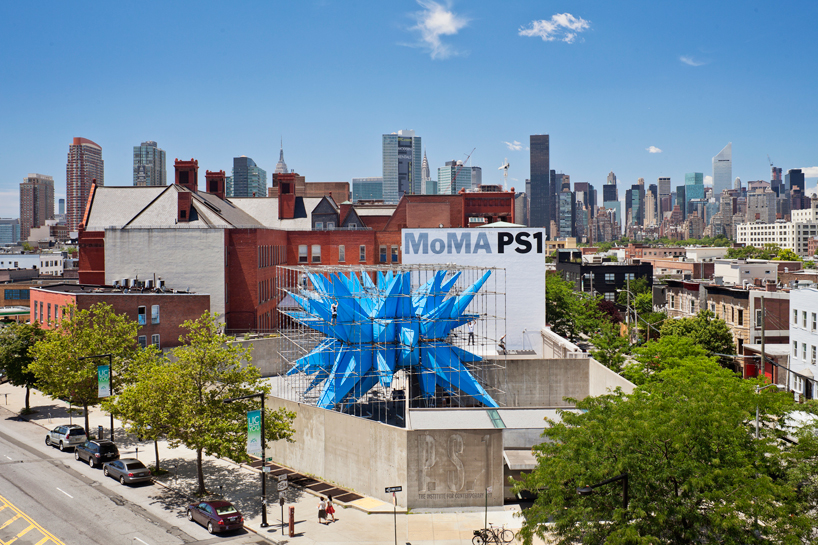 'wendy' occupied MoMa PS1's courtyard for the summer of 2012
photo by michael moran
see more of the project on designboom here
DB: how did HWKN begin? and what were its core architectural intentions?
MH: HWKN began 10 years ago in a berlin kitchen that belongs to jürgen mayer H who introduced HW (matthias hollwich) to KN (marc kushner). it took 3 more years of casual meetings, side projects, teaching gigs and full time employment until we agreed to do a speculative competition together.
MK: we really barely knew each other – but within a few days we both had the feeling that there was something special in the way we worked together. it was design-love at first sight. we decided to partner together and open an office before the competition was even complete. our competition entry was for a skyscraper designed for a wetter world called 'skygrove'. it is still one of my favorite HWKN projects – and designed 6 years before hurricane sandy reminded the world that we need to rethink how we build next to water. our core architectural intent has not really changed since we started HWKN – create designs that are shocking today and enduring tomorrow.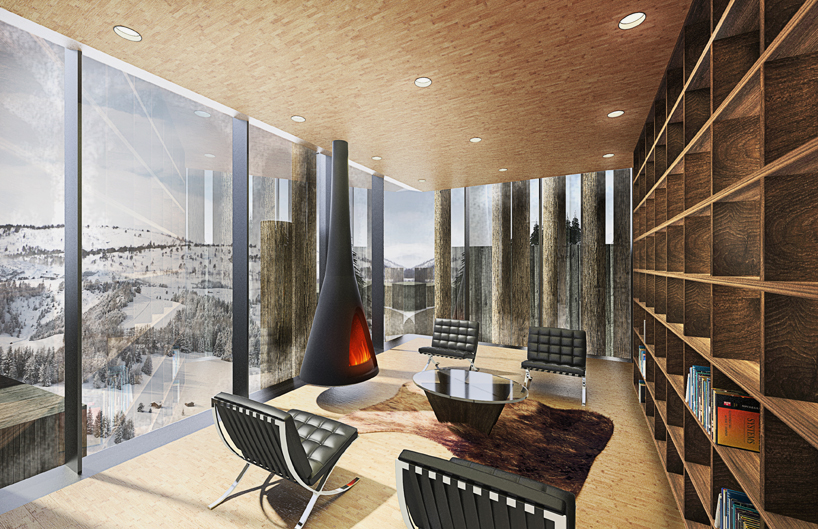 the interior of a home at 'summit powder mountain', designed for blesso properties
DB: how do you feel your different backgrounds and upbringings have shaped your design principles and philosophies?
MK: matthias is the boy from germany – marc is the boy from new jersey. our past has made us the designers we are today and there is an often hilarious tension between our two backgrounds. like any good german, matthias appreciates rigor, and having worked for rem koolhaas for years he loves nothing more than grinding through permutations of design permutations until the answer presents itself.
although I grew up in a developer household and understand that language I am more emotional about design. having worked with jürgen mayer H, I tend to focus on forms – and be more knee-jerk than matthias is in my reactions. I love american pop culture – I wrote my undergraduate thesis on a subdivision in my new jersey hometown called bel-aire – and a good dose of schmaltz is rarely a bad thing.

completed in 2006, '980' is a gut-renovated apartment in new york city
photo by michael moran
DB: who or what has been the biggest influence on your work to date?
MH: lots of architects have influenced us, everyone from our mentors, rem koolhaas and jürgen mayer H, to john soane, philip johnson, wang shu and denise scott brown.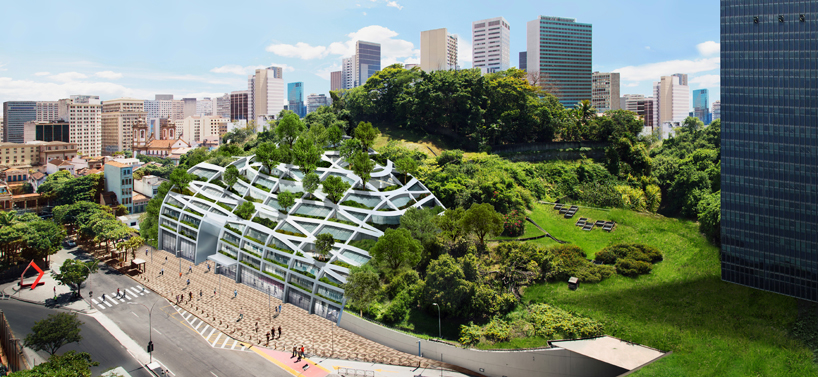 DB: what would you say is HWKN's strongest quality and how has it developed over the years?
MK: the future of architecture is composed of the buildings that we design today, just as the architecture of today consists of buildings that were designed over the last millennia. buildings are not like iPhones or computer programs, they don't just go away when they become obsolete. they become fabric. they become our cities. I think one of our strongest qualities that has evolved over the years is understanding how to create buildings that shock, entertain and challenge the public in the short term, but can provide long term value for the client and city.
MH: we receive a lot of positive feedback from clients regarding our firms energy and approach. in recent years the scale of our projects has grown significantly from pop ups to fairly major cultural and private developments yet clients still notice and respond to our passion and energy. we really don't take what we do for granted and we increasingly have more fun in the process every single day.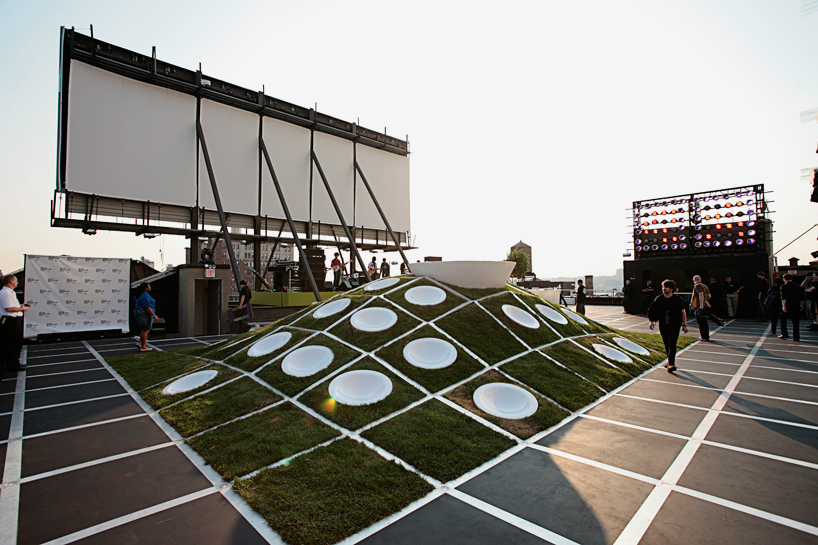 'mini rooftop' is envisioned as a collection of different performance elements
photo by michael moran
DB: what do you consider to be the most interesting developments in architecture at present and why?
MH: architizer! we launched architizer in the depths of the recession as we saw there was a need for a dedicated place for architects and specifiers to showcase their brands and work. architizer has since become the largest online platform for architecture, which is due in part to the dramatic increase in speed in which people now consume architecture.
MK: instagram. instagram has wrested control of architecture from architectural critics and given it to the general public. the discourse sounds different – instead of big words and complicated sentence structures, the response to buildings might be 'I luv this' or 'check out this ugly turd' – but that is architectural criticism all the same. people are using instagram to show their friends where they have been and how cool they are – and when they take a picture of themselves in front of a building they are making architecture part of their personal narrative.
this trend creates a desire for uniqueness and innovation. there is nothing cool about traveling across the country and taking a picture of yourself in front of a building that is exactly like a building in your home town. the people who build things; developers, governments, and institutions get this and as a consequence they are open to new forms and new solutions from their architects. we are on the precipice of a golden age of architecture – a return to hyper localism – where every place is different and interesting – and hopefully a little bit shocking and weird! this is the end of the international style.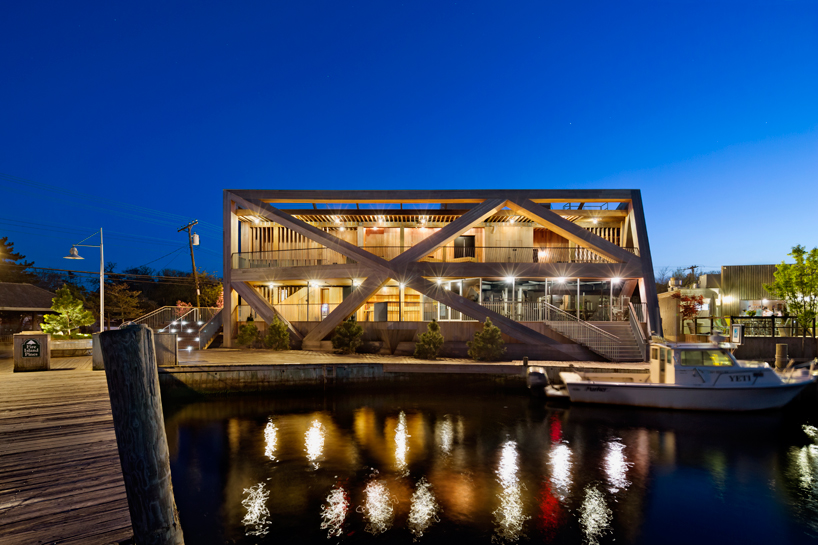 'fire island pines pavilion' serves as a central hub for culture and nightlife
photo by michael moran
see more of the project on designboom here
DB: what are you currently fascinated by outside of architecture, and how is that feeding into your work?
MK: for me it's the tech industry. there are spectacular parities between the tech world and the world of architecture, although they move at remarkably different speeds. most notably we find that the endless quest for disruption in tech – finding moribund institutions and challenging them with new ideas – is how we approach every building we design. we ask 'how can we do better than the buildings that came before us' – 'what is different today that requires us to rethink traditional solutions'.
MH: I'm fascinated by the idea of 'new aging'. for years we have researched challenges that are triggered by architecture and urbanism when people are getting older. changing that is as big of a challenge as making our buildings and cities more sustainable but the beauty is that though we design with older people in mind, the benefit is for everyone. cities and buildings become more social, accessible, and connected.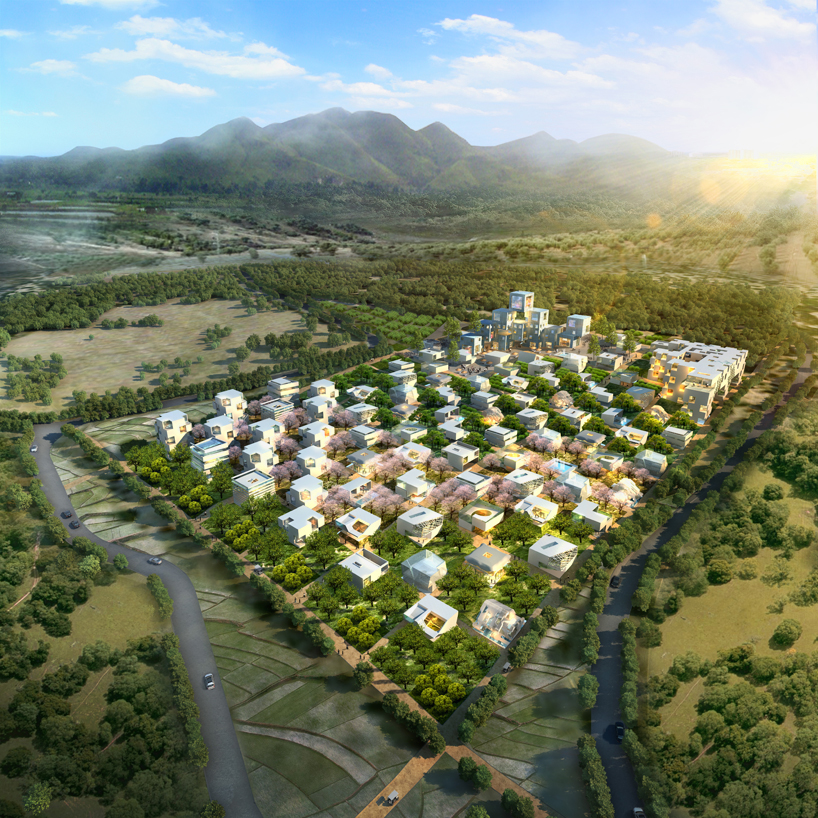 'boom costa del sol' has been dubbed 'the most daring LGBT community in europe'
DB: now that computer generated visualizations are so commonplace, is there still a place for physical model making or sketching designs by hand?
MH: whether its drawings, physical models or 3D models, the question we ask is 'what is the best tool to communicate with each of our clients?' some clients can see a plan and section and understand a building, some prefer physical models and some need hyper photo realistic 3D renderings. we use every tool at our disposal rather than being limited to one over another.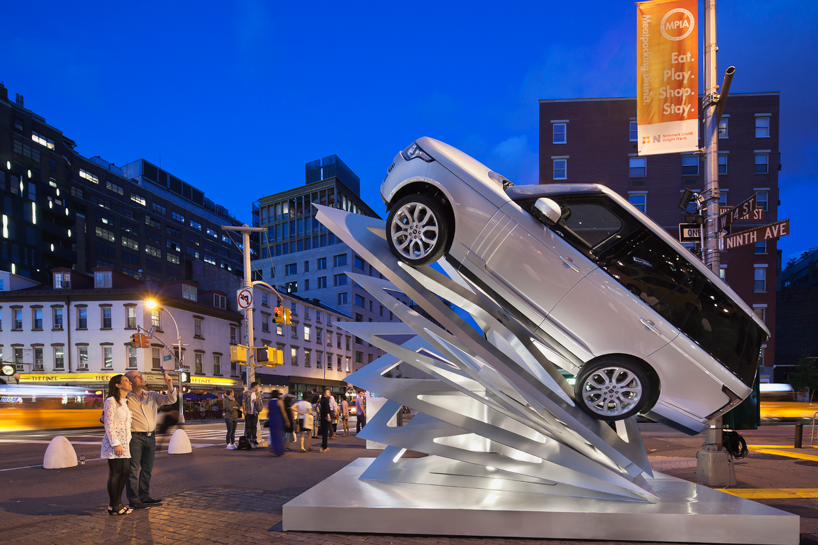 the design of 'climbing up' references the aluminum body of the range rover vehicle
photo by michael moran
see more of the project on designboom here
DB: is it the job of an architect to satisfy the public?
MH: always. we think of four constituencies when we design a building:
1. our client – they always have an agenda we try to serve
2. the user – the people in the building
3. the passer – the people in the city who pass the building everyday
4. the viewer – the people who will consume the building as media – photos or videos
MK: I agree, numbers 2-4 will be around for generations – long after the client and their agenda is gone. It is crucial that architects consider each of the constituents throughout the lifespan of a building to make successful architecture.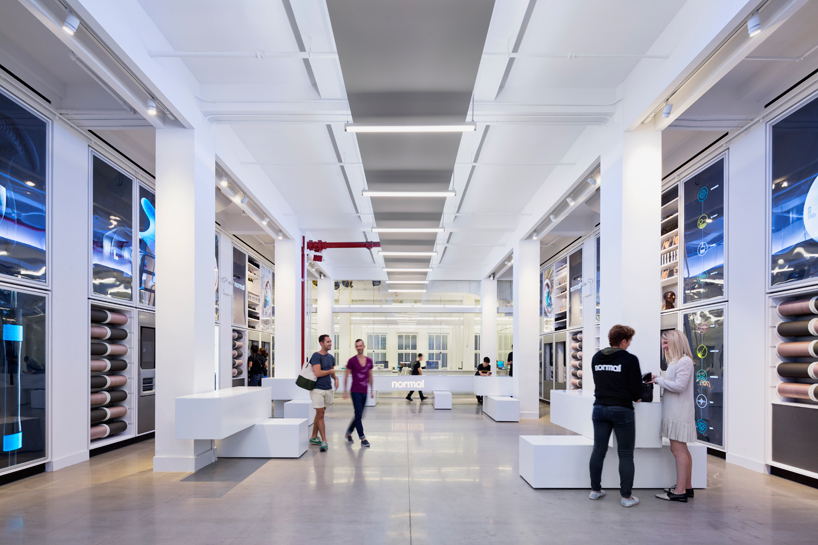 HWKN developed a hybrid concept for the 'normal' retail outlet, combining both factory and retail environments
photo by james ewing
see more of the project on designboom here

DB: which architects working today do you most admire?
MK: because of architizer we can't play favorites! however designers from other fields we admire are yves behar, rafael de cardanas and one of our clients zaldy.
DB: what is the best advice you have received, and what advice would you share with today's young architects?
MH: 'fall in love with the process and the results will come.' there are no shortcuts in architecture so it really has to be a labor of love. you have to exercise a lot of patience and continue to get better at your craft and the rest will take care of itself.
MK: I received two pieces of advice from two hugely important people in my life. when talking about architecture my father told me 'don't do it. It is impossible to make a living.' discussing the idea of opening an office with matthias while I was still in my 20's, my mentor jürgen mayer said 'just do it. you will never know enough to have it all figured out.' they were both right. architecture is hard and frustrating, but if you understand its power – that it is everywhere – there is a very compelling reason to get into the field – because no one has actually figured it out yet. I am still working on it!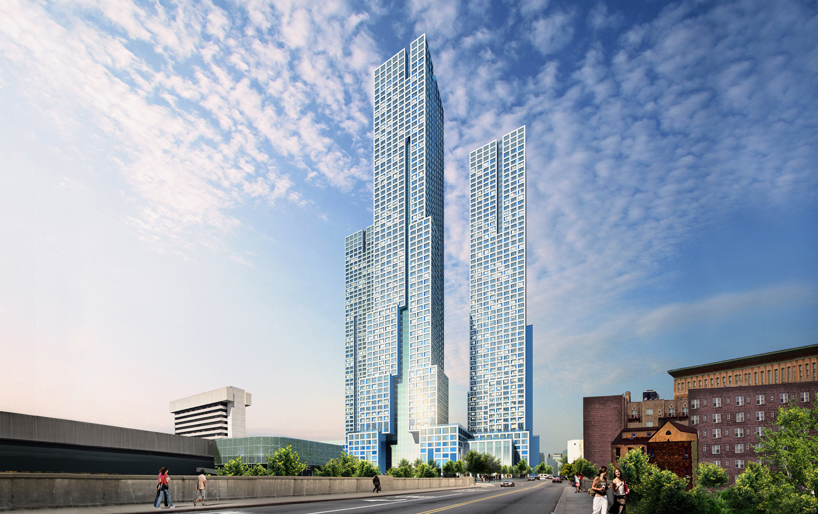 'jersey squared' is a mixed-use development that forms new jersey's tallest residential structure
see more of the project on designboom here
DB: finally, what are your personal mottoes?
MH: 'the paths are not to be found, but made, and the activity of making them, changes both the maker and the destination', john cchaar, futurist.
MK: I don't have a motto – I would prefer theme music. in which case I chose bert kampfert's afrikaan beat.
philip stevens
I designboom
nov 24, 2014
a diverse digital database that acts as a valuable guide in gaining insight and information about a product directly from the manufacturer, and serves as a rich reference point in developing a project or scheme.
designboom will always be there for you
milan, new york, beijing, tokyo

,
since 1999