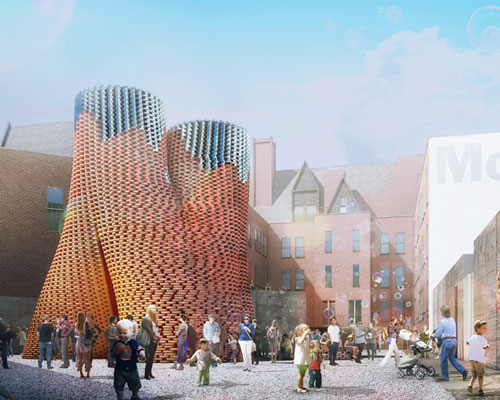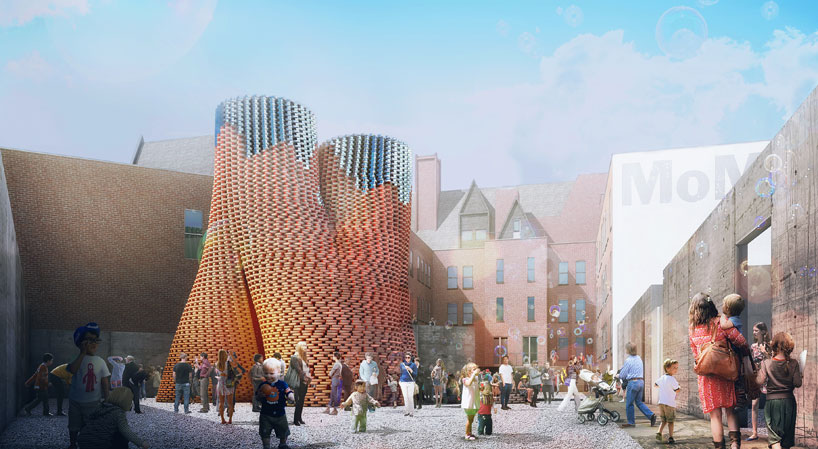 feb 06, 2014
hy-fi by the living wins MoMA PS1 young architects program
hy-fi by the living wins MoMA PS1 young architects program
image courtesy of the living
new york-based practice the living has been announced as the winner of the 2014 young architects program (YAP) at MoMA PS1. now in the 15th cycle of the ongoing series, the program offers young and emerging firms the opportunity to present creative and avant-garde designs, resulting in a temporary outdoor pavilion. the chosen project, entitled 'hy-fi', will form the centerpiece of the warm up summer music series in the gallery's external courtyard.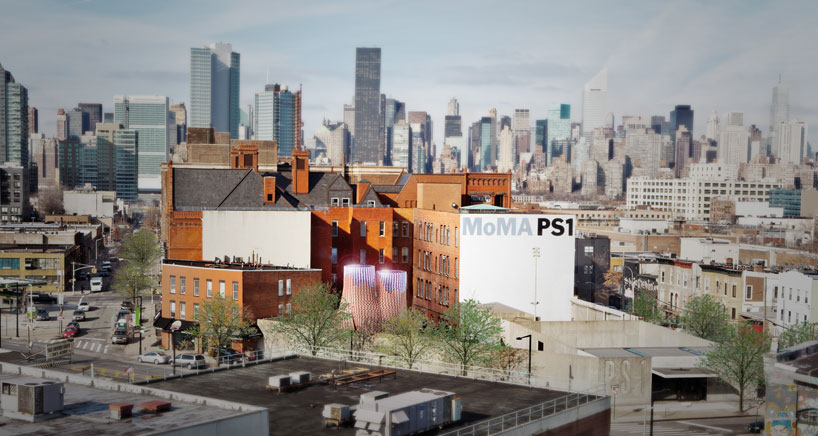 the organic structure set against new york's towering skyline
image courtesy of the living
opening in late june, 2014 the scheme integrates biological technologies alongside advanced computer-based engineering. using a pioneering method of bio-design, the structure is formed entirely of organic matter. through diverting the natural carbon cycle, the scheme requires no energy, and produces zero carbon emissions.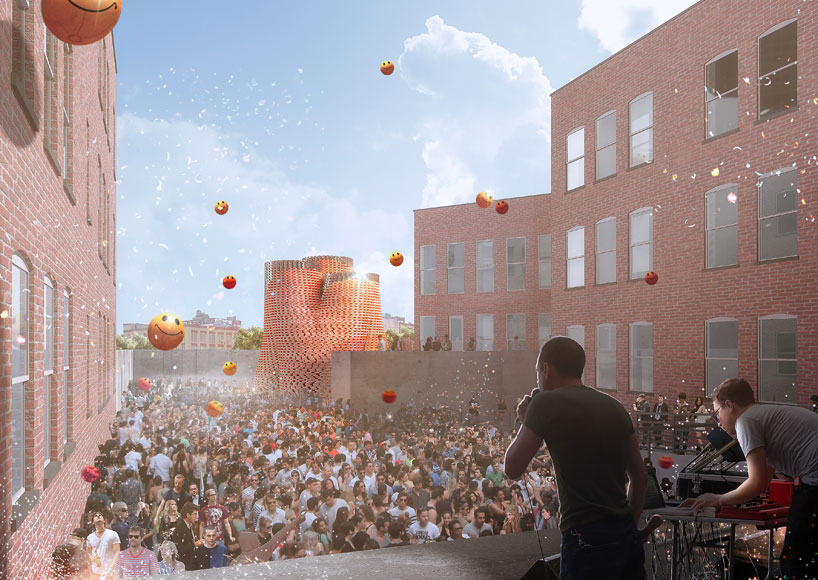 the project will form the centerpiece of the warm up summer music series
image courtesy of the living
the circular tower unifies the individual characteristics of the two newly created materials: organic and reflective bricks. the organic blocks are manufactured through a combination of corn stalks and specially developed living root structures, a process led by ecovative – a company working alongside the living. meanwhile, the reflective bricks are produced through the custom-forming of a mirror film devised by 3M. the organic blocks are positioned at the bottom of the design and the reflective bricks positioned at the top, casting light down on to the area below.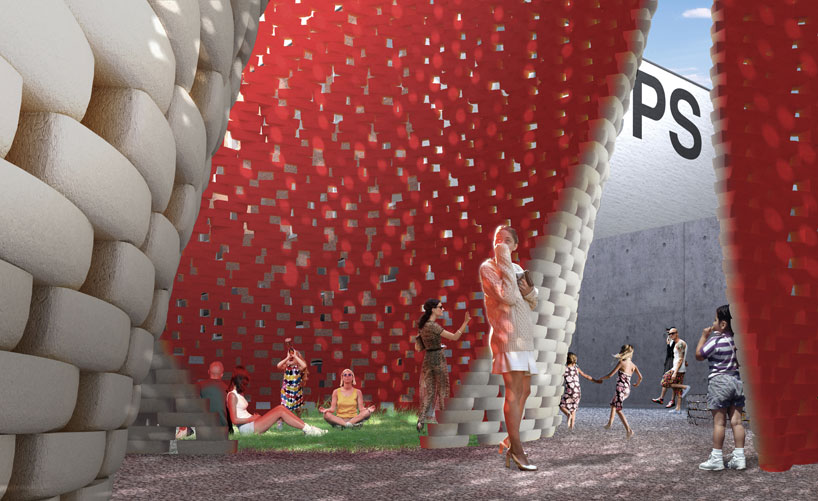 caustic patterns are cast onto internal surfaces
image courtesy of the living
the installation provides guests with shade, seating and water, working within guidelines that promote sustainability and recycling. ensuring a pleasant micro-climate is achieved during summer months, the structure draws in cool air, before funneling warm air upwards. internally, rhythmic lighting effects are cast onto surfaces through reflected caustic patterns.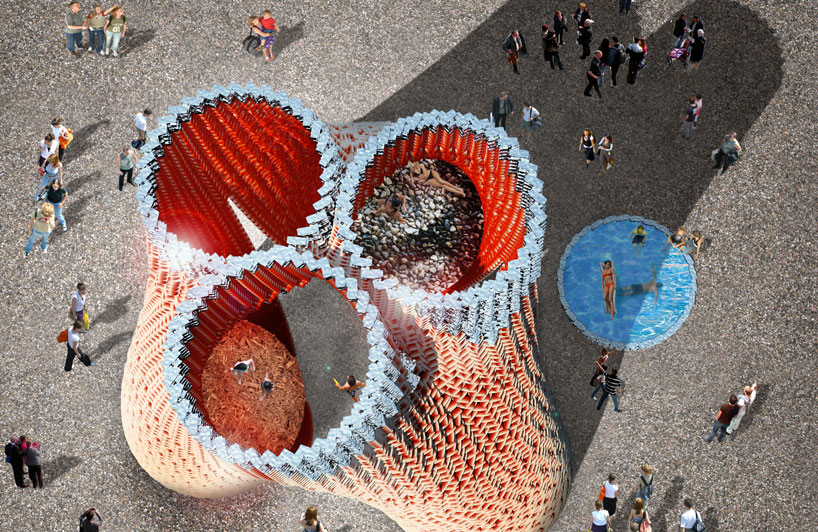 an aerial view of the scheme's three funnels
image courtesy of the living
'this year's yap winning project bears no small feat. it is the first sizable structure to claim near-zero carbon emissions in its construction process and, beyond recycling, it presents itself as being 100% compostable,' said pedro gadanho, curator in MoMA's department of architecture and design.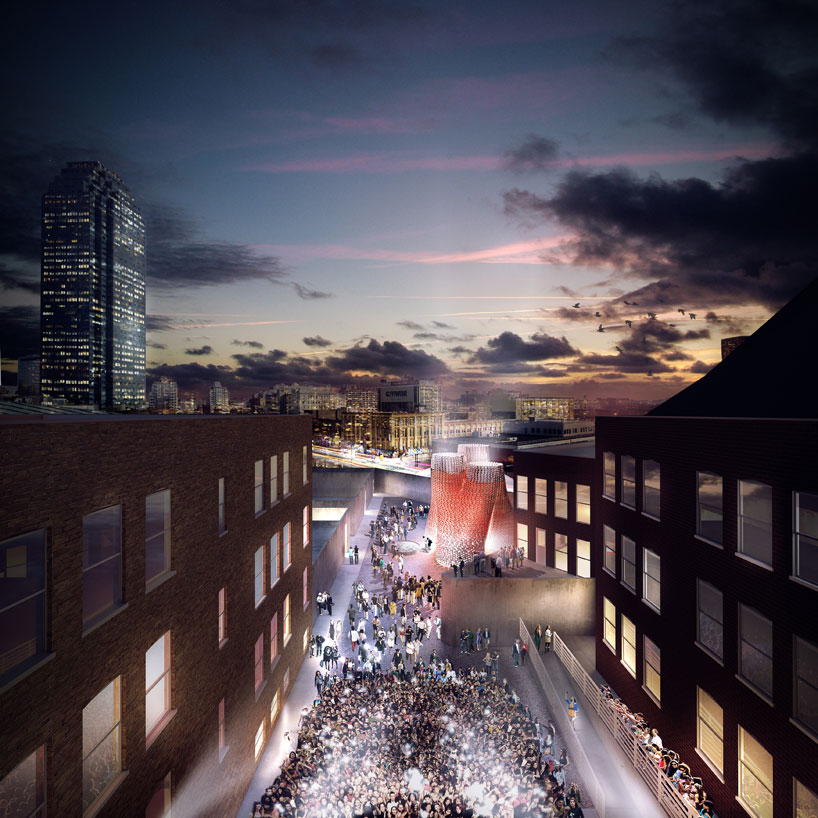 a view across the PS1 courtyard at night
image courtesy of the living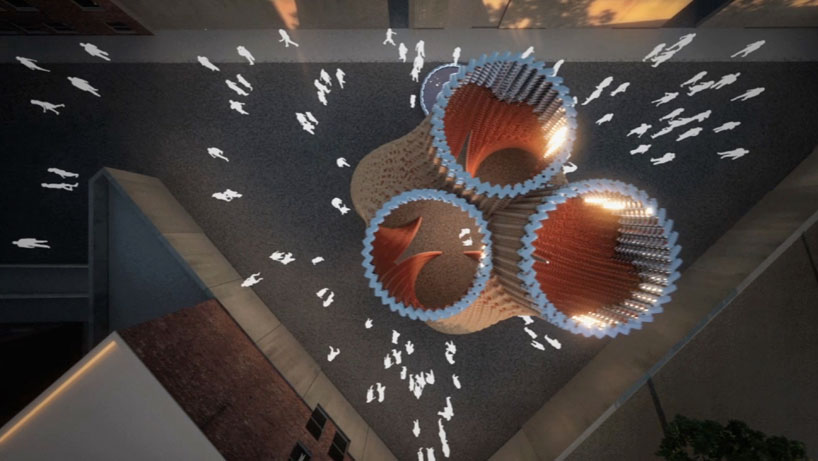 image courtesy of the living

the concept behind 'hy-fi'
video from david benjamin / the living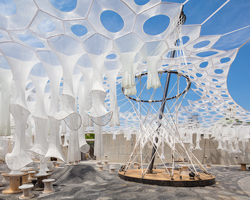 jun 27, 2017
jun 27, 2017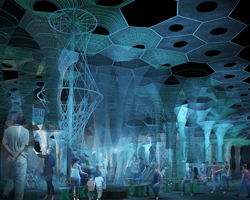 feb 17, 2017
feb 17, 2017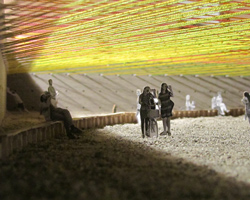 feb 02, 2016
feb 02, 2016