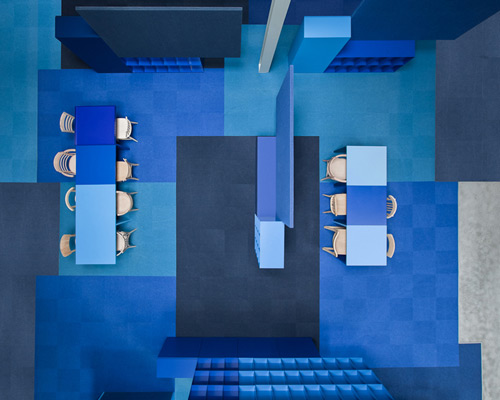 oct 17, 2012
i29 interior architects on their social 01 project in delft
'social 01' by i29 interior architects image © i29 interior architects
designboom has recently spoken to dutch designers jaspar jansen & jeroen dellensen from the duivendrecht-based i29 interior architect studio regarding their most recent project 'social 01'. developed in collaboration with VMX architects, the social workplace building is situated in delft, where it contains 4,000 square meters of office spaces, a company restaurant, the career square, entrance ways and a lobby. being a completely closed off, monolithic grey space, the infusion of color re-invigorates the central common grounds using 'colorful islands' to create a more vivid foundation for the areas designated for users with psychological or mental limitations.
by conceiving a new environment for people who generally are not fond of change, the transformation includes a collection of over 250 different second-hand wooden chairs for users to select their favorite seating. as a follow up on the new space, designboom speaks further to i29 about the research and process associated with the project.
blue colorful island image © i29 interior architects
DB: tell us about your most latest project, 'social 01'?
i29: our latest project is is a social workplace (SW) company and offers custom work to people who, due to a physical, psychological or mental limitation, are not able to find a regular job. in the new building of VMX architects, we where asked to make the interior design which included 4000m2 of office space, a company restaurant, the career square, entrance ways and a lobby.
it was special to do an environment for such a specific group of people. you could say that they are a vulnerable group, in a way even social outcast, we took it as a challenge to make something empowering, vibrant and exhilarating that radiated quality. in the contacts we had with the people working at the social workplace it was very clear that they were more than usual attached to their routines and their environment so for us it was very good to find out that indeed the people in general felt really indulged with the new building. all maintenance and cleaning is done in-house, by the people themselves and it is proof of their involvement that the place looks sparkling clean whenever you enter.
what influenced your decisions in using such a vivid color palette?
the building itself is a completely closed, grey monolithic shape. the same grey can also be found in the walls, floors and ceilings of the interior. in contrast with that, we placed colorful islands throughout the whole building. in an almost fairytale-like way, the building contains 'secret gardens' full of colour and vitality, which could be read as a reference to the contrast of external appearances and inner richness. it is our belief that every person is unique, [where] nobody can be characterized by just one aspect of there being. this theme we translated in the interior in an abstract way by using color in many different tones and also by the wide varaity of chairs.
blue 'colorful island' space contrasting the grey interiors image © i29 interior architects
there seems to be a curious contrast between 'social 01' and 'office 04'.what made you go polar opposite in your latest project?
contrast is crucial at our studio. in all of our projects we look for tension that comes from polarity. we look for contrast: in form, in composition, in colour or finish, stretching the boundaries but without falling into chaos. so if you say that there's a contrast between our projects we have succeeded even in the bigger scheme of things (laughs). no, we always try to look as fresh and open minded at any new project. this way it can happen that projects will look different. we believe that in a way you always see the family characteristics. in our work we strive for simple and plain solutions to create powerful environments.
green 'colorful island' image © i29 interior architects
what kind of research process did you adopt for the creation of 'social 01'? how did you see it influencing the final outcomes of the project?
in a way we did not use any other method than we usually follow. diving deep into the matter, exploring all facets of the case at hand, talking to the users extensively, processing the information over time. this is maybe in opposition to how most studio's seem to work, using a steam cooker method… we are more a kind of slow cooker (laughs). we take our time and think, rethink, try and retry over and over again. so talking about what we set out to do and how this relates to the final result; it was clear that we had to do something with the diversity of people.
another thing was the aim for a sort of simple natural beauty. quality that was non depending on expensive materials or exclusive handicraft but rather on smart and simple use of recourses. the stacked boxes that are so prominent, functionally divide the large open space. the atrium is built using simple squires, not expensive to make but contributing to the overall rhythm of the composition. in addition, the collection of unique chairs, again not expensive, make a powerful contrast with this, but still talk about the same issues. this is what we like, that large contrasts are brought together in a work so that they will fuel each other and stretch boundaries, but without falling apart. we set out to contribute with this environment a sense of pride trough simple quality and we believe we achieved this rather in a subtle abstract way.
overview of the interior environment image © i29 interior architects
there seems to be a variety of chairs for the furnishings, were they designed specifically for the project?
these are all second hand chairs, restored, sandblasted and newly coated with a solvent free water-based clear lacquer. we did this in cooperation with weder who employed a social workplace for the job.the general idea was that every one could have their own chair. but it also is a beautiful analogy for the variety of the characters who come here every day. besides the chairs, all the furniture for the office space, including desks, chairs, cabinets and filing drawers where second hand. new colorful top layers where applied to the re-used furniture so that they fit beautifully into the new color spectrum in combination with the carpets.
detail of the green 'colorful island' with the bespoke chairs image © i29 interior architects
overview of the interior space with green, red and blue 'colorful islands' image © i29 interior architects
orange 'colorful island' contrasting the grey interior space
image © i29 interior architects
red divisionsimage © i29 interior architects
exterior view of the 'combiwerk social house' image © ronald tilleman
facade detail image © ronald tilleman
entrance image © ronald tilleman
metal cladding material detail image © ronald tilleman
'office 04' space image © i29 interior architects
'office 04' space image © i29 interior architects
plan view
plan view
plan view
mar 30, 2020
mar 30, 2020
feb 04, 2020
feb 04, 2020
mar 30, 2018
mar 30, 2018
aug 26, 2017
aug 26, 2017
oct 07, 2015
oct 07, 2015
jan 26, 2015
jan 26, 2015
a diverse digital database that acts as a valuable guide in gaining insight and information about a product directly from the manufacturer, and serves as a rich reference point in developing a project or scheme.