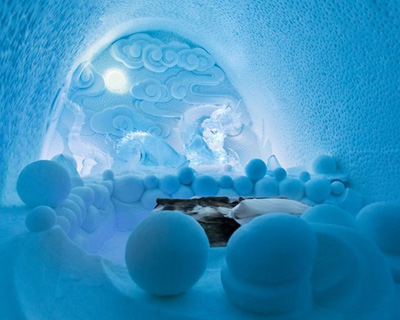 feb 06, 2013
23rd ICEHOTEL art exhibition in sweden
'ICEHOTEL' by ICEHOTEL art & design group, jukkasjarvi, sweden(above) 'ice church' by javier opazo, ethan friedman, rob hardingimage © paulina holmgren
several miles above the arctic circle threshold becomes home to around 40 artists from all over the world, organized by the ICEHOTEL art & design group, every winter while they create the year's ephemeral 'ICEHOTEL' in jukkasjarvi, sweden. the only building material used is about 1,000 tons of pure ice and 30,000 cubic meters of snow harvested from the frozen water of the sacred torne river, with minimal support from thin metal frames that help with some of the immense weight. although widely known as an extraordinarily different hotel, the project is in reality a large scale art exhibition that explores the structural and delicately aesthetic properties of ice in what can be considered one of the most sophisticated contemporary reinterpretations of indigenous snow dwellings.
each suite features an individual artist or group, with completely unique characteristics and varying levels of intricacy that create a certain theme and mood for the guest. the ice is manipulated down to the smallest detail, playing with density, translucence, texture and form. contemporary lighting solutions make the surreal spaces look more fit for a rendering. the sculptures are stacked, smoothed, carved and chipped away over days of intensive labor. a range of tools, from hand chisels to chainsaws to even the household iron are implemented to extract the desired form and finish. the hotel also features a large dining hall and the ICEBAR which is rebuilt in several other freezing parts of the world. all of the hard work and amazing sculptures are made more valuable by its temporary nature, as every spring the goliath structure returns to its source completing the poetic cycle of sustainable architecture and the physical transformative properties of water.
'many different groups with many functions contribute to the realization of the ICEHOTEL dream. some of the artists that are here have never seen snow and ice before, while others are old hands at this. it's a creative exchange, a dialogue about creativity and various techniques,' explains artistic director arne bergh.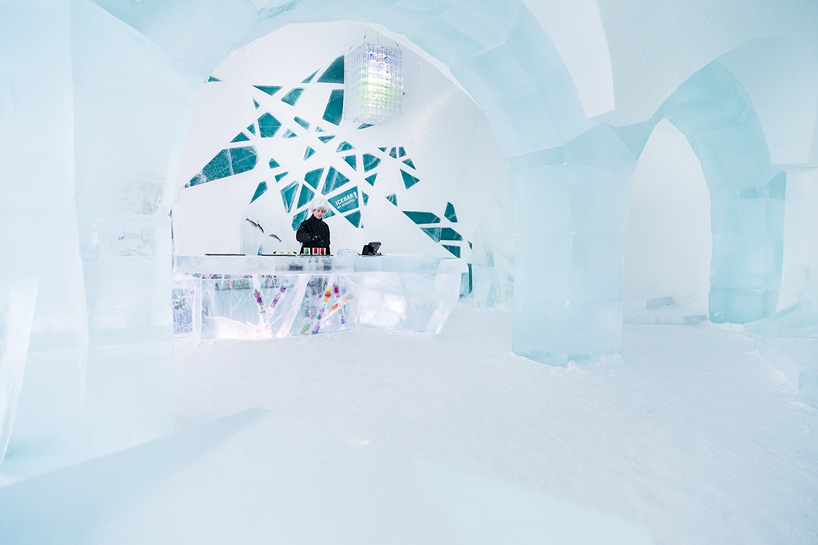 'ICEBAR BY ICEHOTEL' in the hotel by sofi ruotsalainen, mikael "nille" nilsson, viktor tsarskiimage © paulina holmgren
local ceramist and veteran ice sculptor anna-sofia mååg explains the artists' experience at the exhibition:
'the atmosphere at ICEHOTEL is unique. for a brief period, artists and designers from around the world gather here to create all of this. I've participated before, so I meet old friends as well as making new contacts. it's like a gigantic workshop where we come up with ideas and plan group shows together. the dialogue is ongoing and there's a lot of curiosity. we're curious about each other's work, we give each other advice, and the atmosphere is open and dynamic. there isn't any of the exclusivity or competitiveness that one experiences in other contexts.'
the following images represent the 'art suite' series of rooms each designed and built by artists from all around the globe who came in wavesto work during an allotted time slot. each room represents a theme or idea executed with immaculate details and beautiful forms and textures.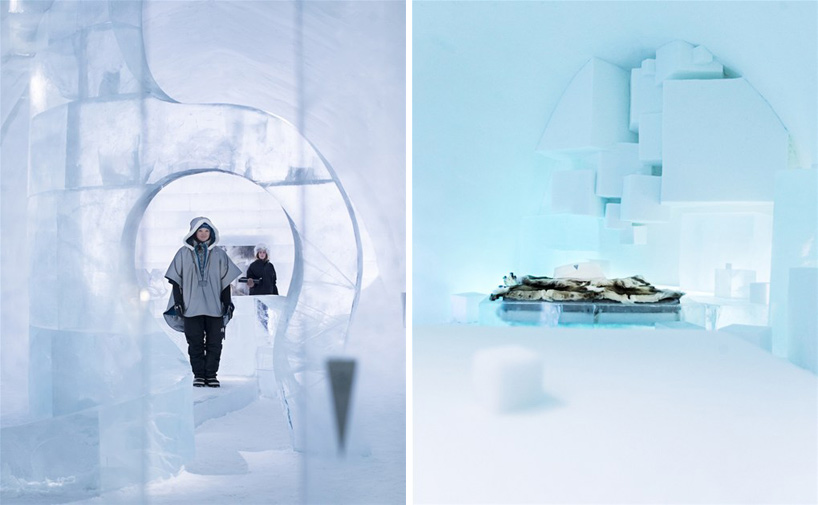 (left) 'reception:unfold' by lena kriström, susan christianen(right) 'the cube' by marie deblocq & luc voisinimages © paulina holmgren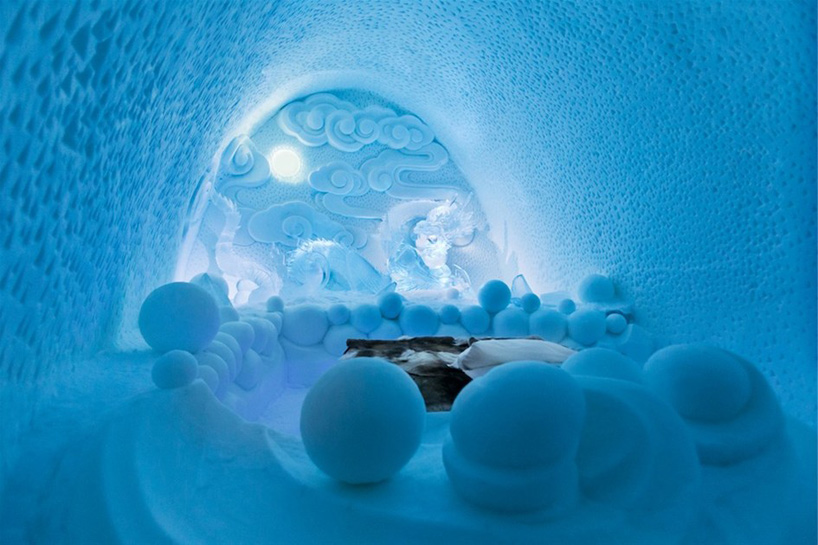 'dragon residence' by bayarsaikhah bazarsadimage © paulina holmgren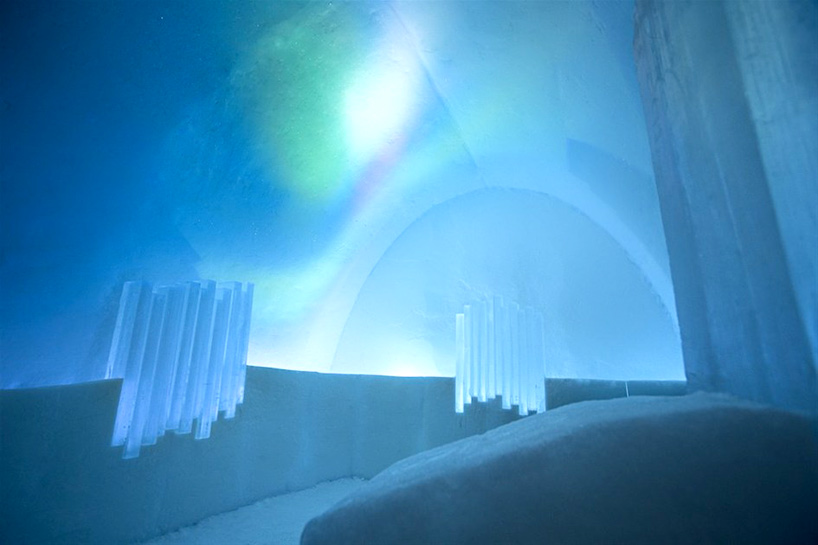 northern lights suiteimage © paulina holmgren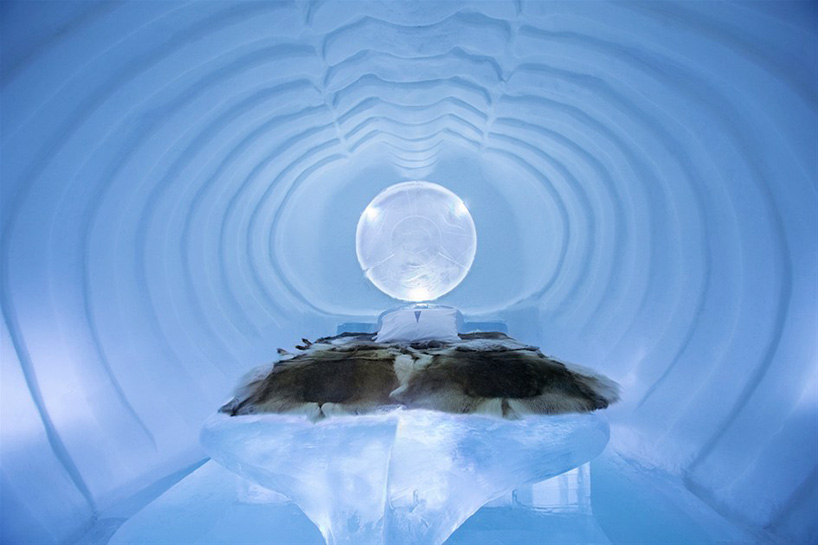 'blue marine' by andrew winch & william blomstrandimage © paulina holmgren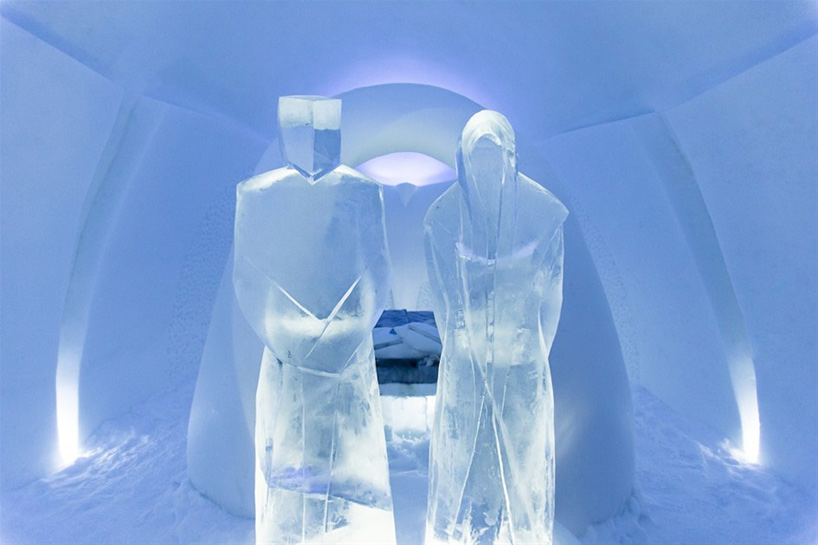 'eternity' by fernando incaurgarat & alfredo juan diezimage © paulina holmgren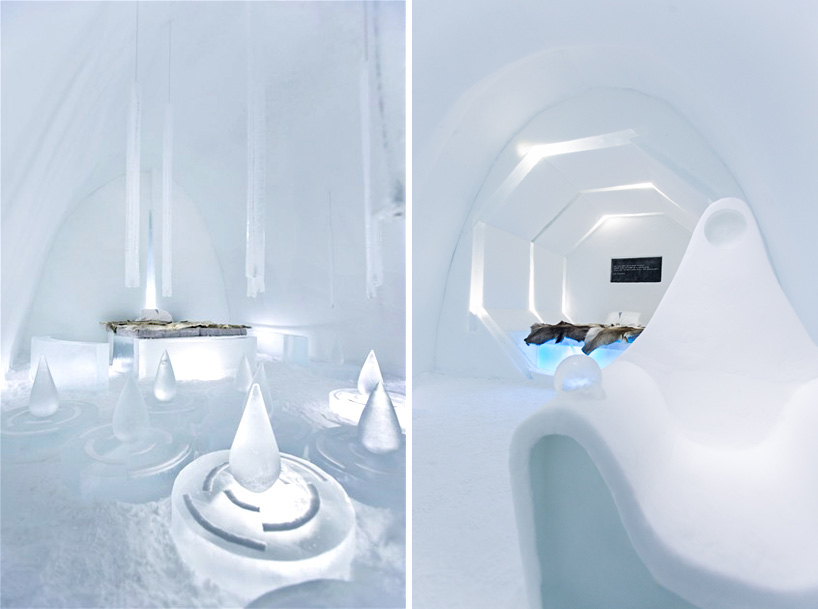 (left) 'rain of memories' by jose carlos cabello millan & alessandro canu(right) 'virgin in space' by monica popescu & petros dermatasimage © paulina holmgren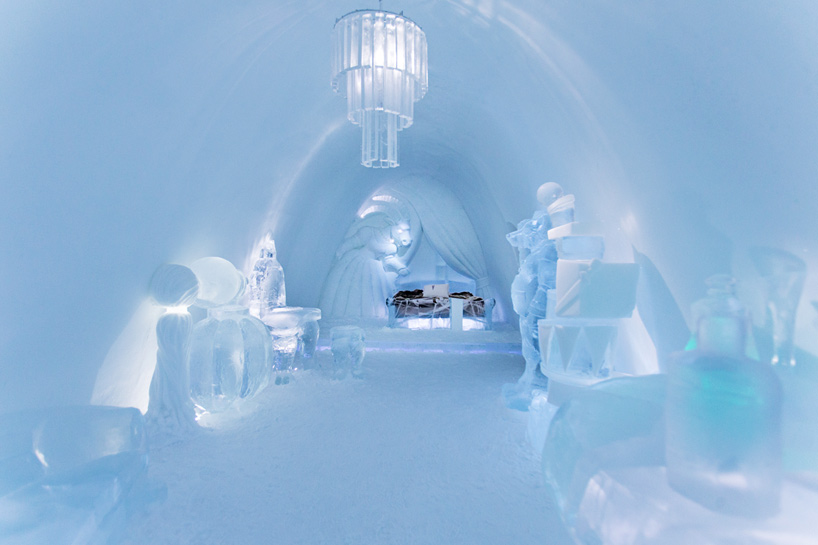 'absinthe minded' by tjåsa gusfors and ulrika tallvingimage © paulina holmgren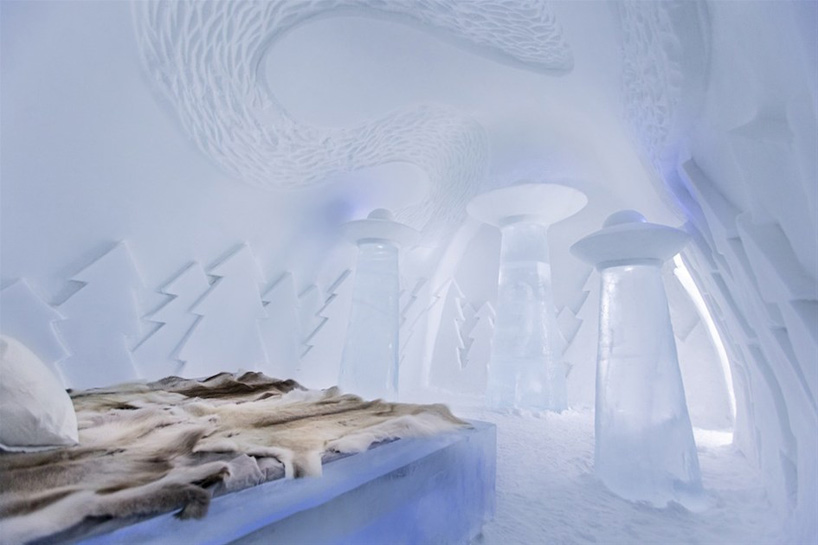 'beam me up' by karl-johan ekeroth & christian strömqvistimage © paulina holmgren
'cold and crazy' by jonas gencevicius & jurgita gencevicieneimage © paulina holmgren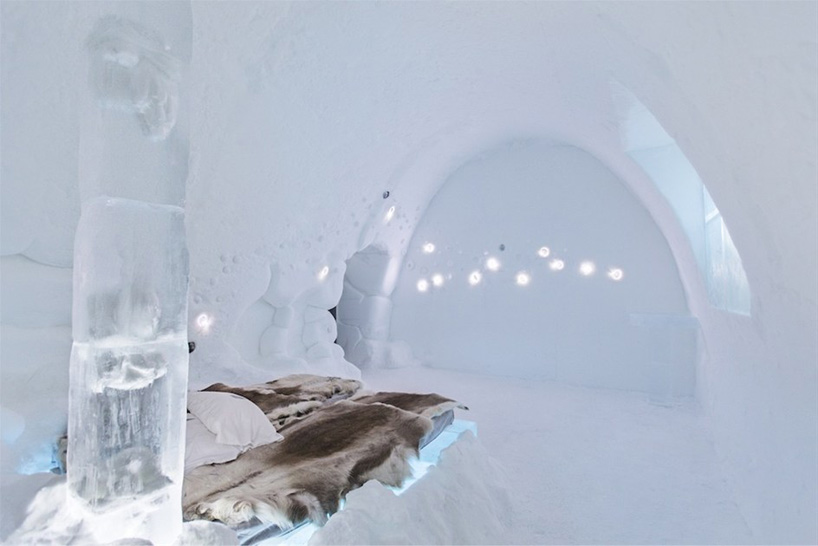 'illuminated' by skiksz eszter & nikkila carrollimage © paulina holmgren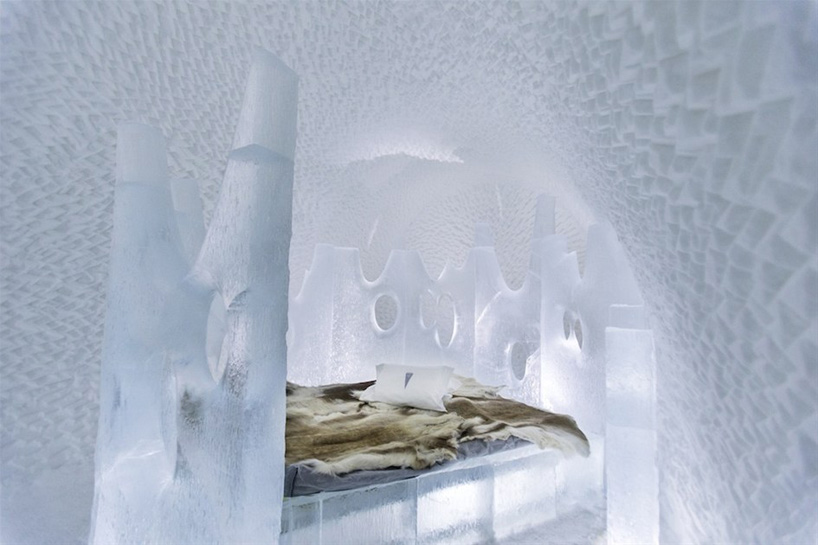 'nest' by maurizio perronimage © paulina holmgren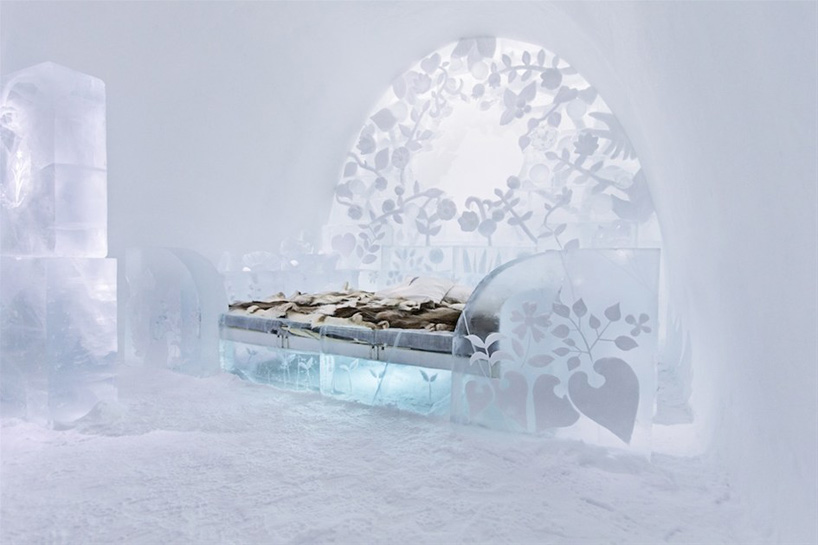 'the flower' by natsuki saito & shingo saitoimage © paulina holmgren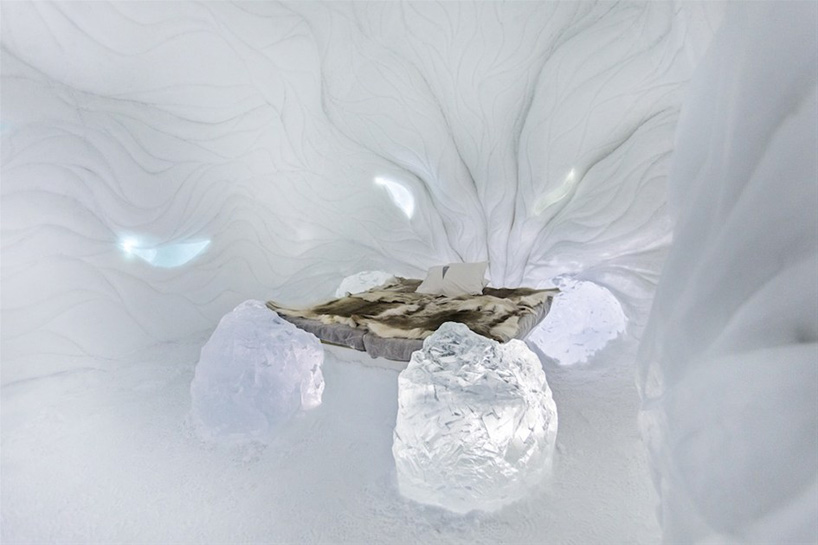 'whitewater' by elin julin & ida mangsboimage © paulina holmgren
exhibition hall 2013: 'ICEHOTEL – a warm story about a cold place' by anna öhlund and john petterssonimage © anna öhlund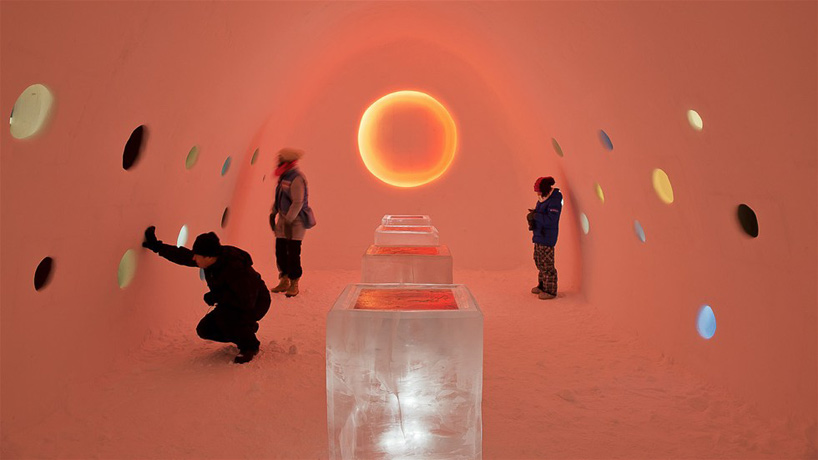 illuminated with different colors: ICEHOTEL – a warm story about a cold place' by anna öhlund and john petterssonimage © anna öhlund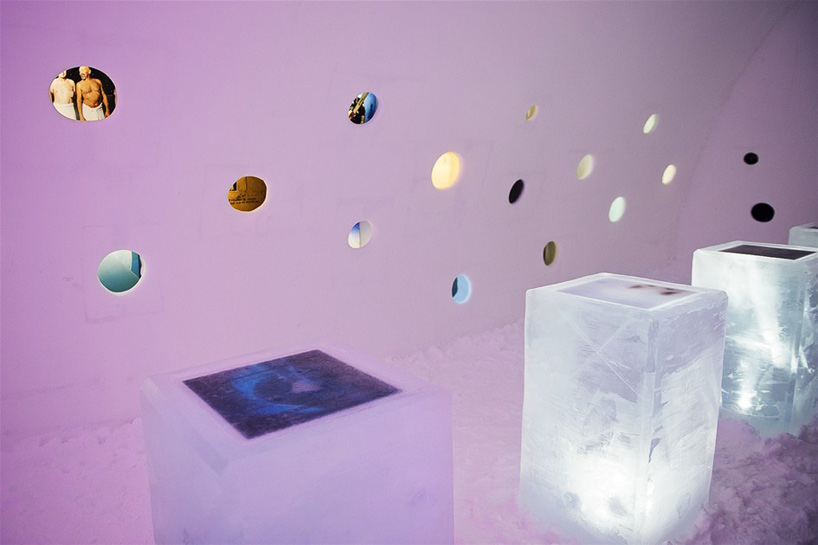 ice block stands: ICEHOTEL – a warm story about a cold place' by anna öhlund and john petterssonimage © anna öhlund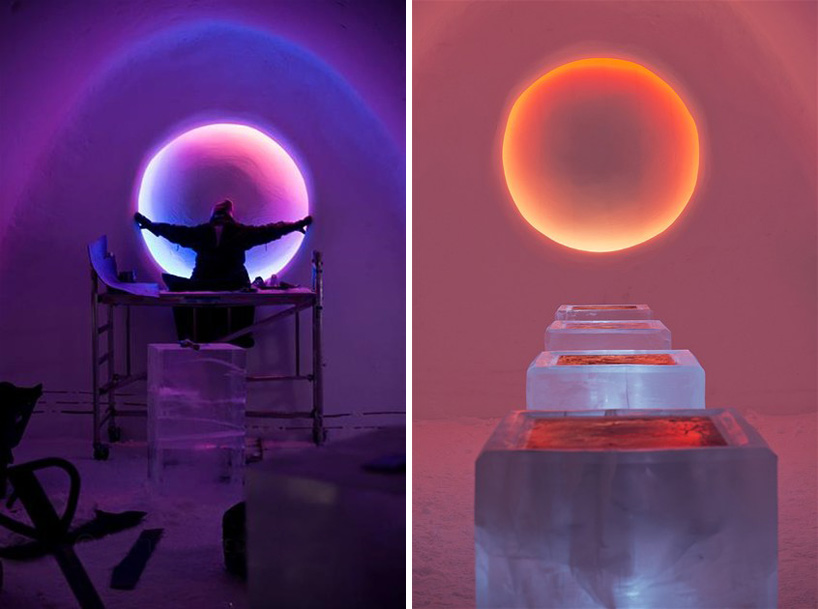 (left) image © john pettersson(right) image © anna öhlund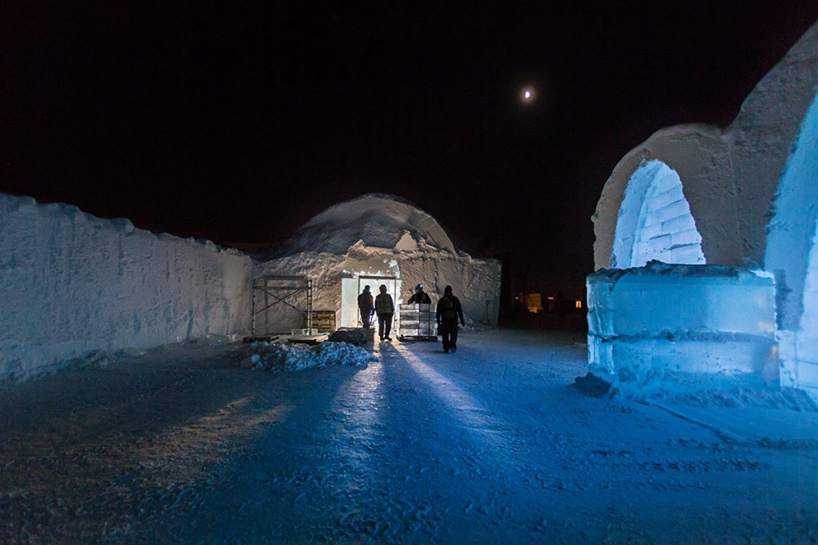 construction processimage © paulina holmgren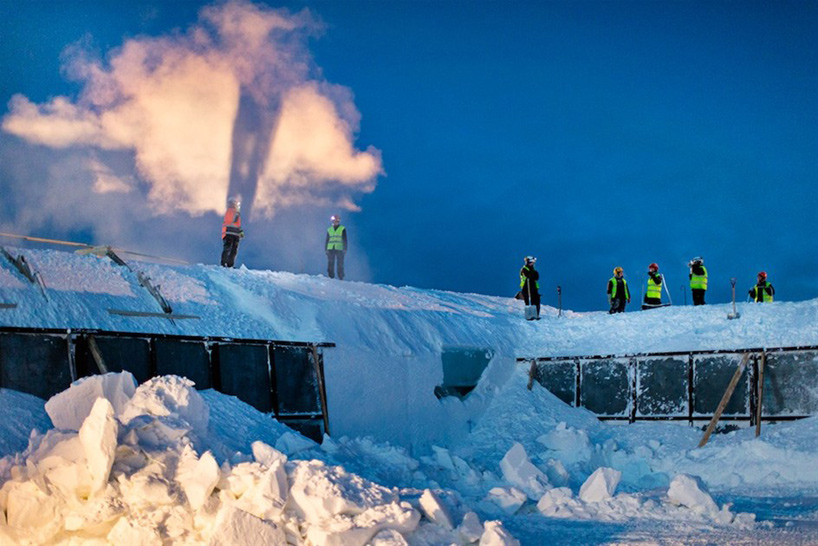 construction of the main halls with lightweight metal framing for safetyimage © paulina holmgren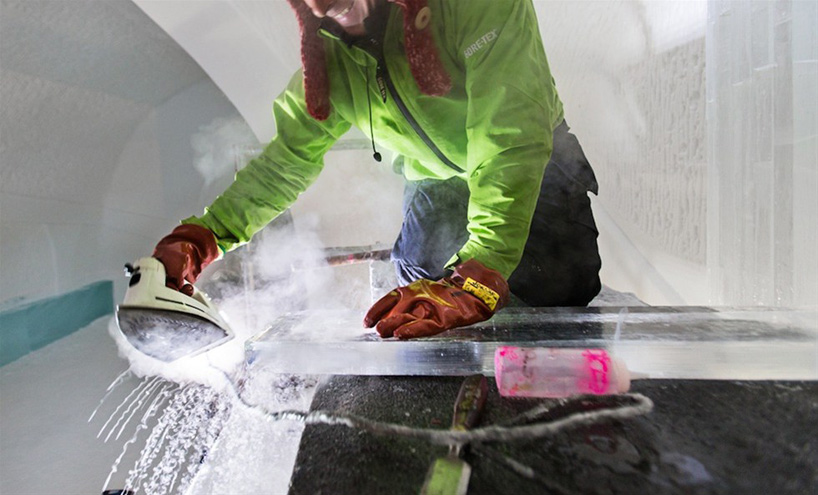 smoothing out the edges and faces with an ordinary ironimage © paulina holmgren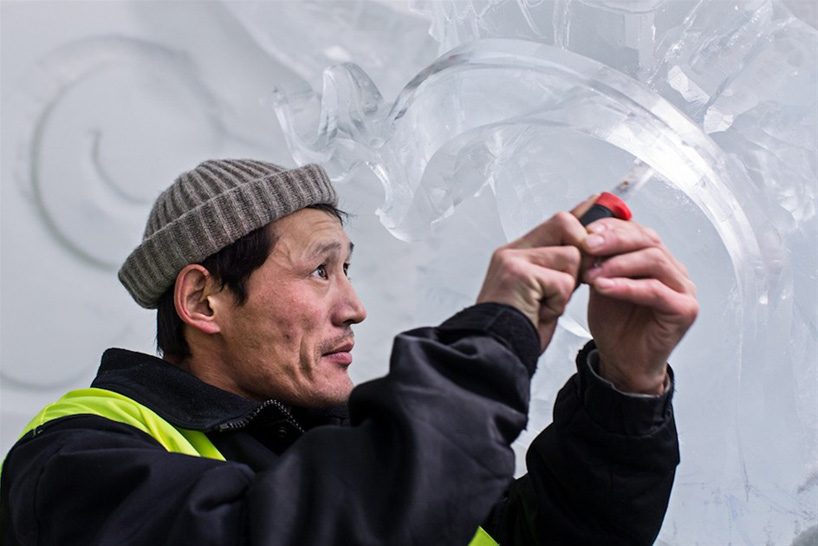 laborious detail oriented work with traditional hand toolsimage © paulina holmgren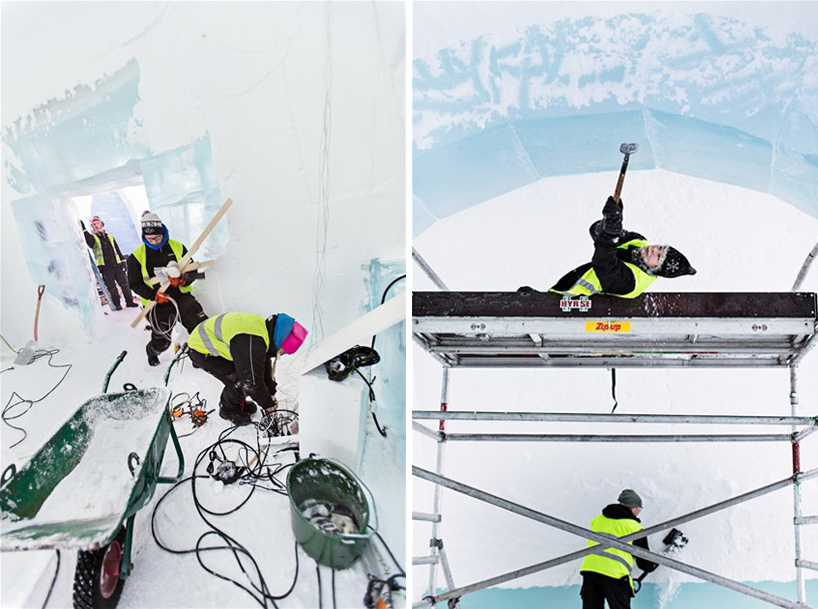 preparing and assembling structural blocks of iceimage © paulina holmgren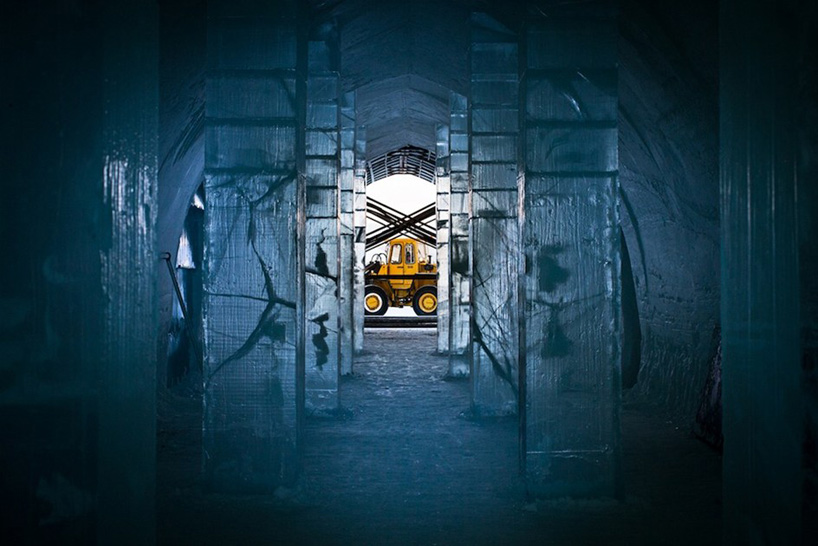 main column hall illuminated by the entrance showing the fractures and imperfections within the ice blocksimage © paulina holmgren
dec 17, 2019
dec 17, 2019
dec 17, 2018
dec 17, 2018
dec 18, 2017
dec 18, 2017
dec 01, 2016
dec 01, 2016
dec 15, 2015
dec 15, 2015
jan 09, 2015
jan 09, 2015
a diverse digital database that acts as a valuable guide in gaining insight and information about a product directly from the manufacturer, and serves as a rich reference point in developing a project or scheme.