'reconstruction of a townhouse in zurich' is a project by locally-based firm idA architecture. originally built in 1893, the dilapidated building has been revitalised to accommodate six three-bedroom apartments, an art gallery and a motorcycle workshop in the basement.

idA zurich townhouse: the void space between the townhouses has been occupied with a steel balcony structure
all images © valentin jeck
a main characteristic of idA's project is the new steel balcony structure which has been added to the void space between houses number 45–47. this generous plot offers a terrace area for both neighboring houses and mimics the form of a house, which due to restrictions, was allowed to be used to build any further.

a box with bathroom and kitchen has been added and splits the loft like room into the entry, living and dining area
the ground floor levels were completely overhauled, with the former north and street orientated living/dining rooms are now positioned to face south. this invites more natural light, while continuing their plan to dissolve the previous segregated rooms. meanwhile, a new infrastructure box including a bathroom and kitchen has been integrated and splits the loft-like space into the new entrance, living and dining area.

the floor plan, which was divided into small sections with entree, bathroom and kitchen, is now dissolved
'in theory the structure is supposed to be used temporary as outside space and in case of redensification it will be developed into flats.' comments the architects. 'balconies are mounted across the community center of wipkingen towards the east. they are reserved in their expression and are orientating themselves on the existing outside spaces along the ampere street'.

the building was built in 1893 and accommodates six 3.5-room apartments

interiors have been kept minimal and adaptable

the formerly north and street orientated living-/dining room is now facing the quiet south

the ground floor of the building features an art gallery and a motorcycle workshop

the motorcycle workshop on the ground floor

the project is located in zurich
Save
Save
Save
Save
Save
Save
Save
Save
Save
Save
Save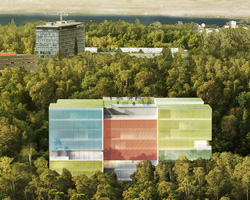 oct 31, 2017
oct 31, 2017
oct 31, 2017
oct 31, 2017
oct 23, 2017
oct 23, 2017
oct 03, 2017
oct 03, 2017
sep 21, 2017
sep 21, 2017
sep 19, 2017
sep 19, 2017