nov 22, 2012
IN TENTA: DROP eco hotel
DROP eco-hotel by IN-TENTAimage © IN-TENTA creative design group
'DROP eco-hotel' designed by barcelona-based practice IN-TENTA creative design group, is one of the selected projects to be produced as a result of the contest organized by urban square + o-cults + ricardo bofill taller de arquitectura. it will be manufactured by urban square, an urban furniture and micro-architecture producer.
the structure is installed elevated off the ground to avoid contact with the soilimage © IN-TENTA creative design group
the proposal is a removable hotel 'room' inspired by organic shapes of nature suitable to be installed in natural locations. its main features are removable architecture, organic design and eco-friendly services. this portable micro-architecture is composed of modular wooden and steel elements and the structure is installed above the ground to avoid contact with the soil and minimally interfering with the unspoiled land continuing to grow underneath. the design incorporates the use of spherical transparent enclosures that can be completely opened and bring guests into direct contact with nature.
porch detail image © IN-TENTA creative design group
for the modern nomad, these eco-friendly 'rooms' are not only sustainable but surprisingly comfortable and perfectly integrated into the surrounding landscape,therefore DROP is suitable for everyone who has an inherent yearning for nature and wants no negative impact on the environment.
the spherical transparent enclosures can be completely opened and bring guests into direct contact with nature image © IN-TENTA creative design group
interior view from the porch image © IN-TENTA creative design group
the concept can be installed in a great variety of natural locations image © IN-TENTA creative design group
the portable micro-architecture is composed of modular wooden and steel elements image © IN-TENTA creative design group
'DROP' can be grouped into multiple configurations image © IN-TENTA creative design group
floor plans and sections image © IN-TENTA creative design group
elevations image © IN-TENTA creative design group
main featuresimage © IN-TENTA creative design group
oct 18, 2016
oct 18, 2016
may 13, 2016
may 13, 2016
feb 19, 2016
feb 19, 2016
jul 17, 2017
jul 17, 2017
jul 13, 2017
jul 13, 2017
jun 26, 2017
jun 26, 2017
feb 27, 2017
feb 27, 2017
apr 26, 2014
apr 26, 2014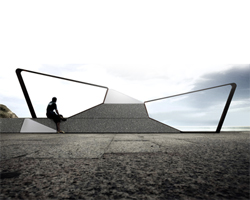 feb 16, 2013
feb 16, 2013