init design office's latest project is a kindergarten situated at yorkville north, a residential compound developed by hongkong land in liangjiang new district, chongqing, china. the site is smooth and level, located near an urban road and faces built residential high rises to the south, a green park to the west, and residential blocks under construction to the north and east. with a land area of 3,330 m2 and a somewhat limited construction area of 2,701 m2, the architects comfortably accommodated nine classroom buildings.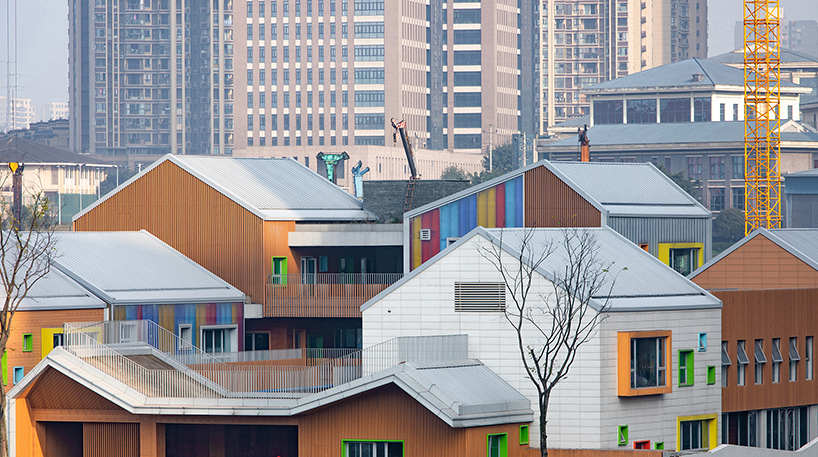 architectural appearance © DID STUDIO
the designer's intent was to provide a pleasant open environment in the kindergarten, so their main issue was how to create a safe, healthy and playful educational space on the restricted site. the project's design centered around the school's teaching philosophy of 'love and fun', which encourages personality development and the exploration spirit, and hopes that children will embrace and feel connected to nature. combining this concept with the site conditions, the architects proposed to create an 'urban village' where kids can explore and play freely.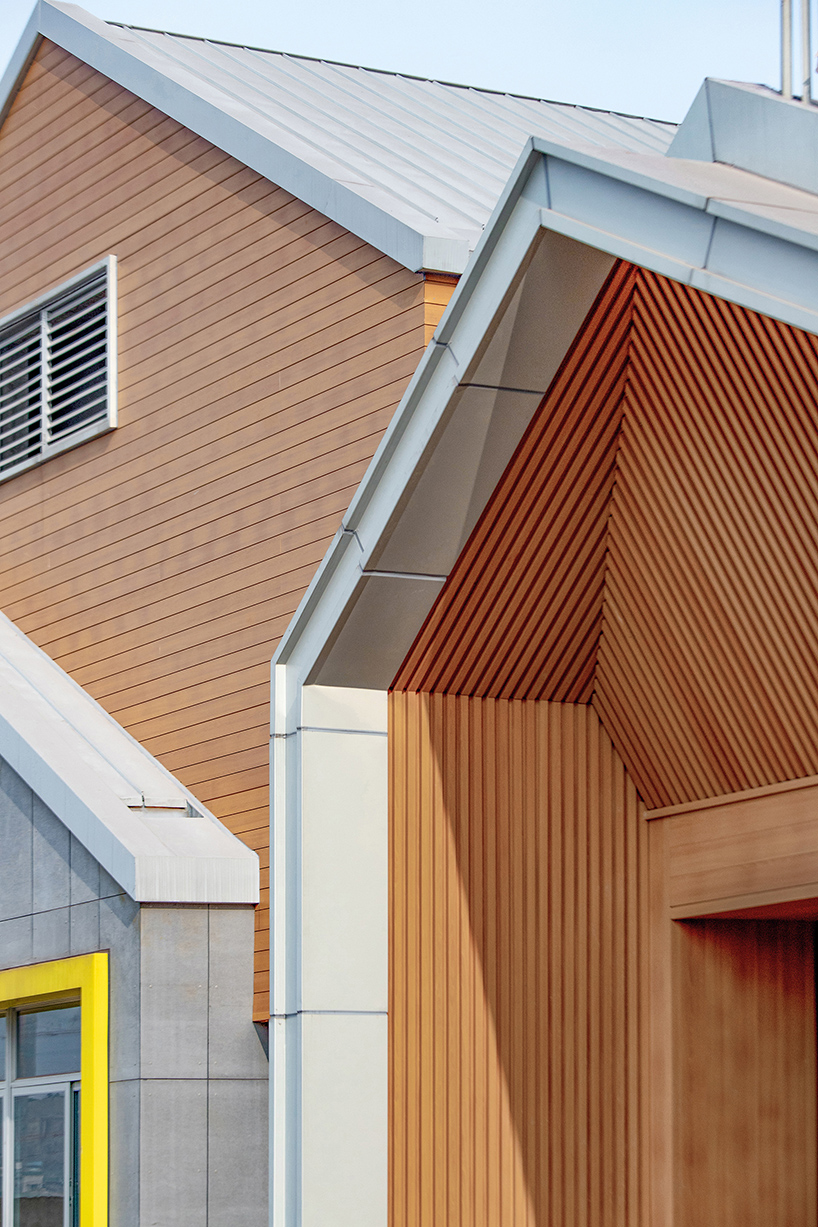 roof relationship © DID STUDIO
the village features a vertical layout, allowing kids to enjoy different views at multiple elevations. the buildings and varying activity spaces form a U-shape configuration in a neighborhood-style environment, having a courtyard in the middle that faces the park to the west. each classroom is an independent volume that overlaps others, and sometimes form gaps between them to ensure natural ventilation.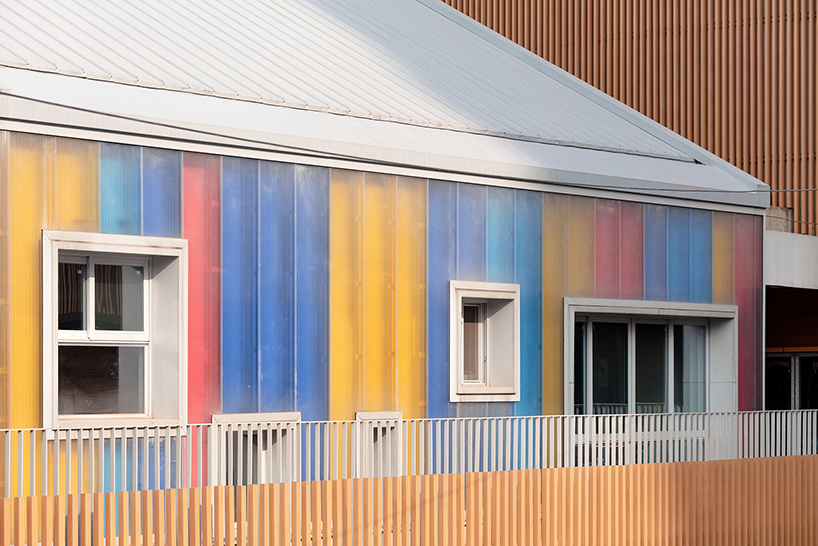 chromatic polycarbonate sheets © DID STUDIO
stimulating kids to explore and inspire their imagination and creativity, the kindergarten hosts a variety of different spaces to host the diversified curricula. apart from the spaces meeting basic teaching needs, such as children's living unit, music & sports room, infirmary, and mixed-class teaching room, the architects also designed open spaces for educational activities. for instance, they created an open floor on the second level, and designed a small stage that became a visual focus when viewing from the front and back yards.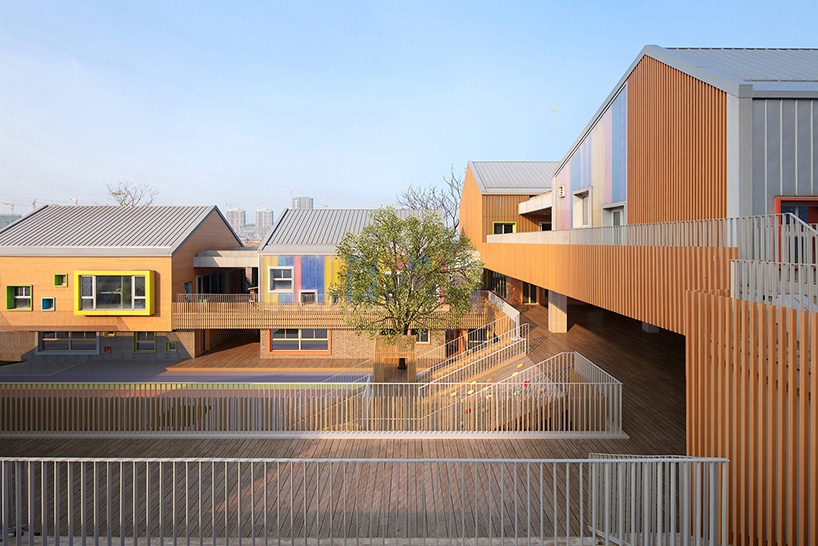 viewing the atrium from the roof bleacher (composite image) ©DID STUDIO+shangzhu technologyy
around the central courtyard, there is a large staircase-shaped bleacher and activity areas where the kids can enjoy playing in a treehouse, down the slide and climb a sloped surface. the architects made the roofs of the first and second floor usable and turned them into outdoor activity areas. moreover, the gaps between classrooms also offer spaces for kids to play after class. the various multifunctional open areas are helpful to stimulate children's spontaneous activities and carry out situational teaching. to maximize the use of the music & sports room and based on site conditions, the architects opened up its faces on the south and north sides, making it an open and transparent multifunctional space.

viewing the atrium from the small stage (composite image) © DID STUDIO+shangzhu technology
the architects decided the layout for each basic teaching unit, which integrates the activity room and bedroom. the washroom, cloakroom and bed storage area beside the wall together constitute the 'service space system'. fixed furniture and storage area were only set in those service spaces, which guarantees a more free activity area and also enables teachers to arrange furniture according to the needs of different activity scenarios flexibly.

architecture & its surroundings (composite image) © DID STUDIO+shangzhu technology
'we hope to gradually cultivate the kids' living habits and guide them to learn to tidy up their living and learning tools through participating in the process of furniture arrangement', the principal said. in each basic teaching unit, a 0.9m-high reading desk was placed adjacent to the gable wall, with the empty area under it used for storing beds. combined with bay windows carved out on the architectural facade, the architects created many windows of various heights in the interior space based on kids' body size, so as to encourage them to observe the outside courtyard at different angles.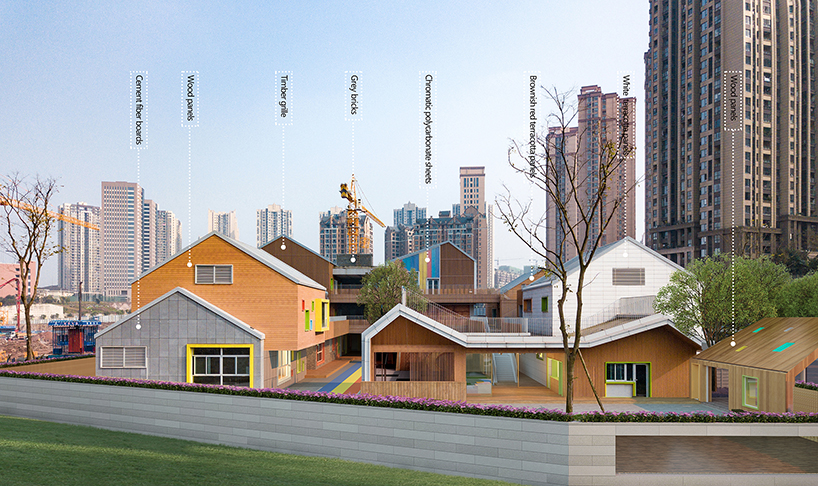 west facade+material analysis (composite image) © DID STUDIO+shangzhu technology
the architects wanted to make every classroom unique and become the 'home' for the students in which they build a sense of belonging. the classrooms also vary in material palettes, making each one more personalized and identifiable for the children. the architects applied various materials to the exteriors, including terracotta panels, red and gray bricks, faux wood, cement fiber boards, and polycarbonate sheets. through the use of polycarbonate sheets, they worked to explore the possibility of creating spatial ambience via translucent materials, which present colorful rhythm under the sunshine. the roofs were finished with an al-mg-mn alloy in a unified way, which not only coordinates with the colorful facade but also creates the illusion of a snow-covered landscape.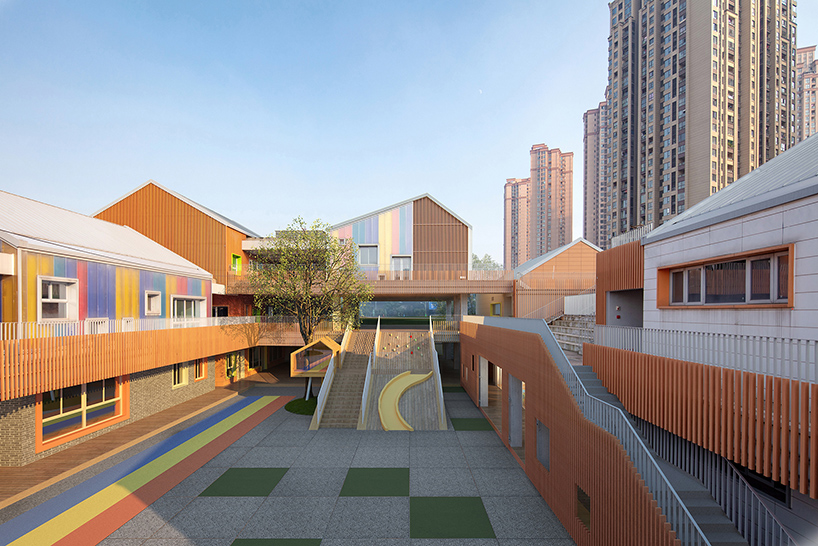 atrium (composite image) © DID STUDIO+shangzhu technology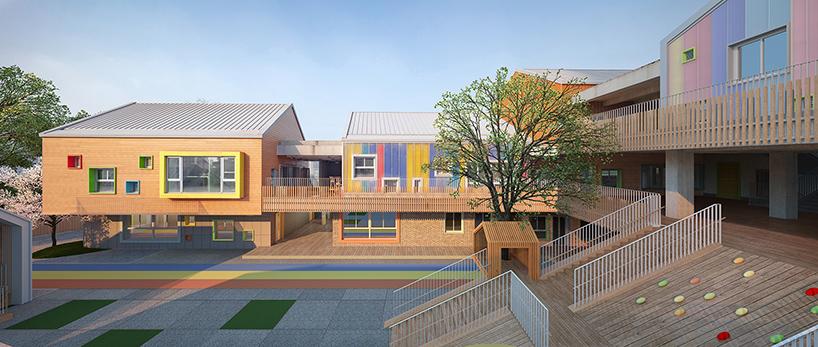 steps and atrium (composite image) © DID STUDIO+shangzhu technology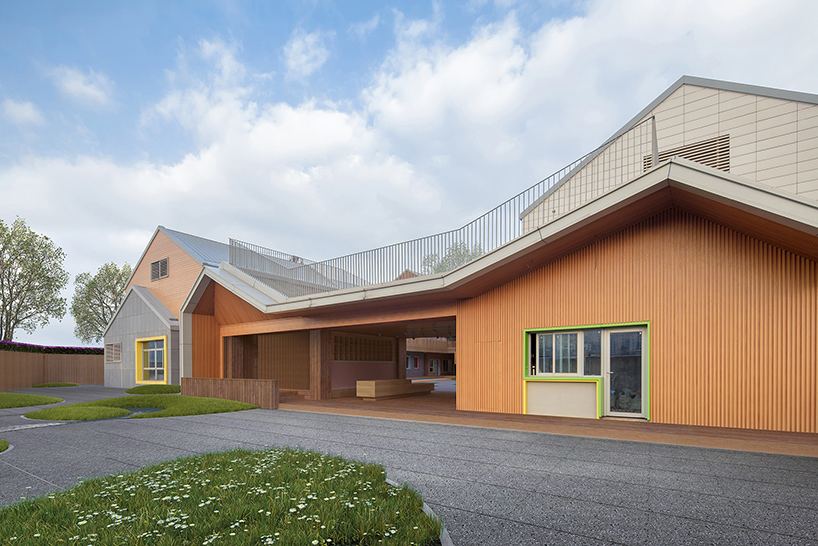 front yard & the architecture (composite image) © DID STUDIO+shangzhu technology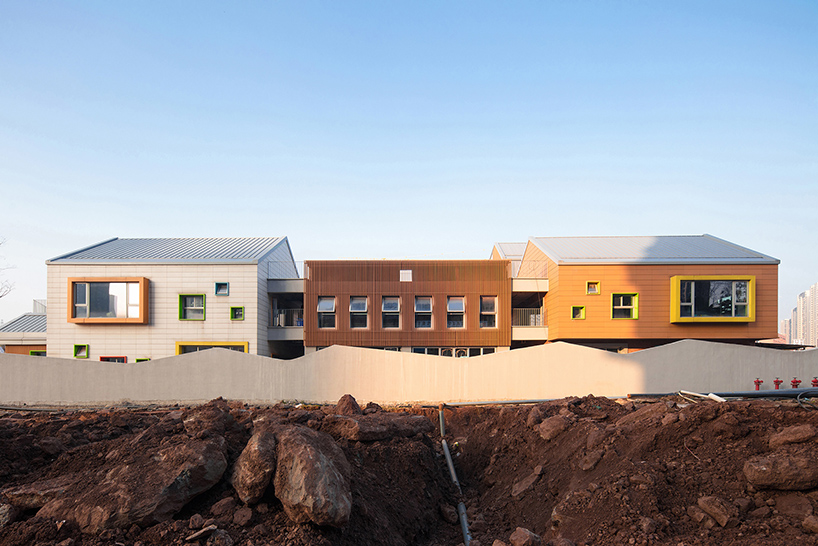 south facade © DID STUDIO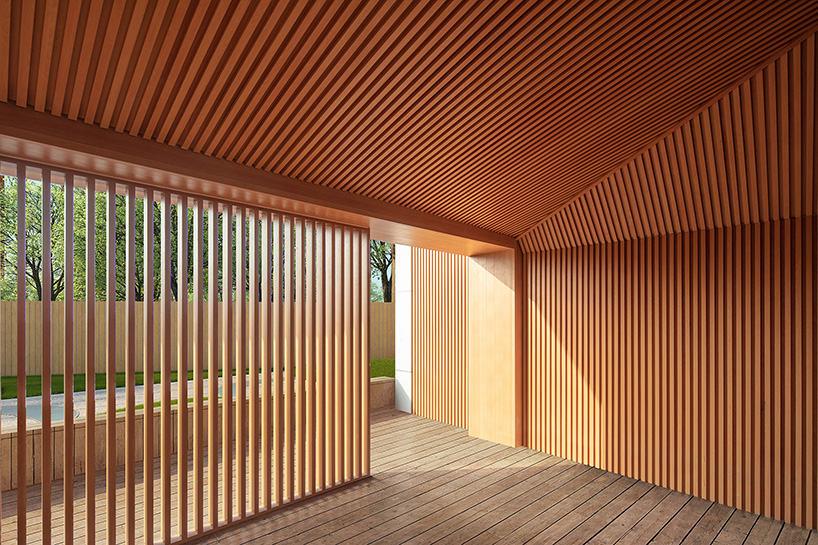 interior of the small stage (composite image) © DID STUDIO+shangzhu technology
project information:
project name: hongkong land (chongqing) yorkville north kindergarten
location: yorkville north, yihe road, liangjiang new district, chongqing, china
architectural design firm: ido (init design office)
architectural design team: chen jun, su yunfeng, zong dexin, li jian, chai kefei
architectural construction drawings: chongqing architectural design institute of china (construction drawings of the architecture: deng hongbo, ma xiaojing, hu longhua; general construction drawing: lai tao; construction drawings of structures: zhu haichao, xu xiangqian; construction drawing of water supply/drainage: lan peng; construction drawings of electrical system: hu yi; construction drawings of hvac system : wu zhiyong ) exterior wall construction drawings: cmcu engineering co., ltd.
exterior wall design: xiong lianbo, yan zheng, zhao yu, chen qingshu
client: hongkong land management team: zheng haichuan, tang zhaohui, liu ying
construction status: architecture – completed; landscape and interiors – yet to be constructed
design phase: may 2016 – september 2017 architectural
construction phase: april 2017 – october 2018
construction area: 2,701 m2 site area: 3,330 m2
landscape design firm: daoyuan landscape design team: zhou xuemei, chen wenlong, mo yihai
interior design firm: yixi kindergarten design lab
interior design team: jiao qiao, chen nuo, jin qingjin, xie guofei
photos: did studio
renderings: shangzhu technology
composite images: did studio + shangzhu technology
designboom has received this project from our 'DIY submissions' feature, where we welcome our readers to submit their own work for publication. see more project submissions from our readers here.
edited by: cristina gomez | designboom
may 26, 2020
may 26, 2020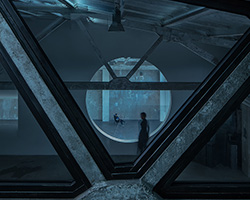 may 26, 2020
may 26, 2020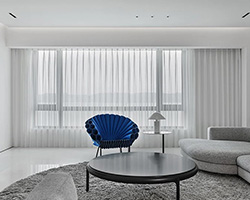 may 22, 2020
may 22, 2020
may 20, 2020
may 20, 2020
may 19, 2020
may 19, 2020
may 17, 2020
may 17, 2020
may 31, 2020
may 31, 2020
may 28, 2020
may 28, 2020
may 23, 2020
may 23, 2020
a diverse digital database that acts as a valuable guide in gaining insight and information about a product directly from the manufacturer, and serves as a rich reference point in developing a project or scheme.