feb 15, 2016
integrated field seamlessly blends home with office in bangkok apartment
integrated field seamlessly blends home with office in bangkok apartment
all images © ketsiree wongwan
mixed-used spaces have been becoming more and more popular in bangkok stemming from residential mixed with commercial, to dwellings combined with offices. in the project 'HOF' which stands for 'home and office', thai architecture office integrated field focuses on creating the most efficient and seamless blend of interiors between living and working.

a courtyard sits at the heart of the dwelling

the apartment is spread across two levels; the lower for working due to ease of accessibility and the upper for a more enclosed living space. the floor plan is wrapped around a private courtyard which can be accessed through sliding doors from the lounge, dining and kitchen. bringing natural light and encouraging cross-ventilation, the lower floor and upper floor is connected through a mezzanine level dedicated and equipped for an office.

the indoor courtyard can be accessed from three directions
the interiors focus on instilling a comfortable and relaxing atmosphere for the inhabitants. planned with versatility in mind, the interiors can be configured to suit different families and working environments.

semi-transparent curtains diffuse soft light into the interiors
the architecture is characterized by series of gabled-roof blocks which influences the third floor of each building. to serve working space, the parking area has been sunken and 4-5 parking spots are provided for each unit by increasing the width of the each unit to 6.30 meters. with this width, the service core comprised of stairs, toilets, pantry and system shaft has been organized into one side of the building, which has enabled the functional space to be open-plan with flexible.

view of the double-height dining space
'this project was focused on how to develop this mixed-use space in the most proper way for living and working. usage in future.' – integrated field architects

the master bedroom is based on the third floor

the mezzanine level is dedicated to working

the office space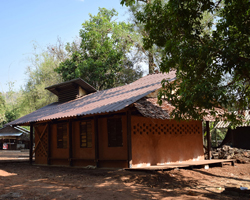 jul 03, 2017
jul 03, 2017
jun 25, 2017
jun 25, 2017
jun 06, 2017
jun 06, 2017
jan 27, 2016
jan 27, 2016
jul 17, 2013
jul 17, 2013
feb 13, 2013
feb 13, 2013