'the big task of architecture is doing something that is way bigger than making just buildings,' said annabelle selldorf on stage at design indaba's 2019 conference, held earlier this year in capetown, south africa. perfectly encapsulating the sentiment of every designer who spoke at the event, she recalled a short portfolio of projects her and her 70-strong team have completed over the years, from an environmentally-friendly contemporary gallery with a concrete facade, to more recently, a primary school in rural zambia.
for selldorf, the art of architecture is about experience. she describes it as 'a service to the people,' and like all services she recognizes the need to perfect it. after her talk at design indaba, which you can see above, designboom had a chance to talk to the architect about the importance of cultural exchange, equality in architecture, and her penchant for calm spaces.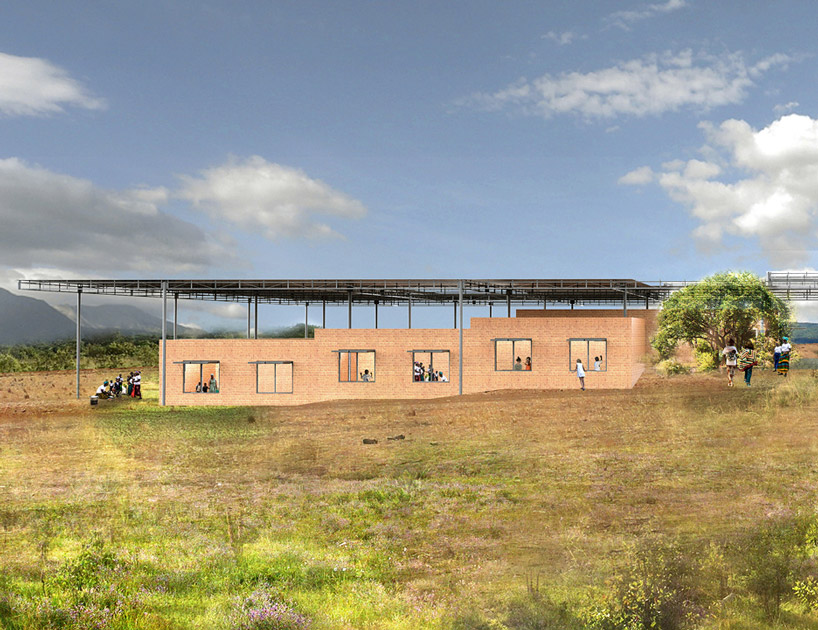 mwabindo school, 2019: the mwabwindo school is a project in southern zambia that seeks to give primary school education to the area's underserved rural population.
all images courtesy of selldorf architects
designboom (DB): you mentioned a long list of architects who have worked internationally and the importance of cultural exchange. it was refreshing to hear you also admit to not having all the answers when it comes to doing this 'the right way' but that it's a reason to encourage discussion around this. why is this so important?
annabelle selldorf (AS): if we read that education and exchange is really the fertile ground on which we build, then the paradigm we grew up with – that paradigm of cultural supremacy, to be a little bit extreme – has to also change. how do we make art? where do we go? architecture, as far as i'm concerned, is in the service of people, not the other way around. having said that, I think architecture is an art and it is about experience, and it is about supporting people and bringing people together. it's not just shelter.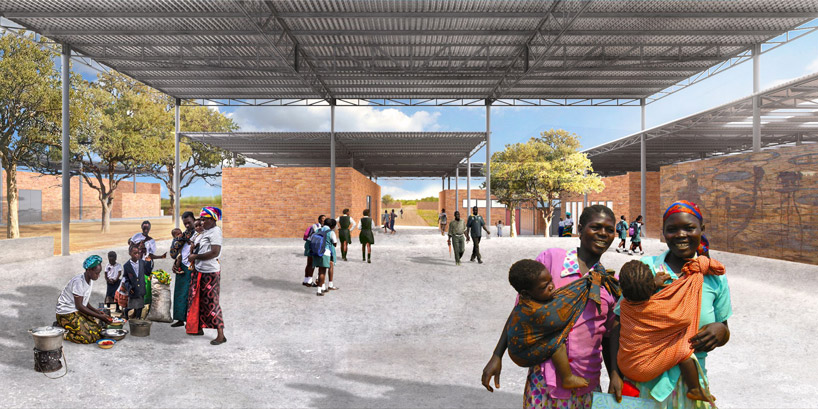 mwabindo school, 2019: the building is made of locally fired mud bricks and is topped by corrugated metal roofs.
(AS continued…): when I was a very young architect, somebody said to me 'you should go home and you should build in your community because that is what you know', and I remember at the time thinking that was such a stupid thing to say. i've now lived in the states in new york city for a very, very long time and I love to travel and I love to work in other places. i've worked extensively in different places. arguably, the uk is different from italy and switzerland is different from the states, and each time you have to go through the effort of understanding the place and how far you go. where does your inspiration and openness start and lack of understanding mistake assumptions…
DB: I guess there's always this potential to make a mistake or read something wrong. how do you understand an abstract concept like 'cultural exchange' with regards to architecture when there are no prescriptive guidelines?
AS: the projects that I have done in my lifetime and the ones that i'm happiest with are, in a funny way, like a portrait of the client or the 'thing' and at the same time I can see my own handwriting. it is where those two things meld that these projects are most successful.
DB: are people right to be sensitive towards architects who are 'outside' of their culture but are offering their signature?
AS: it depends on how extreme the thing is. I think amongst some of the projects that I showed, I look at those images and I think 'I wonder how that feels to have this kind of crazy thing in the middle of nowhere'. it feels foreign but then, i'll tell you a funny story – I went to chandigarh in my 20's and obviously having studied architecture that was pretty much all I wanted to do in life was to go there and see it. I had seen as many books as everybody else with all these amazing photographs of the phenomenal architecture of le corbusier. then I arrived there and it looked totally different because there was smells, there were sounds, there were lights, there were people. it was crumbling, it stank, and there were cows in the way. it wasn't that I didn't like it but it was so different from the image I had in my head. okay, those days you use the camera to take pictures and it takes weeks to get your pictures back. when I got the pictures back I realized that my photographs were much more like the photos that I had seen in books than what I had really experienced and that was so interesting because in real life the two had come together, the strength and roughness of the concrete and the shapes – I realized that corbusier's designs in chandigarh are very much about the place. I didn't know that until I went. you can't do something unless you create a link to the place, right. and that's maybe the first step in the conversation.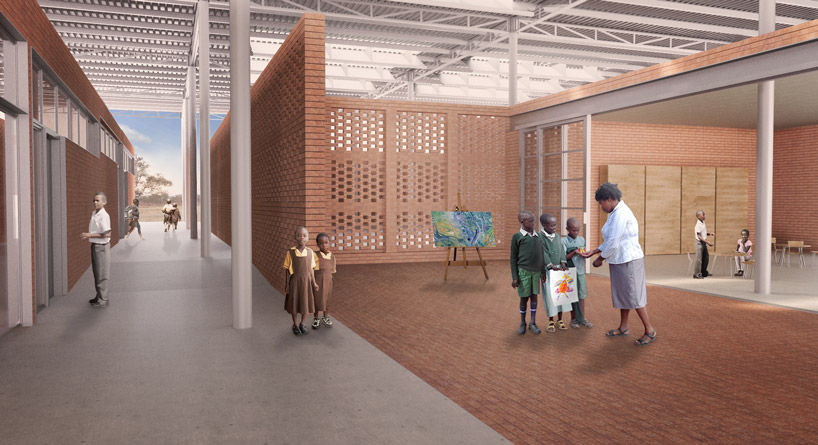 mwabindo school, 2019: the facility was constructed by local workers in the mwabindo village, its' undulating pattern inspired by local basket-weaving methods.
DB: that's true across all media isn't it. there are stark differences between how something is portrayed in the media, or communicated to consumers, and how it is in real life. is that an issue that plagues all design do you think?
AS: yeah, I think in a funny way. one of the things that I didn't say when I showed you pictures of the mwabwnido school was that because we used bricks that are made with local earth, most of the time it looks like the school is actually part of the landscape because it is the color of the ground and in the photos we sort of perceive the shade tent a lot more than anything else but it's this incredibly discrete place. it kind of moulds itself to the ground and that was more like what I expected. I was so pleased to see something that was maybe a fleeting desire work out so well.
DB: it's difficult to fully understand the function of a space. in pictures things can appear so stagnant…
AS: I totally know what you mean. and it's an interesting thing because I think we're slowly catching up with how to communicate those kinds of spaces. architecture is a complicated profession. you think in plan, and section, and elevation, and it's three dimensions – how to communicate that is really hard. you see renders all the time everything and people put people in them to make it more credible. I don't know that that's good enough. the best way to experience architecture is to be there.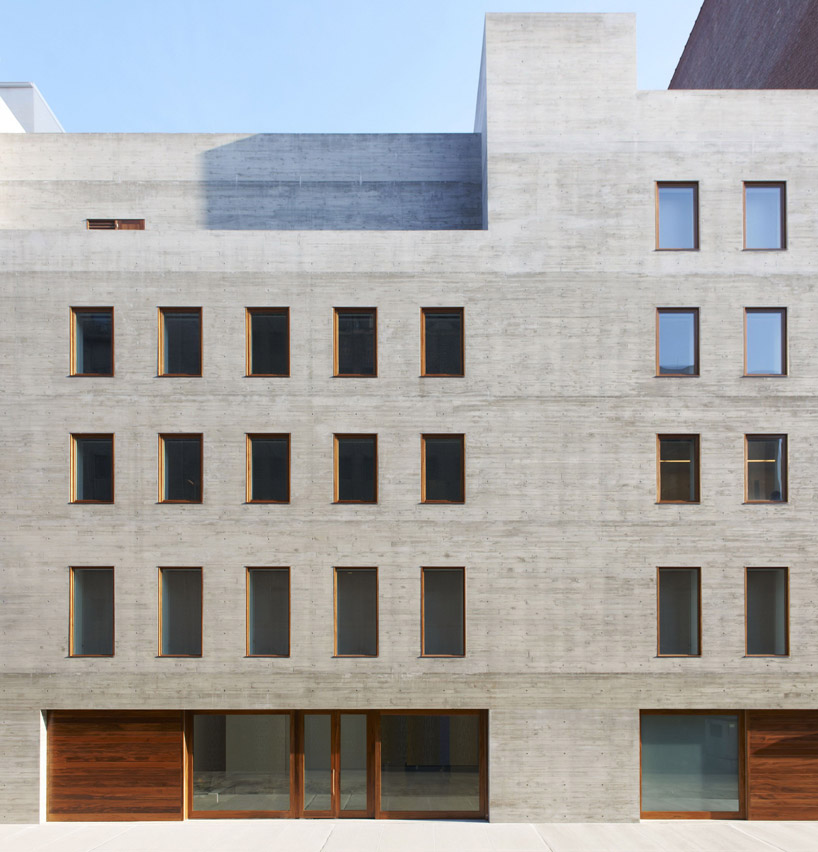 david zwirner west chelsea, 2014: selldorf architects designed david zwirner's gallery building in west chelsea featuring an exposed concrete façade and a contrasting teak storefront that opens for art access.
DB: when you spoke about your projects a word that kept coming up was 'calm'. is this how you percieve architecture when it's in its most perfect form?
AS: yes.
DB: how do you achieve that kind of calmness. do you have a ruling philosophy?
AS: I think it is something that happens in your mind's eye. it's like a slightly intangible dimension. I think it is sort of like the sum of having sympathy or empathy for how people move in space, how light makes a difference, and the sensations that we perceive in this space. i really don't like crowded spaces, I don't like loud spaces, but that doesn't mean I don't like strong spaces. have you ever been to the pantheon, if not you better go. the pantheon is one of the most overwhelmingly beautiful spaces. it is eternal and when you are there you are transformed. even on days tourists are there you can feel totally alone, totally at ease, and in perfect balance. it's when you make spaces where people feel dignified and I think that's really what it's all about.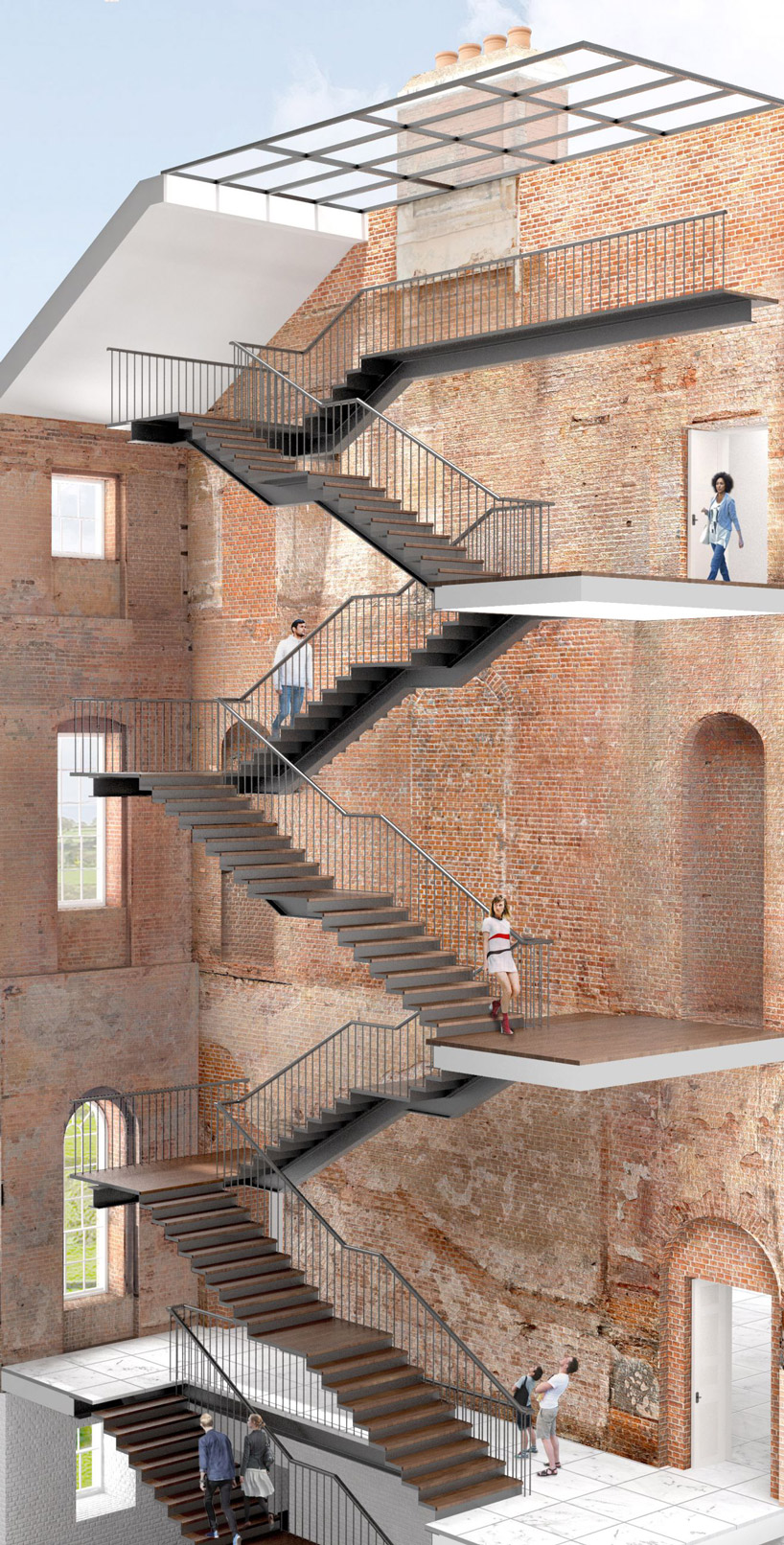 clandon park, 2015: the firm participated in an international competition for the restoration and rebuilding of clandon park in surrey in the uk.
DB: considering issues like sustainability and the environmental impact of design, how will they have an impact on the established idea of architecture we have today? will it completely transform things or can it seamlessly merge with the way things are being done now?
AS: I think it is the latter, I just think that people have to bother to really know and understand it and then it becomes just one more consideration. people make very different facades because they know that your exterior envelope has to have kernel properties that a single glazed facade didn't and every once in a while you go 'damn', but it's like everything else. I think that the more of a commitment we make to these issues, the better we will be able to handle it. to your point, I think that there will be a day when you go, 'oh, yeah, that's right. that's when they built those kinds of buildings.'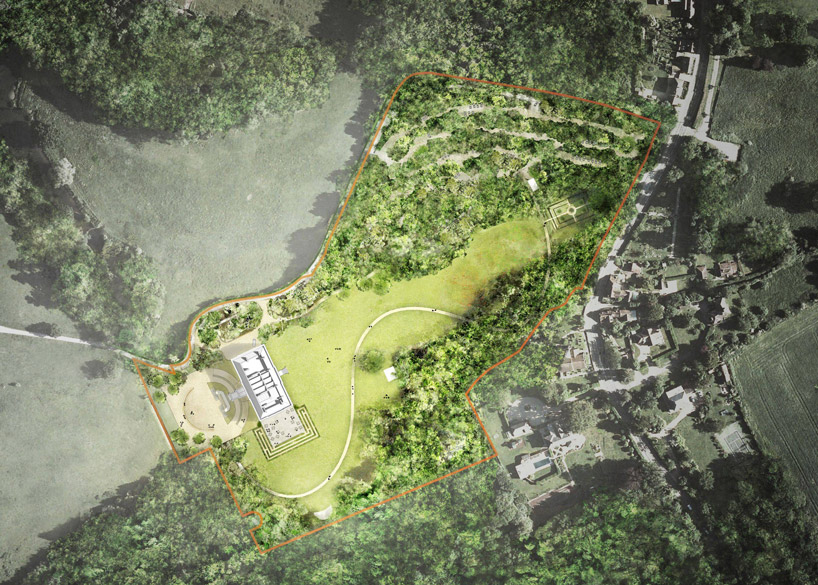 clandon park, 2015: the proposal aimed to reconnect the house to the landscape while restoring and revealing the historic exterior as designed by giacomo leoni.
DB: in terms of things that are plaguing the architecture industry, is there anything you feel needs resolving in the near future?
AS: really, everything is about equity and equity is possible only if we are open to educating people and if we are able to give everybody equal access to the opportunities that exist. architecture that is not diverse cannot be an architecture that represents the people, whether that's based on gender or race. one has to really embrace – there's probably a nicer way of saying that but it is really recognizing that I don't want to talk just for myself.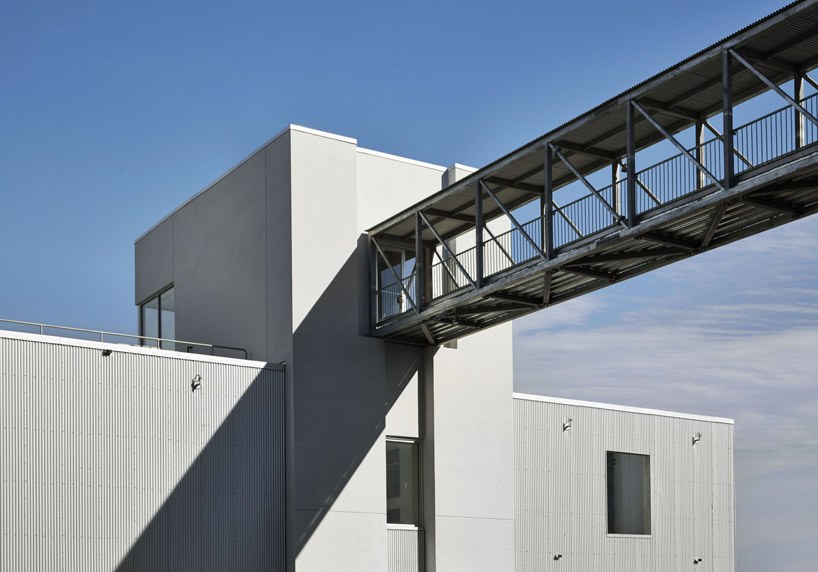 sunset park material recovery facility, 2013: opening up an otherwise closed facility, selldorf architects incorporated several viewing platforms into its design of a recycling center in brooklyn, new york.
DB: what does a future city look like to you?
AS: it's an interesting question. i've heard multiple people talk about density and I don't think we are going to be able to exist without it but at the same time, if we can't create places where individuals are afforded privacy and sanctuary then we can't help each other. that's pretty complicated because we're making shelter for families smaller and smaller and so how can we keep the individual dignified. this in my mind is the really big question because we can check, check, check, check, but there has to be inspiration, there has to be dialogue and there has to be a willingness to not make everything the same.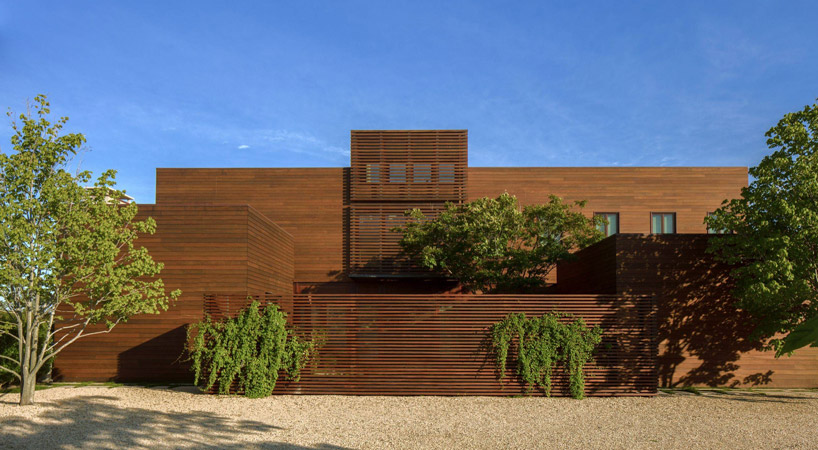 skarstedt residence, 2014: inside this summer retreat for an art collecting couple and their family, selldorf architects designed a triple height atrium stair providing open views directly to the garden.
DB: it's like 'how do you solve a problem like space?' but really, is it an issue of having too little or not knowing how to use it?
AS: I think it's a little bit of both. I don't know if you experience a need to be outdoors to experience nature to breathe fresh air. I think making sure that this is a part of what we do and that we connect people to nature is incredibly important.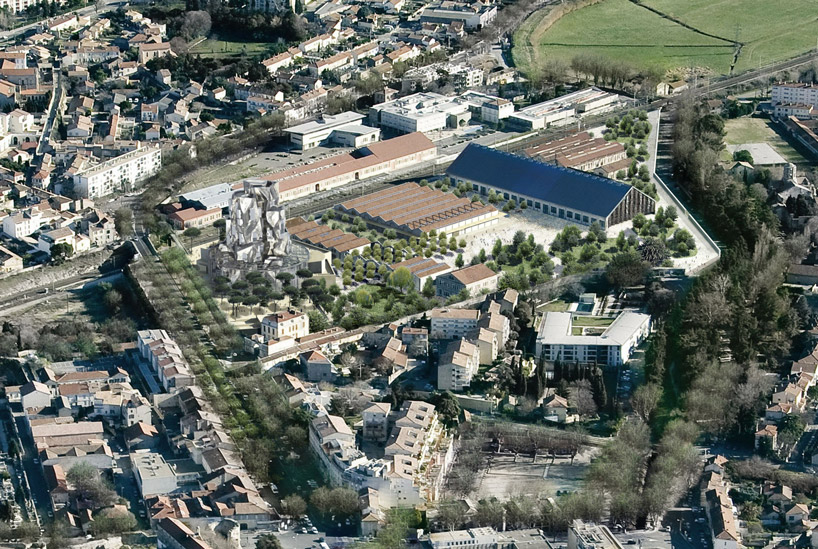 luma arles, 2018: selldorf architects repurposed the industrial ruins of a 16-acre rail depot to create space for a contemporary art center in france.
DB: what about generational differences, can you identify a particular approach among younger architects that you employ? is that something that you pay special attention to?
AS: I love that question because one of the things about that is what happens when you get older is that people come to you because they have affinity for your work. I really like the idea that not everybody is the same and that their spirit is different from mine or yours, and that there can be conversation because I want to learn as much as everybody else. having said that, of course in a way you establish a way of going about things. it's fantastic to have young people in the office. I love the talent and i'm always in awe of what people can do that I have no clue about. I am so grateful for the increasingly different individuals that join from far away places and the different personal histories.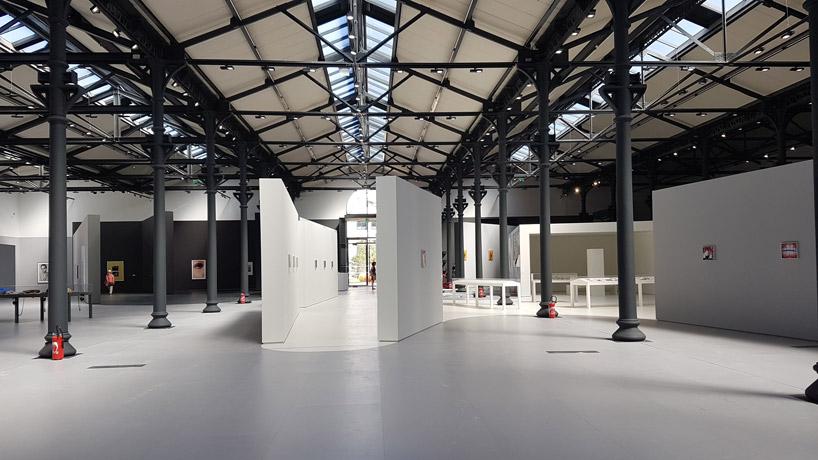 luma arles, 2018: in addition to the overall masterplan, the firm designed the renovation and conversion of five original structures into two new exhibition facilities, a hotel, a visitor center and café, as well as a dance studio and artist's residence.
DB: architecture depends on the understanding of people but it's the people that keep you in love with architecture…
AS: people, yes, it's all about people and it is when I realized that you can't make architecture without people and that making relationships, getting to know people, and learning from others, was so important. I think that's when I sort of started to think, okay, I am in the right place.
kieron marchese
I designboom
jul 14, 2019
KEEP UP WITH OUR DAILY AND WEEKLY NEWSLETTERS
a diverse digital database that acts as a valuable guide in gaining insight and information about a product directly from the manufacturer, and serves as a rich reference point in developing a project or scheme.
designboom will always be there for you
milan, new york, beijing, tokyo

,
since 1999