late last year, the bi-city biennale of urbanism\architecture (UABB 2019), billed as the world's most visited architecture exhibition, opened in shenzhen, china. as part of the display, the 'eyes of the city' section was curated by carlo ratti (chief curator), politecnico di torino, and the south china university of technology (academic curators). it aims to start a critical discussion on the impact of new technologies on cities — from artificial intelligence and facial recognition to autonomous mobility.
to learn more about the biennale, and the ways in which the natural and artificial are coming together, we spoke with carlo ratti — director of MIT senseable city lab and founder of carlo ratti associati — as well as edoardo bruno, architect and executive curator of UABB from politecnico di torino. read the interview in full below.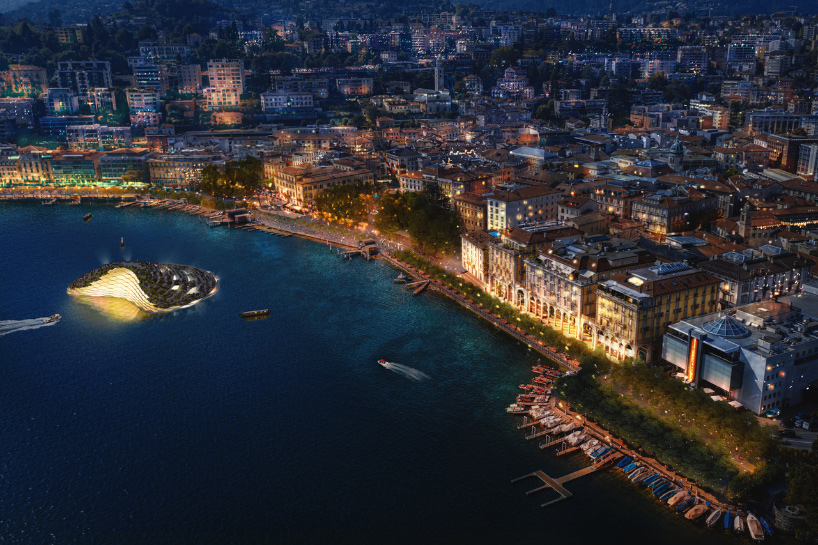 a vision for the lugano lakefront by CRA-carlo ratti associati with MIC-mobility in chain
image by CRA-carlo ratti associati (also main image)
designboom (DB): as a studio, CRA seems very interested in the hybridization of nature and technology. can you explain how you have developed your interest and research over the past few years?
carlo ratti (CR): you are right. in the twentieth century, cities have expanded outwards towards nature. think of the garden city movement theorized by ebenezer howard, or frank lloyd wright's broadacre city. however, those visions soon turned our cities into dystopia: endless suburbs which destroyed the countryside. for this reason, we think that architecture's goals must be different today: not expanding cities into nature but bringing nature into the city — also by leveraging the potential of new technologies.
this is a topic that we have explored at the shenzhen biennale, but also in other projects. the redesign of the lugano waterfront [above] features a floating garden island and a new mobility system deployed in the whole area, aimed at making citizens feel more connected and overall closer to the lake. whereas the capitaspring skyscraper [below] we designed with BIG, and which is currently under construction in singapore, has a structure that peels open at different levels to unveil wide areas of green oasis inside, where people can work while being immersed in nature.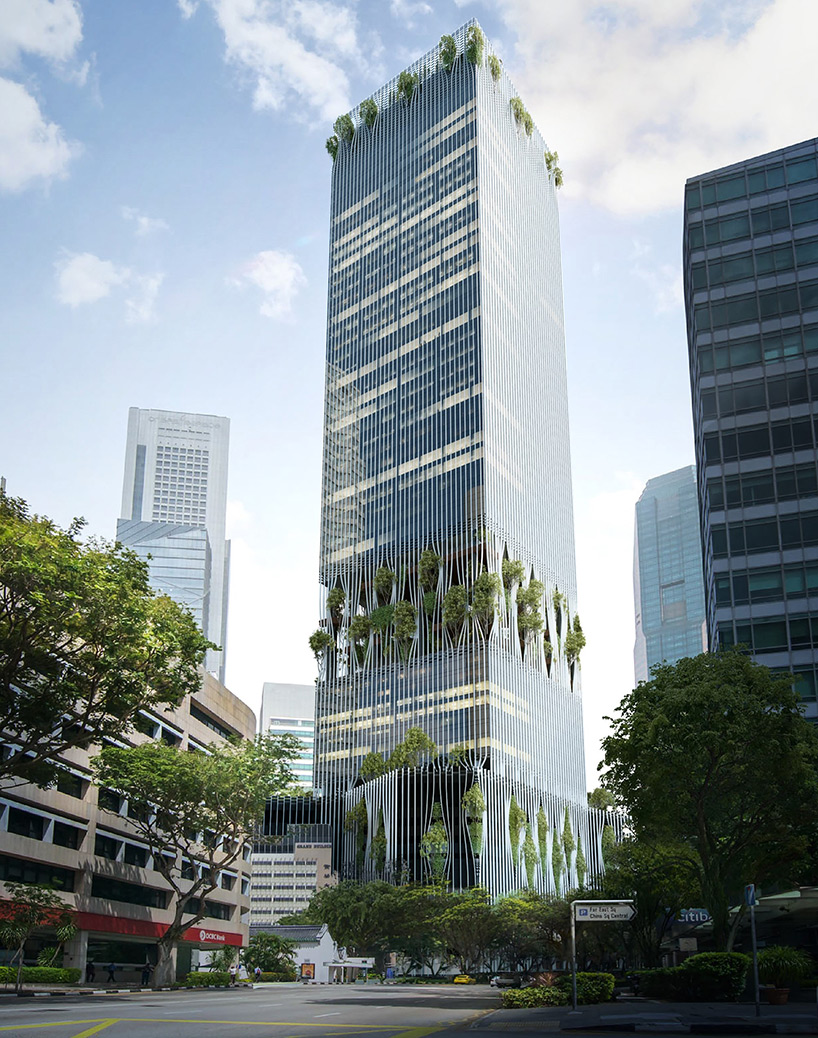 capitaspring by CRA-carlo ratti associati and BIG-bjarke ingels group
image by bjarke ingels group and VMW
DB: at the UABB/shenzhen biennale there is a section titled 'artificial ecologies'. what did you want to convey with this section of the exhibition?
CR: the title of the section refers to the coexistence of natural and artificial in contemporary cities, and how there could be a convergence between the two in the near future, in an age of cyborg-ization and omnipresent sensors. some installations focus on the collection and visualization of data that have to do with the natural world, agriculture, but also dust particles and pollution. these layers of data can have an impact on the way we think about these issues and how we act towards them.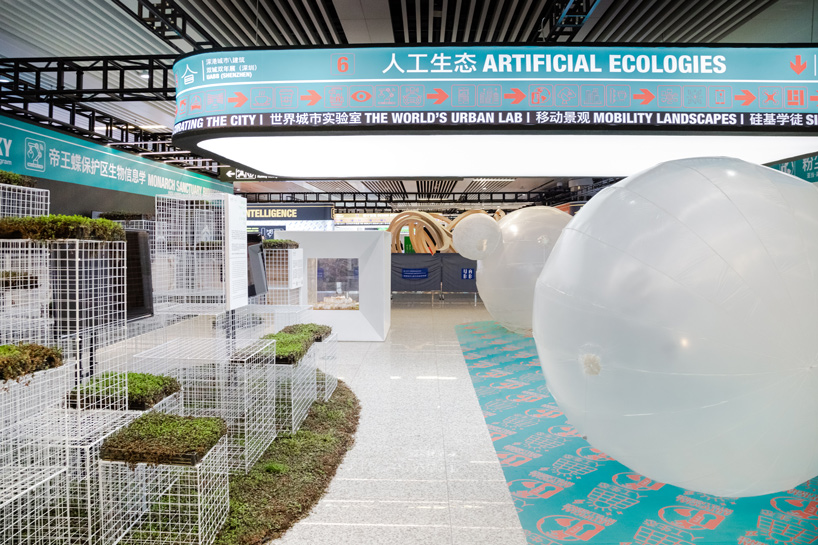 artificial ecologies section at the UABB/shenzhen biennale
image © prospekt (also main image)
DB: you talk about 'cyborg-ization'. what does this term mean in the context of urban space?
CR: in edgar allan poe's 1839 story, 'the man that was used up,' the main character is an old general, wounded in battle, who is completely rebuilt using synthetic prostheses. this was one of the first literary examples of a 'cyborg,' a living being enhanced by technology. today, we could say that we have all become like the old general, thanks to our electronic prosthesis — starting from the smartphone we all keep in our pockets.
this new condition has huge consequences on the urban space: thanks to the sensors we carry with us at all times, we can collect information about the built environment at an unprecedented scale. also, if humans are being hybridized with technology, buildings are being humanized with nature. they are two symmetrical processes that point towards a future of co-evolution between the natural and the artificial.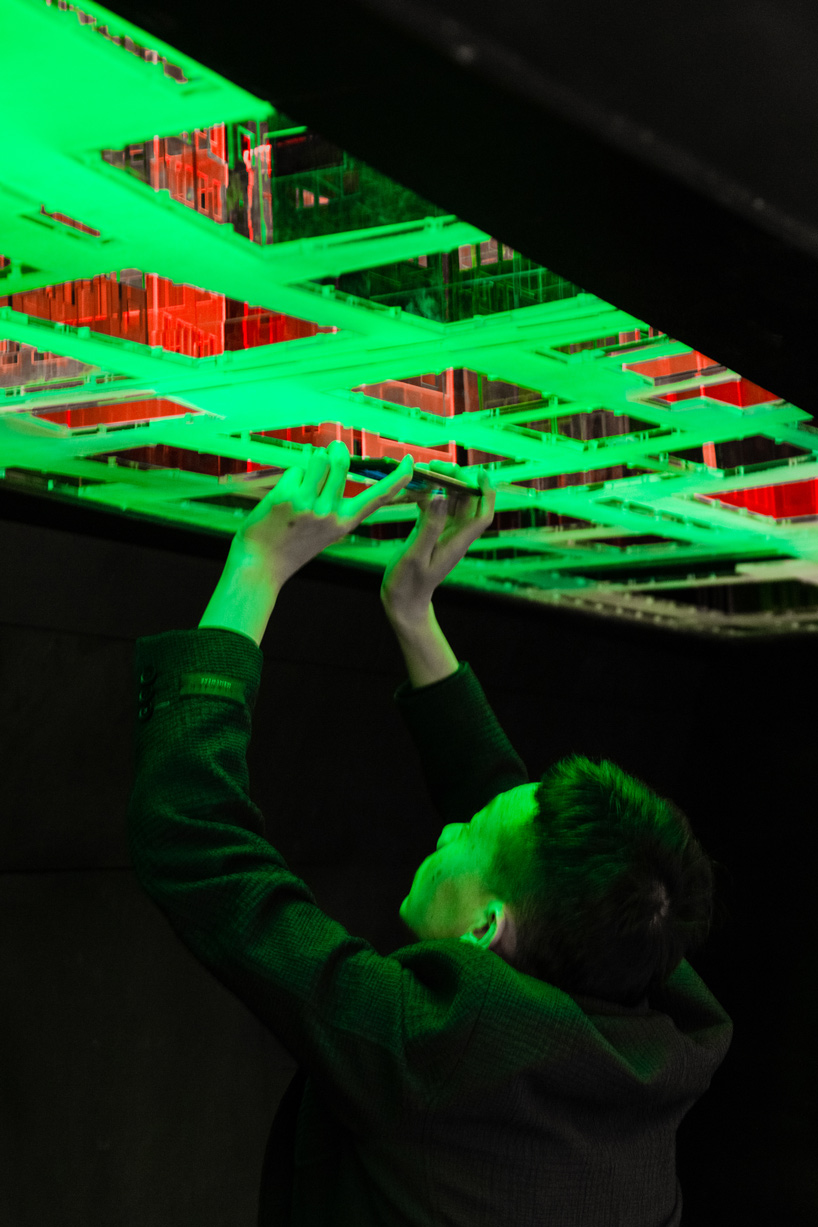 palimpsest shenzhen — LOW-REZ + wee studio
image © prospekt
DB: the exploration of the topic seems particularly relevant in china. how did this context inform the biennale's content?
edoardo bruno (EB): the topic seems very relevant to the city of shenzhen in particular, an 'instant city' that grew impressively in a few decades. exactly in shenzhen the term 'five connections, one leveling' ('wutong yiping') has been coined, a concept guiding urban development based on substitution, which forcefully reshapes the environment under market transition.
however, nature is now pushing back into chinese urban life, as a qualitative indicator for a healthy life, and new technologies are learning to map, integrate and re-invent scenarios. in fact, some projects of the 'natural & artificial' section explore the typical point of view of a digitally-augmented metropolis that still keeps a special relationship with the countryside — no wonder one of the installations is called 'smart village'.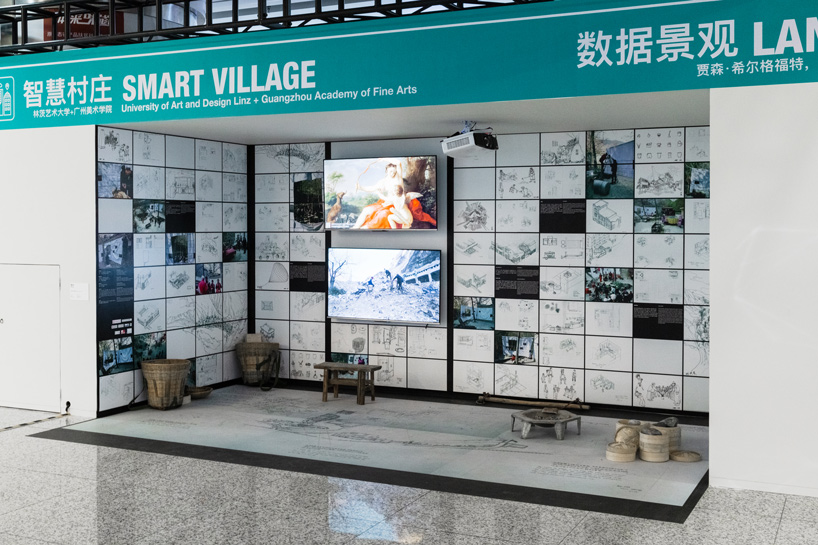 smart village — university of art and design linz + guangzhou academy of fine arts
image © prospekt
DB: in what ways do you think architecture can help tackle climate change? what can be done in china to achieve a better environment?
EB: climate change is bound to produce increasingly visible effects — from environmental distress to social segregation. this situation calls the global community to take action. architecture can participate in defining new spatial strategies, promoting resilience while fostering a stronger environmental consciousness. china can play a key role in this field — for instance, by implementing urban policies that leverage technological advancements for the purposes of social and economic development.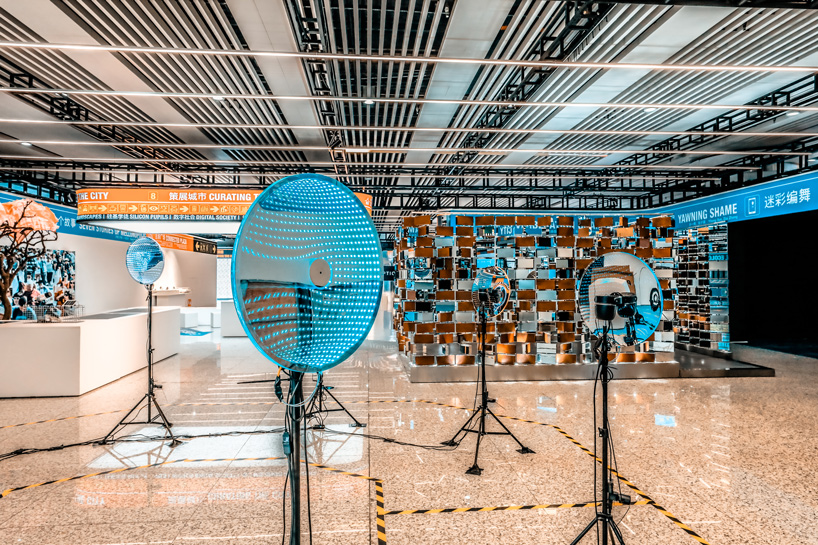 the emoting city — jie zhang, sayjel patel, raffi tchakerian
image © UABB
DB: what are your personal feelings on facial recognition in public space? how is it used in china compared to the west?
CR: facial recognition is one of today's most controversial technologies, and through the course of last year it has prompted criticism in different parts of the world, from san francisco to hong kong. we are talking about a global phenomenon, and china finds itself at the forefront of the deployment of this technology. citizens are dealing with issues and concerns that the western world will also have to face in the forthcoming years, and this will be true not only for facial recognition but for many other technologies too. with leadership comes responsibilities.
in the biennale, we have chosen to use a facial recognition system for registration which offers the choice to opt-out and not be recognized by the system, also by wearing a special mark developed in collaboration with the cooper union. this expresses a belief that I share: key decisions about cities and society should rest in the hands of the citizens.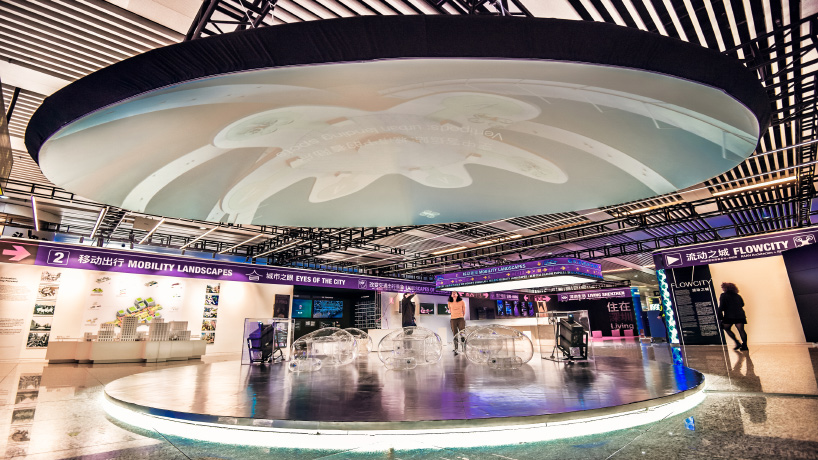 'city and the sky above' — MVRDV + airbus
image © UABB
DB: in what ways is the layout of the biennale inspired by shopping malls and other similar spaces?
EB: when we first received the news that the exhibition was going to take place inside a train station, we were a bit puzzled, but at the same time excited. what about talking to a very unusual audience for a biennale, i.e. the millions of people who move through a high-speed hub? so we decided to work around the concept and to take inspiration from the structure of duty-free areas inside airports, for the way they attract the attention of passersby. we wanted to attract them, not in order to sell them a new moisturizer or a bottle of whiskey, but to make them think about important urban issues.
with its zigzag structure, flashy hub-inspired signages (courtesy of graphic designer mieke gerritzen) and one kilometer of infographic on digital walls developed by paolo ciuccarelli, we believe the exhibition design turned out to be a new place-making tool — when we saw the first commuter making a detour inside the exhibition, we were thrilled.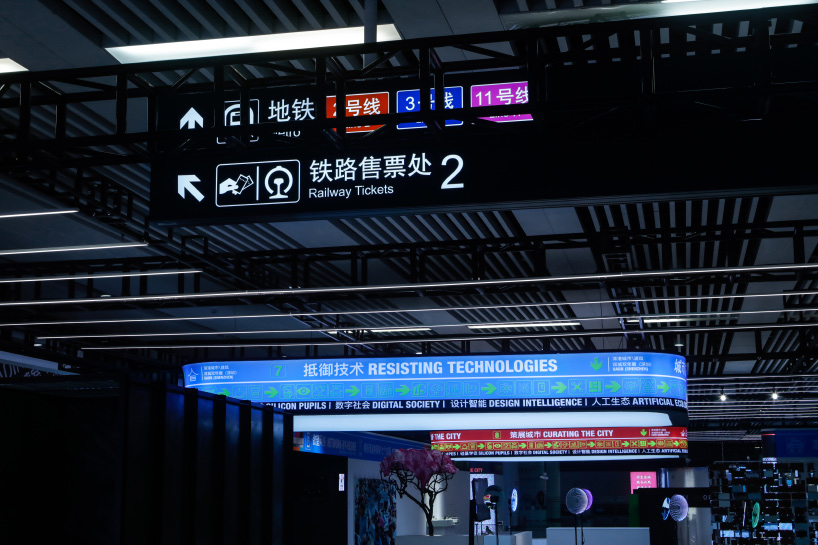 signage by mieke gerritzen
image © UABB
DB: what do you hope visitors take away from their time at the biennale?
EB: we hope that visitors will understand the scale of change taking place in cities and form a critical stance on it. it is up to all of us to decide what should or shouldn't be integrated into the city of tomorrow, so it's always positive to have a picture of a possible near future painted in front of you. in the end, we believe it is an exhibition aimed at searching new forms of open public engagements and design.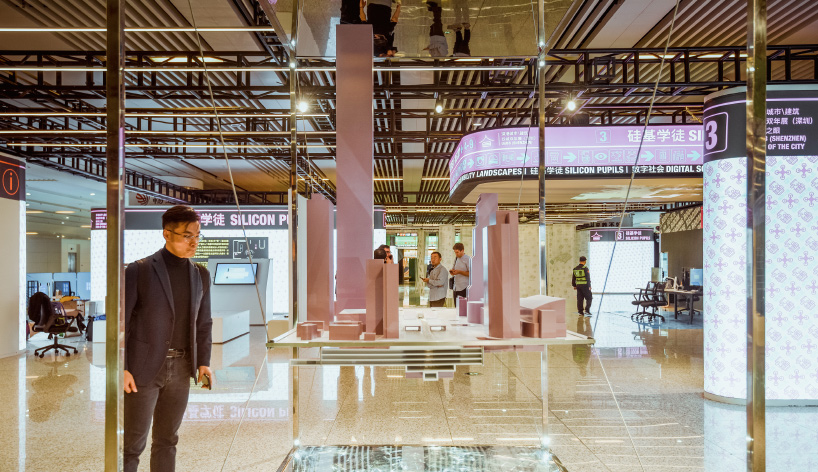 sub-hubs: a new breed of architectural objects — dominique perrault + DPA-X
image © UABB
DB: what do you think is the role of an architect or designer working today?
CR: as herbert simon once said: 'the natural sciences are concerned with how things are… design, on the other hand, is concerned with how things ought to be'. I believe our role as architects is to foster a discussion in order to transform the present into what 'it ought to be'. design should guide us to explore alternative futures and speculate about them. while the 'eyes of the city' are focusing their gaze upon us, it is important that we look back to them. in this way, we will better understand ourselves.
EB: continuously engaging in a sort of fight with time and space, designers explore areas in which disciplines are not able to give single responses. contemporary designers' attitudes should be to turn challenges into opportunities, reconnecting elements which are kept separated within reality.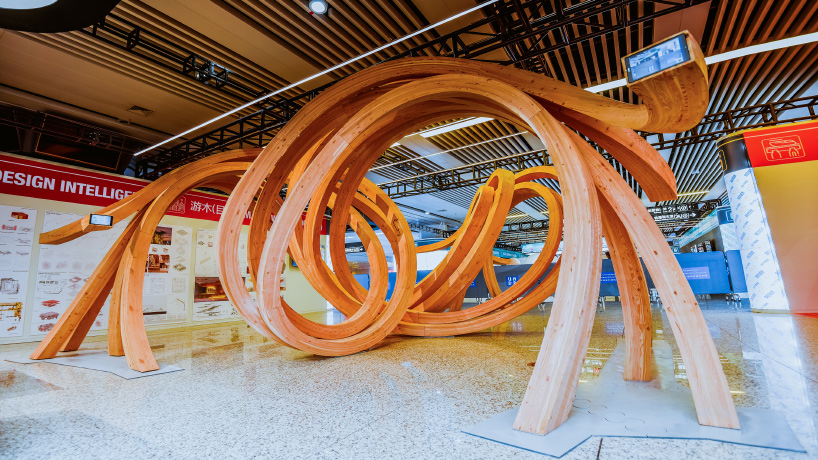 'nomadic wood (looking)' — philip f. yuan
image © UABB
DB: what are you afraid of regarding the future of our cities? what are you optimistic about?
CR: I like to refer to the words of the great american inventor buckminster fuller, that the vision for our future cities is suspended between 'oblivion and utopia'. it means that if it focuses on pursuing mere formalism, it will fall into oblivion. but if it will manage to tackle the main challenges of contemporary society — such as climate change or integration of different technologies into the built environment — it can be utopia indeed.
the bi-city biennale of urbanism\architecture (UABB) opened in shenzhen on december 22, 2019 and remains on view until march 2020.
philip stevens
I designboom
feb 26, 2020
KEEP UP WITH OUR DAILY AND WEEKLY NEWSLETTERS
a diverse digital database that acts as a valuable guide in gaining insight and information about a product directly from the manufacturer, and serves as a rich reference point in developing a project or scheme.
designboom will always be there for you
milan, new york, beijing, tokyo

,
since 1999