architecture and design studio penda is run by the austrian/chinese duo chris precht and dayong sun. the young studio operates out of an ancient hutong in beijing, where they are able to retreat from the noise pollution of the city, while still being surrounded by local chinese culture. having already completed a number of projects in china across varying scales and typologies, the team is set on bringing more greenery into heavily urbanized environments.
designboom spoke to chris precht in beijing about the studio's future projects, what they've learned working in china and the importance of listening to your colleagues and peers.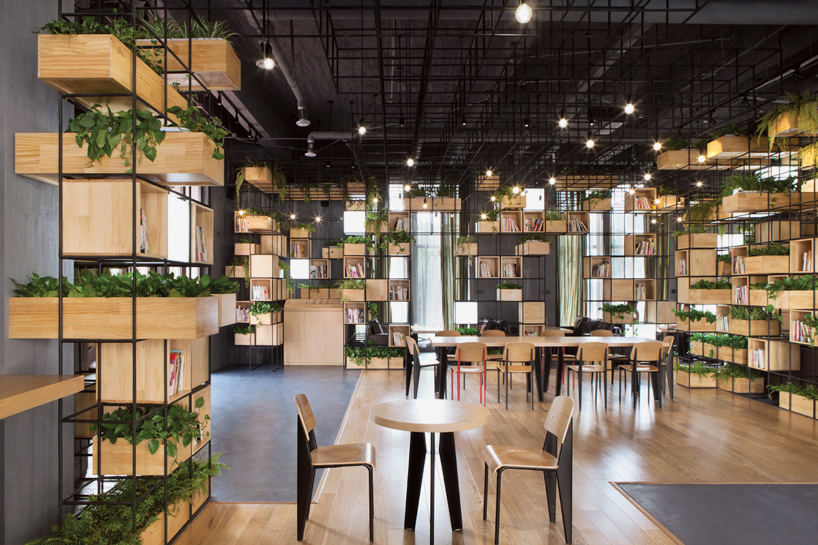 the beijing café uses recycled steel bars to serve as modular dividers
see designboom's previous coverage of the project here | main image © designboom
designboom: how did penda begin?
chris precht: I met dayong sun when we were both working for graft, he was one of the first members of graft in beijing and also one of the longest serving ones. we always liked each other, he was very good in interior design and I was more of an architect. he had a lot of knowledge in regards to how things are built on construction sites and I was better at designing on the computer, so it was a good mix for both of us. then somehow we parted, we both went back to university to do our masters degree, but before we did we actually said that when the opportunity arises we should work together. in 2012 my wife and I won a competition in china, so we asked dayong to join us. he already had a very good, highly paid job in a big firm… so the next day he quit and that's how penda started.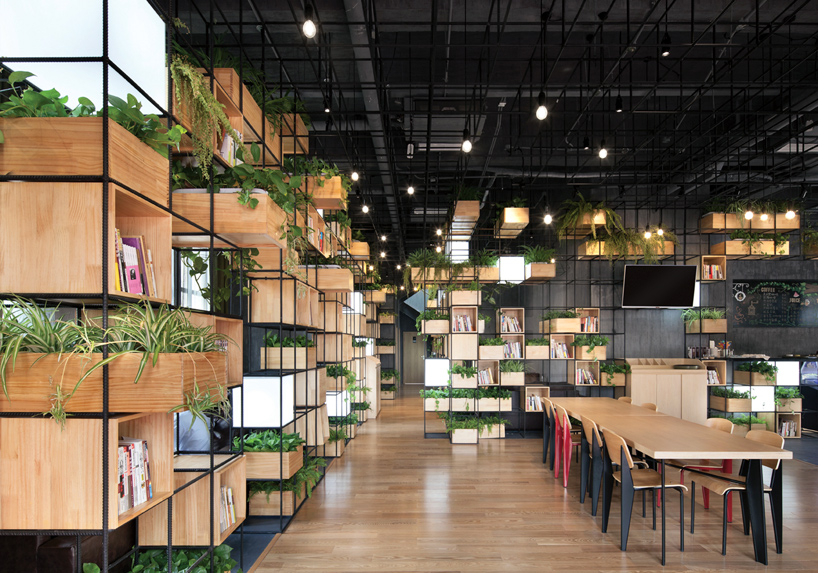 the design introduces an area of greenery within the city's heavily polluted atmosphere
DB: what have been the biggest changes so far?
CP: the biggest changes are that we now have an office space, we have employees and we have projects that mean we can at least live from architecture, so I think there has been some change. our work has also gotten more serious, not in terms of how we design, but how we think about architecture… we consider the longer term more, while also looking towards the past. we think about where things came from, how typologies developed and try to achieve a level of consistency through all of our projects. this means that we also have to look into our past and this is especially interesting for us because dayong is national born chinese and I'm austrian, so we come from quite different cultures.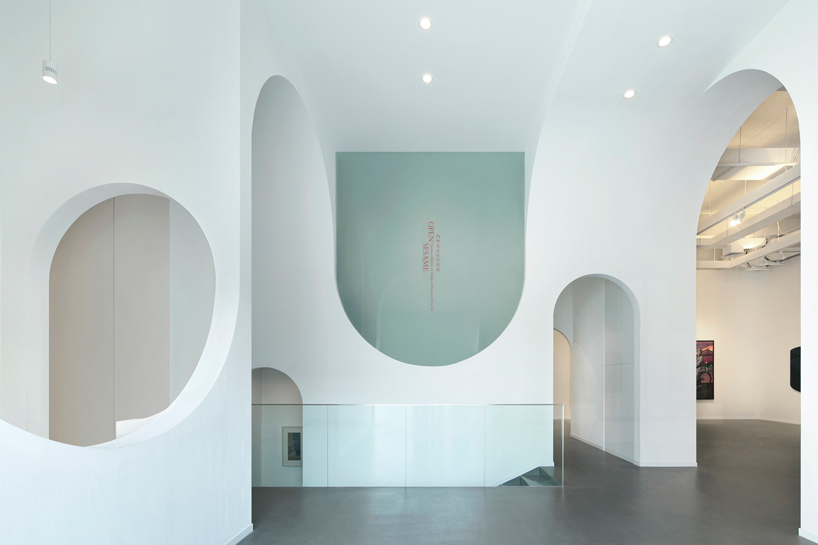 'hongkung art gallery/art arcadion' in beijing
see designboom's previous coverage here
DB: who or what have been some of the biggest influence on your work to date?
CP: the first thing that comes to my mind would be my father, he's not an architect not at all, but he's a very crazy and professional free climber. he took me climbing with him a lot, where it's possible to experience nature in a more vertical way… more three-dimensionally and from a lot of different perspectives. I think that actually changed the perception of how I look at things. however, I got the wrong combination of my parents, I got the strength of my mother, but the looks from my father — the other way round would've been better, that's why I didn't become a climber but an architect I guess.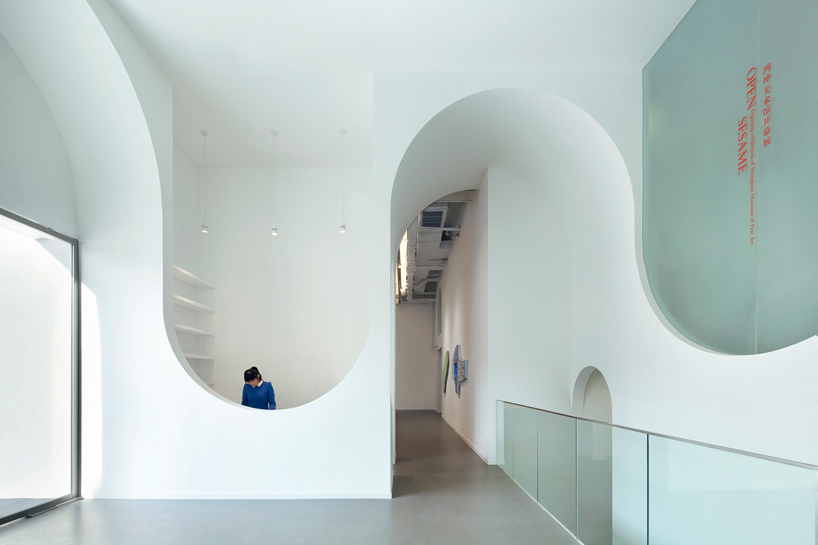 the interior of the gallery is defined using a series of swooping, arched forms
DB: could you describe where your office is located in beijing and why?
CP: our office is located in a hutong, in quite an old building. first of all, it doesn't feel like a city in these hutong areas, so it's quiet, there's no traffic around and feels a bit more introvert than normal office buildings… it's like an oasis within the city and we quite like that. it also connects us directly to chinese culture because it's a very traditional building, so we're surrounded by aspects of the historical china, which we enjoy. it's also quite nice for the cat to jump onto the roofs — she has a bit more freedom here than she would in an office building.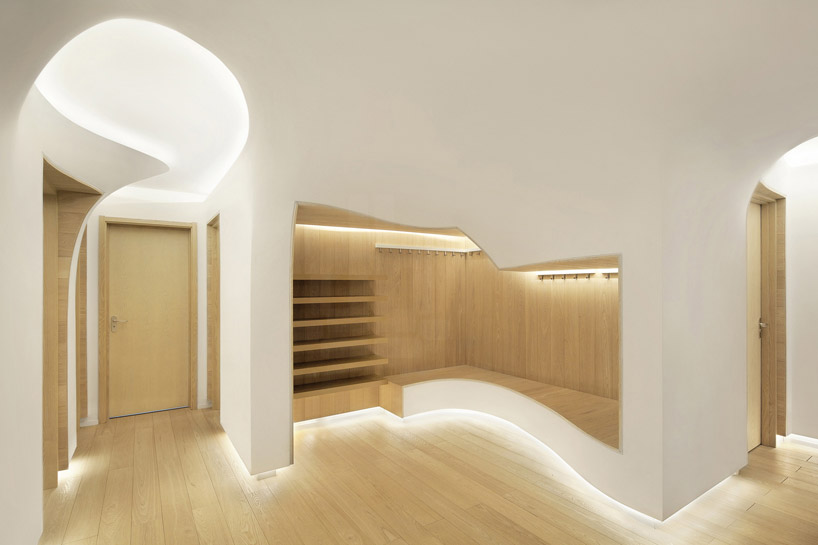 the 'snow apartment' by penda
see designboom's previous coverage of the project here
DB: what would you like to see happen in terms of architecture and urban growth in beijing?
CP: what I would really like to see are ways the city can be developed into a healthy one. what is it that we need to do on an urban scale to change the pollution — air pollution, water pollution and also food pollution. there needs to be some serious rethinking about how the city works, where the factories are located and which rivers flow into the city… this needs some serious discussion on a very urban scale.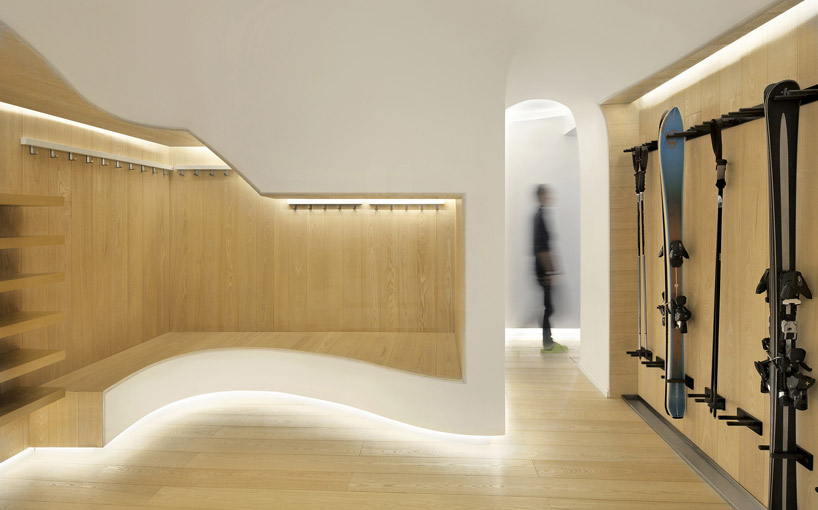 the winter getaway was conceived as a melting snowfield in spring
DB: do you think there has been a shift towards a more sustainable approach?

CP: yes definitely, and I think people are craving it in a certain way, you know people are getting richer and the economy's doing great, but what does it bring if you die from cancer. access to greenery and water are essential parts of living a good life, so introducing these ideas into cities is something very positive that architects can do.
also, as architecture became more digital using all these new tools and software, everybody thought it would be more like what we see in science fiction movies. I think there is a bit of a counter movement to that though, with architecture becoming more responsible and able to adapt to and connect to nature in a better way. also, when you look at who won the pritzker prize in the last few years, almost all of them were responsible architects. I think this attitude of being more responsible is what architecture and society needs.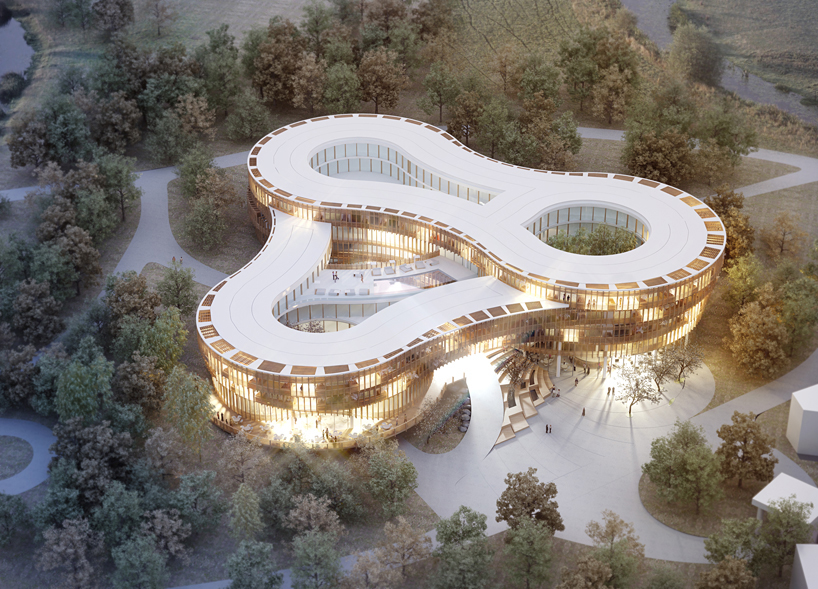 the 'myrtle garden hotel' was designed in collaboration with graft lab architects
see designboom's previous coverage of the proposal here
DB: can you tell us about any projects that you're currently working on that you're particularly excited about?
CP: we have a large museum project in the centre of beijing and it's exciting because beijing is a cultural city, so building a museum here is really nice for a young office. we're excited to have this opportunity — it's been under construction for 5 months now. we are also working on a pavilion for the wuhan garden expo, we were one of the chosen teams from an international competition, they chose 6 different architects to build a pavilion and we were one of them. I think there are a lot of our thoughts and general ideas about architecture in this pavilion, so we are quite excited for this to be happening as well.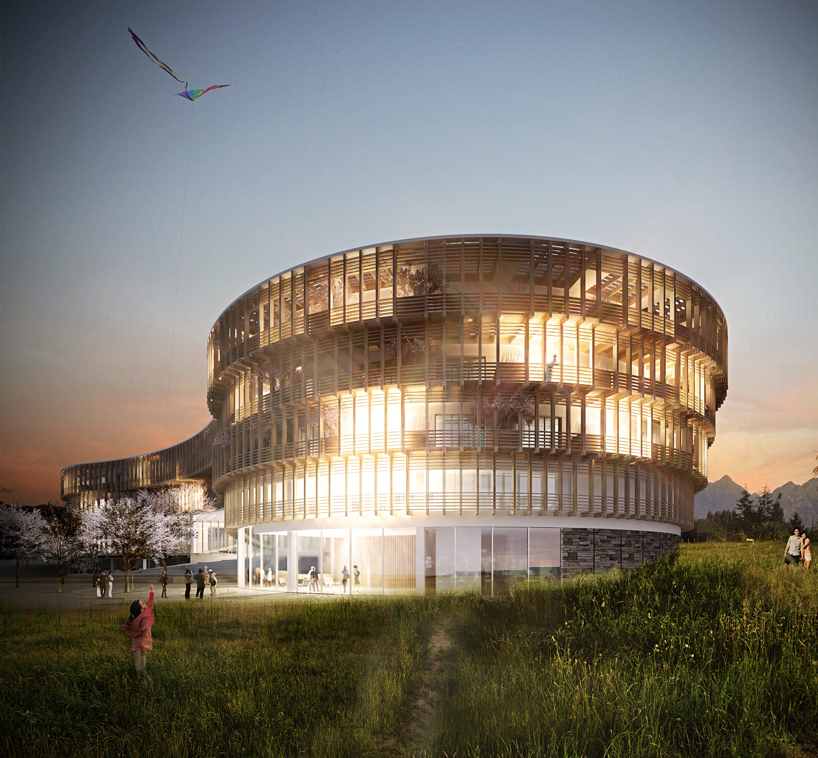 the building is placed within the largest myrtle flower garden in asia

DB: what type of museum is the one you're building now?
CP: it's a contemporary art museum for a private client, he has a huge art collection, which is changing so the exhibition will always be changing. for the competition we had the possibility to give two versions, and this was our second version. actually, we always end up building the second version, never the first one, we almost always build 'plan b'. I think the first time you try something for yourself, we try to build something for architects, our dream or whatever and this is not important to the client. I think that ears are actually the most important design tool for an architect and not your hands or your eyes, I really think listening is quite important.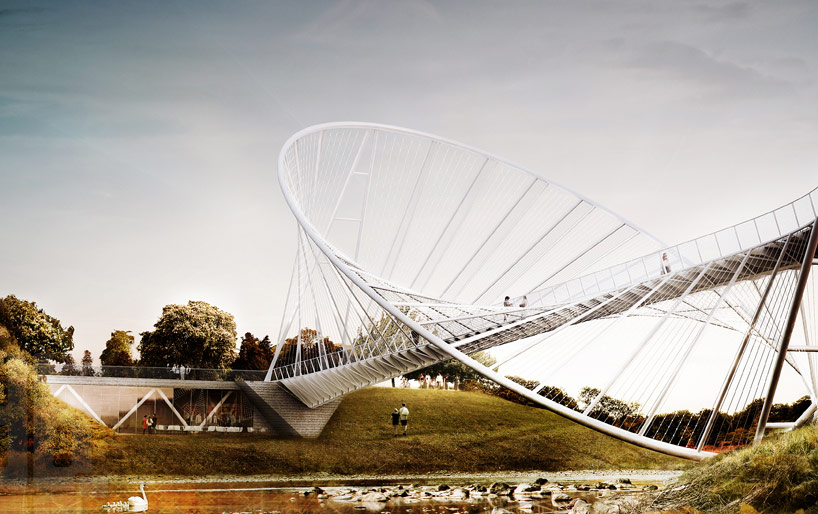 proposal for the 'meadows salford elliptical bridge' by alex daxböck and chris precht
see designboom's previous coverage here
DB: you're not a large office to undertake these types of projects, the output for something like this requires a huge amount of drawings and detailed design. how do you manage that?
CP: I think mostly with passion and patience, we do a lot but no as much as we could do. the work is somehow like our baby and we really put our heart and soul into it, but we also don't do really huge projects. this one is one of our largest projects, but as a smaller office we also don't get the opportunity, so therefore we created our motto that if you're a small office and you can't do great things, then do small things in a great way. we try to explain every project we're doing in a good way so that everybody can understand… but if it doesn't get built then it doesn't count, right?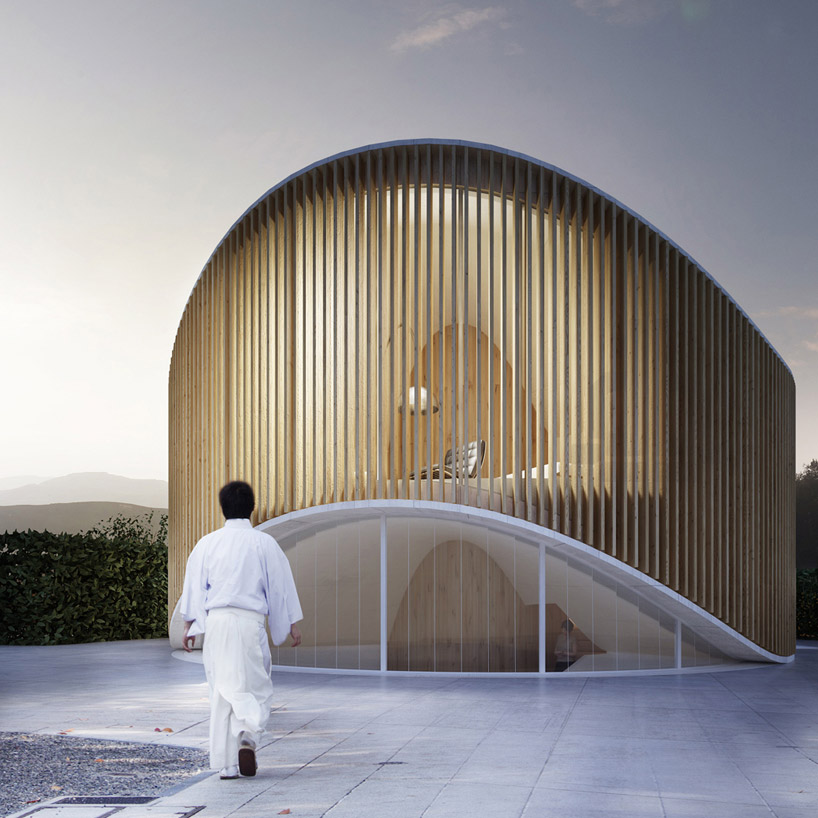 'house O' is a small garden-residence for a famous chinese wood-artist in beijing
see designboom's previous coverage here


DB: how much do you think is dependent on the client in terms of the success of a project?

CP: I think it depends on the architect, because if we don't ask the right questions, which is really important, we also don't get the right answers. if we approach them with an idea in our head about what we want it to be, then we won't ask the right questions, we just ask what we want to hear the right answers to, so this can be a bit tricky.


'one with the birds' competition proposal
video courtesy of chris precht

DB: in what way do drawings feed into your projects?

CP: I always considered myself a digital architect when I was studying, but now I have an office we draw quite a lot. my partner graduated from CAFA university, it's a very famous school for drawing, so he's very good at sketching. I also did a lot of portrait drawings when I was younger, but then using digital tools I lost touch of drawing — with using my hands in architecture. since we've been running an office we do a lot more physical work like building models or drawing things, I think it is a fundamental connection to really work with your hands as an architect and not just with your eyes or the computer.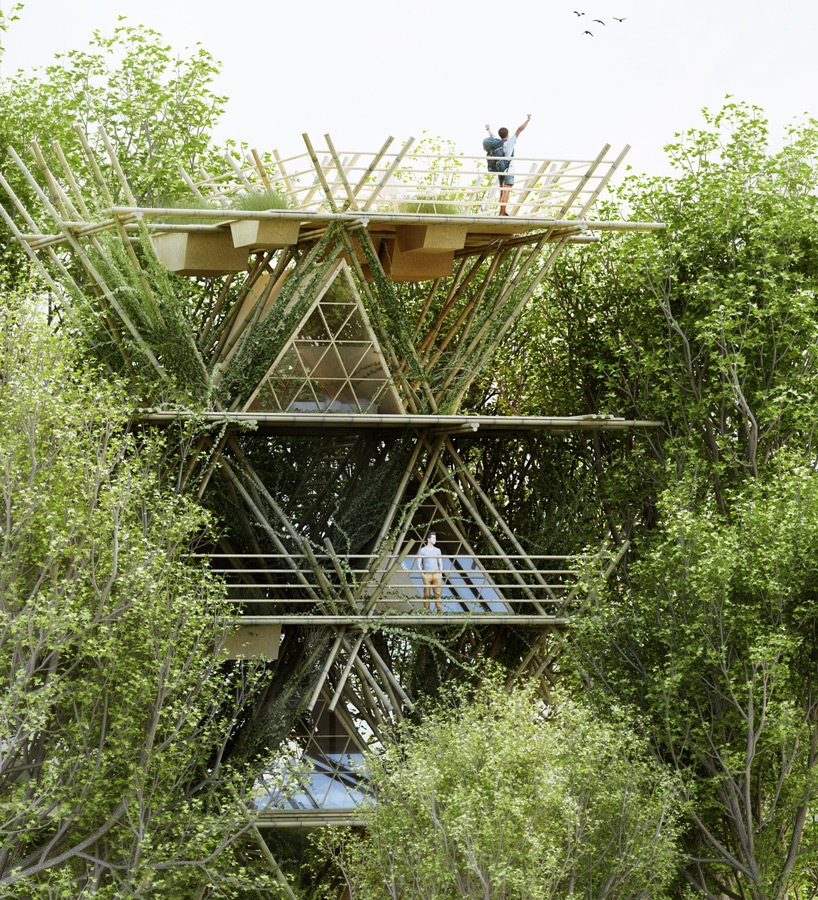 the project envisions modular bamboo dwellings in the trees
see designboom's previous coverage of 'one with the birds' here
DB: is there a particular project that's given you satisfaction?
CP: the project we did called, 'one with the birds' summed up a lot of things about what we believe in architecture. here, people are connected to nature in a direct and very three-dimensional way, because I think that somehow when we grow older we loose touch of this. when we go through the woods we are normally surrounded by things such as tree trunks, but you're never really experiencing the verticality of the forest for example — to be able to see different aspects of the wild life. so, this is what we tried to accomplish with this project, to fully connect people to nature again.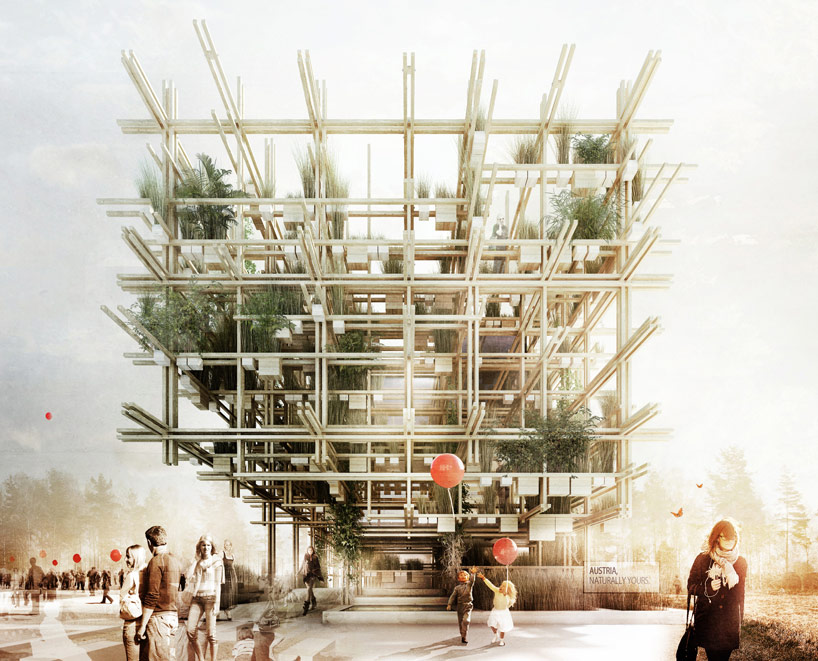 milan expo 2015: austrian pavilion 'naturally yours' by penda in collaboration with alex daxböck
see designboom's previous coverage of the pavilion here
DB: personally, how do other creative fields feed into your work?
CP: I think there's a good answer to that but I don't have one right now… I think that all parts of life feed into architecture, even if they aren't inspiring at first. for example, I would never have thought that climbing, or my room as a child would influence my work. my father was also a very good carpenter, he built hidden walls into my bedroom — it created a lot of a curiosity about how I discover space, so these things have influenced my way of thinking about architecture. right now I don't have any particular genres that I'm focused on, architecture is so broad that I think that everything you do as a person feeds into how you see architecture and experience it.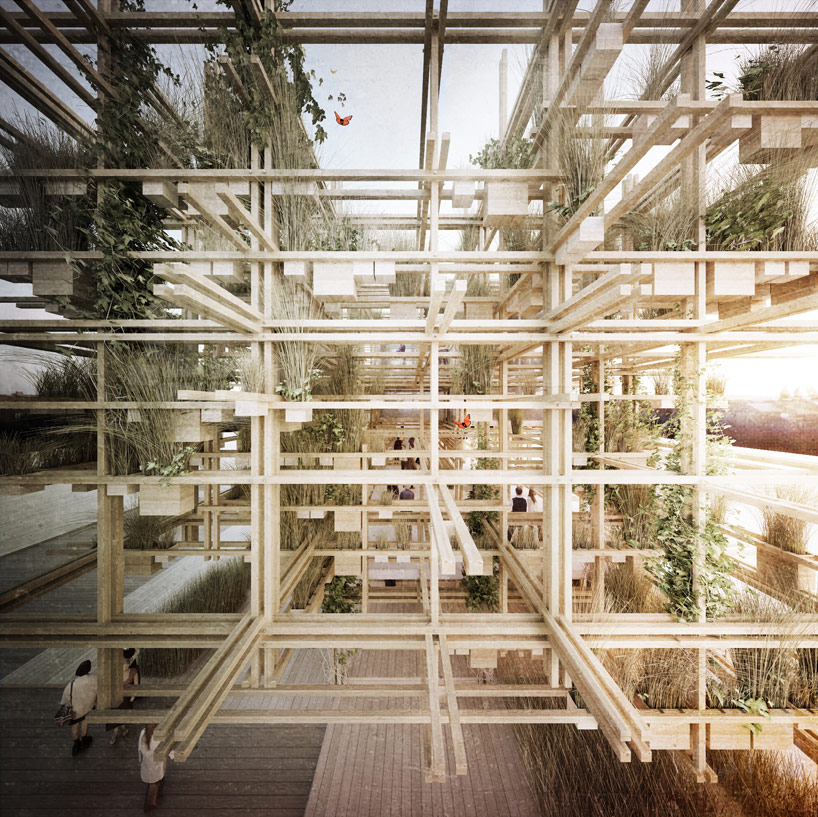 the winning idea enables visitors to plant seeds and then directly eat the food grown on the pavilion
DB: what advice would you give to students and young designers?
CP: it would be a little bit hypocritical for me to offer advice because I was just a student myself one and a half years ago, so basically we are the same age and we still feel like students when it comes to exploring. based on my experience what I would say is that architectural students should mingle, they should not just hang out with other architectural students. I know that for most people when they start studying architecture they somehow get a different set of friends, because other friends might not understand if you talk about what a space wants to be, or what colour a building wants to have… this is just an architectural language where architects are talking to other architects. I think that during the studies it is easy to loose the connection to non-architects, which is essential because they are our clients, the people we're building for. I've discovered now that when you leave university it feels like you do projects for other architects to explain them to other architects, but actually it is fundamental to stay connected to a wide range of people. this should not be lost during university, mingling with non-architects is essential.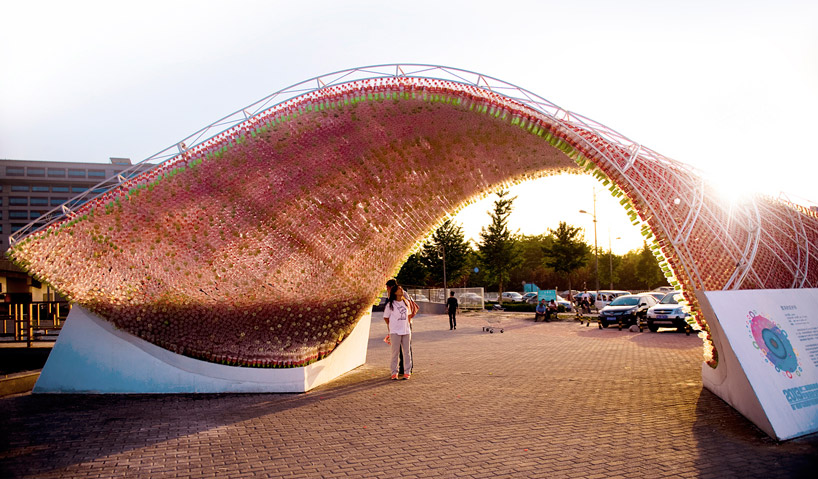 the coca cola bow plastic bottle pavilion by penda
see designboom's previous coverage of the project here
DB: how do you keep your ideas fresh and what keeps you motivated?
CP: the good thing about architecture is that the projects you receive are always very different, you never get the same brief, so I think that helps to keep us fresh. for example, we are doing some emergency shelters right now, but at the same time we are also working on large projects and developments. there is such a wide variety in these projects it means that we never get bored and also we bring a lot of passion to what we do.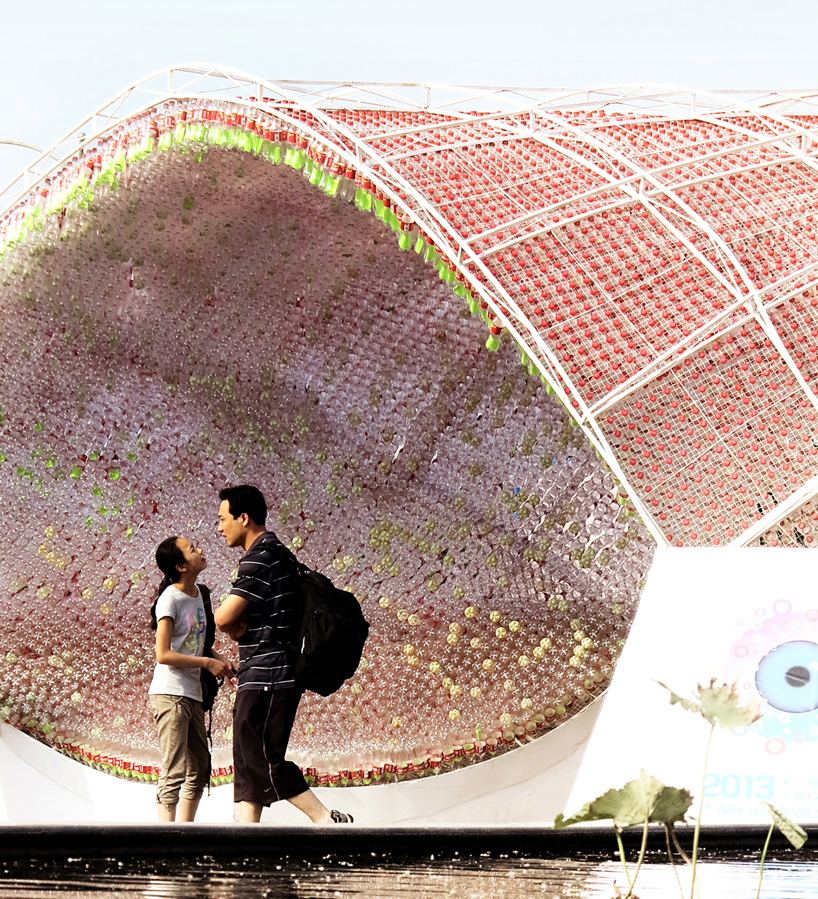 the public art installation is made out of more than 17.000 recycled plastic bottles
celia mahon heap
I designboom
nov 30, 2014
KEEP UP WITH OUR DAILY AND WEEKLY NEWSLETTERS
a diverse digital database that acts as a valuable guide in gaining insight and information about a product directly from the manufacturer, and serves as a rich reference point in developing a project or scheme.
designboom will always be there for you
milan, new york, beijing, tokyo

,
since 1999