'​mass timber and the scandinavian effect​' was a spring 2020 studio at the harvard graduate school of design (GSD) that explored contemporary patterns of innovation around mass timber. the studio was initiated and led by associate professor ​jennifer bonner, founder and principal of portland-based architectural practice MALL, and structural engineer hanif kara, a co-founder of​ AKT II, a london-based engineering consultancy and professor in practice of architectural technology at the GSD.
drawing from bonner and kara's own work — in particular their 2018 collaboration on ​'haus gables'​ — the studio hypothesized that the pioneering use of mass timber to build at all scales in scandinavian countries goes beyond the material's aesthetic or technical qualities to represent a fundamental shift in values. to learn more about the material, and its potential for other parts of the world, designboom spoke with the duo who discussed their previous collaboration and the results of their studio at the GSD. read the interview in full below.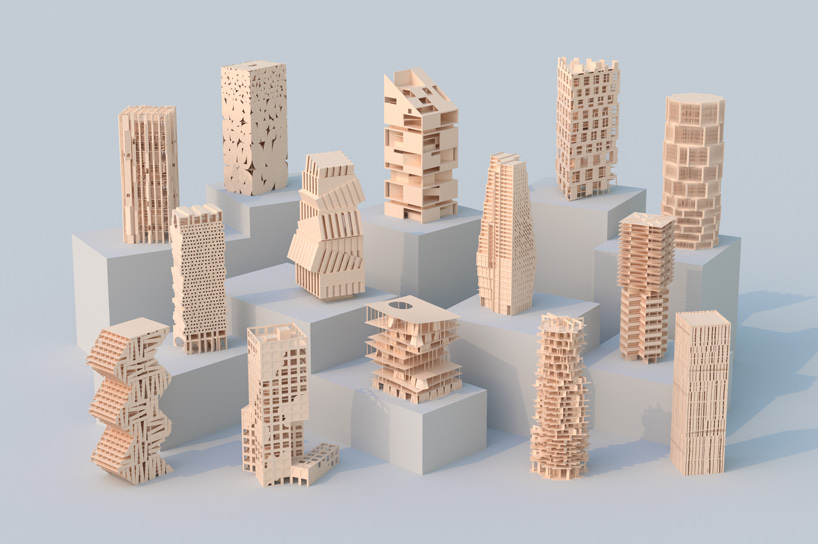 the mass timber studio asked harvard GSD students to design two building types: a mid-rise tower…
designboom (DB): can you start by outlining some of the key benefits of building with mass timber?
hanif kara (HK): we need materials that can tackle the multidimensional complexity of the cumulative and intractable issues born out of the climate crisis, including population increase and depletion of all economies. mass timber goes a long way to do so. offsite manufacturing, and the use of technology in manufacture to avoid wasting any part of the tree, provides a significant advantage over traditional materials. it is analogous to a sustainable 'fordism' [the systems of mass production pioneered by the ford motor company in the early 20th century].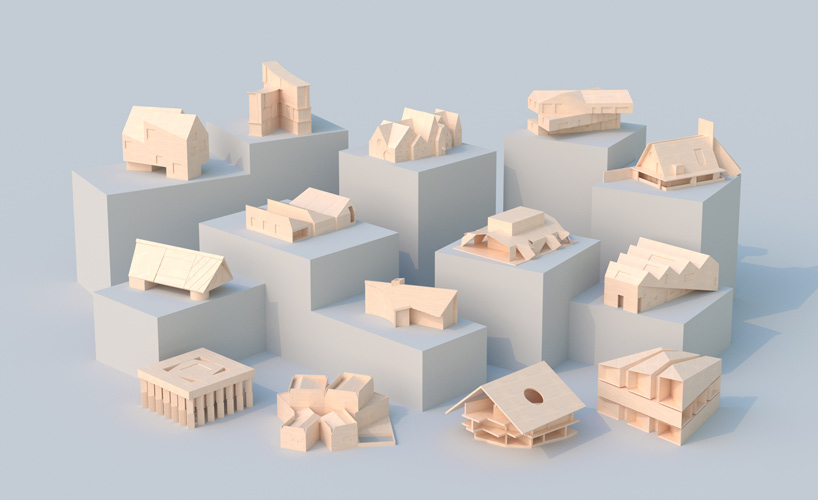 …and a house
HK (continued): speed of site assembly with less labor sounds like a cliché, but CLT makes it real. its lightness also helps reduce the weight on substructure, so we can both build on poor ground, but also reduce the impact on nature as lighter foundations give the possibility of developing the site in future with less obstruction in ground. as an investment strategy, CLT offers an opportunity in the concept of a 'circular economy' for a sustainable future, as it is possible for the material to be recycled and disintegrate, plus it sequesters carbon.
jennifer bonner (JB): I might also add that it is really an architectural and structural material that checks a lot of boxes as hanif mentions above, but it also is a flexible material ready for interpretation and experimentation. in particular, CLT is both a structural wall and floor as well as an interior finish. it collapses aesthetics, structure, and architectural form into one innovative material.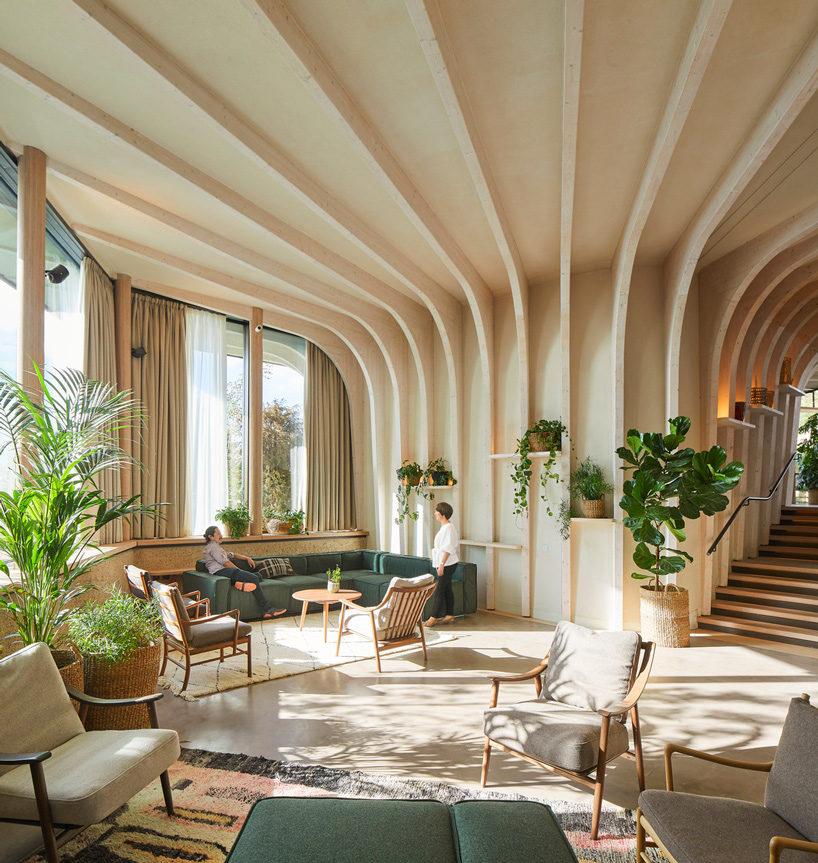 maggie's centre in leeds, UK designed by heatherwick studio with AKT II as consulting structural engineers
image by hufton + crow | read more about the project on designboom here
DB: can you explain what measures are taken to ensure that mass timber is fire resistant?
HK: in principle the 'charring effect' offered by timber remains a strong line of defense. there is a lot more research under way and its important to make the distinction between the fire safety of primary structural systems when we use timber (sometimes covered by the use of sprinklers etc.), which is different from when it is used for façades. there is a lot more research underway using 'fire engineering methods' globally. also we must be careful about oversimplifications, as different types — tall buildings, for example — demand a different approach.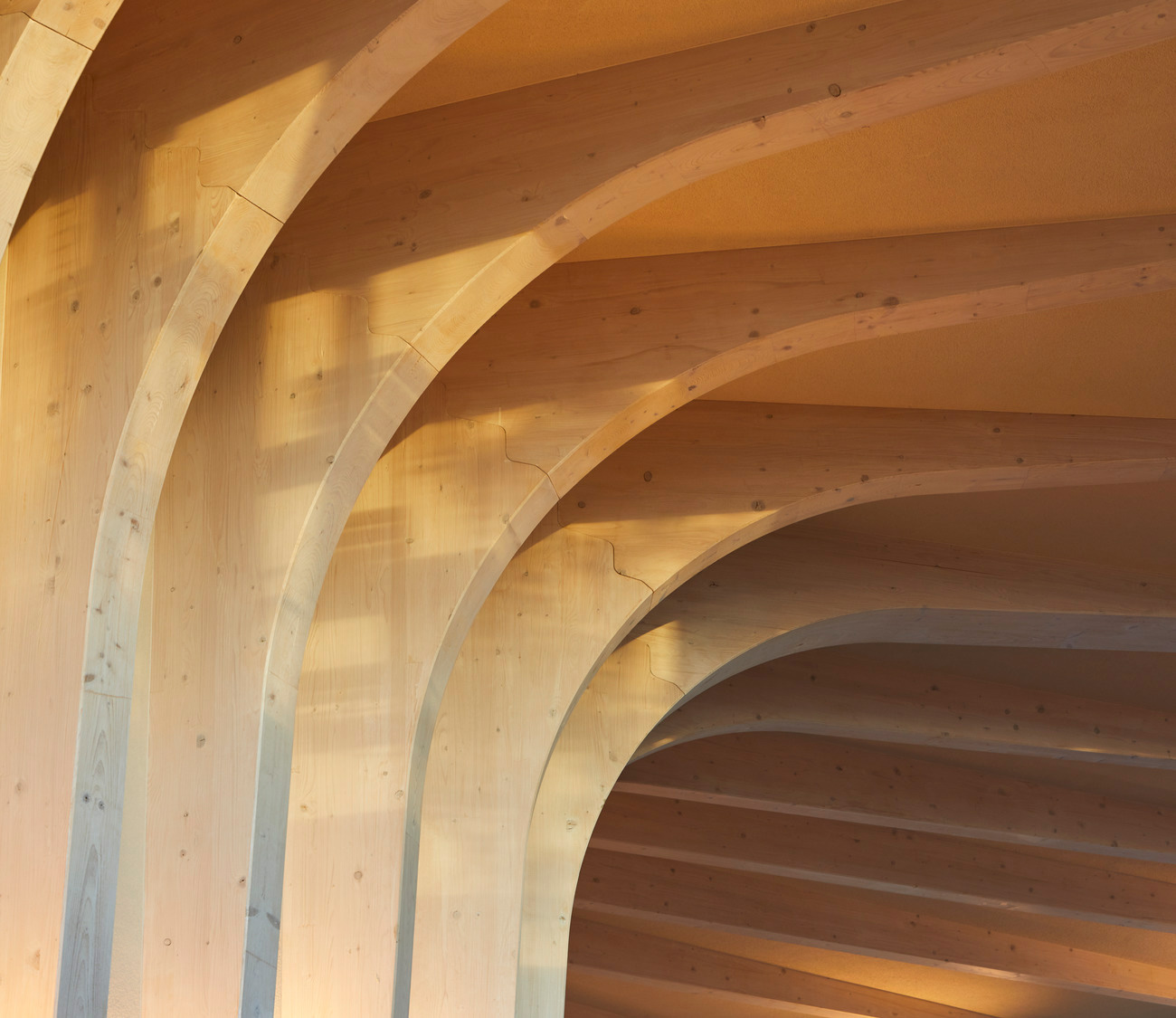 maggie's centre in leeds, UK designed by heatherwick studio with AKT II as consulting structural engineers
image by hufton + crow
DB: what can be learned from the 'scandinavian effect', and what is the potential of mass timber in the united states?
HK: perhaps the way to conclude for now is not with the lens of aesthetics, but a macro approach guided by a socio-technological lens. timber is a way of life supported by policy and even in some instances incentivized with public funding. this is the big difference between the USA and scandinavia. this approach then also promotes sustainable farming and harvest of timber needed in many parts of scandinavia — there are shared goals and lessons to be learnt.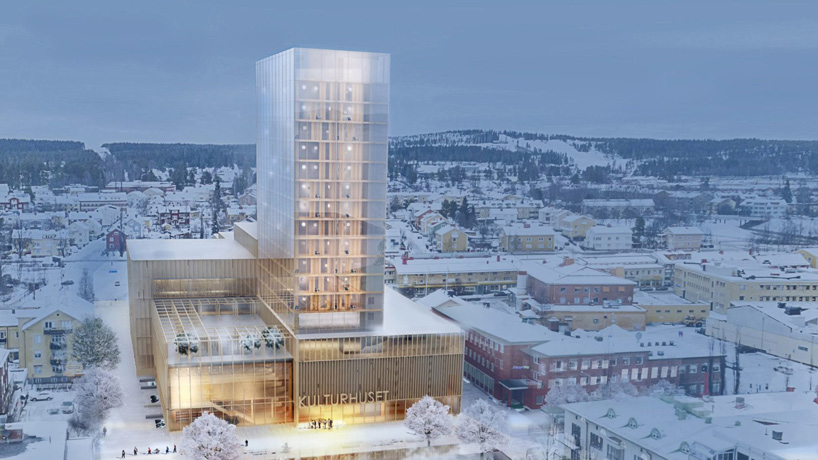 the sara culture centre | image courtesy of white architecture
JB: during our research study trip to sweden, we found it exciting that the swedish are building the sara culture centre by white architecture in the city of skellefteå very near to the CLT manufacturer martinson's. it is an important loop from forest to manufacturer to site. as an experimental building, the cultural center uses mass timber to push many different mass timber elements. from glulam beams and columns to CLT panels and volumetrics, the building's program is diverse, with multiple scales of space. when completed it will be the tallest mass timber building in the world. if I had to summarize: can we translate and import this ambition and experimentation into the US?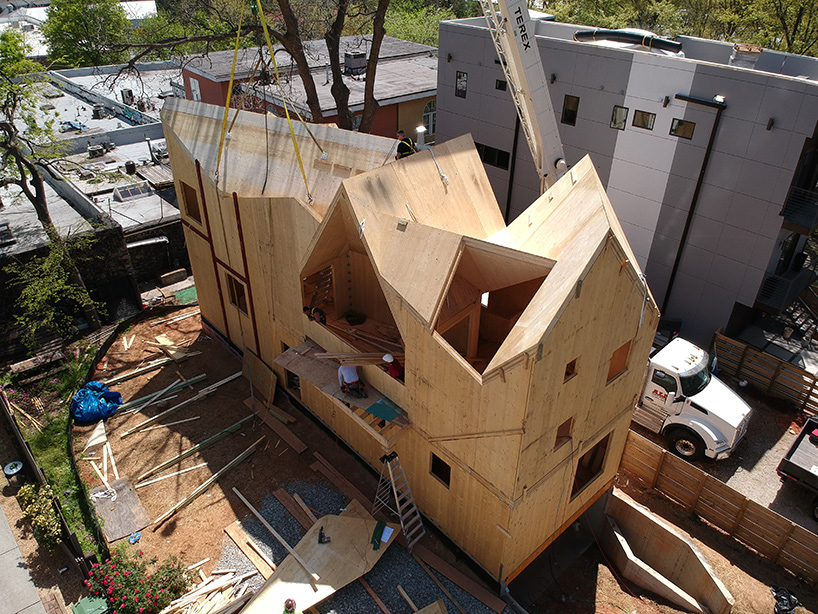 haus gables | image courtesy of MALL (also lead image)
read more about the project on designboom here
DB: the 'haus gables' project was made using cross-laminated timber. can you relay your experiences of using CLT for a project of this scale?
JB: the early planning stages of 'haus gables' was almost four years ago in 2016. from a structural engineering perspective AKT II looked at what I was trying to do with multiple gables in domestic architecture and saw the unique opportunity to use the CLT panel as a superstructure and folded plate. CLT allows for a collapse of architectural form and structural engineering into one surface. we used 3-ply for the exterior and interior walls, 5-ply for the roof, and 7-ply for the floor panels.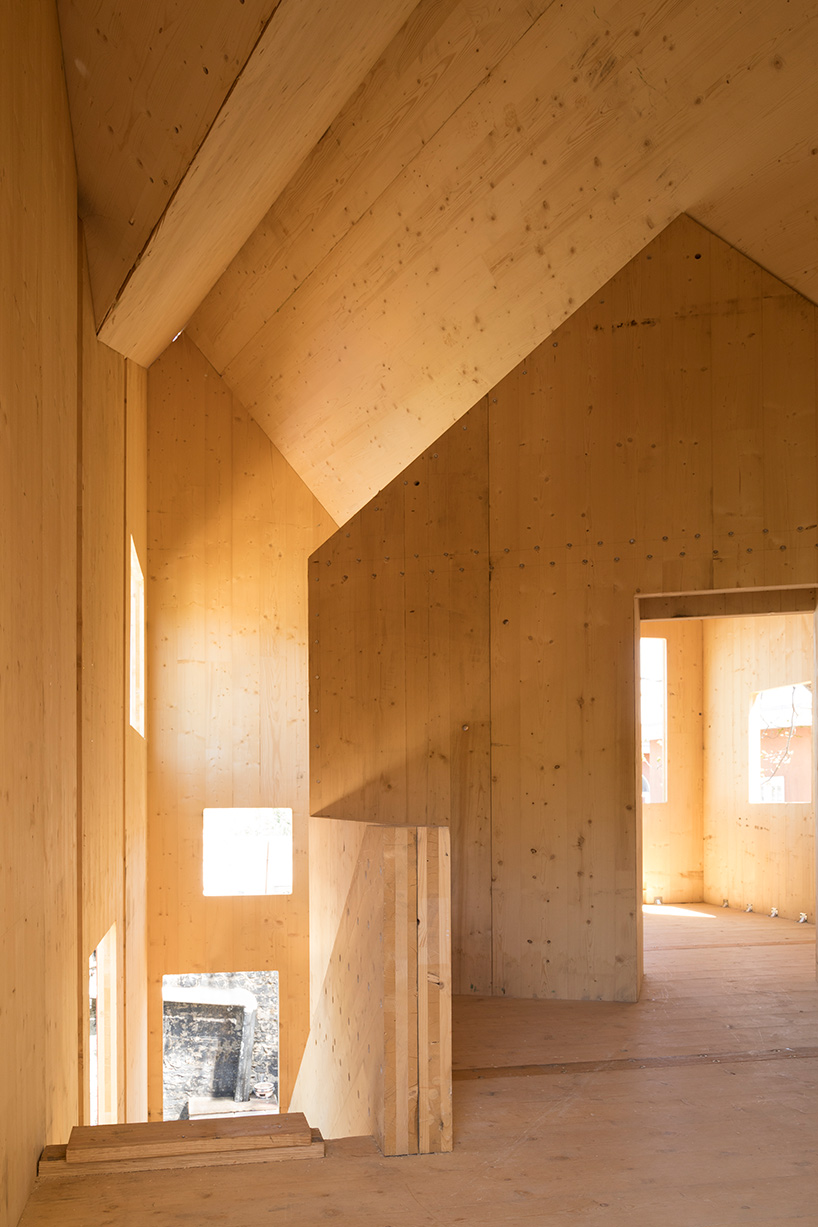 image by patrick heagney
JB (continued): as a designer, it was a steep learning curve as I have never worked with mass timber before, but an exciting opportunity to really think through the building in its entirety digitally before the files were sent to be the manufacturer at KLH in austria. 87 CLT panels were assembled in 14 days time for a 2,200 square foot house (204 sqm). at the scale of a small house, CLT is useful when designing small footprints on tight urban parcels, there is an opportunity to have more volumetric spaces. additionally, CLT is useful for altering the interior which in north america tends to be white drywall. now, we can have solid thermally sound walls that also have an aesthetic effect on the interior-woodgrain.
video courtesy of MALL
JB (continued): four years later, with some time away from 'haus gables', I have been reflecting on the idea that maybe we cut the large CLT blanks up into too many pieces. after co-teaching a studio at harvard graduate school of design on mass timber, we placed a lot of emphasis on the scale and size of the CLT blank (9' X 50') as an industrial off-the-shelf product. we were fascinated by the wide range of projects the students developed by simply beginning with the standard-sized blank as a starting point. with these discoveries, the idea of starting with the CLT blank as a unit for construction rethinks the scale of domesticity, but also what the blank can do for architecture.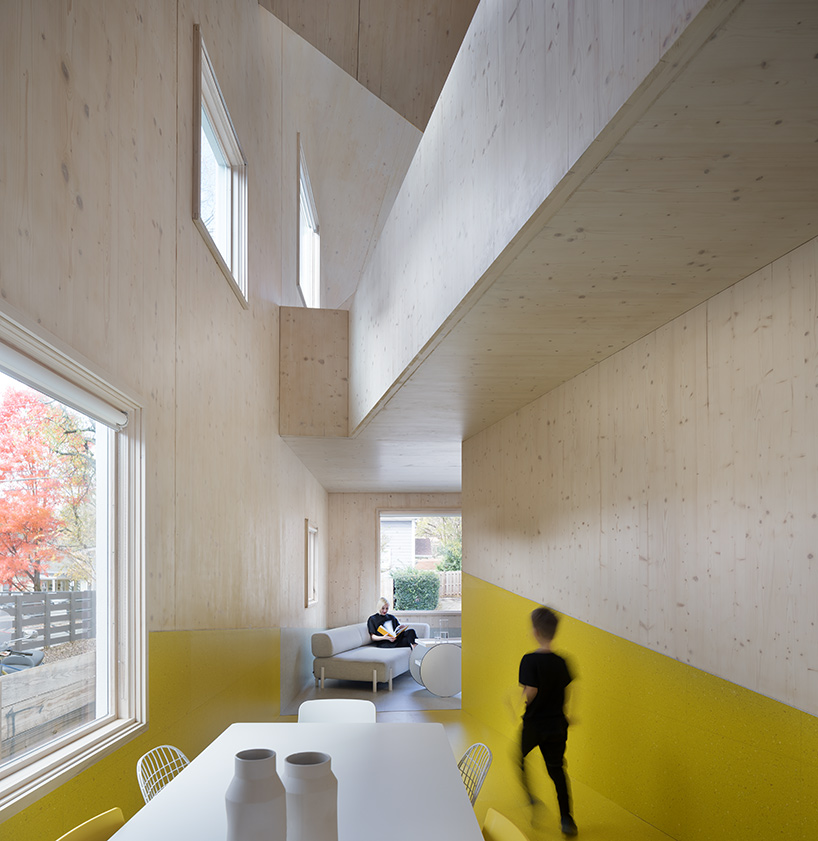 haus gables | image © NAARO
HK: this type is by far the most built type throughout the world both in formal and informal housing and in all economies. 'haus gables' was without question intriguing from the get go, as finding something new in the arena of small-scale housing is not easy. speaking as an engineer, it allows the first point of entry between the client, architect and industry so in that sense an obvious place to explore. the finished product triggered for me the confidence to explore this area of uniting the architecture and engineering disciplines with the mass timber industry counterintuitively, the work of our students also speaks to the self-building agenda.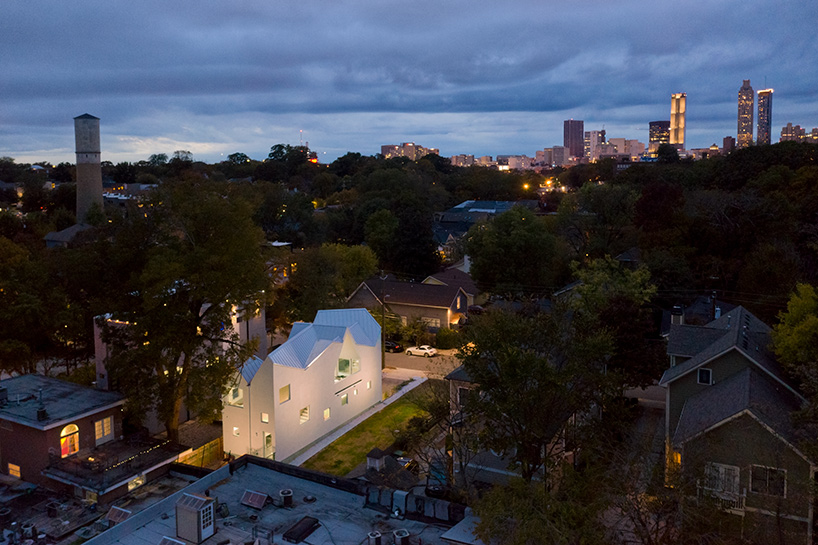 haus gables | image © timothy hursley
DB: did 'haus gables' result in a close working relationship between architect and engineer? how important is this sense of collaboration in the industry?
JB: yes, there was a very close relationship between architect and engineer in the development of 'haus gables'. as previously mentioned, AKT II was the concept engineer initially making a recommendation for CLT to be used as the primary structural system. I quickly grew the design team and included additional engineers: bensonwood in new hampshire worked with us with a design assist package to develop the panel configurations, joints, and fasteners. there was a third structural engineer, fire tower, an expert in mass timber who worked through structural load calculations and analysis, and the fourth engineer was based in atlanta that primarily designed the connection between the concrete basement 'box' and the mass timber 'box'.
HK: the reunification of the disciplines in any way possible must be the best way to deal with the challenges we face in construction and coping with climate change.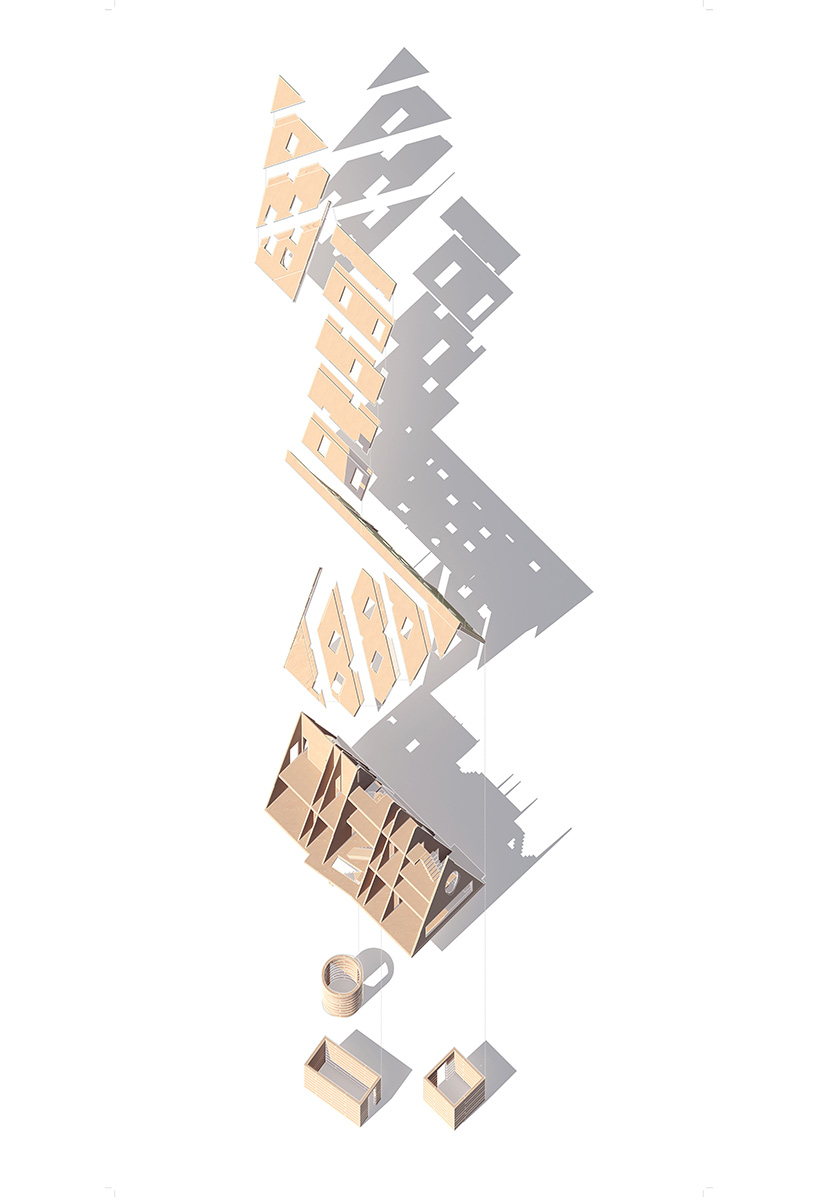 project by elif erez
DB: your studio at the harvard GSD asked students to explore potential uses for mass timber. what were the results?
JB: we asked students to design two building types in the course of a semester: a house and mid-rise tower located in raleigh-durham, north carolina. both historically loaded in their own right, we thought the slippage between house and tower could be an interesting pedagogical tool for the students to work with mass timber across both scales and types. the tectonic results were exciting developments for the field. elif erez's project began with shiplap siding at the domestic scale and quickly jumped scales to 50′ long CLT shiplap façade panels in the tower project.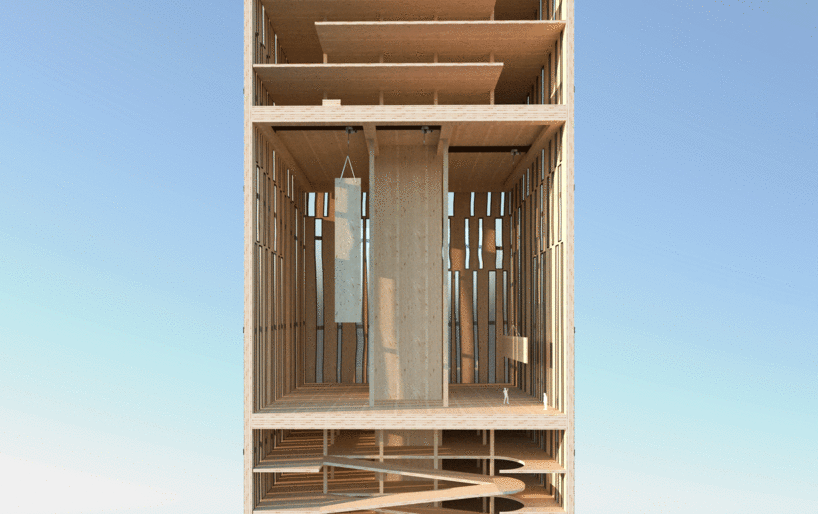 project by anna goga
JB (continued): another set of projects by anna goga, used folding as a way to cut and mitre the CLT panel at the scale of the house, but used hundreds of squiggle cuts and spline joints to create an exoskeleton for a mid-rise tower.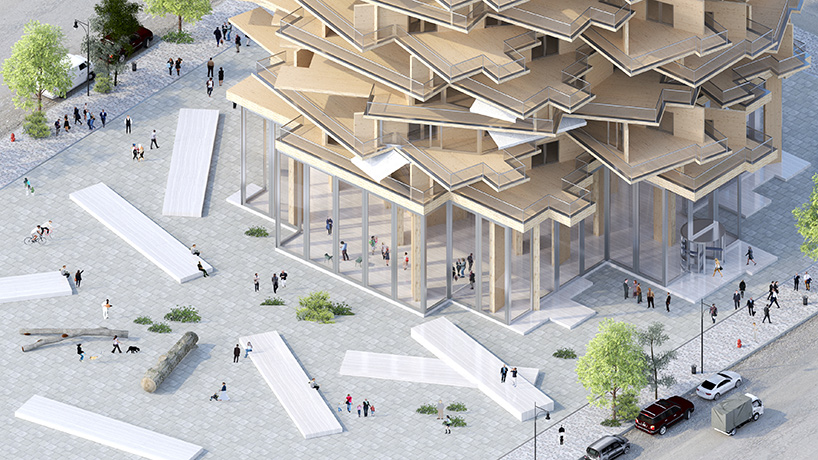 project by edgar rodriguez
JB (continued): in edgar rodriguez's project he used the CLT panel as an off-the-shelf readymade with minimal threshold cut outs. the readymade was then arranged into a pile and used as a load-bearing stacking system for the house and tower. he concluded that if you use the CLT blank as a load bearing system as opposed to beams and columns, the open office floor plan might become more compartmentalized in mass timber buildings.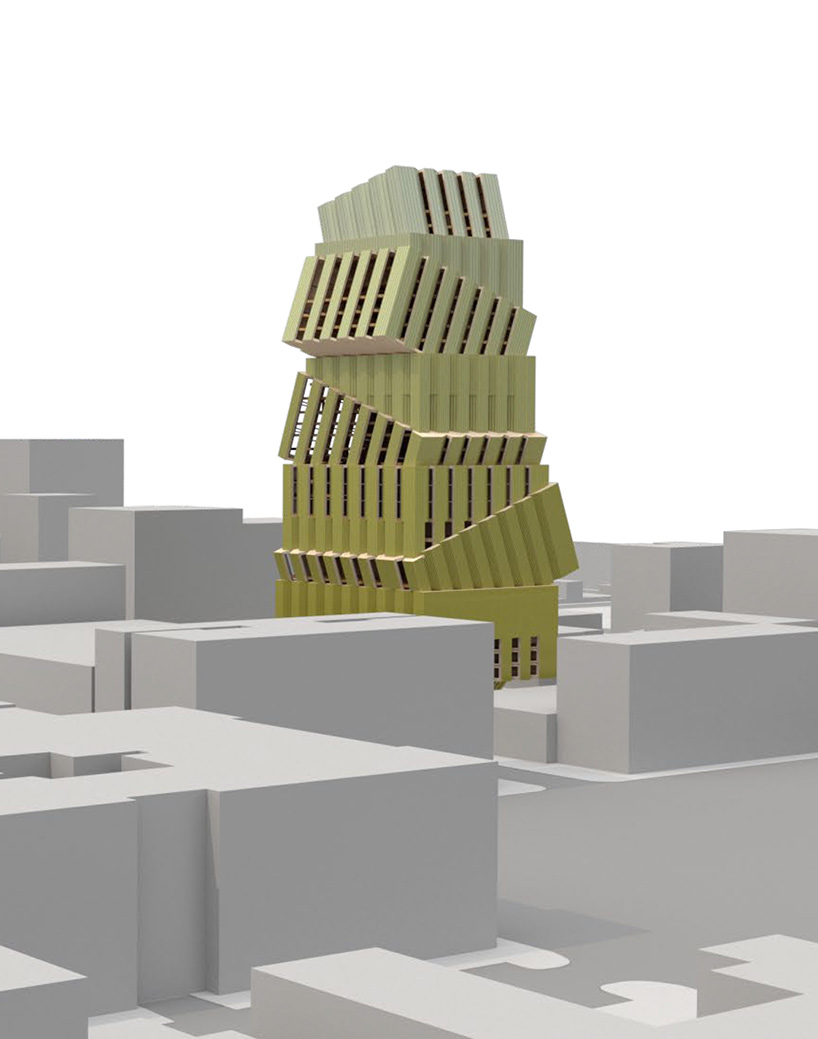 project by aryan khalighy
HK: aryan khalighy used the entire length of the CLT blank as a proportioning system on his façade vertically in the tower project, while anna kaertner was interested in using the CLT blank horizontally while at the same time introducing curvature to the tower. each student was forced to be extremely specific for how they were utilizing the CLT blank in their projects.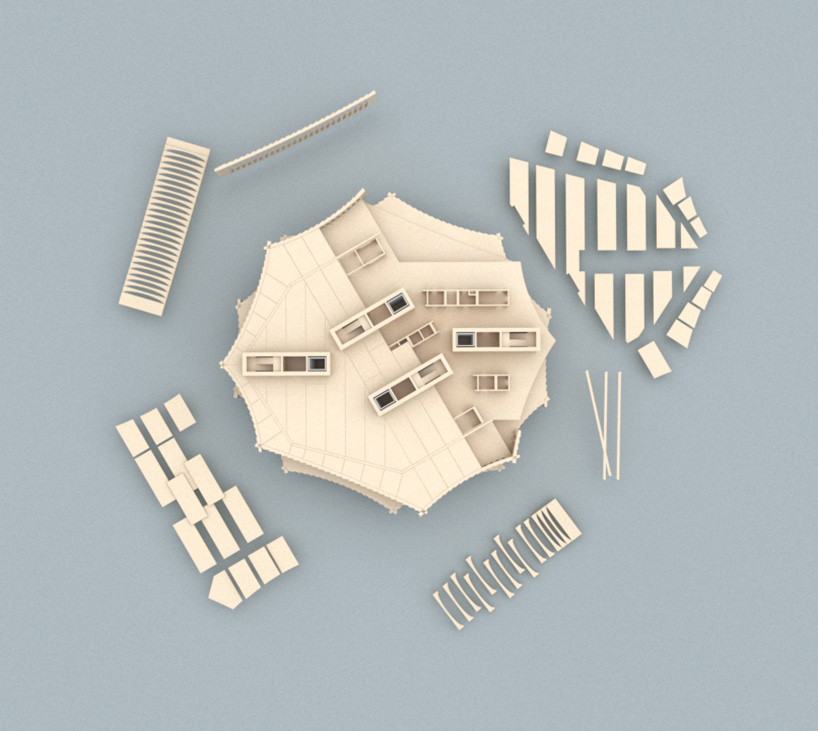 project by anna kaertner
HK (continued): as jennifer mentioned, elif erez created an overscaled shiplap for her facade, while calvin boyd notched floorplates into vertical façade panels. both were examples of load-bearing systems, but produced completely different visual results. we found that there was a kind of value system built-in to the pedagogy around the collective, not the individual designer where the collective task was to achieve a variety of results.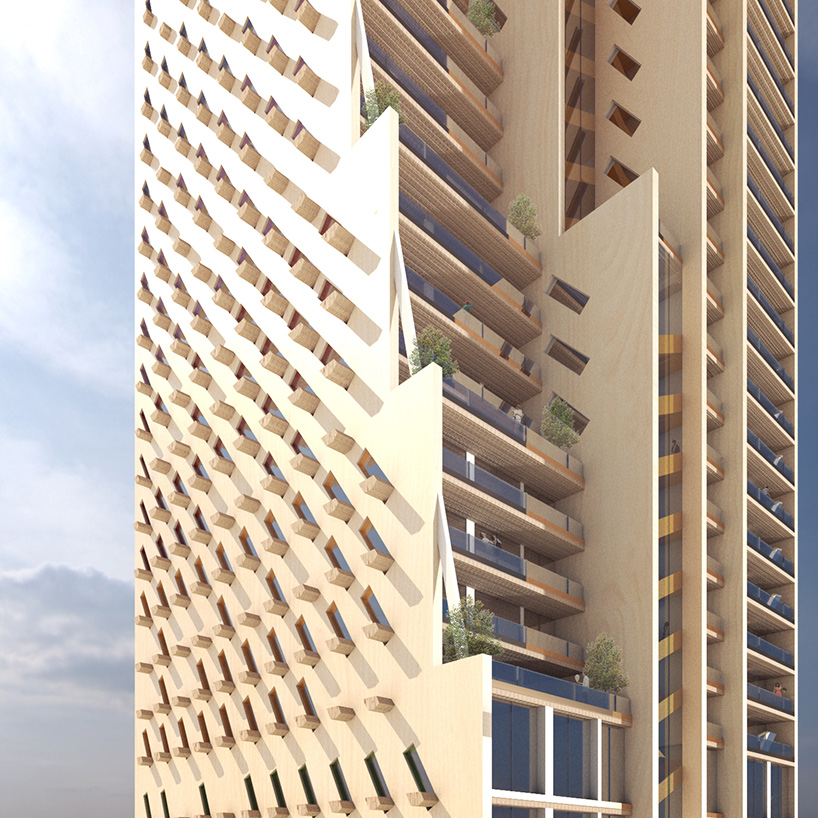 project by calvin boyd
DB: the research will culminate in a book. how important is it to spread the word about the potential of mass timber?
JB: first, there are many other architects and educators working on various aspects of mass timber in their practices and teaching. what potentially sets our research and thinking apart from others is the fact that we are placing emphasis on the CLT blank. rather than using the book as another case study or manual on mass timber, we have asked 12 authors to conceptualize and theorize the potential for the CLT blank within the discipline.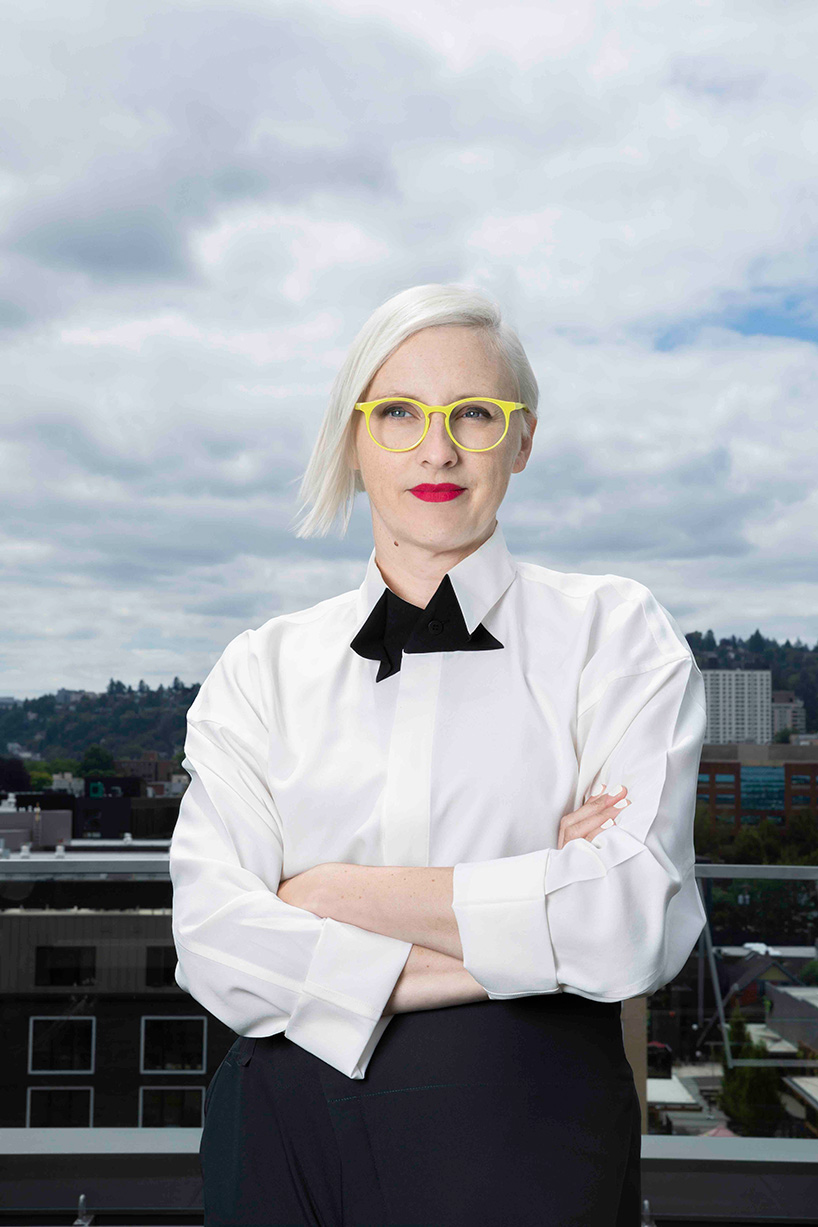 jennifer bonner | image by christopher dibble
JB (continued): as hanif always says, 'if you don't allow young designers to enter the discussion early, we'll spend the next 30 years like we did with steel and concrete doing it the engineers' way.' our aim is to create a discussion around this material by bringing together young architects, historians, engineers, critics, and visual artists. as co-editors, we are equally concerned with the aesthetics as we are the two-way spanning capability of CLT as a material logic.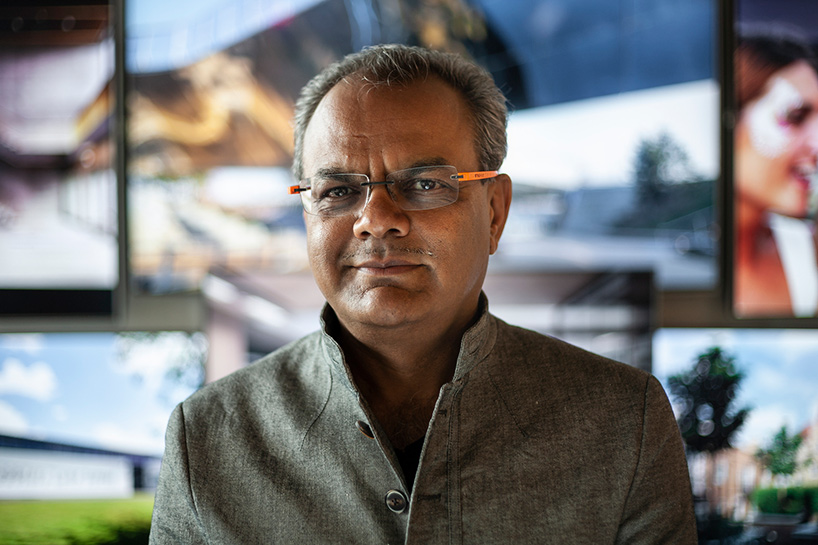 hanif kara
project info:
studio: mass timber and the scandinavian effect​ at harvard graduate school of design​
professors​: jennifer bonner / MALL and hanif kara / AKT II
teaching assistant​: nelson byun
students​: anna kaertner, edward han myo oo, edgar rodriguez, calvin boyd, benson chien, kyat chin, daniel garcia, alejandro saldarriaga, aryan khalighy, peeraya suphasidh, anna goga, hiroshi kaneko, ian grohsgal, and elif erez
philip stevens
I designboom
nov 19, 2020
KEEP UP WITH OUR DAILY AND WEEKLY NEWSLETTERS
a diverse digital database that acts as a valuable guide in gaining insight and information about a product directly from the manufacturer, and serves as a rich reference point in developing a project or scheme.
designboom will always be there for you
milan, new york, beijing, tokyo

,
since 1999