interview with architect kim herforth nielsen of 3XN
all images courtesy of 3XN
over 28 years, the copenhagen-based architecture office 3XN has completed a large and diverse body of international projects, which at their basic level seek to improve the human condition. the practice's rigorous process is constantly engaging a number of design competitions, while also collaborating with GXN – its green research division – to conceive ecologically conscious buildings. in a recent interview with designboom, founding principal kim herforth nielsen sheds some light on the firm's values and process, as well as a few personal opinions on design and architecture.
——
designboom: how did 3XN begin? what were its core architectural intentions?
kim herforth nielsen: I founded the firm in 1986 in aarhus, denmark, along with two other partners, and we were dedicated to exploring social and humane architecture.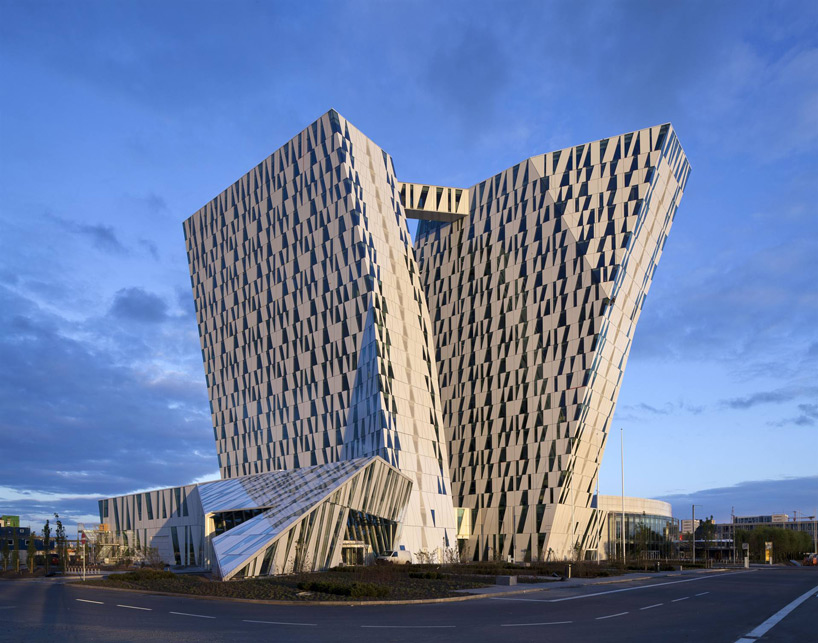 located in copenhagen, the two towers of 'bella sky hotel' lean away from each other for optimized views
photo © adam mørk
see designboom's coverage on the towers at the time of their opening here
DB: how has the practice evolved, and what is its most identifying quality now?
KN: we relocated the studio to copenhagen to capitalize on the energy, talent and opportunities here. the practice became much more international, and the scope, scale and variety of projects we pursue have expanded. we established GXN, our innovation unit for green materials and processes, in 2007.
I believe that architecture shapes behavior, and we continue to explore ways that we can enhance the lives of the people that work or live in and around our buildings. this is our most identifying quality – that we place people at the heart of our architecture.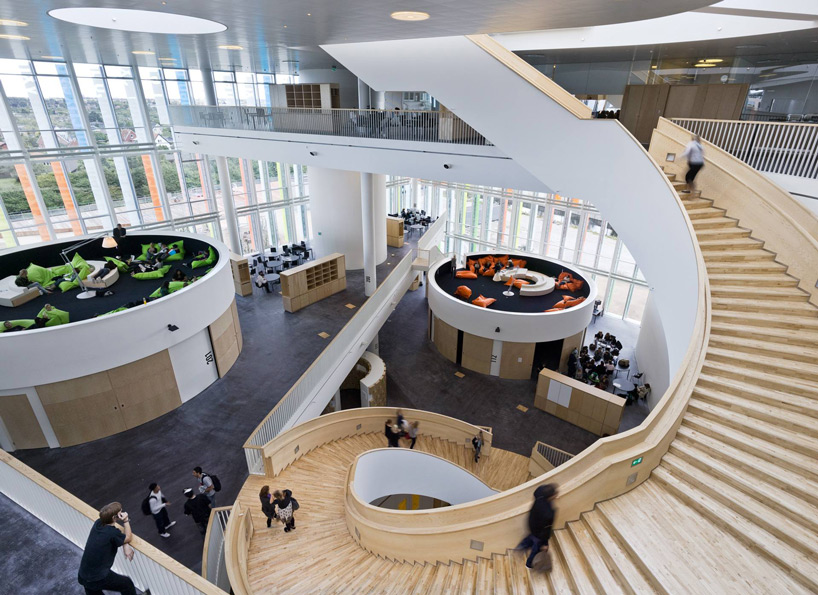 the danish high school 'ørestad college' is designed to promote forward thinking educational values
photo © adam mørk
DB: could you describe your aims for the in-progress 'quay quarter tower', and how it will function not only as an office tower but also serve the public of sydney?
KN: with the quay quarter tower, we are redefining the 'high rise,' designing it from both the 'outside in' and 'inside out'. to overcome the challenge posed by an existing historic building that would block key views of the opera house and harbor from our site, we designed the tower as a series of shifting glass volumes that alter direction as the tower rises. as an expression of my philosophy that architecture shapes behavior, we created a collection of multi-story atria within these shifting volumes. these expansive, open spaces will allow for dramatic vertical and horizontal views both out across the city and also within the atria and workspaces themselves. people will be able to see what their colleagues are doing, communicate more readily and the goal is for this design to encourage collaboration and community. in the podium, retail shops and restaurants will be public amenities for the workers in the building and broader neighborhood.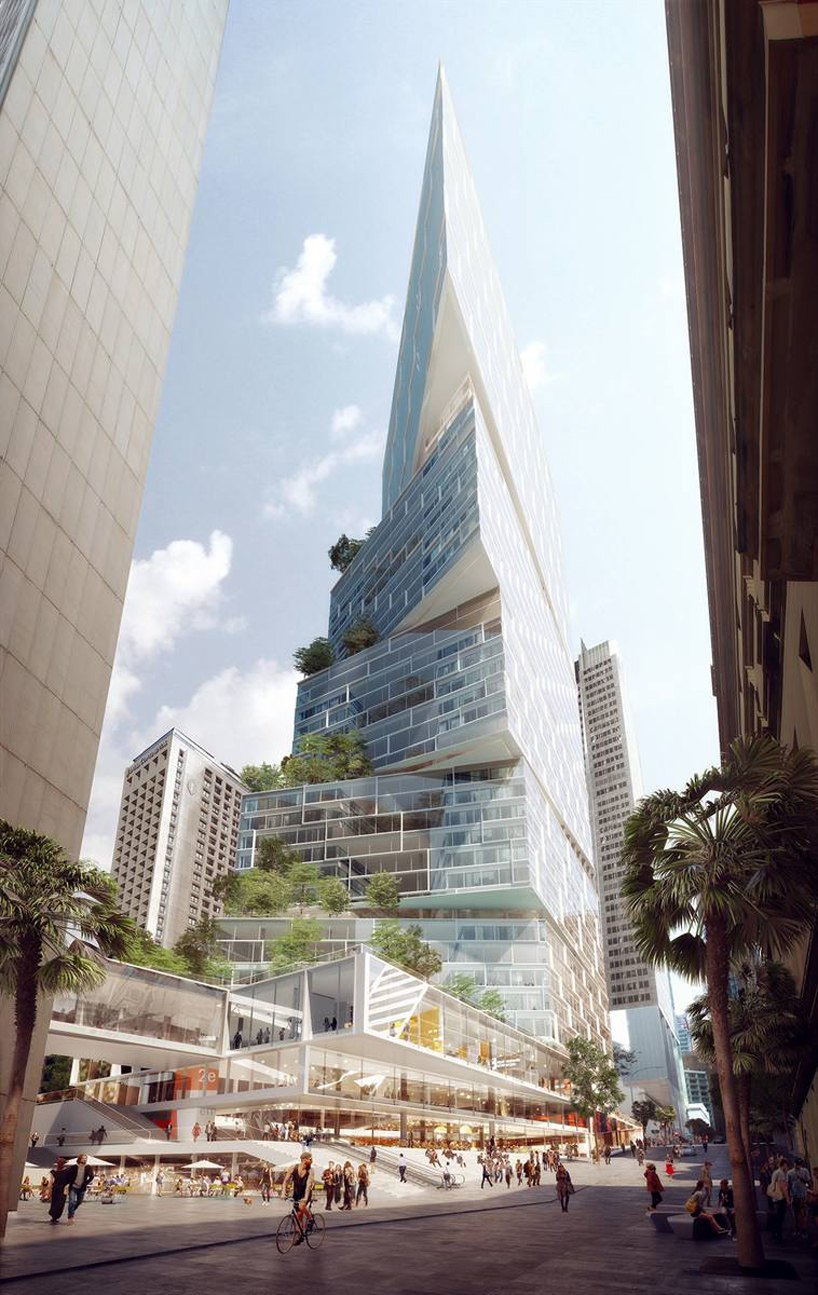 the 'quay quarter tower', an office high rise in sydney, australia
see designboom's coverage on the envisioned tower here
DB: what are the latest research and interests of GXN?
KN: GXN, led by my partner kasper guldager jensen, is part of a team researching the potential of biocomposites for reducing the embodied energy in buildings (biocomposite is a term for a fiber reinforced polymer comprising natural fibers, such as flax, jute or hemp, in a polymer matrix derived from natural materials, such as vegetable oils or corn starches.) funded with €6M, partly from the european commission, this biobuild initiative has been going on for over 2 years and will culminate in 2015 with a presentation at ecobuild in london in march followed by a full report of the research findings and recommendations in may.
last year they launched the company urban green, a new business that supplies buildings in scandinavia with appropriate, local plants for green roofs and other elements. this supports the preservation of native and local plants and encourages biodiversity while also better ensuring the health and longevity of these planted components by using plant life best suited to each specific climate and region.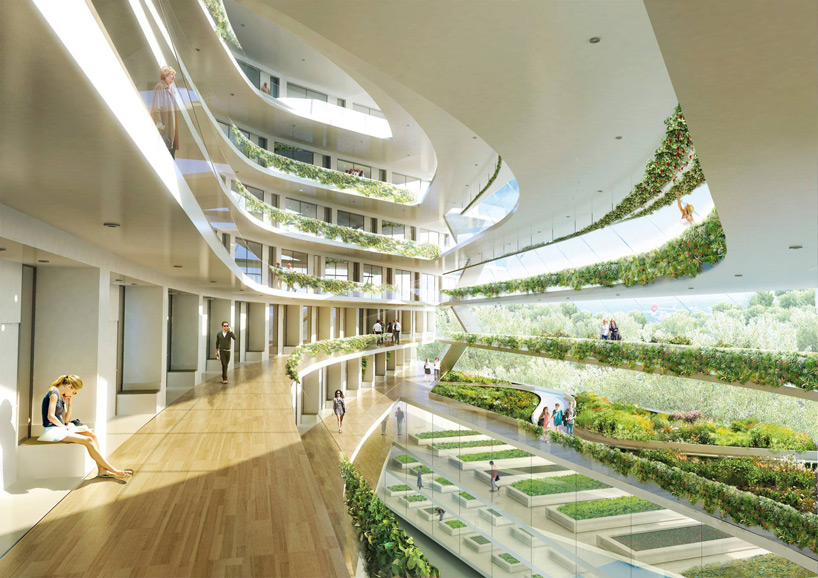 the 'green school stockholm' seeks to actively educate students on sustainable living values
DB: how do these developments (by GXN) inform projects carried out by 3XN?
KN: whenever we get a new architectural project at 3XN, we bring in GXN to see how we can use their expertise.
for example, we were commissioned to design a high-rise residential project in mumbai and were understandably concerned about heat gain within the units, as central air conditioning is not standard here. GXN developed software that enabled us to analyze solar heat gain in real time as we designed the tower. in addition, they worked with us to design the façade, which shifts on each corner from horizontal 'leaf-shaped' solar canopies to deep vertical fins that significantly reduce direct solar radiation from entering the apartments. the numerous corners provide the possibility for natural cross ventilation reducing the need for air conditioning on a daily basis and with over 2500 sqm of vertical gardens at the building podium, the building lowers CO2 in mumbai's humid and congested environment.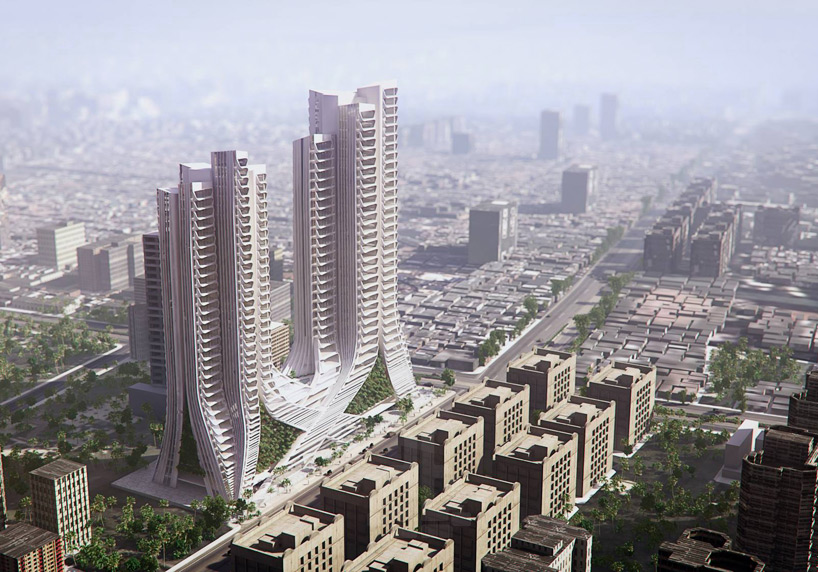 for the mixed-use 'grove towers', 3XN+GXN developed façades which are finely tuned to the site's climate in mumbai
see the designboom article on the project here
DB: in general, what approach do you and your teams take for design competitions?
KN: we have 3 or 4 teams working on competitions at all times. my partner jan ammundsen and I sit in the middle of the studio and are in constant contact with each of the teams. we have created an environment that is very open and encourage everyone to share their ideas; a culture of positivity results in the best ideas. while we welcome constructive criticism, I encourage staff never to talk down an idea, instead to focus on the best suggestions and solutions. I have found that if the group speaks negatively about an initial idea, that 'kills' it and prevents us from returning to it later in the process, when it might actually prove valuable.
we generate many, many physical models, which I believe are incredibly important still to discover solutions. because we do so many competitions, I think it keeps us fresh and always curious. we try to build on the knowledge and experience we develop to improve the next competition.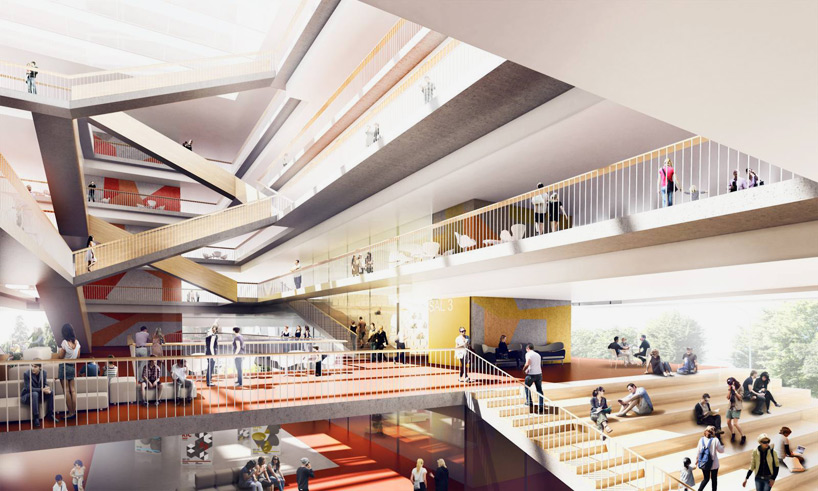 3XN won the competition to design an educational building for mälardalen university in sweden
see designboom's coverage of the winning proposal here
DB: what do you consider to be the most interesting developments in architecture at present and why?
KN: I am interested in challenges; I think that they make us more creative architects. an incredibly exciting and important challenge now is how to make cities more liveable and truly sustainable. I am also excited by the technology and the capacity it has to help us both design and manufacture new visions and materials. better tools provide new possibilities. at the same time, I don't think that we should make form for form's sake, we need to create architecture that is meaningful and serves its community.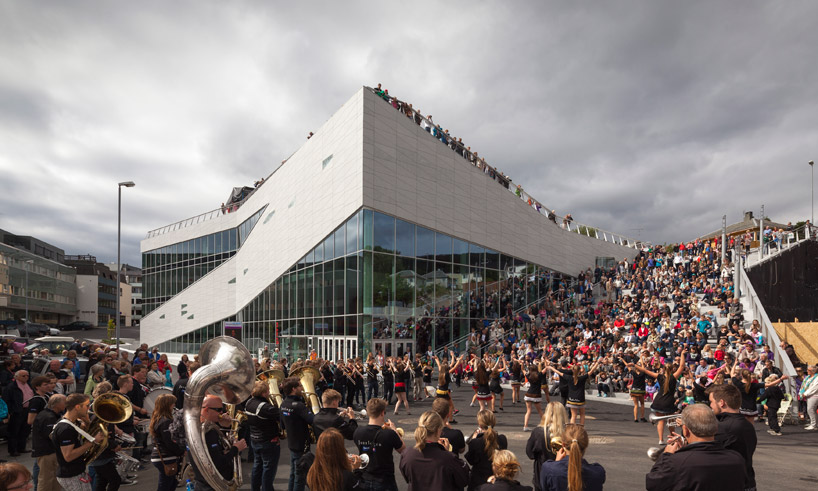 a public gathering takes place on the wide outdoor staircase of 'cultural center plassen' in molde, norway
photo © adam mørk
see designboom's feature on the building here
DB: how do you think online resources and media have influenced architecture?
KN: there are pros and cons to the massive development of online resources and media. I appreciate that now so much information about architecture is shared with 'lay people;' that there is an enhanced understanding of architecture's importance to everyday life. architecture has become important news in many contexts and across multiple media.
but the other hand, sometimes architecture can seem to be a popularity contest. we need to always to be very careful, as architecture creates physical environments and we need to take that responsibility seriously.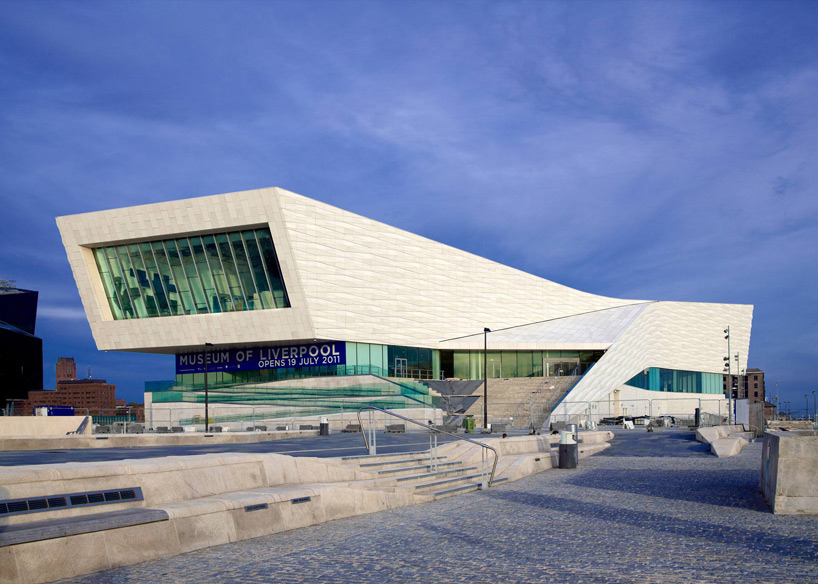 upon winning a competition, 3XN designed the 'museum of liverpool', sited along the city's mersey river
see designboom's coverage on building here
DB: personally, what are you currently fascinated by outside of the profession, and how does it influence your work?
KN: art – painting, sculpture, performing arts, film – and food all play together and help each other. they all feed the senses and inspire me. the creative communities are close and collaborative here in denmark. architects inspire each other, and it is the same in the film and restaurant industries. creativity is shared and nurtured.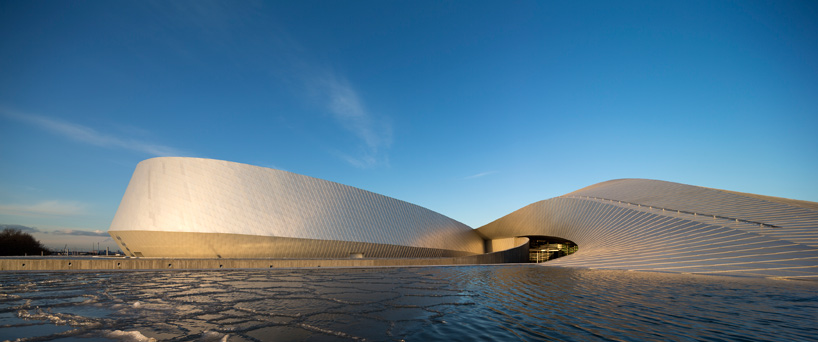 the 'blue planet aquarium' takes its shape from a nautical-swirl geometry
photo © adam mørk
see designboom's feature on the building upon its opening here
DB: what advice would you give to students and young designers?
KN: I traveled as a young man, and it is what actually led to me becoming an architect. I think it is invaluable for young designers to appreciate various styles and methods of practice and to immerse themselves in different cultures. they should attend design weeks, conferences, any events that can expose them to new and different ideas.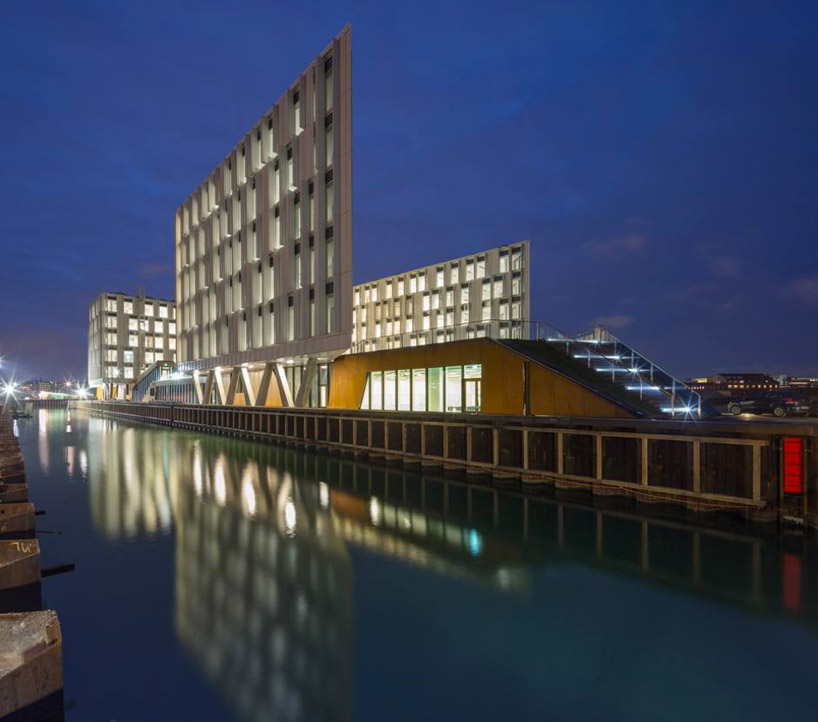 3XN completed copenhagen's 'UN city' in 2013
see designboom's feature on the star-shaped building here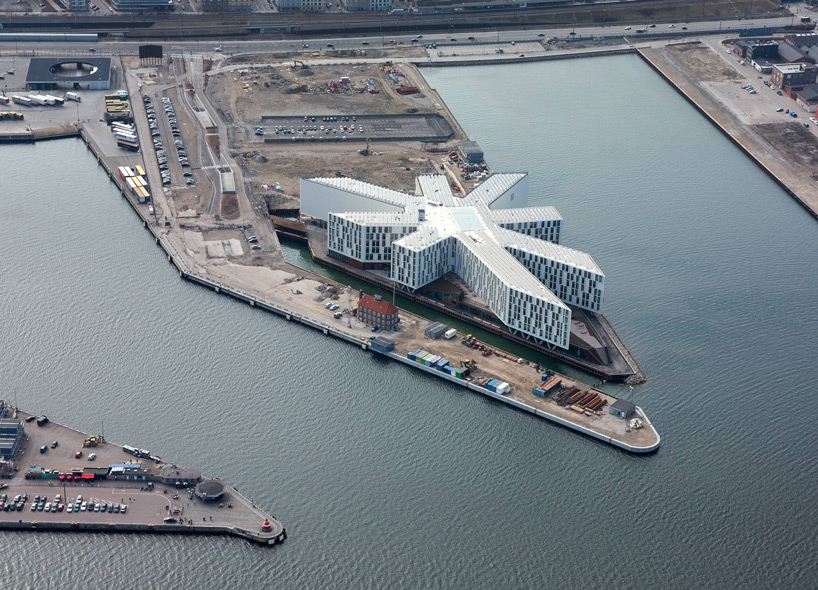 the structure brings together the various regional agencies and functions of the united nations
trent fredrickson
I designboom
oct 29, 2014
a diverse digital database that acts as a valuable guide in gaining insight and information about a product directly from the manufacturer, and serves as a rich reference point in developing a project or scheme.
designboom will always be there for you
milan, new york, beijing, tokyo

,
since 1999