interview with kjetil trædal thorsen, founding partner of snøhetta
all images courtesy of snøhetta
kjetil trædal thorsen is a founding partner of the architecture, landscape, interiors, and brand design office snøhetta, and leads their office in oslo, norway. along with co-founding principal craig dykers, the studio has completed a diverse range of international projects, including the bibliotheca alexandrina, norwegian opera and ballet, and national september 11 memorial museum. currently, snøhetta is very busy with many projects in design and under construction, including the ryerson university student learning center, SFMOMA expansion, and ZEB pilot house.
in speaking with designboom, kjetil provides insights into the practice's work, in regards to its multidisciplinary approach, relationship to the public, and distinction between building vs. landscape, with various references to the surrounding natural environment.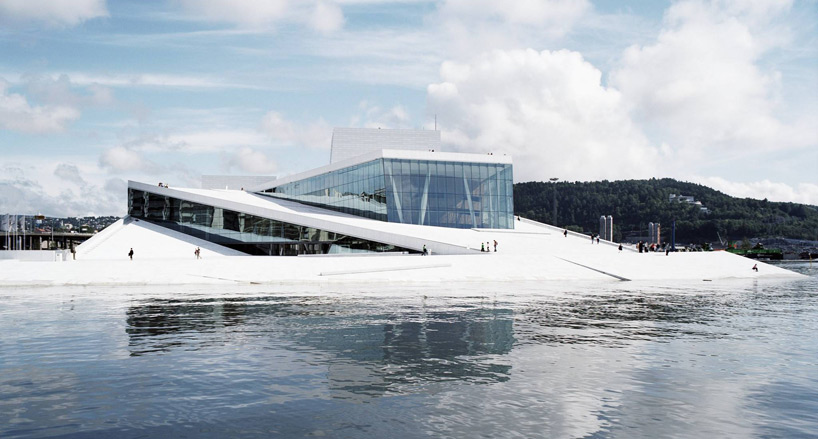 the norwegian national opera and ballet, whose landscape slopes downward into the oslo harbor
photo © gerald zugman
designboom: how did snøhetta begin? what were you and your partners' core values?
kjetil thorsen: the name 'snøhetta arkitektur:landskap' was given to the collaborative of architects and landscape architects who established themselves in the attic above a well-known, dark brown, beer place in storgata, oslo in 1987. the name of this beer place is 'dovrehallen', or the 'hall of dovre' in english. dovre is a mountain area in the middle of norway, at its point of gravity, where snøhetta is the highest peak. the contextualization of the name snøhetta is as such directly related to oslo, yet part of the myths surrounding this hall in northern mythology. more importantly the mountain snøhetta is both an object and a landscape not unlike the mountain fuji. the name represented our mutual approach of full integration of landscape architecture and architecture in the design process. 

the multidisciplinary approach was a clear point of departure and many of the projects during these early times where investigating the intersection of buildings and landscape, blurring the borderlines between the two. the buildings obviously defined themselves as new realities, rather than abstraction of landscapes. both the bibliotheca alexandrina and the oslo opera and ballet are examples of these attitudes. in 1989, snøhetta arkitektur:landskap became a shareholding company, snøhetta AS, after winning the competition of the library in alexandria, egypt.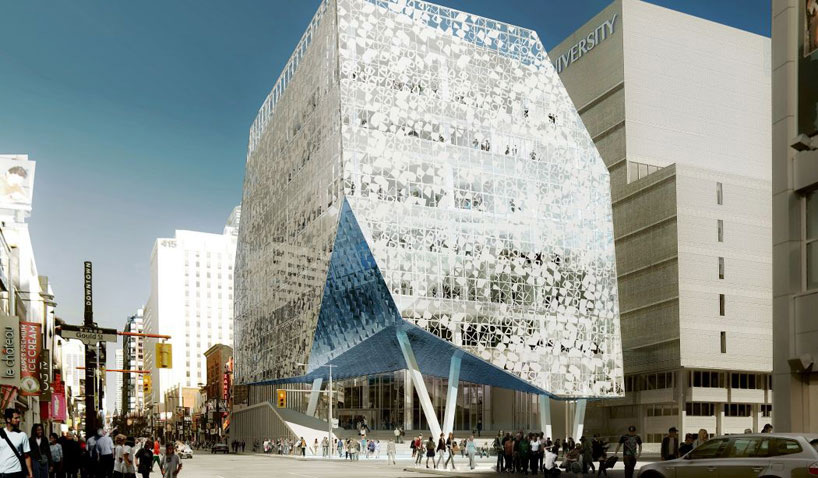 while currently under construction, toronto's ryerson university student learning center is expected to open in 2015
see designboom's feature on the project's design here
DB: how has the office's work and approach evolved over its 25 year history?
KT: since the beginning this multidisciplinary approach has evolved and developed, and today we describe our approach as 'transpositional'. in theory any professional could go into any profession during the early phases of creative conceptual development. this avoids negative experiences influencing early decisions and biased opinions blocking free associative thinking.
we have grown more or less organically since the beginning, but our collective approach has remained at the forefront of our design processes. the collective approach is however defined by each individual in the group and the sequence of importance goes from singular to plural. today we consist of graphical designers, interior designers, landscape architects, urban planners, architects and artists from 27 nations, 180 persons in total located in oslo, norway, new york, USA, dahran, saudi arabia, innsbruck, austria and san francisco, USA.
every project is considered to be unique, independent of size or complexity. the uniqueness is not only based on different contextual situations, but just as much on prevailing conditions defined by society at large. our projects are perceived as social tools and are consequently trying to create interactive places for users and visitors. this approach has not changed since the beginning, but it has obviously become more defined, even for ourselves, during years of testing.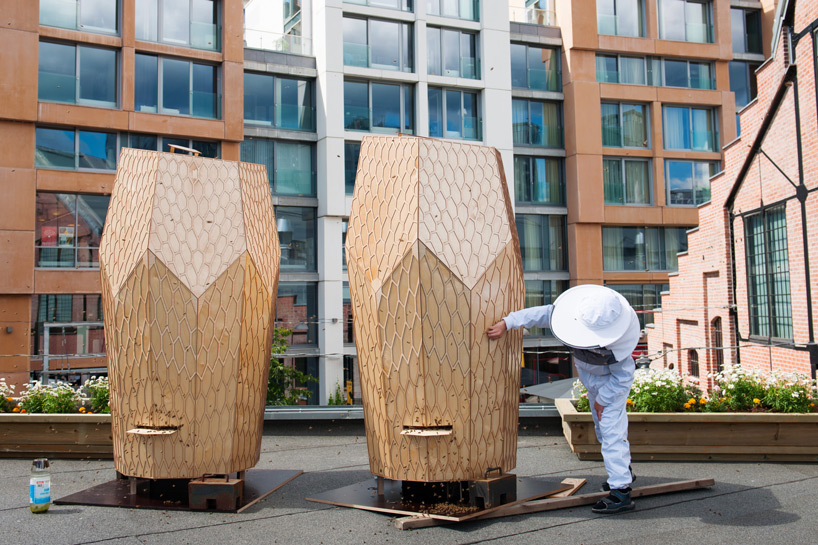 the 'vulkan beehive' is located on a rooftop in the center of oslo
photo © finn ståle felberg
see designboom's coverage on the honeycomb structures here
DB: how does the office distinguish building vs. landscape?
KT: this question seems a little difficult to answer as the words 'building' and 'landscape' themselves keep evolving. we definitely do not see our architecture as 'houses' in a classical sense, defined by the enclosure of its own vertical walls. landscape architecture may also be constructed, without the built environment becoming landscape in the original meaning of the word. both buildings and landscapes may however be cultivated to the extent that they become new realities. urban farming might be one example, but just as well our latest design and construction of urban bee hives.
this might be measured against 'nature', untouched and protected from human activities.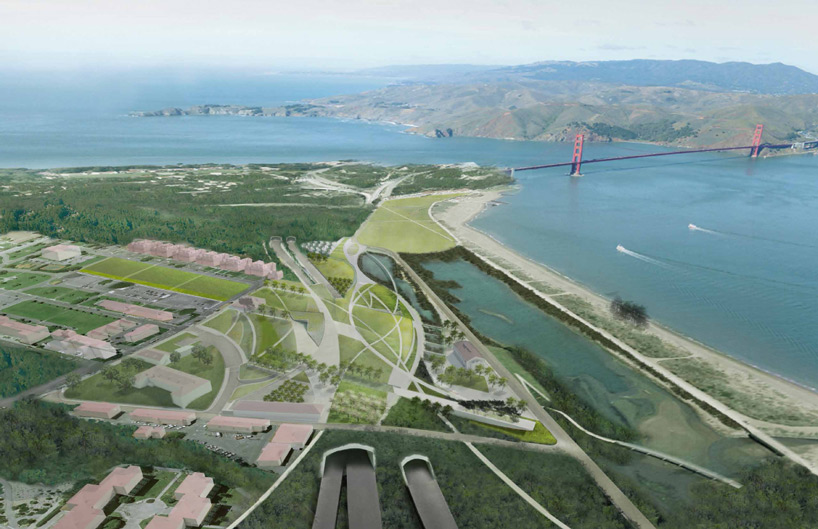 snøhetta's shortlisted design for the presidio parklands landscape redevelopment, currently under decision
see the complete shortlist for presidio parklands here, as reported by designboom
DB: what approach do your projects take in terms of openness to the public?
KT: snøhetta continuously strives for readable accessibility and seeks to represent an attitude in architecture which includes social behavior. this may be achieved by a certain degree of intimacy between public and projects, a touchable reality leading to public ownership. a 'you can own what you can touch' approach does however not limit the possibility of experimentation. there is really no contradiction between experimentation and the public, but there might be contradictions created by less sincere content.
DB: how does your office fuse its agenda, whether it be functional, social, or aesthetic regards, with client needs and aspirations?
KT: as many other practices, we see our clients as not only someone paying the bills, but as an intellectual asset to our projects. they will in most cases be included into early workshops and regarded as someone contributing to the transpositional processes. this might in turn also generate a common ownership to ideas and concepts.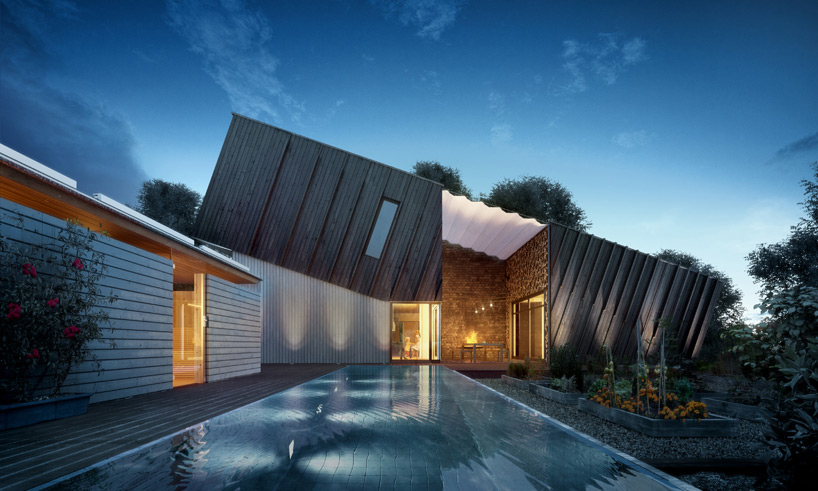 with construction nearly completed, the ZEB pilot house will serve as a model for sustainable living
see here for designboom's coverage of the project
DB: in regards to the ZEB pilot house, how did snøhetta approach discussions of sustainability, both in terms of performative efficiency and other aspects?
KT: the pilot house is, as rightly named, a pilot. we have followed the hypothesis of 'form follows environment' in the design approach, but there are really no new technologies involved in the design. we have overloaded the building with overlapping technologies to be able to measure real time performance of the different systems, from solar to thermal.
one important aspect is the calculation of embedded energies in materials and construction. to be able to measure the environmental sustainable performance, every material had to be tracked and accounted for. the reuse of bricks did for instance reduce embedded energy. the second is obviously reduction of energy consumption in the building, starting with insulation and location of openings. thirdly, maintenance and long term performance of materials needed to be calculated.
finally we wanted to create well balanced spaces and comfortable living areas, reflected in the location of functions and outdoor/indoor use of the plot.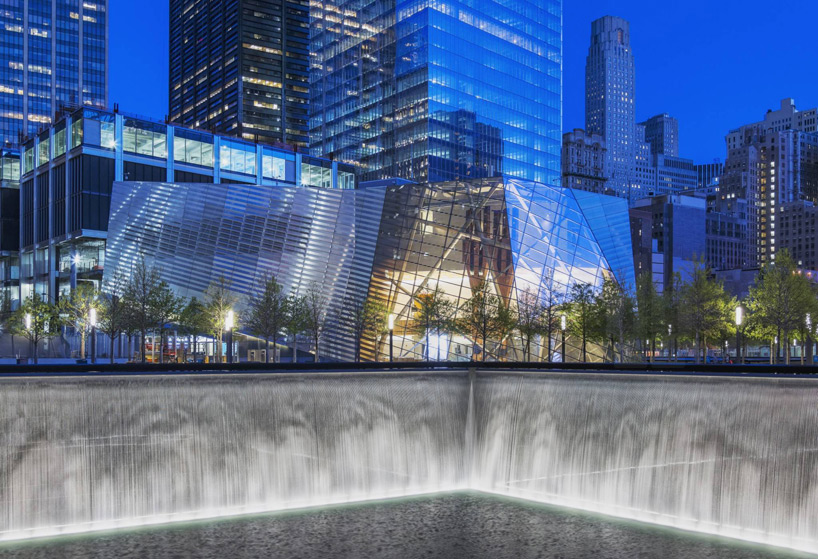 the completed national september 11 memorial museum
photo © jeff goldberg/esto
see here for db's coverage on the museum at the time of its opening
DB: can you elaborate on your team's approach to the national september 11 memorial museum?
KT: the short version would have to be our understanding of both the human and the political complexity of this task. we always understood the project to be one of continuous negotiation rather than one driven by functional and aesthetic considerations. a sort of 'negotiated architecture' opening up for many subjective opinions and interpretations, with involvement by people much more affected than us as architects and designers. this patient attitude has in fact been almost pre-conditional for managing the memorial pavilion.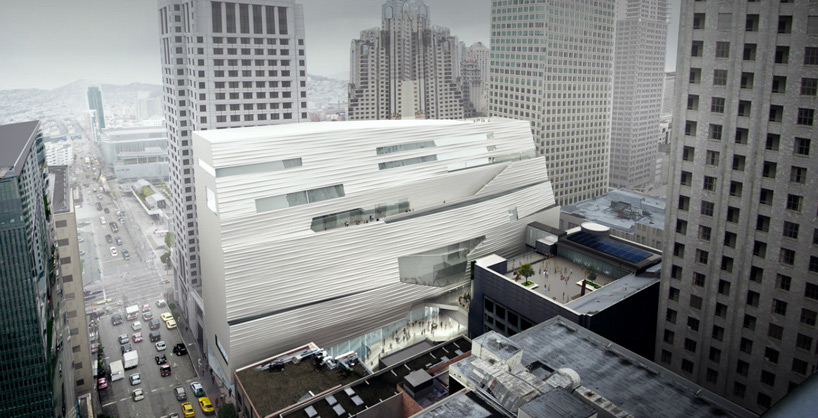 snøhetta lead the design of SFMOMA's expansion, with construction well underway
for more on the project's design, see designboom's article here
click here for db's coverage of the structural topping-out
DB: how do you think online resources and media have influenced architecture?
KT: no question if, but as you say how. in the media transition of our profession, architecture has taken on a much wider definition, difficult to define, pluralistic in content and misused in performance. the enormous amount of parallel achievements of architectural creations around the globe, have suddenly become real-time information, leaving us with no other possibility than to prioritize our interests.
I guess the endless information available online is similar to italo calvino's understanding of a city. it is described by the opportunities given, but not necessity by taking advantage of these opportunities. we know the information is at hand if we look for it.
then again, this has led to fast and more up to date architectural research, both within practices and academia, which in turn will hopefully lead to a stronger position of architectural practice in the future.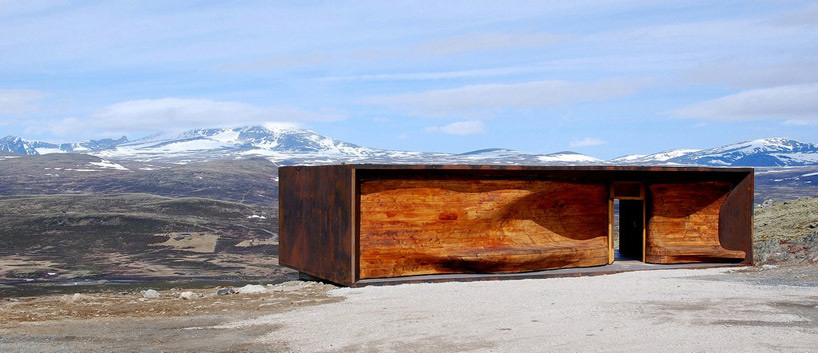 the norwegian wild reindeer center pavilion looks out to the mountainous landscape of dovre, norway
for more on the observation structure, check out designboom's coverage here
DB: personally, what are you currently fascinated by outside of the profession, and how does it influence your work?
KT: I have lately started mountain climbing in addition to the skiing I have done for years. I am fascinated by the absolute intimacy created between me and the element I am within, on or on top of. this close relationship can probably only be achieved by physical proximity, and is very much transferable to architectural creations.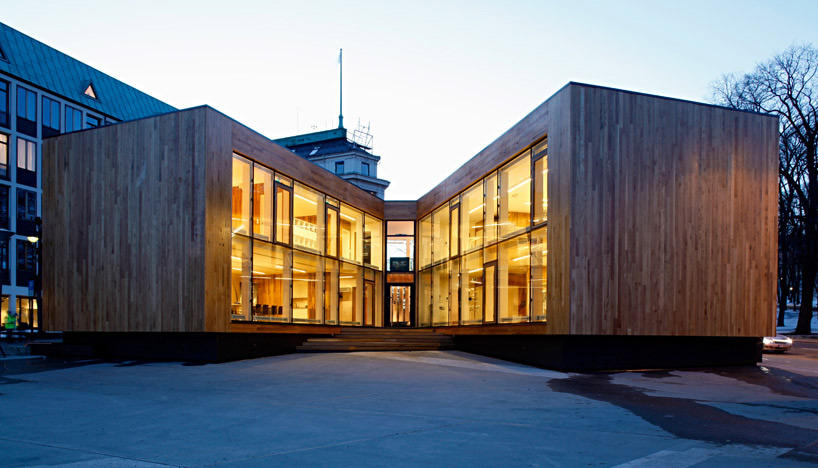 kjetil thorsen – an avid skier – led the design of the VM pavilion, open in oslo for the 2011 world cup of skiing
image © marte garmann johnsen
see here for more on the temporary building, as covered by designboom
DB: what advice might you give to students and young designers?
KT: think long term, use your whole body and prioritize your time. be focused.
DB: which project are you most excited about at the moment?
KT: always the latest, which might change from week to week.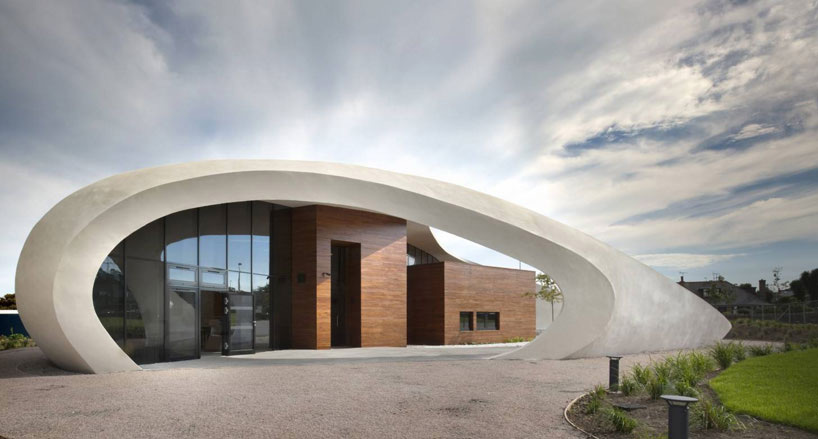 snøhetta's maggie's center cancer care facility in aberdeen, scotland was completed in 2013
see more on this project from the designboom article here
see designboom's complete archive of snøhetta work here.
trent fredrickson
I designboom
oct 03, 2014
a diverse digital database that acts as a valuable guide in gaining insight and information about a product directly from the manufacturer, and serves as a rich reference point in developing a project or scheme.
designboom will always be there for you
milan, new york, beijing, tokyo

,
since 1999