THE GILBERT & GEORGE CENTER
On April 1, 2023, the City of London will welcome a new cultural destination: the Gilbert & George Center, dedicated to the artistic duo of Gilbert Prousch and George Passmore, known for their distinctive performance art as well as their vibrant graphic-style photo-based artwork. This new facility is designed to give visitors the broadest possible access to Gilbert & George's art, in keeping with the duo's ethos of 'Art for All' ethos.
The new arts center was designed by SIRS Architects, who completed the restoration of a 19th-century brewery in a historic area of the city, transforming it into a permanent and accessible space of artistic heritage. The building is set in a landscaped, paved courtyard and houses three exhibition spaces totaling 280 sqm, a reception area, film room, back-of-house and service areas. The design features elements that are a nod to the building's former industrial use, while also constituting a departure from the sterile look of commercial art galleries. 'We carefully embedded the artists' vision of both architectural spaces and art display into the projects' design, by restoring the building's original appearance while creating contemporary exhibition spaces suitable for their art,' the architects share in a statement. To learn more about the Gilbert & George Center, the collaboration between SIRS architects and the artist duo, and the architectural features of the project, designboom spoke with Manuel Irsara, co-founder of SIRS Architects. Read the full interview below.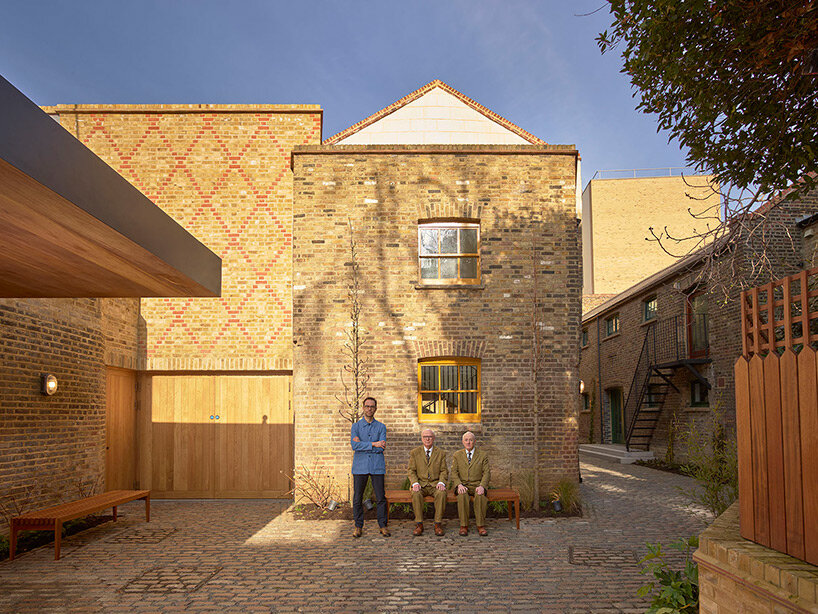 all images by Prudence Cuming, courtesy of The Gilbert & George Center, unless stated otherwise (head image courtesy of Tom Oldham)
designboom (DB): How did the idea of restoring the 19th-century brewery for The Gilbert & George Center come about?
Manuel Irsara (MI): After an extensive search for a suitable location for the upcoming Center, Gilbert & George discovered a former industrial site in 2015 that was a short distance from their home and studio. The building was acquired by the 'The Gilbert & George Center', a registered charity, and plans were initiated to convert the former brewery building into a contemporary art foundation. Design work began soon after, and planning consent was granted in November 2016.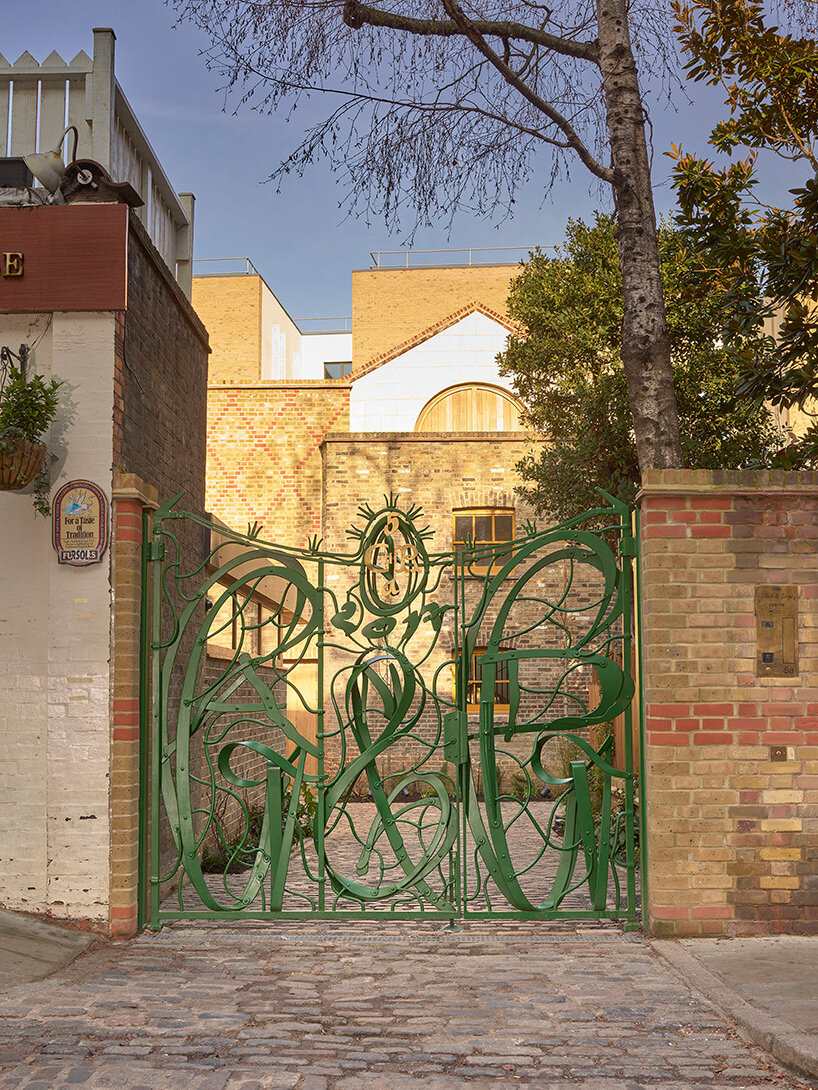 DB: The Gilbert & George Center is a joint project between SIRS Architects and Gilbert & George themselves. How did the collaboration between the design team and the artistic duo go?
MI: Collaborating with Gilbert & George was a privilege. Their extensive experience in exhibition spaces, attention to detail, and ambition were integral to our successful partnership, which allowed us to develop a contemporary building design that also reflects their distinctive aesthetic. We worked closely together, sharing ideas and feedback, to create a world-class space that not only showcases their unrivaled artistic legacy but also allows visitors to fully immerse themselves in their work. It was a truly enriching experience, and we are proud to have had the opportunity to work with such visionary artists.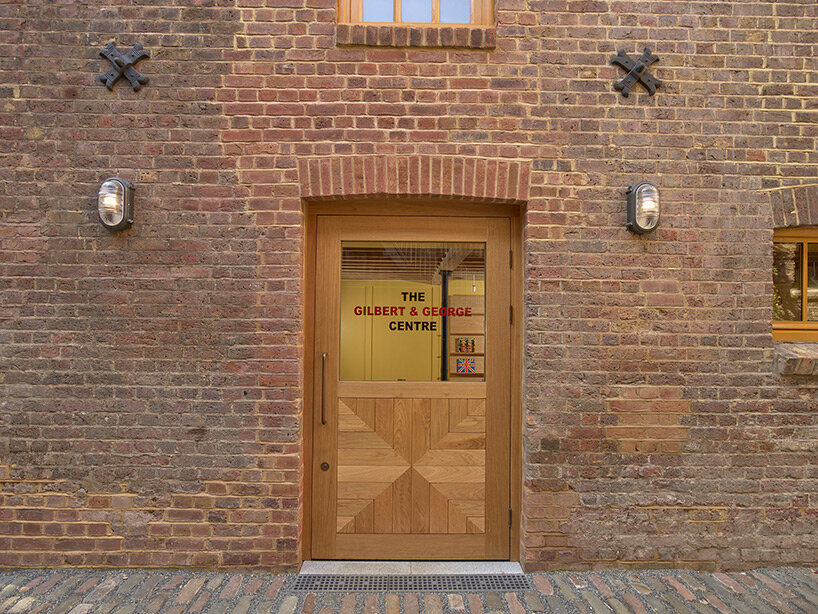 DB: What were your main goals and concerns in transforming the old industrial building into a custom-designed arts center?
MI: The primary goal for the Center is to become a leading cultural institution in London and a hub for research and scholarship on the art of Gilbert & George, with a commitment to being accessible to all members of the community.
We embedded the artists' vision for architectural spaces and contemporary art display into the project's design by restoring the building's original 19th-century appearance, removing later additions, and retaining historic features. Our design integrates elements that pay homage to the building's former industrial use while avoiding the sterile look of commercial art galleries. In a link to the artists' nearby home and studio, we incorporated warm and homely features such as solid oak furniture pieces, brushed oak flooring planks, bronze handrails and brass worktops providing traditional and timeless finishes as well as Portland Stone, a nod to Christchurch Spitalfields.
In order to create enough space for the building's transformation on a restricted site, we constructed a basement level under the building's pre-existing footprint and a new above-ground side extension that provides barrier-free access to visitors and sufficient gallery height for the artistic duo's large-scale works. The basement was constructed using a complex top-down methodology, which involved 13 micro-piles and 56 underpins striking the perimeter of 37 different neighboring parties, making it one of the largest party-wall awards in the UK of 2020.
We discreetly concealed the technical infrastructure of the building to improve the visitor's exhibition experience while preserving the historic structure's character. The lighting system was customized for Gilbert & George's large-scale pictures, but it can be reconfigured to enable everchanging exhibitions in different lighting atmospheres.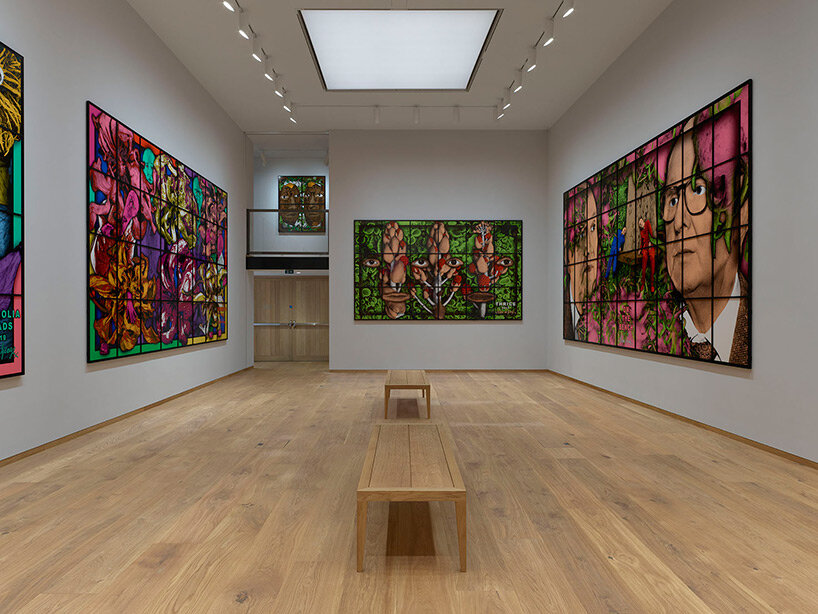 DB: 'Gilbert & George are known for their dual approach of cutting-edge art with their conservationist and traditional vision of architecture. The center aims to honor both dimensions.' How does the restoration create this connection to Gilbert & George's artistic legacy?
MI: The Gilbert & George Center can be found on a quaint, slender 18ct street in Spitalfields. Upon arrival, visitors are greeted by a hand-crafted wrought iron gate, designed by the artist duo themselves, before entering through a secluded, cobbled courtyard. The reception area, reminiscent of Gilbert & George's nearby home on Fournier Street leads visitors to contemporary exhibition spaces that have been customized to suit the artists' large-scale creations. The project's design philosophy is rooted in a thoughtful conversion of the 19th-century building, located in a conservation area, that aligns with the artists' view of London's architecture as the city's legacy. Our objective was to breathe new life into the area's historic fabric and pay tribute to both Gilbert & George's pioneering spirit and their deep reverence for London's multi-faceted legacy. Gilbert & George have always thrived on making their voices heard and leaving a distinctive mark on their environment and now, they are creating an art foundation of their own, which is the ultimate fulfillment of their artistic vision 'art for all'.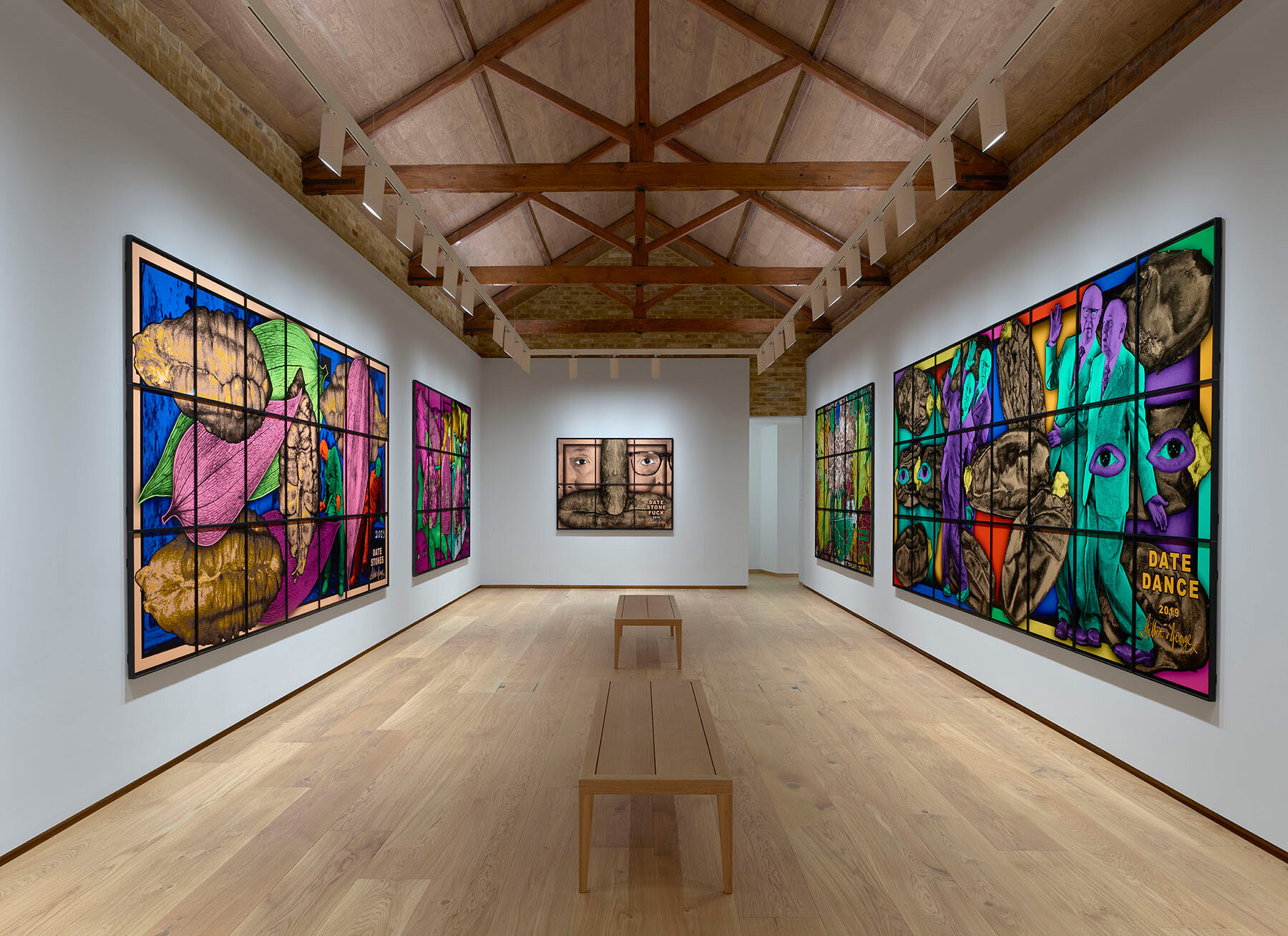 DB: 'The overall design approach considers the sustainability of the building in its broadest sense, by integrating environmentally conscious features and whole lifecycle considerations.' Can you elaborate on these environmentally conscious features? Why was it important for you to integrate sustainable design into this restoration?
MI: The building's design prioritizes sustainable use of energy, water, and material resources, taking into account socio-economic and lifecycle factors. Active and passive design principles were applied to optimize energy efficiency, minimize consumption, and promote energy conservation. Passive design principles included measures such as reducing the admittance of UV light and solar radiation into the building, incorporating high thermal mass into the building structure for stable internal conditions, and using a high-performance, air-tight building envelope to minimize energy demands for heating and cooling.
To reduce the carbon footprint of the project, a range of active design principles were adopted, including the use of a digital building management system with temperature optimization and weather compensation, low-energy/high-efficiency LED lighting with presence detection and automated control, an optimized recirculation ventilation system, and the use of harvested rainwater for horticultural irrigation. The building also incorporates permeable courtyard paving for sustainable urban drainage, locally sourced and recycled materials, minimized demolition and the re-use of original site material, collaboration with local companies and craftsmen, and in-house art storage facilities to reduce the impact of shipping.
Integrating sustainable design is a crucial aspect of our design approach. It is important because it helps to minimize negative environmental impacts, improves building performance and longevity, and demonstrates a commitment to environmental stewardship. By incorporating sustainable design principles, we are able to create beautiful and functional buildings that are also environmentally responsible and contribute to a more sustainable future.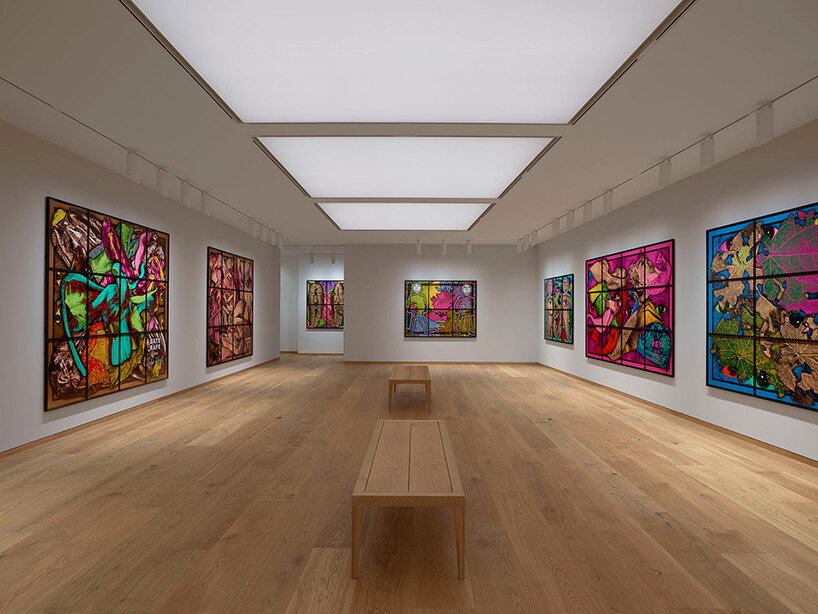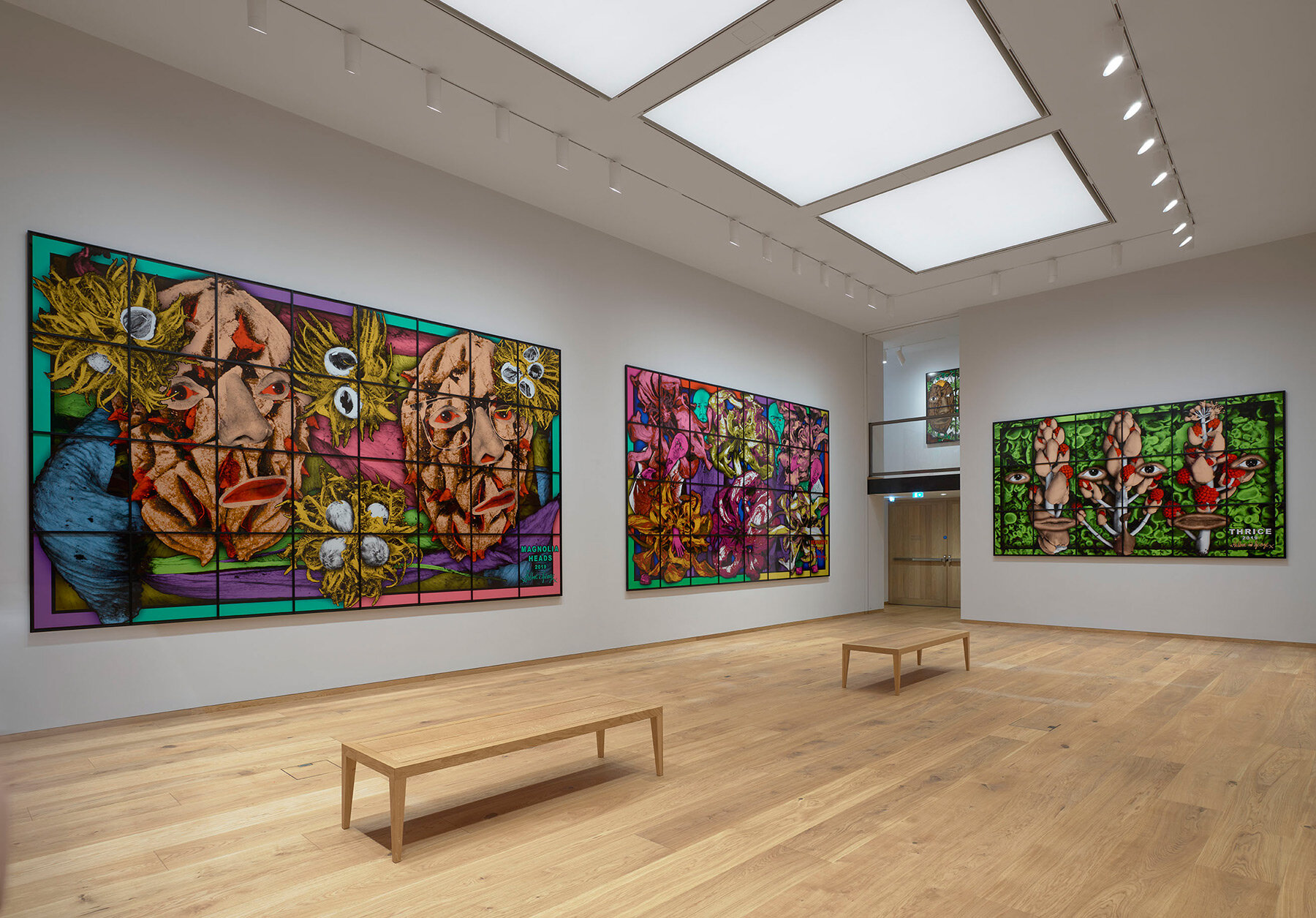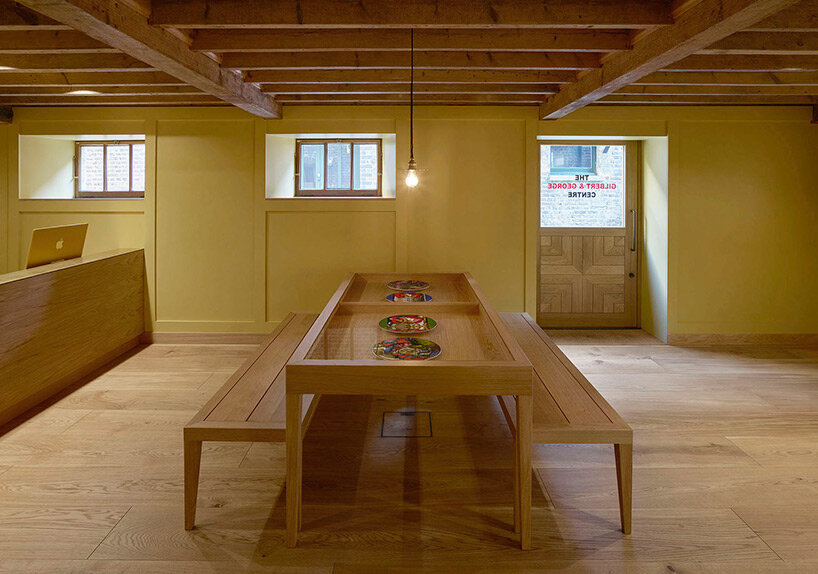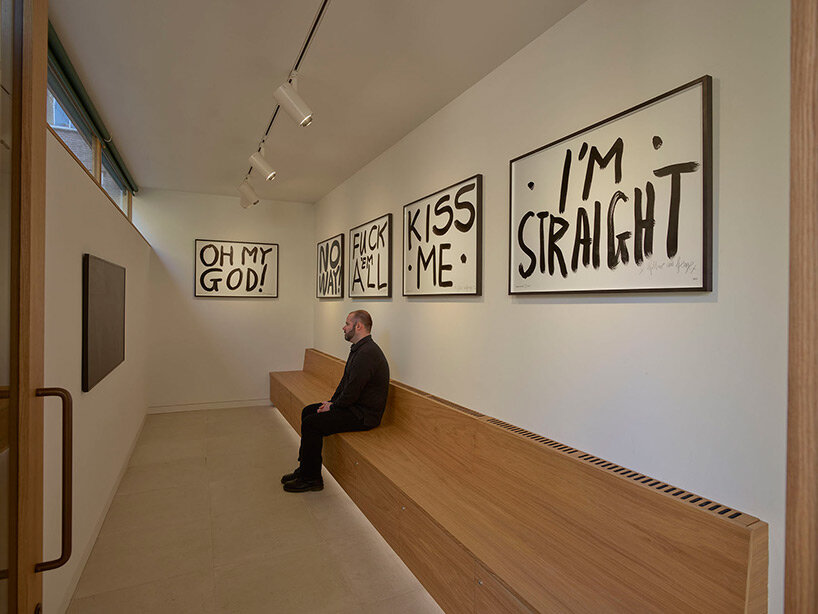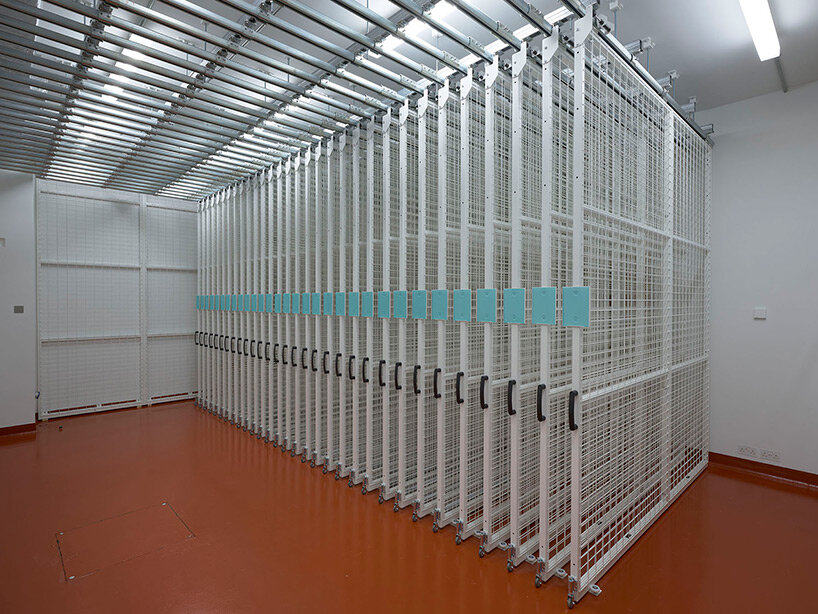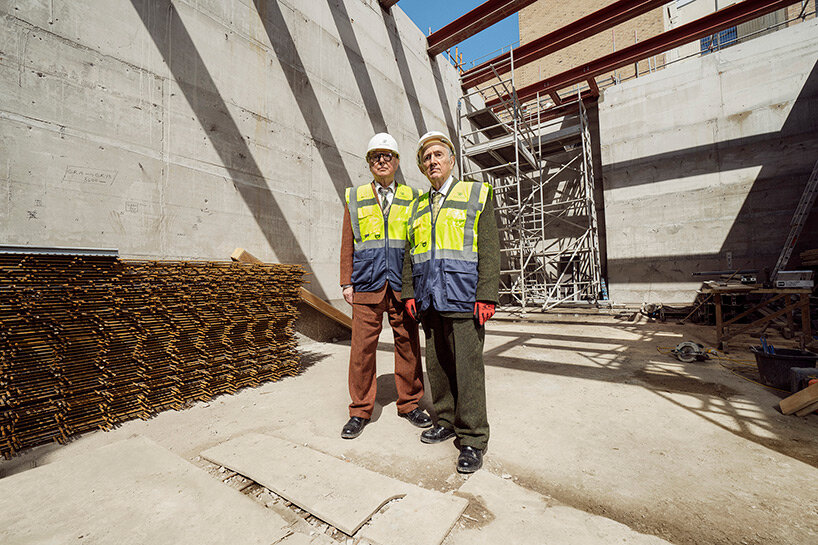 image courtesy of Tom Oldham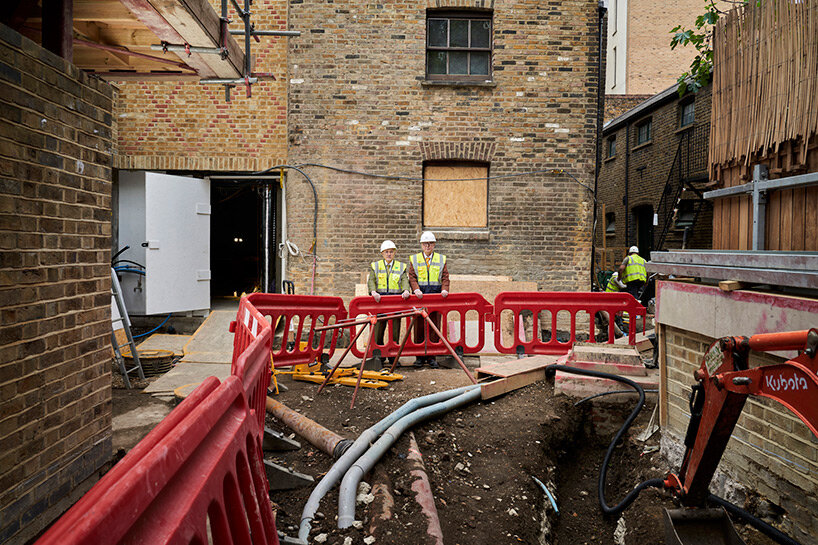 image courtesy of Tom Oldham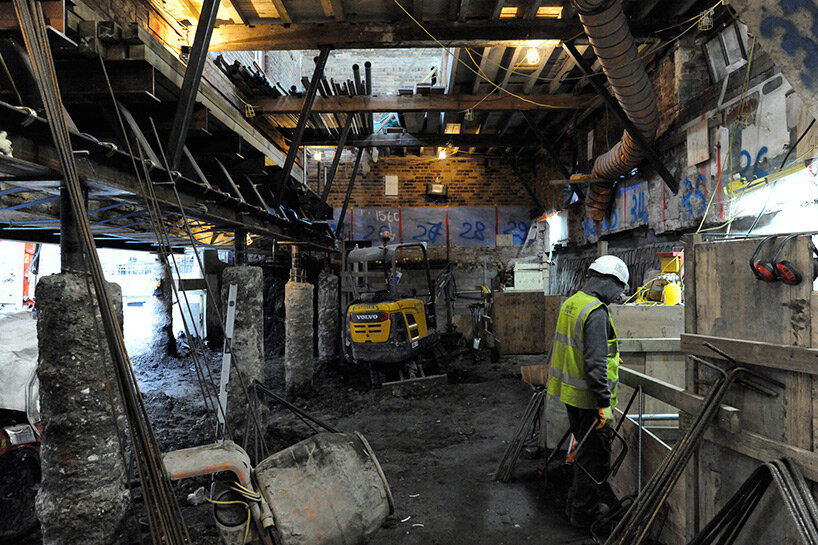 image courtesy of SIRS Architects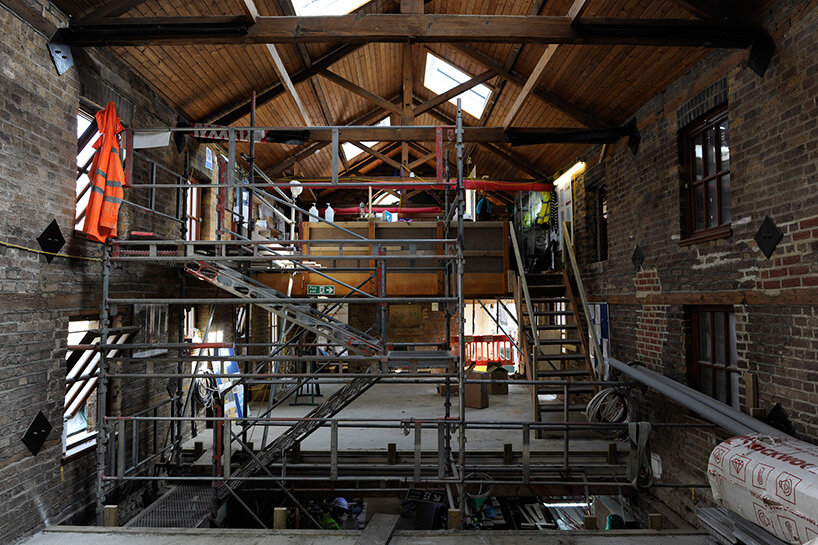 image courtesy of SIRS Architects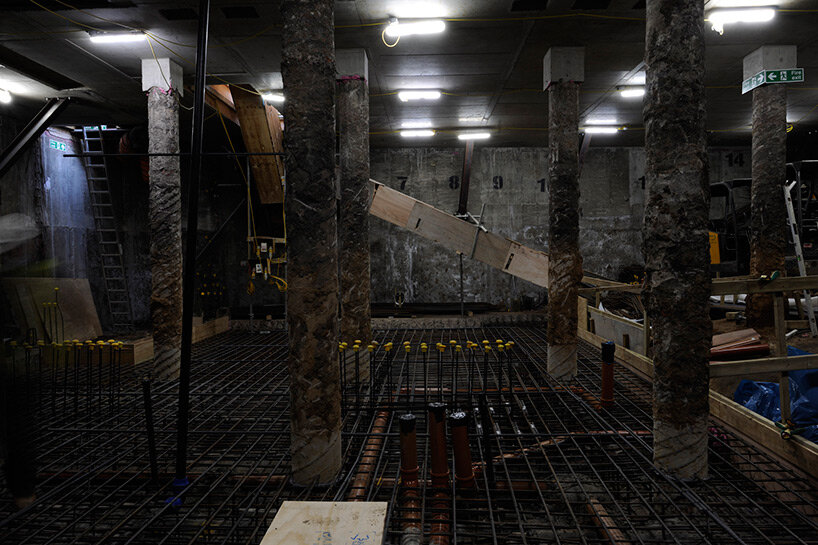 image courtesy of SIRS Architects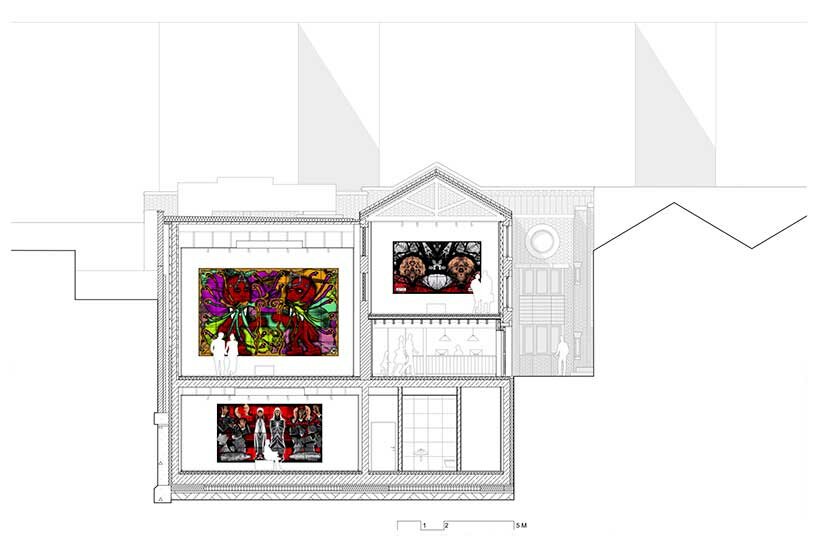 cross section AA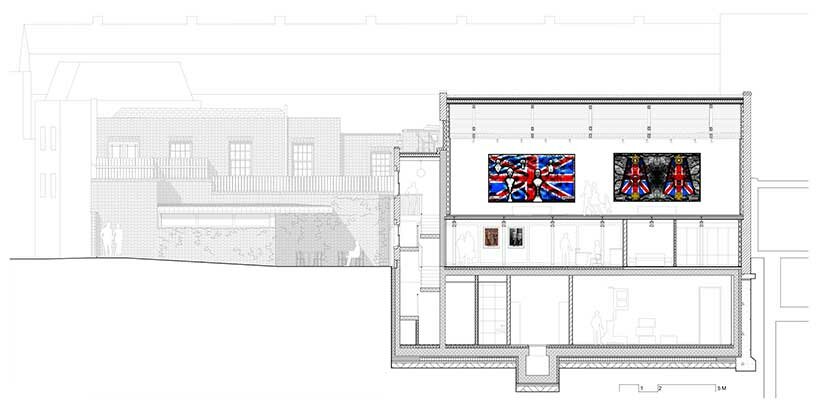 long section BB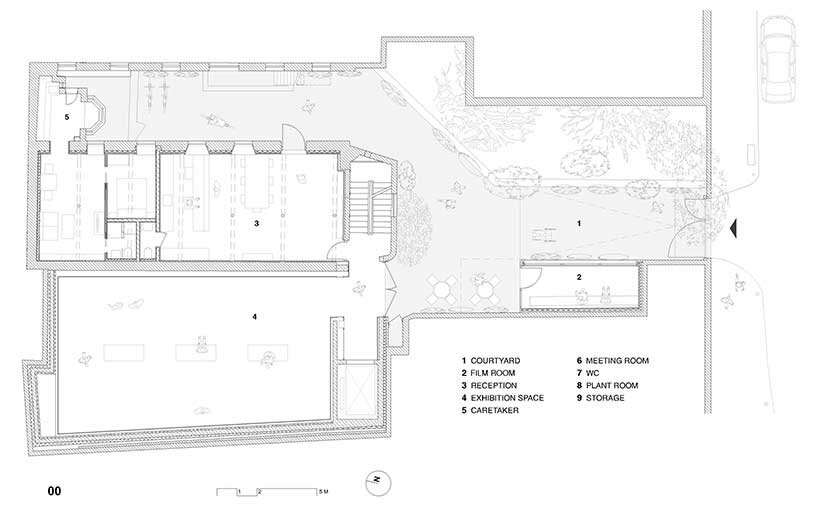 ground floor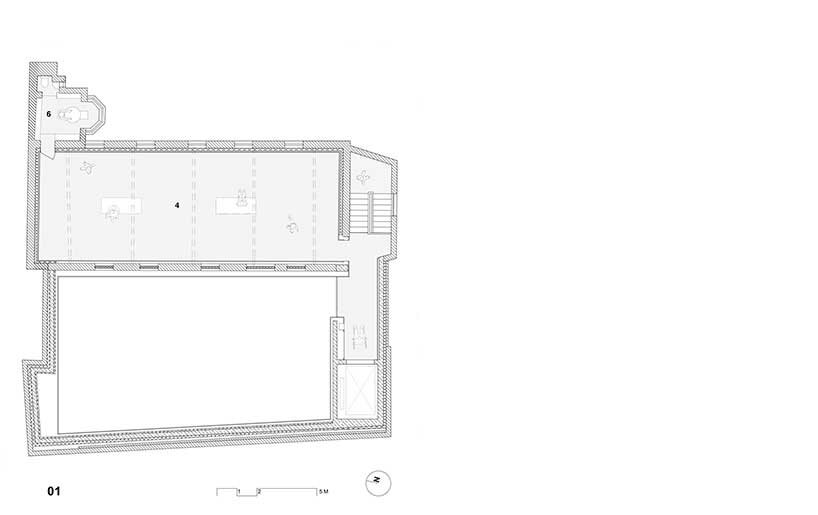 first floor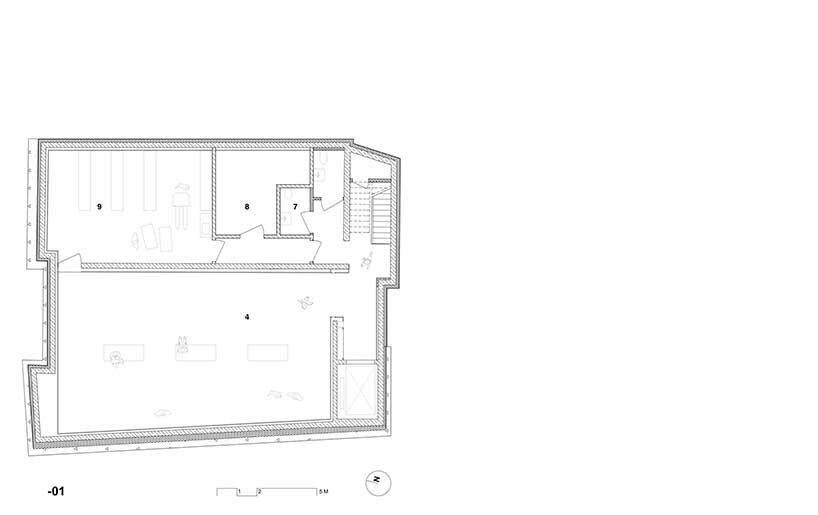 basement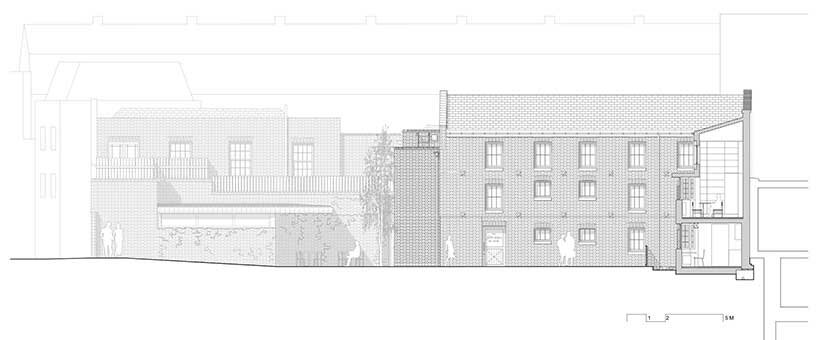 west elevation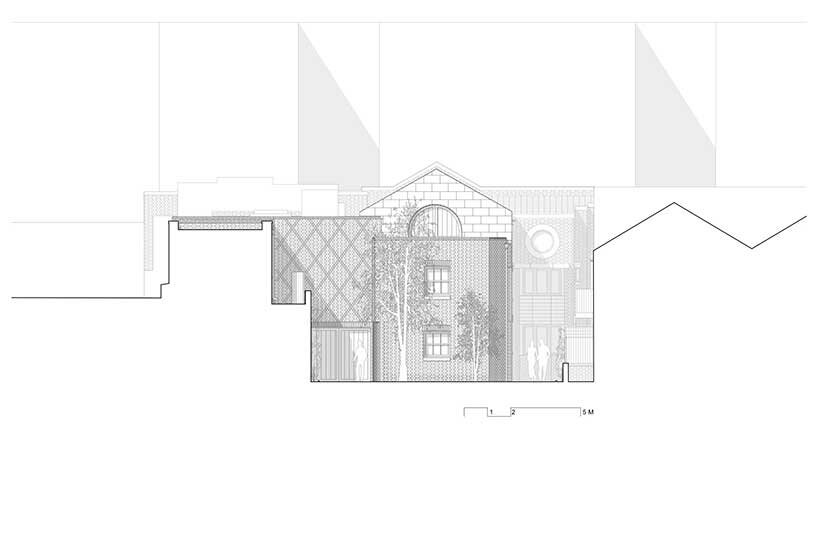 north elevation

street elevation with gate
project info:
name: Gilbert & George Center
architects: SIRS Architects
location: Heneage Street, Spitalfields, London
myrto katsikopoulou
I designboom
mar 24, 2023
a diverse digital database that acts as a valuable guide in gaining insight and information about a product directly from the manufacturer, and serves as a rich reference point in developing a project or scheme.
designboom will always be there for you
milan, new york, beijing, tokyo

,
since 1999