since its founding in 2013, slashcube — the architectural visualization studio led by thomas vournazos — has brought to life projects by zaha hadid architects, SOM, and OMA — among many others. vournazos attended architecture school in mid-2000s, where he became interested in renderings and 'anything digital'. 'I graduated with a love for visualization,' vournazos tells designboom. 'although I never really pursued architecture as a profession, it really helped me to build a solid understanding of the digital space and its unique capabilities.'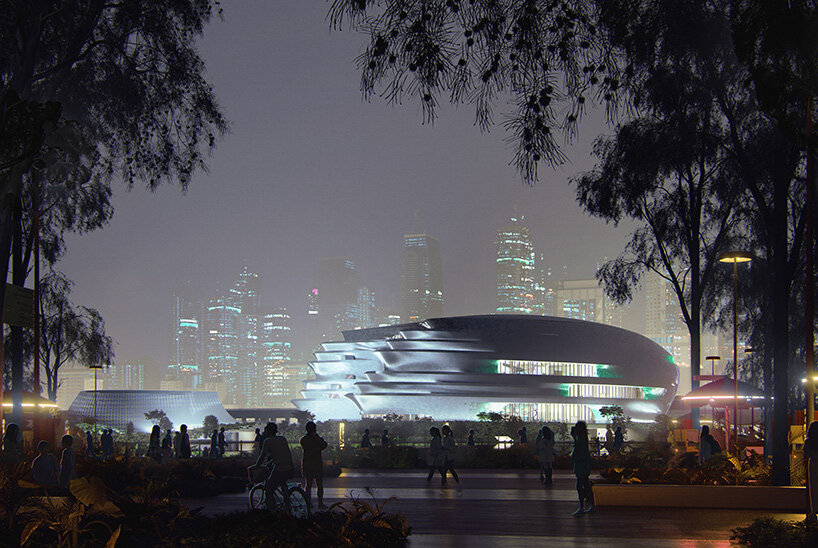 shenzhen science and technology museum | top image: chicago towers — both with zaha hadid architects
recently, slashcube worked with SOM and the european space agency to illustrate 'moon village' — a project designed to be the first permanent human settlement on the lunar surface. 'you have to have in mind that the whole project is meant to be presented as a 'scientific' example and not just as a romantic conceptual idea,' explains vournazos. 'so the balance between 'reality' and 'atmospheric' was crucial.' the project is currently on view at the 2021 venice architecture biennale.
in this interview, slashcube's founder and art director, thomas vournazos discusses the rewarding nature of long-term collaborations, the software his studio uses, and how he views the future of architectural visualization. read the interview in full below.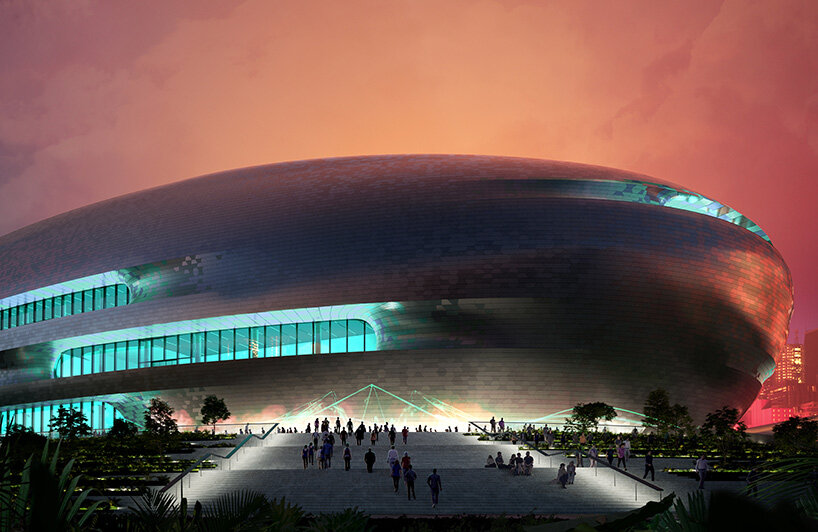 shenzhen science and technology museum — with zaha hadid architects | read more about the project here
designboom (DB): can you tell us a little about your background and how you became involved in the world of architectural visualization?
thomas vournazos (TV): well I am basically an architect, graduated with a diploma in architecture in 2008 from the aristotle university of thessaloniki, greece. as a student, I kind of got interested in renderings, and in general with anything digital. the whole process of visualizing your designs was extremely fascinating. and I am talking about a period around 2002 – 2005, when 3D tools were really basic. the things you could do back then were very limited, but everything was so new and shocking, that it really had a powerful impact. I remember being super excited about my first 'cork' shaded sofa in maxwell render. so I graduated with a love for visualization. although I never really pursued architecture as a profession, it really helped me to build a solid understanding of the digital space and its unique capabilities.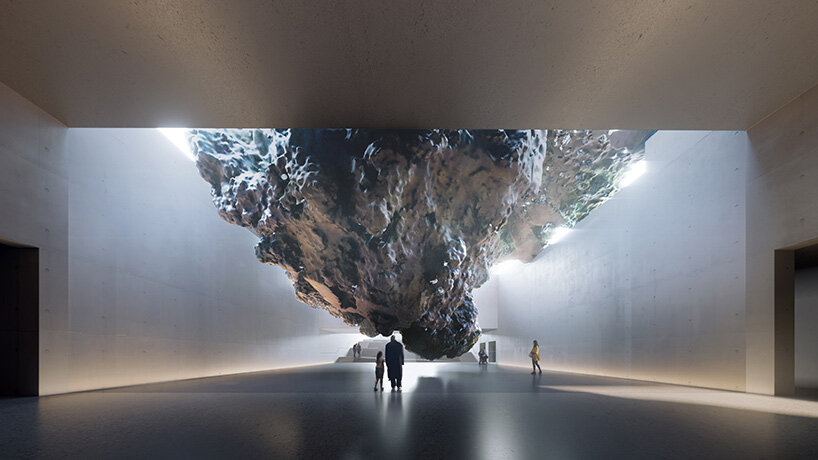 UK holocaust memorial — with zaha hadid architects | read more about the project here
DB: how much do your briefs vary between different architecture firms? how often do architects have strange or particular requests?
TV: for starters, briefing is essential. I can't stress how important it is to be able to 'understand' the project you are working on. it is the designer's responsibility to communicate the idea of the design with us, so that you can create something that is not just pleasing to the eye, but actually expresses the 'idea'. sadly, in the world of architectural competitions, we do have all kinds of paradoxes. next to super structured briefs of well-thought designs, there are also non-existing briefs with no guidance, really basic concepts that lack a main idea or, even more, a grey zone of uncertainty, where parts of the project need our 'third eye' of experience to boost it — and these are just few of the examples that I can list.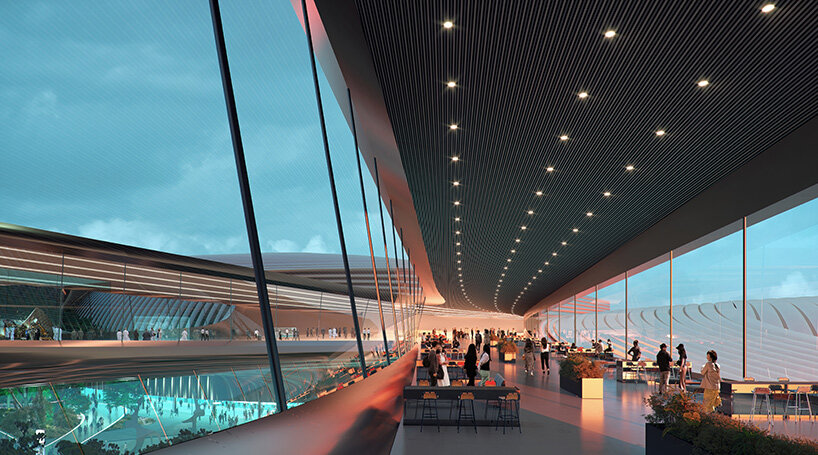 beijing's international exhibition center — with zaha hadid architects | read more about the project here
TV (continued): in either case, our work is to establish that fundamental base with the design team. we will understand what needs to be done and we then have the freedom to work 'as needed'. actually, part of our service is often expected to provide that 'extra punch' and that extra vibe. I am not ashamed to admit it, but there are times when we have to make whole skyscrapers in the surroundings disappear, create non-existing lakes, invent more than one sun, add gigantic people etc. in many cases we need to bend reality to make the idea work, but as I am always saying… not all you see is real and it doesn't really matter when you need to create a vision and leave a trademark.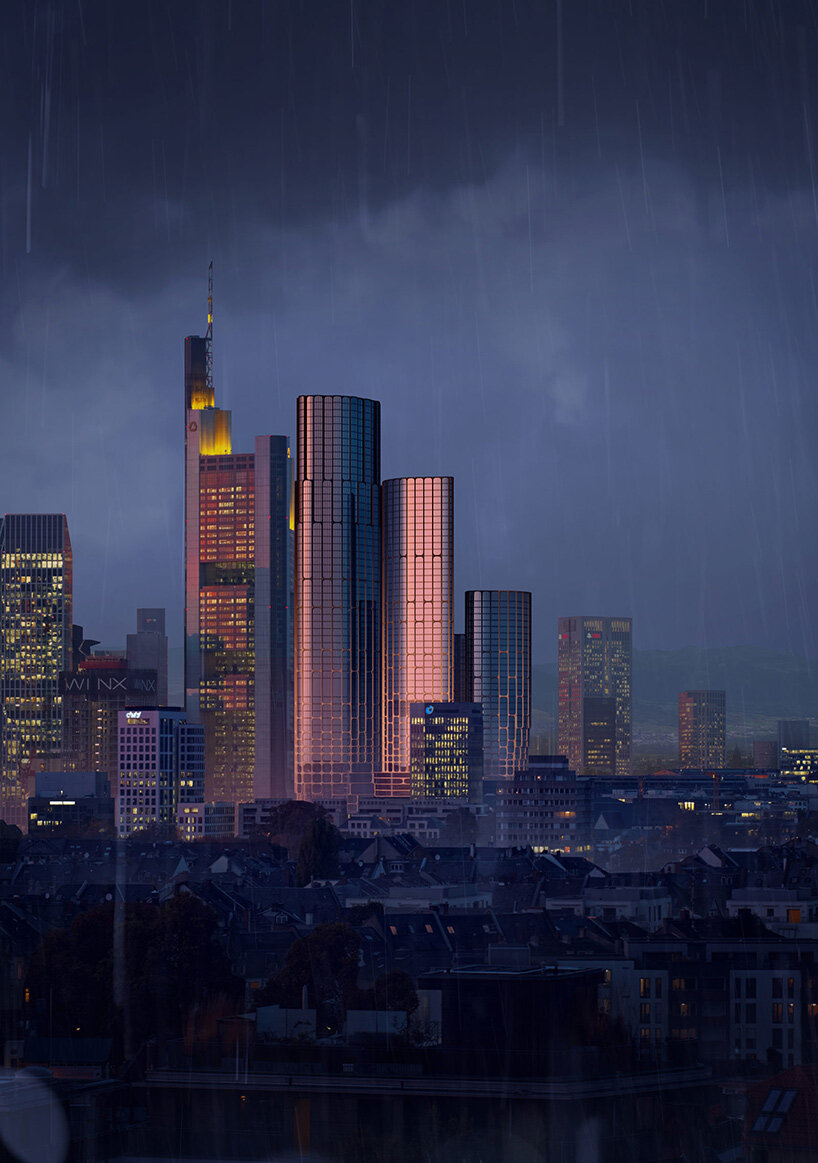 business district in frankfurt — with zaha hadid architects
DB: how closely do you work with an architecture firm when you are developing images for them? how much creative freedom do you have?
TV: we try to keep a solid workflow with all the firms we work with. identity is important and each firm has its own way of portraying those qualities that make them distinct. our part is mainly to communicate those qualities with them and filter them within our workflow. we work extremely closely with everybody, with constant communication, especially in the very beginning. during the very first stage of designing a concept, we need to understand what the studio's vision is and the studio itself needs to understand how to give us the right direction, collectively and effectively. the outcome of great communication is a great image. this is why it is important to build those relationships and get to a certain level of mutual understanding that it is actually helping us become productive.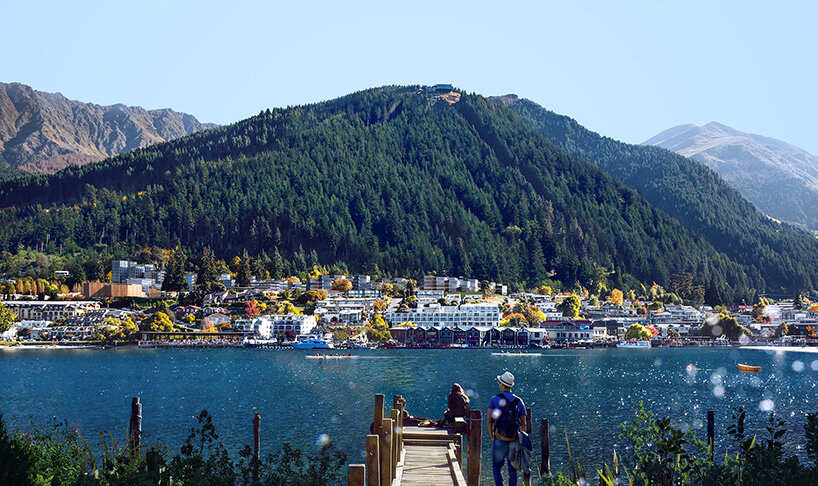 queensland masterplan — with zaha hadid architects
TV (continued): creative freedom is not granted if you can't prove that you do understand what the other side wants to portray, that you know what needs to happen. we are usually free to go ahead and make it work. but that happens only if we can achieve this kind of trust. that's why we like having regular partners, as this makes everything so much easier. the process of being close to the team and having an almost open dialogue is time consuming, but helps us save time on the rest of the project. it gives us also a glimpse of the team we work with and can set up a great or even a very bad relationship, as happens in real life with the people that we choose to interact with.
dubai mosque — with zaha hadid architects
DB: you often work with zaha hadid architects. is it easier to realize their vision for a project after you have collaborated so often?
TV: zaha hadid architects is one of the studios that we worked with from almost the very beginnings of slashcube back in 2013. after so many years and so many different projects, we feel our studio as part of theirs in a way. with most of the teams we keep a very relaxed relationship, which is quite helpful when dealing with tight deadlines or complex projects. but the great thing with such long term professional relationships is that everything works kind of instinctively. we don't really 'tailor' our way through an image. we don't expect all details and feedback from the team, to be able to create. we build it, always having in mind what the team wants to visualize.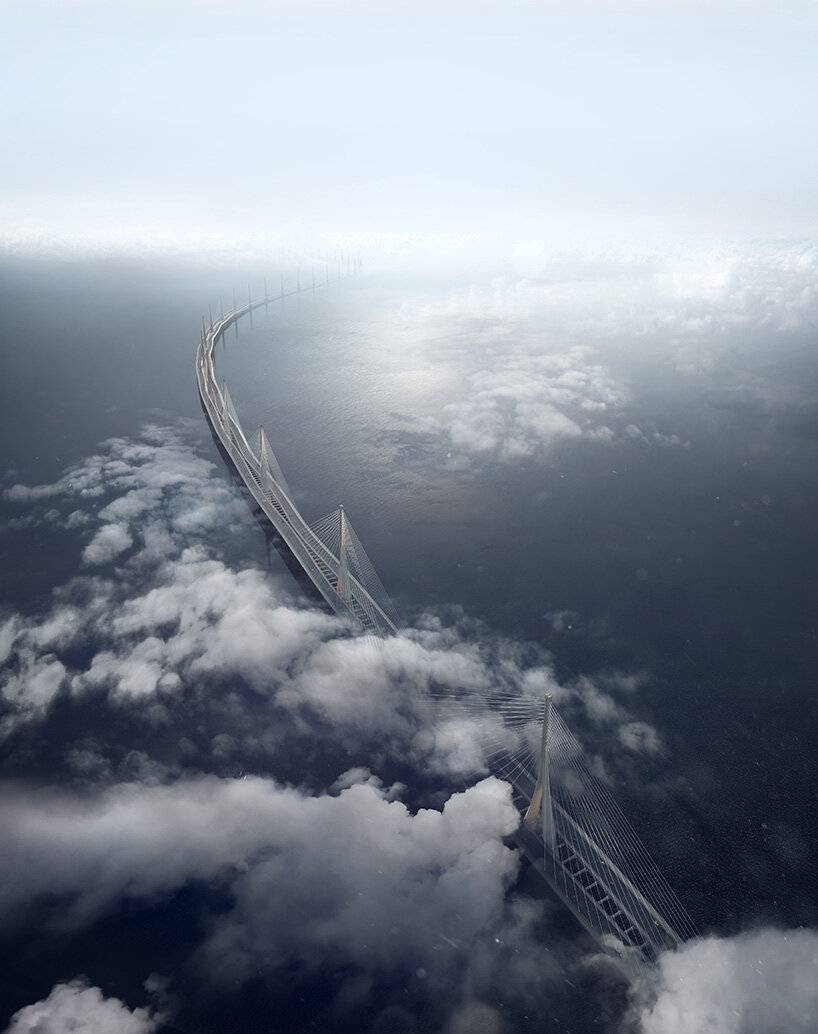 king salman bridge — with zaha hadid architects
TV (continued): so, knowing in advance the studio's own character, the vibe of each individual team and what is the task ahead, we can shorten our communication efforts and also dive into a more creative approach far more easily. also, with really tight deadlines, the stress is minimized as much as possible and we can be more flexible when it comes to last minute decisions, something that would be almost impossible with a studio that you work with for the very first time. the benefit of trusting one's decisions is important when time is an issue and that usually happens easier in such long term professional relationships.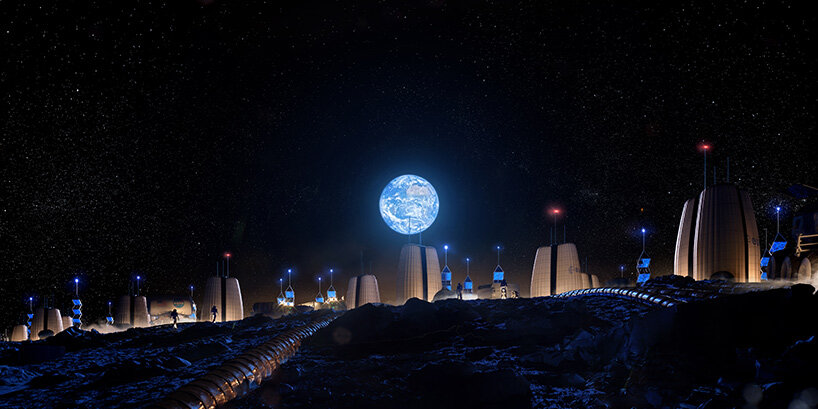 moon village — with SOM | read more about the project here
DB: can you tell us about the brief for SOM's 'moon village' project? how interesting was this commission to work on?
TV: the moon village was really a fascinating experience from start to finish. the hard part was how to envision an idea, create a concept with creative flexibility, without compromising the actual reality of what happens on the moon's surface. you have to have in mind that the whole project is meant to be presented as a 'scientific' example and not just as a romantic conceptual idea. so the balance between 'reality' and 'atmospheric' was crucial. the project itself is very promising. everything is situated on the edge of a huge crater on the south pole of the moon. the aim of the project is to be able to make the moon a 'pit stop' for deep space exploration. excavating frozen water from the base of the crater can provide the rockets with space fuel, thus making deep space traveling much easier, faster and more affordable. the effort was focused on how to show the scale of the masterplan, the geography of the area, and of course to capture a busy and visually realistic establishment, right on the surface of the moon.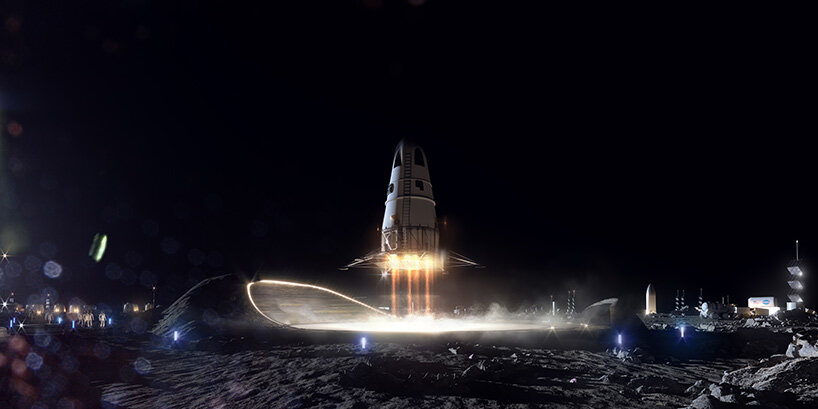 moon village — with SOM
TV (continued): we actually learned a lot about the moon, about the science of materials, logistics of things, such as transferring water, 3D printing with regolith (the moon surface material) and a lot more details that had nothing to do with our work directly, but helped create a solid scenario to build on. although scientific and with lots of details, all that information helped us push a creative vibe into something that had to primarily be a scientifically correct representation of the very first moon village. for a deep space enthusiast such as myself, this has been an eye opening experience. we got as close as we'll ever be, to feel how it can be to actually be there and seeing the actual scale of the geography up there. plus, we had the privilege to experience the walk on the moon through the VR experience we managed to put together! next stop, mars!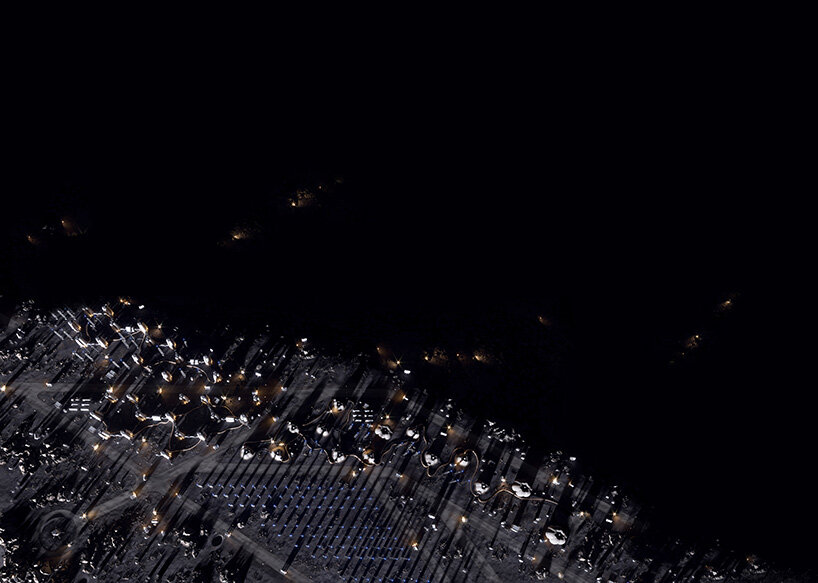 moon village — with SOM
DB: what software are you and your team using to create your images?
TV: the office is not using too many tools for the creation of our images. we are doing all of our 3D work inside maxon cinema 4D, which I personally always liked and felt extremely comfortable with. although it is not that 'famous' amongst our profession, it surely is more than capable of making everything we need to create. for our renders we rely on corona renderer. I had the great honor to be one of the very first cinema users that became beta testers for corona and I have to say that the love was instant. once everything is done and rendered, adobe photoshop is the main software for all the rest (matte paint, retouching, color grading etc). we will occasionally use third party tools, but not something that will be messing up our basic workflow.

storm dancing — in-house project
DB: you also present in-house projects on your website, such as 'stormdancing'. how important is it that for you as a creative outlet?
TV: the importance of our work is obvious. the work we do is also our ground for becoming better artists, better visualizers, better visionaries. each of us has a character, a very specific approach and, although we push for a 'team' identity, we need to have a solid character as individuals inside a team. here is where the idea of 'in-house' work is beneficial. apart from being a fun activity and a nice way to build a team spirit, the main focus is to explore different qualities on a more personal level. it can be just a word, an idea or even a new package of 2D stock photos that can trigger us to sit down and create something.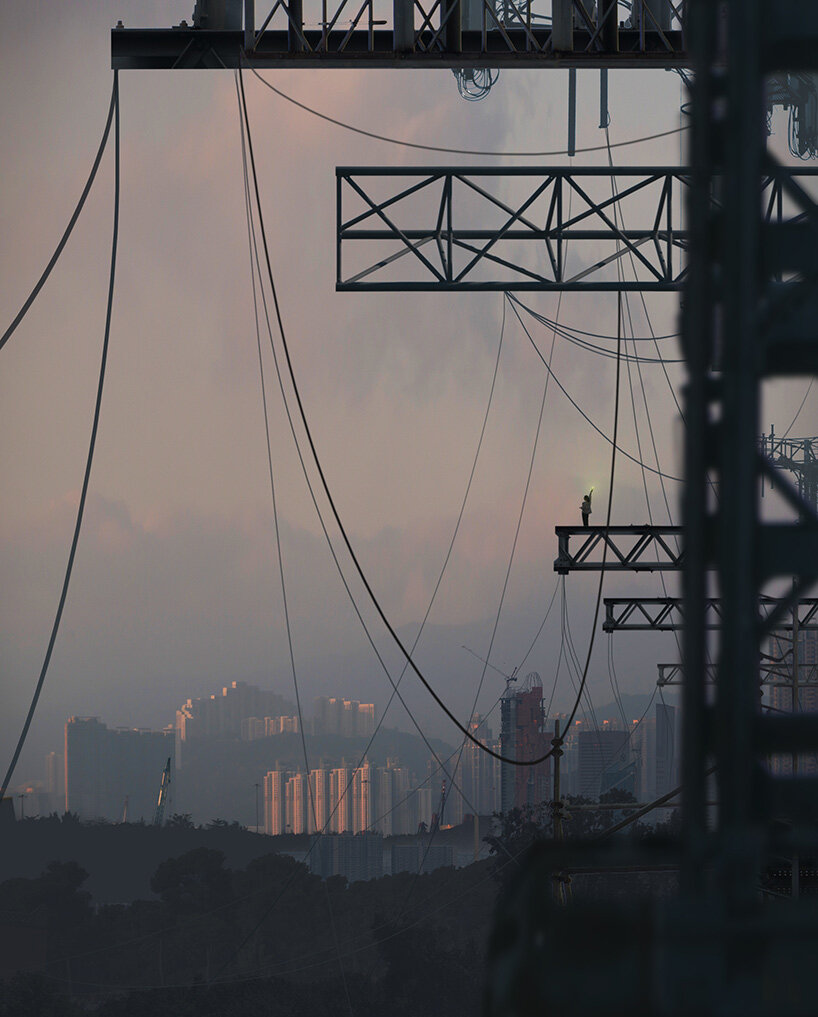 caught in a web — in-house project
TV (continued): the examples that we have online are mainly an hour of 'exploring'. it is important to give an extra challenge to it, so it is either the time you can spend on it, or the amount of footage you can use to create something. this can also build skills, ability to manage an image with just having the bare minimum, or even not overthink about something and just go and do it. also, it is nice to actually create something as simple as possible, it is always a good change from the 100+ layers, typical commissioned image.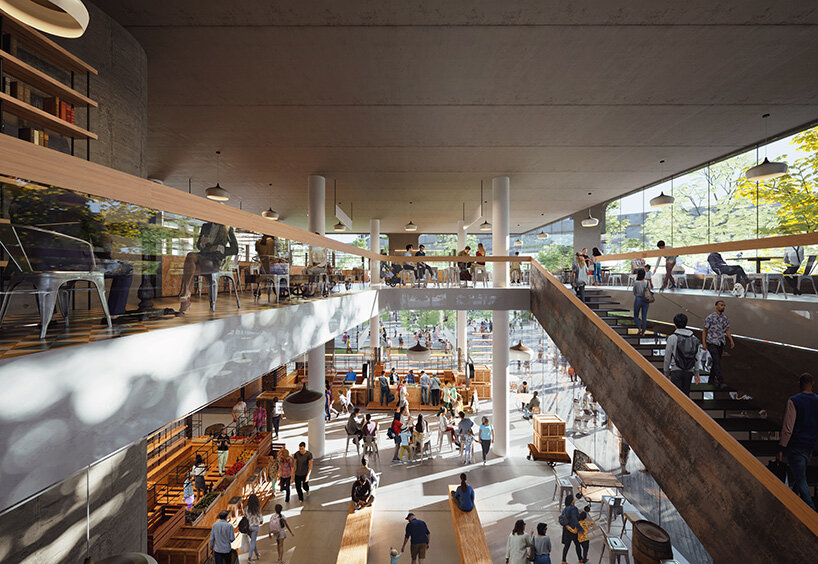 bern towers — with zaha hadid architects
DB: in what ways do you see the world of architectural visualization developing in the future?
TV: architectural visualization is still a baby in a way, I would say. the experience we have as professionals is still a work in progress and is developing constantly. the speed in which things are progressing is so quick that it is almost hard to follow up and actually have a clear idea where things used to be 10 or 20 years ago and where they will be 20 years from now. for example, up until some time ago, architectural visualization was limited to being a static image, or a two minute animated video acting as a presentation tool between designers and clients. in the past years, more and more studios have become interested in interactive tools and VR as a way of achieving a more immersive experience, or even using VR as a design tool itself. we also have game engines nowadays taking part in the realm of architecture too. people now are excited to interact, willing to be not just spectators of a design and an idea, but actual users of it.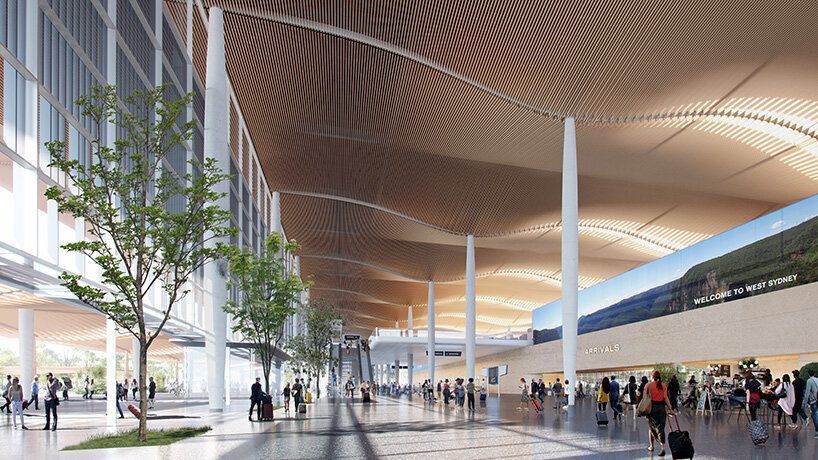 western sydney international airport — with zaha hadid architects | read more about the project here
TV (continued): I believe that visualization will jump from being a product or just a service, into becoming a necessary tool of communication between the designer and the world. it will surely become a more integrated part of design and idea production. and there is also the question whether establishing official study programs in this field, on a university level for instance, is now much more needed than ever. one will need trained experts, visualization 'scientists', in order to be able to work in terms of integrated systems and push the boundaries of virtual representation to new horizons. it is a form of art, but also there is so much science behind what we do. it is important for people to be able to study it correctly, with structure, patience and understanding. I think this problem will need to be addressed in the near future, but I believe that we will get there. we are curious creatures and technology is making us much more connected with digital environments, thus we really believe that these worlds can, and need, to be part of us.
philip stevens
I designboom
jun 09, 2021
a diverse digital database that acts as a valuable guide in gaining insight and information about a product directly from the manufacturer, and serves as a rich reference point in developing a project or scheme.
designboom will always be there for you
milan, new york, beijing, tokyo

,
since 1999