Sou Fujimoto presents Primitive Future at berlin's aedes
Sou Fujimoto recently celebrated the opening of Primitive Future, a solo exhibition at Aedes Architecture Forum in Berlin. Titled Primitive Future—Everything Is Circulating, the exhibition focuses on twelve projects by the studio, some already realized and others in the planning stages. As visitors step into the first room of the venue, they are greeted by twelve screens offering glimpses into the design process of the projects. The essence of Fujimoto's architectural philosophy is embodied in the second room, with a floating installation made of a single wire, symbolizing a connected world. These wire objects form a continuous line illustrating people, nature, geography, and architecture, transforming and circulating in a metamorphosis. The installation embraces a variety of sizes and scenes, making visitors lose the sense of depth in the space. It's like a 3D drawing seamlessly blending with its surroundings.
designboom attended the opening, where Fujimoto walked us around the exhibition, offering commentary on the studio's philosophy, various projects, and the profound concept behind the installation. Later, we sat down with the architect, delving more deeply into his creative process, influences, and vision for the future of architecture. 'My architectural philosophy is linking nature and architecture, making bridges between simplicity and complexity, inside and outside, public and private. I believe that the entire world holds complexity, shaped by diverse perspectives and thoughts. Rather than viewing these elements as a contradiction, I appreciate and seek to find a way of beautiful integrations,' he tells designboom — Read the interview in full below.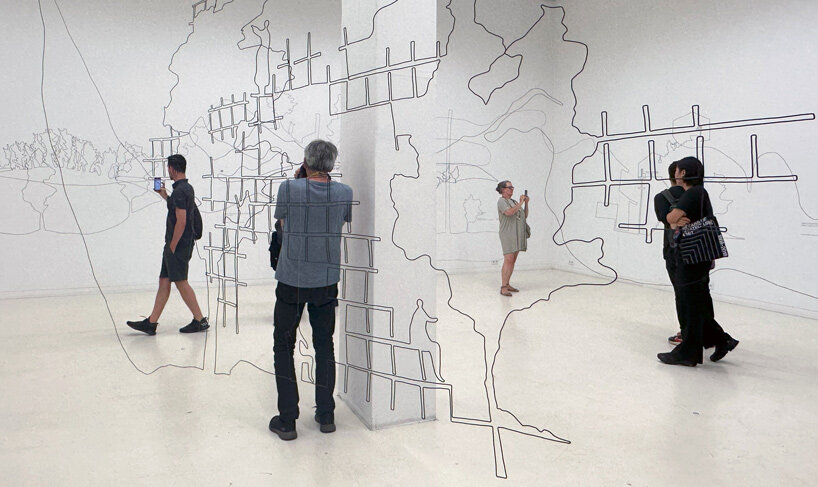 image © designboom
A Glimpse into Fujimoto's Primitive Future
The installation at Berlin's exhibition space depicts a selection of the studio's projects, featuring 'stacked' houses inspired by mountains, structures mirroring the forms of trees, and roofs adorned with mini-forests. This collection epitomizes Fujimoto's vision of a Primitive Future, a philosophy rooted in his personal experiences growing up on Japan's Hokkaido island, where his profound connection with nature began. Fujimoto's fascinating journey in architecture took him to Tokyo, a vibrant urban hub, where he explored the striking contrast between the artificial and the natural.
Despite this dichotomy, the Japanese architect never compromised on his dedication to incorporating the relationship between architecture and nature as a fundamental aspect of his work. Balancing these seemingly opposing elements, he skillfully interweaves them into his projects, allowing their differences to resonate harmoniously. In this harmony, new and transformative places are born, presenting innovative and sustainable architectural expressions. 'It is an exploration that blurs the boundaries between two dimensions and three dimensions, and perhaps even the fourth dimension. I hope people will enjoy these spatial experiences,' describes the architect.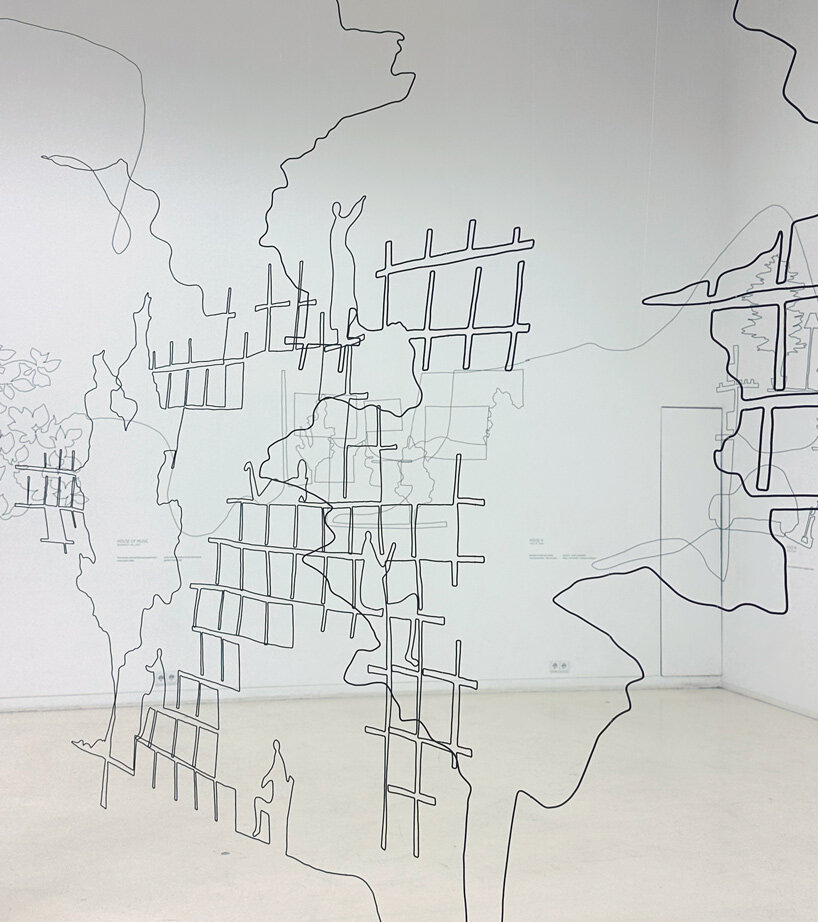 image © designboom
designboom interviews SOU FUJIMOTO
designboom (DB): the exhibition at Aedes is titled Primitive Future: Everything is Circulating. Can you elaborate on the concept of primitive future and how it relates to your vision of architecture in harmony with people and nature?
Sou Fujimoto (SF): The title of the exhibition is Primitive Future, which is a concept that holds great importance for me. When designing the future, we should always delve into the fundamental aspects of our minds in society. It represents the basics. Moreover, it's not solely about the past or a timeline. It's about finding something important, anchoring it, and then reflecting on the future. Thus, the interplay between the primitive and the future timeline inspires me.
Recently, everything is more and more related to each other. And I feel that it is not only about designing things but also about how these things relate to one another. And finally, it is a network of interconnections throughout the whole world. And that is why the subtitle of the exhibition is Everything is Circulating, not only connected, but also circulating in the flow of the sense. This exhibition aims to represent these philosophical concepts in a simple yet innovative way.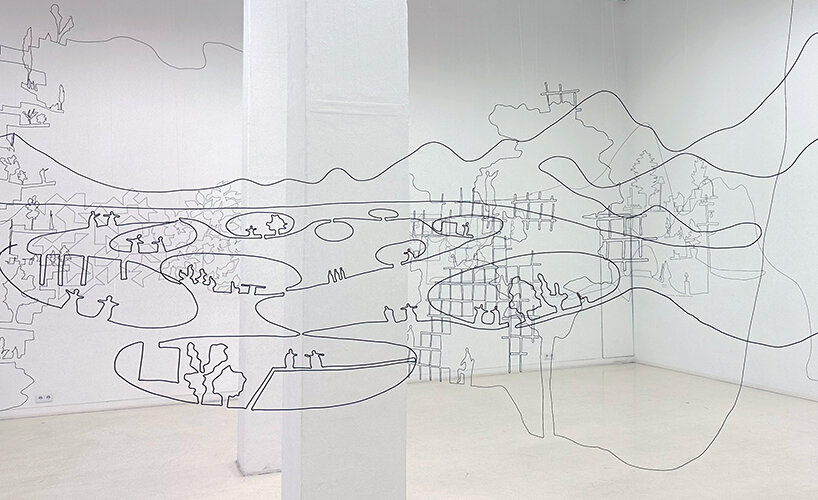 a connected world through floating wire installation | image © designboom
he continues: As you can see in this exhibition, we found out the idea is to use those wires flowing into the space to create. Sometimes people change, sometimes grow into architecture and then transform into nature so that we feel everything is connected, and it continues. And as a result, the whole entire thing is one cycle. The wires transform into nature or become part of people's lives, surrounding skies, and neighbors. This flow and transformation are expressed through spatial drawings, which are simple, obvious, and clear. But at the same time, the meanings behind it are very deep and fundamental.
DB: Your architectural philosophy emphasizes a balance between simplicity and complexity, order and disorder. How do you achieve this delicate equilibrium in your designs? And why is it so important to you?
SF: My architectural philosophy is linking nature and architecture, making bridges between simplicity and complexity, inside and outside, public and private. I believe that the entire world holds complexity, shaped by diverse perspectives and thoughts. For me, it's not about contradictions but rather appreciating and integrating both simplicity and complexity, nature and architecture.
Creating architecture is a constant and iterative process. My approach to making architecture involves an iterative and continuous process of finding beautiful integrations. I believe in infusing nature into the design and exploring new ways to connect with the architecture. Each project presents a challenge and an opportunity to discover innovative and wonderful integrations in architecture.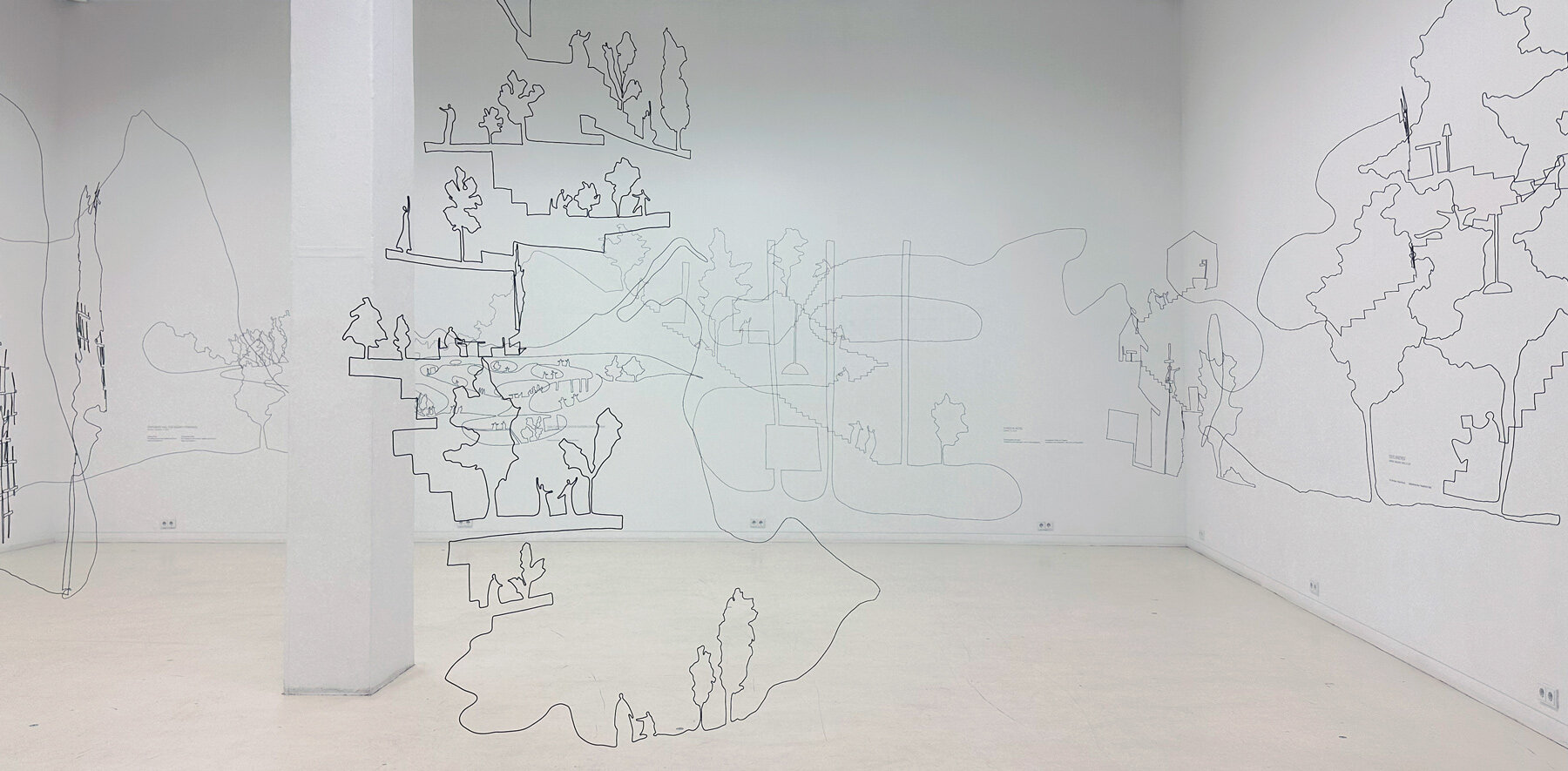 the wire objects form a continuous line illustrating people, nature, and architecture
DB: the exhibition hosts a selection of the studio's projects, ranging from stacked houses to structures inspired by trees and rooftops adorned with forests. What is the inspiration behind these projects?
SF: We have 12 projects here, and I specifically selected those projects that clearly show unity or integration of different things, including nature, architecture, city buildings, landscaping, and people's lives. These projects display how different aspects can be effectively integrated. Similarly, the university building serves as an experimental translation of a forest, where one branch jumps to another while translated into architecture so that everything is drawn in a line. The spatial drawings associated with these projects go beyond precise outlines or architectural shapes. They aim to convey the concept and essence of each project, highlighting the importance and value behind the physical manifestations. These drawings address spatial problems and encourage people to think about the design concepts presented.
DB: Your portfolio includes projects in Japan, China, and some in Europe. What challenges or opportunities do you encounter to adapt the projects in different geographical and cultural contexts?
SF: This is not about bringing my style to different places; instead, it's always about individual collaboration in projects that have independent and diverse backgrounds. That's why it is quite diverse in nature. It truly is a wonderful encounter, rather than a mere discovery, for each other. I really enjoy working on projects in different regions across the globe. It allows me to appreciate and draw inspiration from the wonderful diversity found in different backgrounds, including cultural heritage, climate conditions, histories, and lifestyles.
I'm really impressed by how the whole world is full of such different but amazing cultures. For every project, I make it a point to respect the starting point and existing conditions, as well as the multiple layers of background that shape the context. Simultaneously, I seek ways to bring all these things and connect them to the future. This process of integration and connection is what excites me creatively. It involves engaging in discussions with local people and collaborating with our team.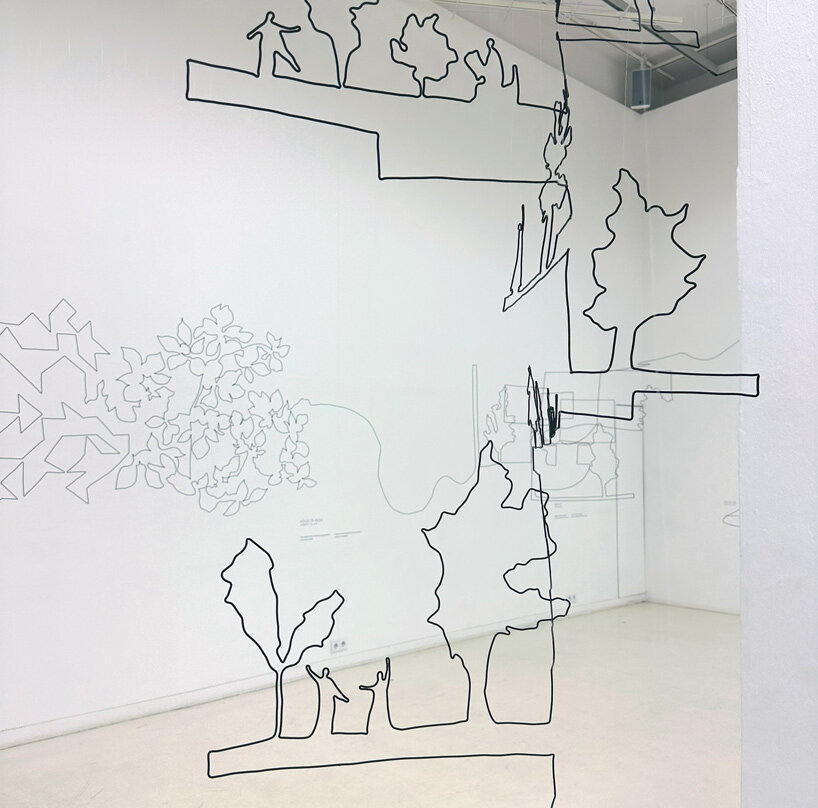 depending on the viewpoint, various scales and scenes can appear as a three-dimensional drawing in a space | image © designboom
DB: L'Arbre Blanc in Montpellier and the house music in Budapest are two notable projects that demonstrate your ability to combine functionality with poetic design. Can you describe the thought process behind these projects and how you achieve this balance between practicality and playfulness?
SF: The L'Arbre Blanc in Montpellier and the house music in Budapest are two highly symbolic projects that drew inspiration from the local environment and sought to translate it into their designs. That is why both projects do not look the same and instead adapt to their respective situations. Regarding the L'Arbre Blanc project, we started with the idea of incorporating the wonderful weather and Mediterranean climate conditions of the region, as well as the centuries-old lifestyle that has prospered in such favorable climates. The concept was simple: to create large balconies and terraces that would facilitate a traditional outdoor life, but in a new vertical and expressive way. This approach allowed us to maintain the building's simplicity, strike a good balance between economy and functionality, and eliminate unnecessary processes.
However, as we delved into the design of the balconies, they naturally transformed into something remarkable. It was important for us to capture a special moment, not just through the architectural shaping but also by considering the residents' experience of living in the air, connecting with the city, and embracing the climatic conditions. The facade of the building surprisingly captures the beauty of the sun, further emphasizing the building's existence.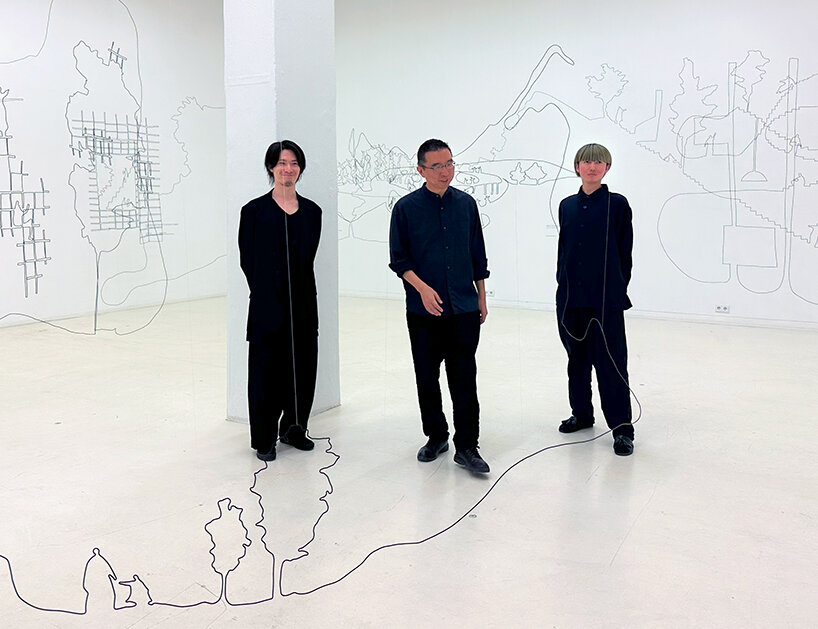 image © designboom
he continues: In the case of the Budapest project, it is situated in the middle of a beautiful green park adorned with numerous wonderful trees. Music is very important for the Hungarian people, and thus, this location is the magic of beautiful nature and the cultural heart of passionate people. I aimed to respect those wonderful forests and create a poetic and enjoyable space where music could be played and listened to. The idea was to create a transparent musical venue harmonizing with the surrounding forest. It was essential for not just the auditorium itself, but the entire area to possess a semi-interior, semi-exterior ambiance, allowing visitors to perceive the building as an extension of the park, with the roof providing shade while still remaining open to the trees.
We designed many canopy areas so people can pass through the park and feel immersed in the environment. Then, of course, the details and the construction should be well considered. And especially the seating design was very key for that project. Finally, we chose a light, delicate golden color scheme and combined different shades of gold to create a sense of continuity with the music. This design choice aimed to reflect the changing seasons, from spring to autumn. Even during wintertime, the musical venue retains its allure, and house music itself possesses the power to attract people, even in the middle of the snow. So, conceptualizing the fusion of forest and architecture is a very big challenge, both intellectually and emotionally.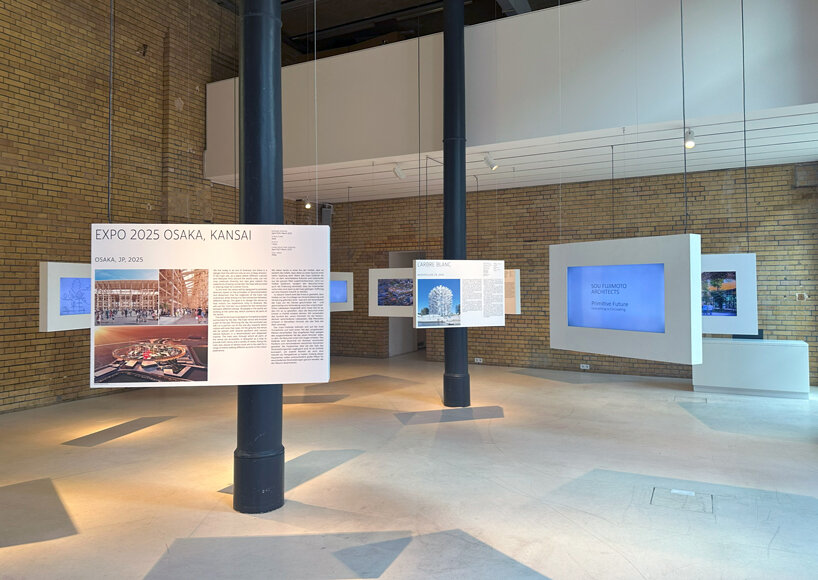 in his poetic projects, the Japanese architect aims for a balance between simplicity and complexity | image © designboom
DB: What is the message you want to convey with this installation?
SF: I feel that everything is linked and related to each other. Considering this architecture, it could be seen as a part of nature, where meanings constantly change and become more like a landscape. Therefore, the superficial definition is not very important. We need to explore the reality and understand what it truly is. These transformations and metamorphoses conceptualize the idea of treating nature, architecture, and other aspects of people's lives as equal, interconnected, and integrated. This message is incredibly important.
It is essential to always consider both diversity and simplicity together, as they constantly influence and impact each other. I want people to walk around. It is a truly unique and intentional experience, similar to encountering an art installation. I hope people will walk around and find out unexpected encounters of layering that define the projects. Sometimes, they may lose the depth of the spatial drawings or be surprised by the transition from a two-dimensional to a three-dimensional space, revealing hidden depths. It is an exploration that blurs the boundaries between two dimensions and three dimensions, and perhaps even the fourth dimension. Ultimately, I hope people to enjoy these spatial experiences.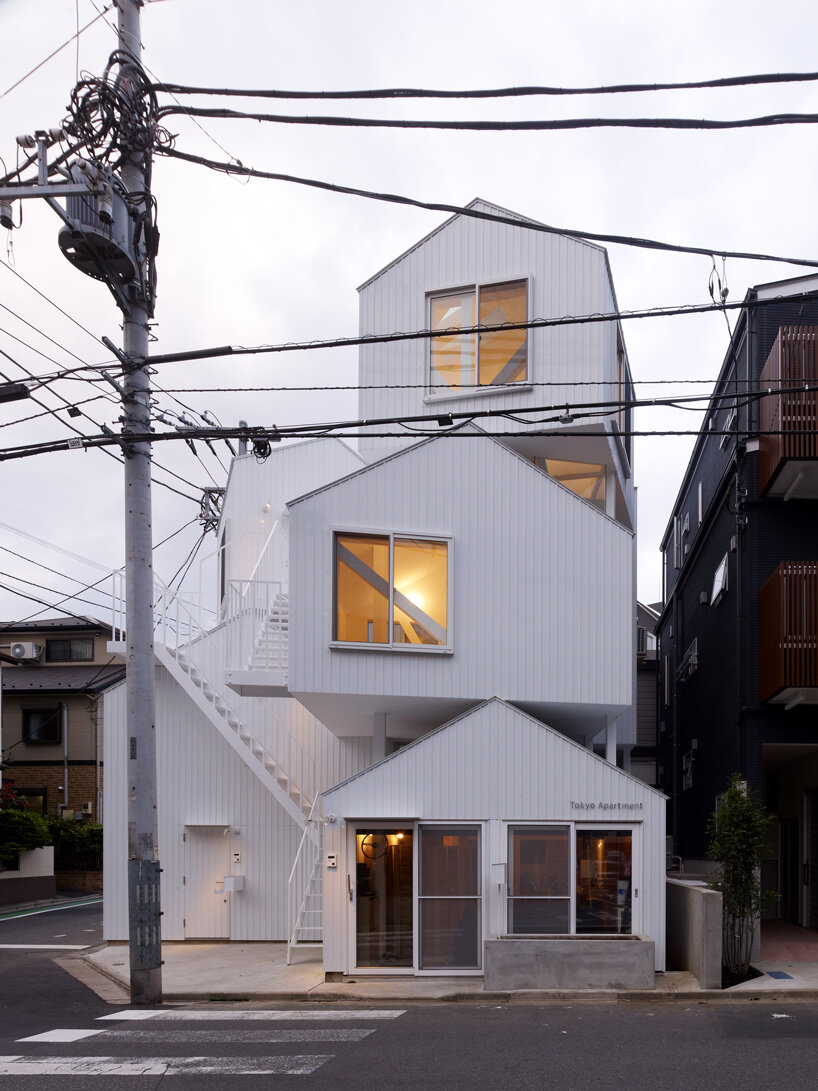 Tokyo Apartment, Komone, Itabashiku, Tokyo, JP, 2010. © Daici Ano
DB: what are you working on at the moment?
SF: Luckily, we undertake a diverse range of projects, both larger and smaller scale. The biggest project I am working on is the master design of the Expo Osaka 2025. For this, I proposed a huge ring-shaped roof that serves as a circulation map. The roof not only protects people from sunlight and rain but is also enormous, with a diameter of almost 700 meters. We are designing it using a wooden structure, which presents unique challenges due to the scale and materials involved. However, Japan has a wonderful tradition of historical wood construction, and I aim to draw inspiration from it and blend it with new technology in the construction process.
This work is not only a wonderful trial for working on such a large scale but also an exciting challenge in terms of innovative construction techniques. On the rooftop, visitors can go up and experience a lifted surface that resembles a bank, allowing them to appreciate the sky above and feel completely immersed in the environment. As the location is in the middle of Osaka Bay, no tall structures are around, offering a clear view of the sky in a pure circle. And that must be a very impressive experience that people will look up at the same circle in the sky. And you can imagine we are really sharing this precious nature, and everybody is under it. It's not just about technical construction but also about creating unforgettable experiences for everyone to cherish.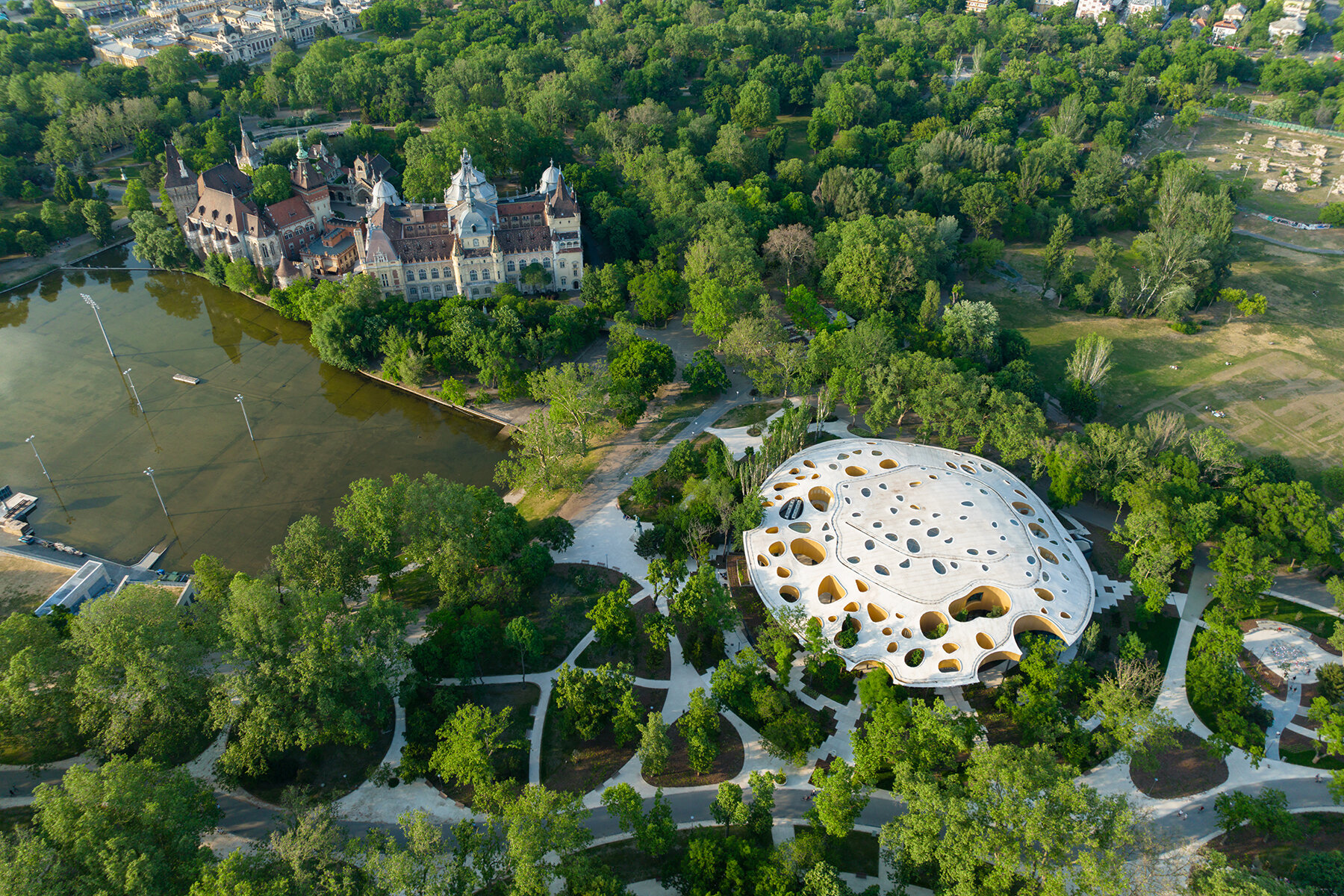 House of Music, Budapest, HU, 2022. © Iwan Baan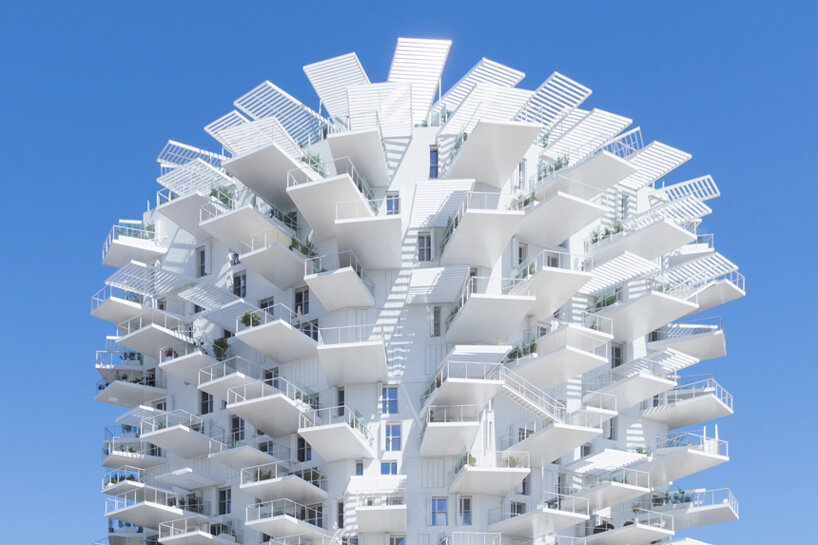 L'Arbre Blanc, Montpellier, FR © Iwan Baan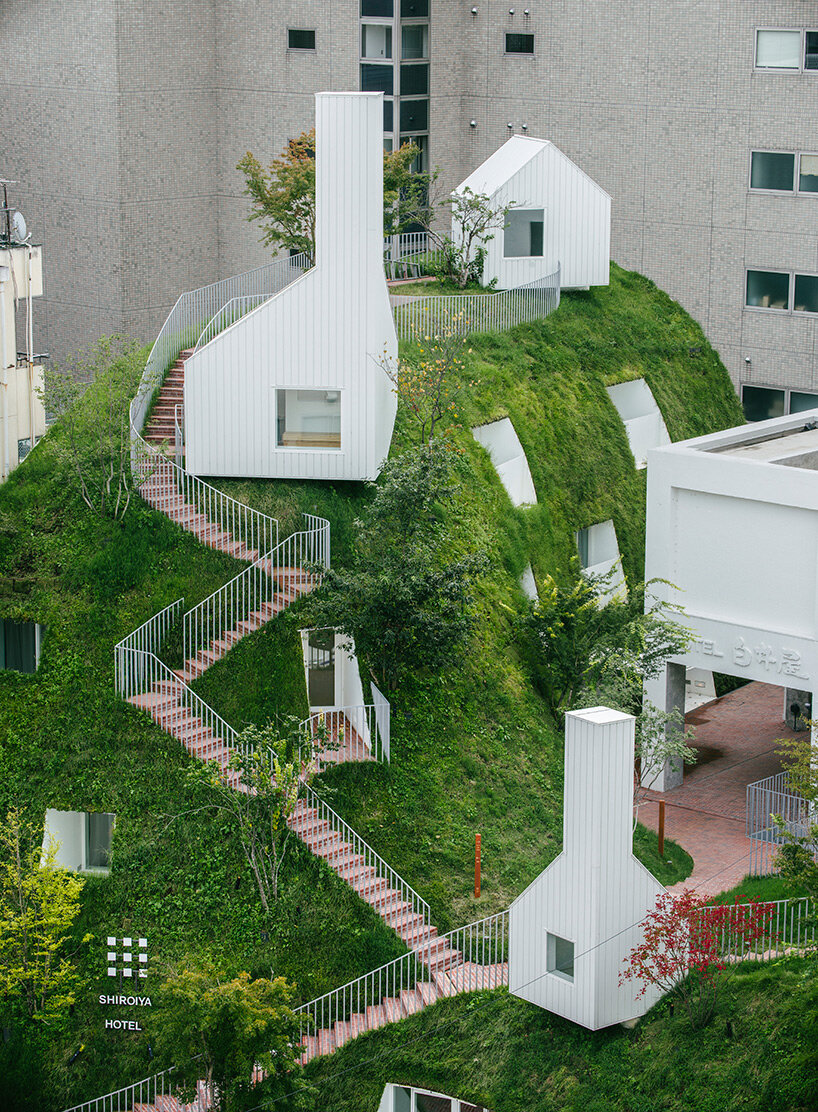 Shiroiya Hotel, Gunma, JP, 2020. © Katsumasa Tanaka
House NA, Tokyo, JP, 2011. © Iwaan Baan
MAU, Sou Fujimoto Architects. ©Daici Ano
Serpentine Pavilion, Sou Fujimoto Architects. © Iwan Baan
Expo 2025 Osaka, Sou Fujimoto Architcts © Sou Fujimoto+ Tohata Architects & engineers + Azusa Sekkei
Temporary Hall for Dazaifu Tenmangu, Sou Fujimoto Architects © SFA
House of Music, Budapest, HU, 2022. © Iwan Baan
project info:
name of the exhibition: Primitive Future – Everything Is Circulating
architects: Sou Fujimoto Architects | @sou_fujimoto
venue: Aedes Architecture Forum | @aedesberlin
location: Christinenstr. 18-19 10119 Berlin
dates: 15 July – 30 August 2023

christina petridou
I designboom
jul 21, 2023
KEEP UP WITH OUR DAILY AND WEEKLY NEWSLETTERS
a diverse digital database that acts as a valuable guide in gaining insight and information about a product directly from the manufacturer, and serves as a rich reference point in developing a project or scheme.
designboom will always be there for you
milan, new york, beijing, tokyo

,
since 1999