earlier this year, designboom previewed the 'shiroiya hotel', a new art and culinary destination in the japanese city of maebashi. the project's architecture and interior design was carried out by acclaimed architect sou fujimoto, with many of the guest rooms designed by creatives such as michele de lucchi, jasper morrison, and leandro erlich. comprising two main parts, the 'heritage tower', a renovated building that dates back to the 1970s, and the 'green tower', a new building that appears as a piece of undulating landscape, the hotel has a total of 25 rooms.
with the 'shiroiya hotel' now open to guests, designboom spoke via zoom with the project's architect sou fujimoto. in the interview, fujimoto tells us more about his design concept for the project, and why nature is such an important part of his work. read the exclusive interview in full below.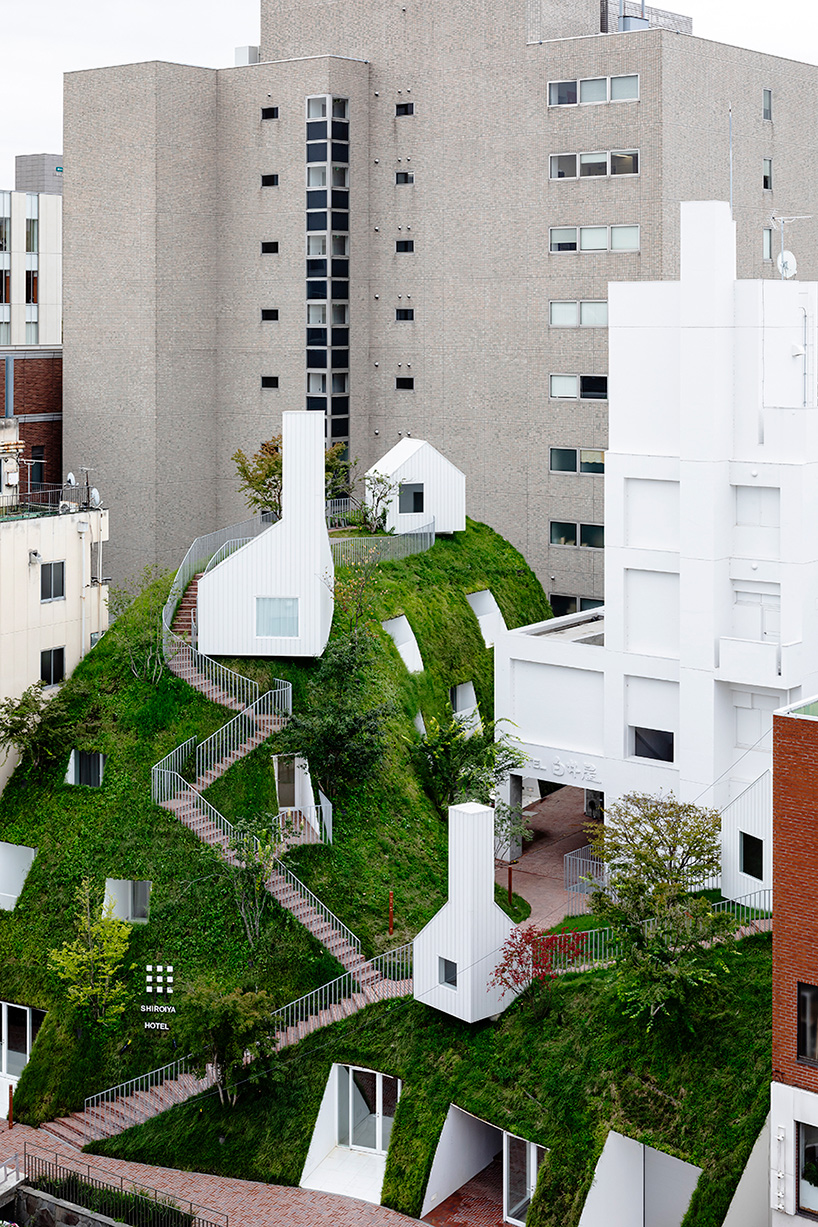 all images © shinya kigure, unless otherwise stated | video © designboom
designboom (DB): what was the brief for the project, and what did you set out to achieve with your design?
sou fujimoto (SF): the client (mr. tanaka, founder and CEO of eyewear company JINS) and I have known each other for around 20 years, so we know each other very well. one day, I got a phone call from him that he got a hotel building, but the previous hotel was already closed. the city of maebashi is the place where he was born and grew up — it's his hometown. he wanted to renew this hotel, to activate it and revitalize the whole city. at the very beginning, we didn't have a specific, precise brief. we knew it should be a special hotel, but we didn't have the number of rooms or a concept.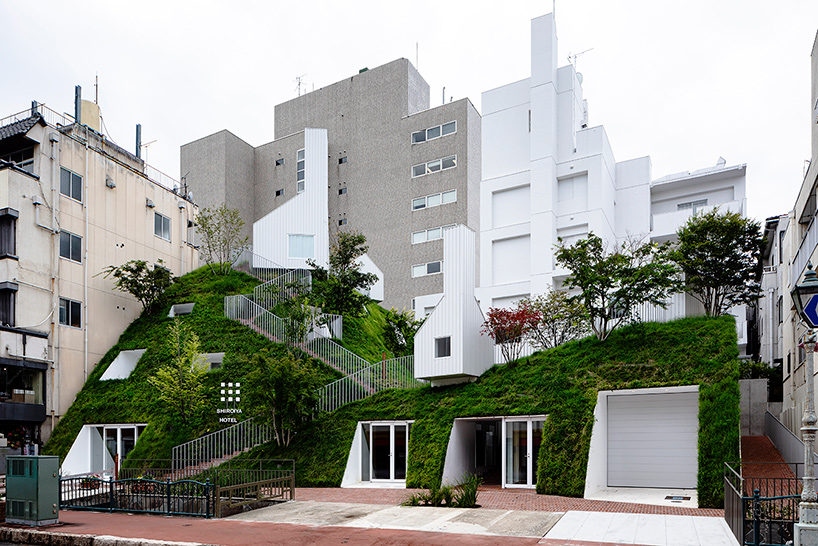 'green tower' by sou fujimoto
SF (continued): we started discussing the concept, and included many specialists in hotel design and other things. the whole team is around five to ten people. every month we had a discussion about what to make, and how to make it. then gradually, the program and architecture became fixed. at the beginning, when I visited the site, I saw the existing building. the structure is reinforced concrete and four storeys high — it's a very normal building. I thought, if we just do an interior renovation, it wouldn't be a very special place.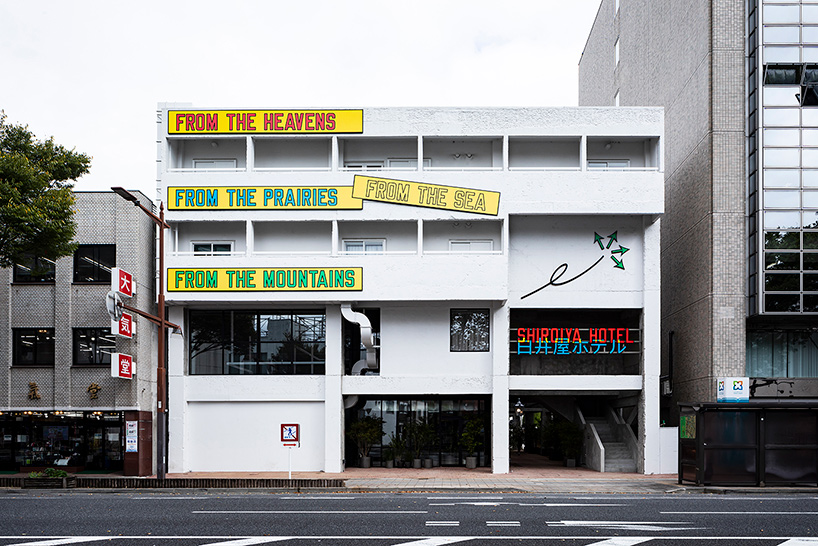 'heritage tower' renovation by sou fujimoto, artwork by lawrence weiner
SF (continued): I thought about demolishing the slabs and keeping the beams and columns to create full-height, atrium spaces, with sunlight coming through the skylights. then it could be a large void in the middle of the city where local people could meet. also, visitors and guests could feel like it's the starting point to explore the whole city. those were the very early inspirations. then, finally we realized it, but we didn't only realize our initial inspirations, but we developed a whole concept. some of the site next to the existing site became available. we had a larger plot, and we started thinking about making a new building too. so we would be renovating the existing building, and then combining it with the new building to create the whole experience of the hotel.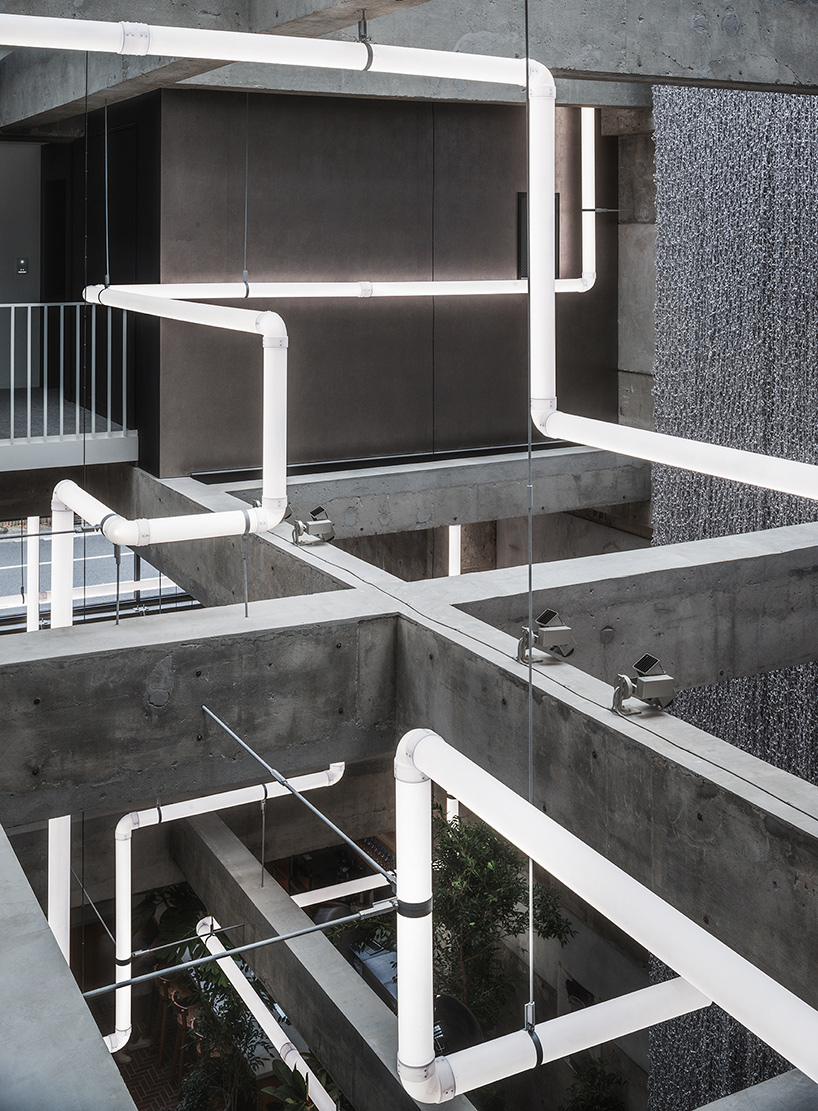 interior by sou fujimoto, artwork by leandro erlich | image © katsumasa tanaka
DB: how important was it to bring a sense of nature into this project?
SF: the city has a lot of potential — it has a nice, human scale. for me, the city itself is already quite attractive, but I thought the hotel should be a very special place. from my personal background, I have always been interested in integrating the natural environment with an architectural environment, because I don't like to divide nature and architecture. nature has a nice diversity, and it's more of an open place where people can choose where to sit, or what to do. those kinds of open places for diversity are amazing. so translating the fundamental aspects of nature into architecture, or mixing nature into architecture, is one of the most important things for me.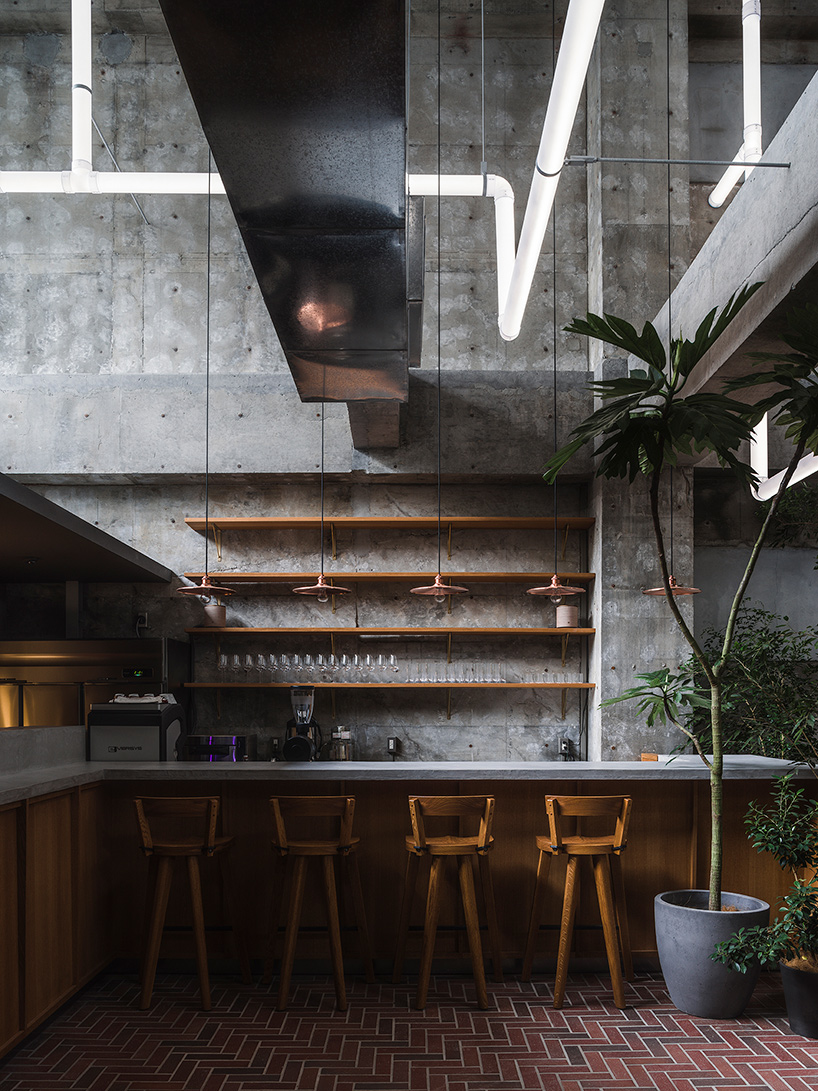 interior by sou fujimoto, artwork by leandro erlich | image © katsumasa tanaka
SF (continued): in this case, from the beginning, we had the idea to create huge atriums. the clients liked that idea, so then we thought about bringing nature into the atrium too, so that people can feel it's not just an interior space, but some kind of garden, or new environment mixing nature and architecture. we started to think about the new buildings behind it, and tried to extend the concept of greenery — kind of a 'green room' into the urban environment. also, one interesting point of the project was that the plot already had a small pathway running through it from the front of the street to the back, which was rather tiny, but human scale. from the very beginning, it already included a kind of urban feeling — not just buildings within a plot, but a site with a street and a flow of people.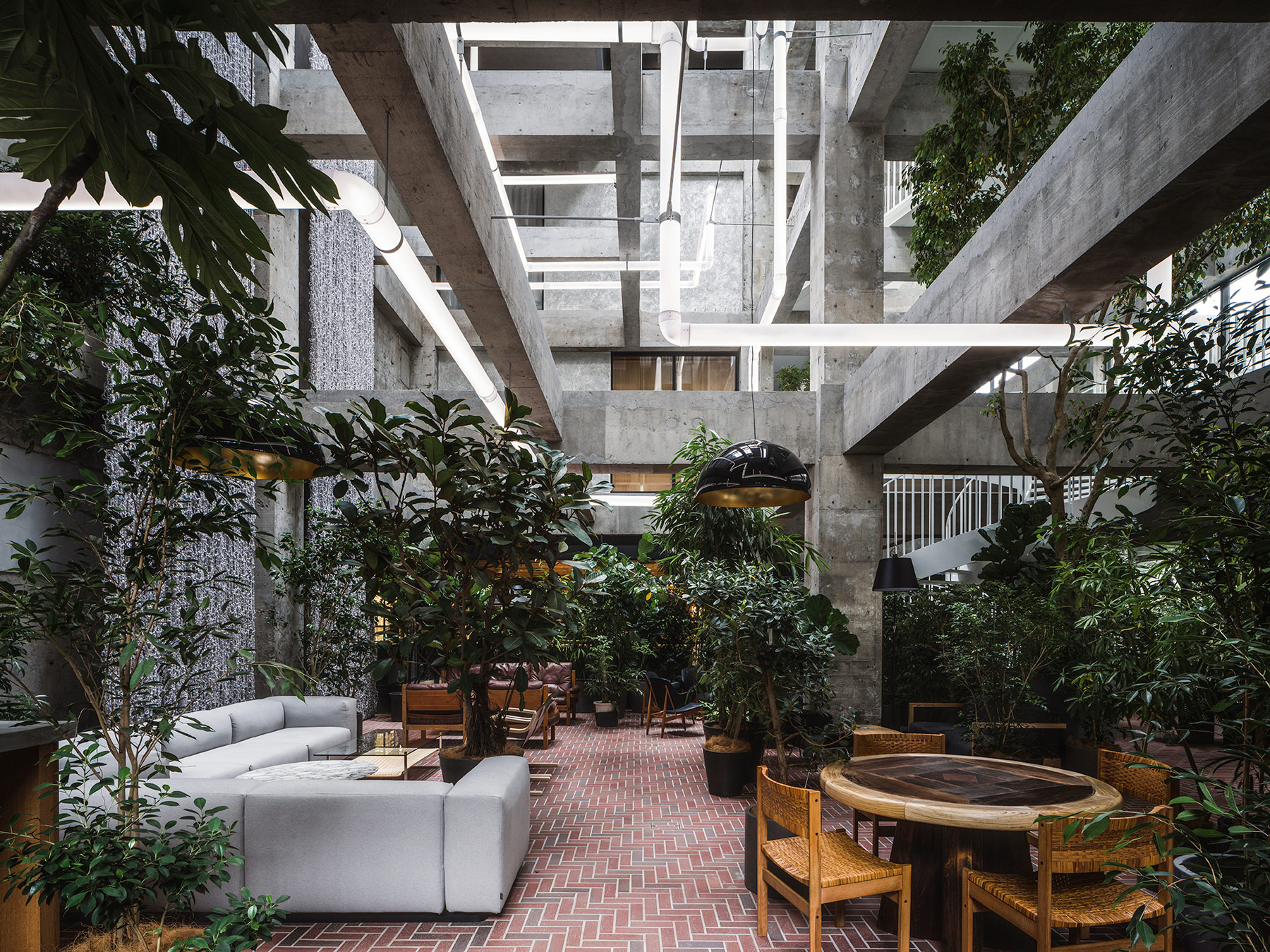 interior by sou fujimoto, artwork by leandro erlich | image © katsumasa tanaka
SF (continued): so the idea was to combine the existing building's green atrium spaces, with the exterior hill-like landscape as part of a continuous experience of nature within the city. we made a very hilly landscape because the level from the front of the street to the back of the street was very different — almost a one storey difference. we had to have a pathway go up the plot. the surroundings mix a typical japanese landscape with many different sides of the buildings — it's a rather chaotic situation, but it still has a nice atmosphere as a whole.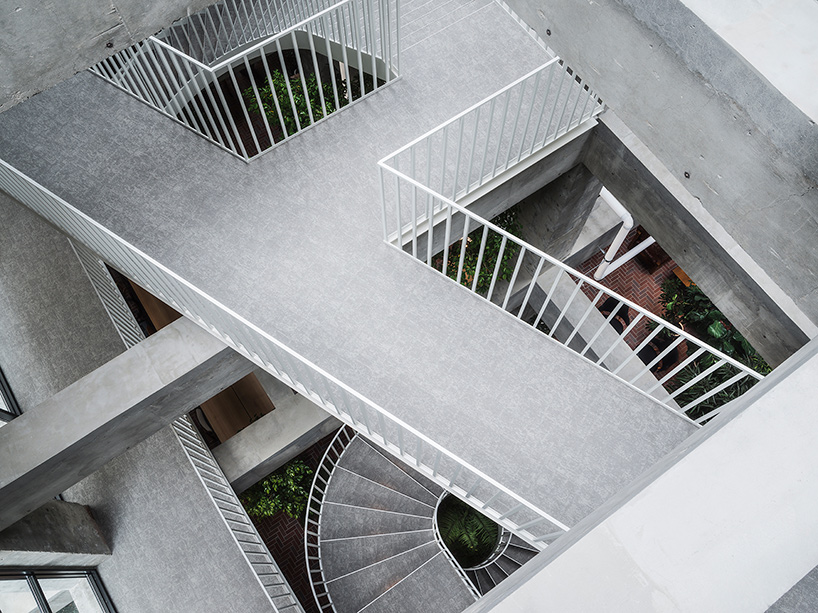 image © katsumasa tanaka
SF (continued): we thought it would be nice to bring in something completely new, but, at the same time, it should have harmony with the existing urbanscape. we found out that this area has a big river next to the city. from thousands of years ago, a topography was created, like a hill or stepped landscaping, and maybe the level difference was also made by that. we tried to combine the ancient memory of the site with the new buildings. visually it's completely new, but it links to the history and ancient topography.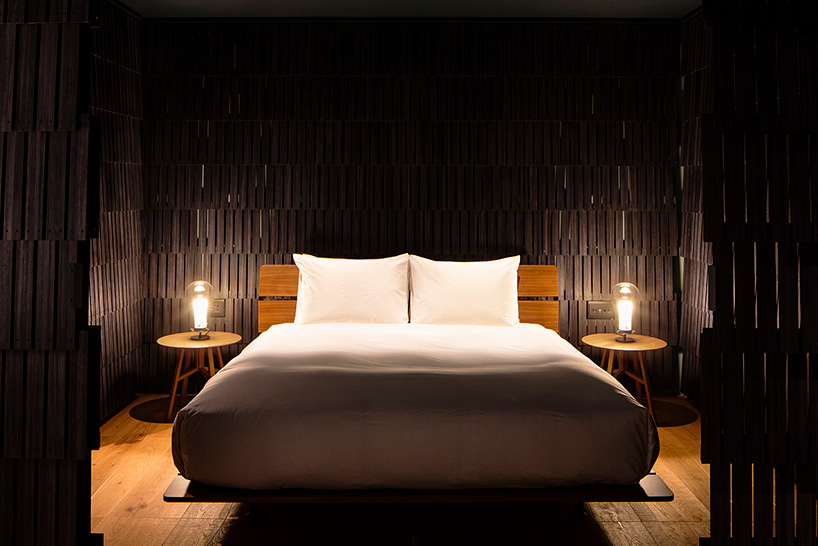 'heritage tower' — special room by michele de lucchi
SF (continued): we thought there should be a harmony, and should be a surprise to local people. we carefully designed the topography because we have rooms and programs within it, but, at the same time, it should feel like a new dynamic experience — not just going from the back street to the front level. people can climb up it, and can experience this urbanscape in a three-dimensional way.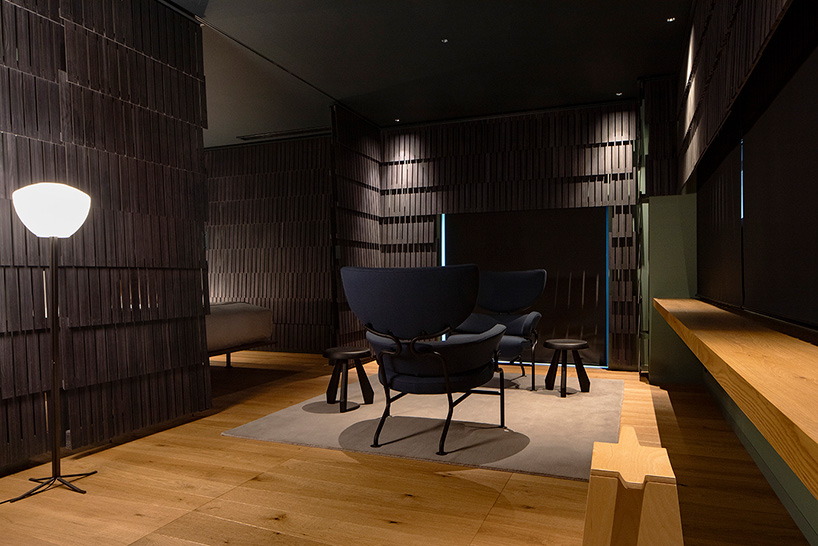 'heritage tower' — special room by michele de lucchi
DB: what were the challenges of transforming and renovating the existing building?
SF: after demolishing the ceilings, we realized that the building wasn't the same as the existing drawings. the most challenging part was after demolishing, because the cracks and rough textures were lost. it was more of a kind of craftsmanship to make new textures that harmonized with the existing structures. these details are not part of a normal construction process. it's more of an artistic and craft-based process, but it was needed to harmonize the whole atmosphere.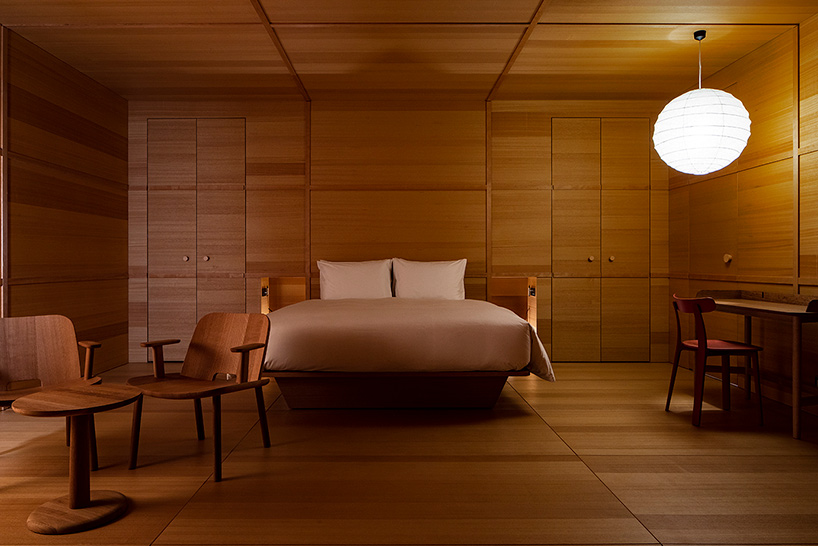 'heritage tower' — special room by jasper morrison
SF (continued): program-wise, by demolishing the floors, we were left with fewer floors. the clients were really understanding that it's not just about the number of floors, but more about the value of the space and the experience. finally, we had a good balance. it became a very special place, and each room has its own special characteristics. I think the strategy was good.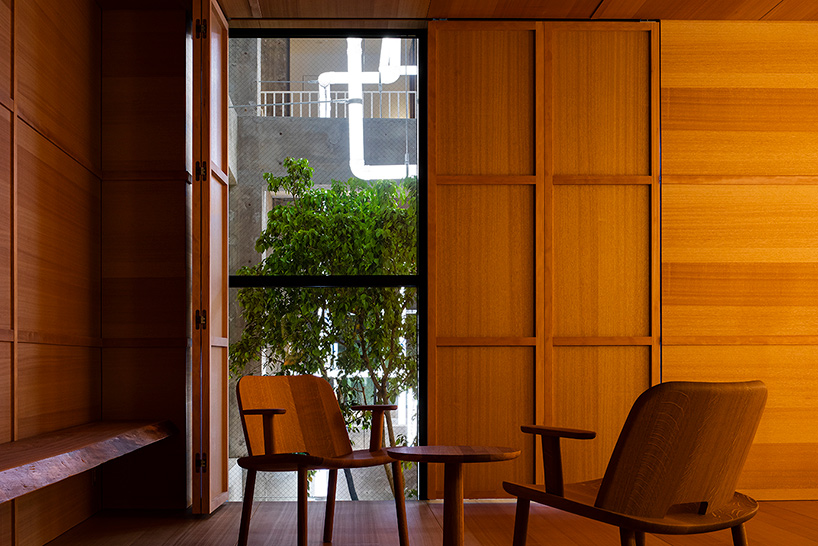 'heritage tower' — special room by jasper morrison
DB: there were many contributions from great artists and designers working on the project, such as michele de lucchi and jasper morrison. what was the collaboration with them like? were you inspired by their work?
SF: it was a nice collaboration. not such an interactive relationship, because before they became involved, we had already fixed the basic structures. for example, leandro erlich visited the site for the first time when the demolition of the building had already begun. he saw it, and the existing structure was very powerful, so he drew inspiration from that. for him, visiting the site and seeing the history, real or unreal, of the buildings helped his ideas come forward. as a finished situation, both of the works — our architecture and his artwork — really relate to each other. I was really impressed by that.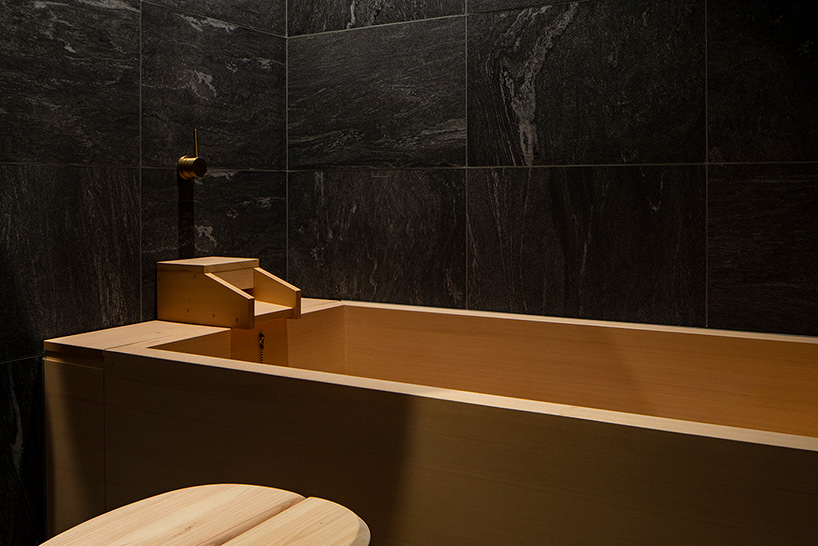 'heritage tower' — special room by jasper morrison
SF (continued): each of the rooms are closed, single small works. I really enjoyed seeing how such great designers thought about it perfectly as a small world, and each of them has such different characteristics. the client played a very important role in the collaboration, because he's a man who speaks about his visions in a very positive way and then everybody wants to be involved. we are very lucky to be part of that.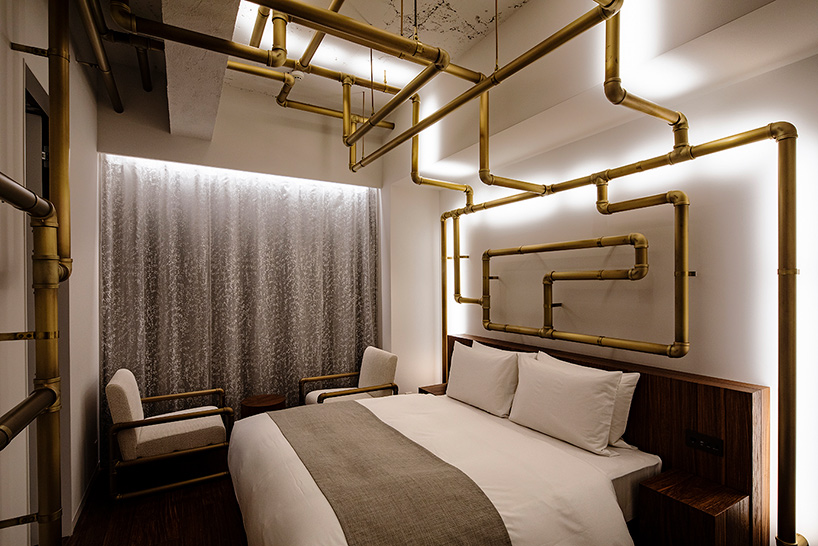 'heritage tower' — special room by leandro erlich
DB: in normal times, you must travel a lot. what kind of hotels do you like to stay in, and how did your experiences inform this design?

SF: I have an office in paris and, before this pandemic, I had one specific hotel that I would stay in every time I was there. it's quite a cozy, boutique hotel, not so many rooms, and everybody already knows me — so it's like a home. we (the team) discussed many hotels, and everybody spoke about their experiences. for me, I'm so often in the same hotel in paris that I don't have such a great range of experiences. of course, as an architect, I'm designing some hotels, and some experiences — this is the first finished one, but we also have ongoing hotel projects.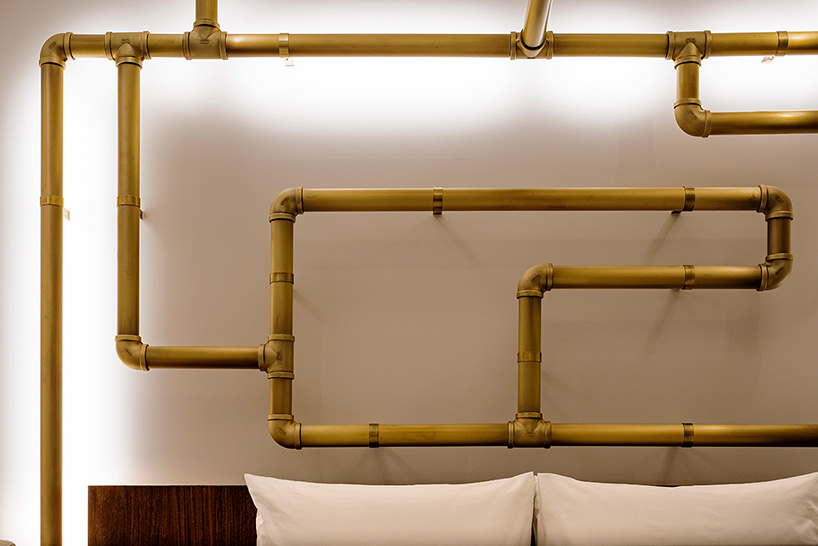 'heritage tower' — special room by leandro erlich
SF (continued): every hotel is really different because it has to reflect the client's vision as well as its location and surroundings. that is a very exciting point. especially in this case, the city of maebashi is not a resort, or kyoto where everybody comes just for the city, so we needed to make the hotel a destination. we had to make the hotel the starting point for people to experience the whole city. it's not just a hotel, it is the representation of the city in a sense. it should include some feelings of the urban experience already within it, but, at the same time, it should be very cozy and comfortable to stay there.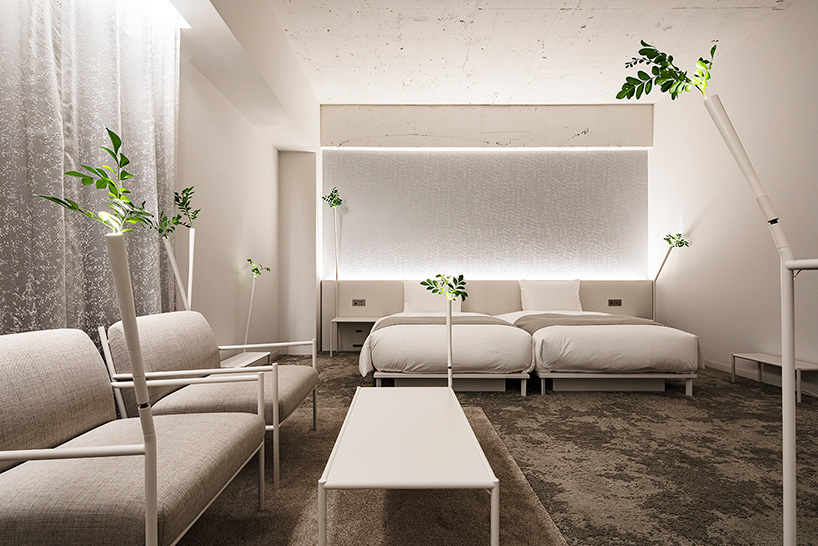 'heritage tower' — special room by sou fujimoto
DB: what kind of impression do you want to leave on the hotel's guests?

SF: the client integrated art pieces within the hotel, so it's more like a three-dimensional museum — not only within the guest rooms, but also in the public spaces and on the exterior too. for every activity, the experience and impression of the space is different for people who are interested in art, or more interested in food, or just relaxing and walking around the city.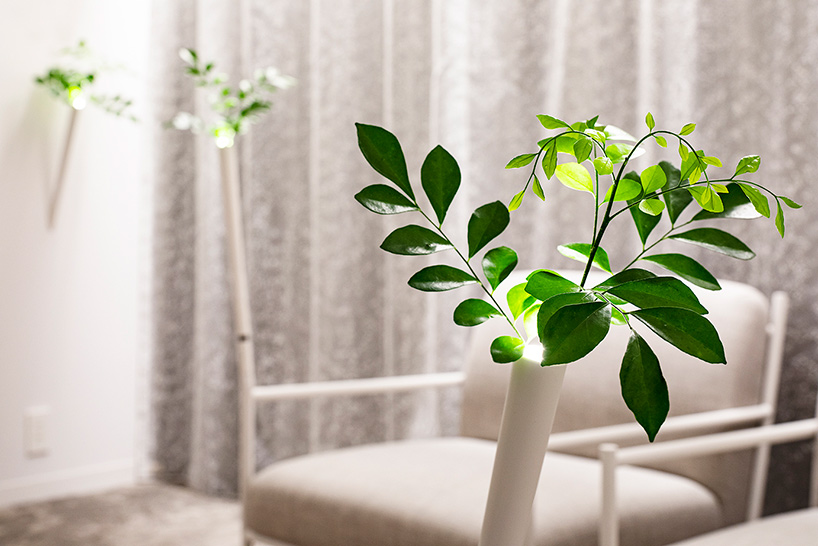 'heritage tower' — special room by sou fujimoto
SF (continued): those different layers of people can come together in this place, to communicate and have unexpected encounters. local people can visit daily, enjoy the whole atmosphere, and then have a conversation with a guest — so it's a meeting place. the project took around six years, but this long term process made it quite rich because we created many layers, step by step. we created a whole harmony, but, at the same time, we were able to integrate many diversities within it.
the shiroiya hotel is now open — reservations can be made online.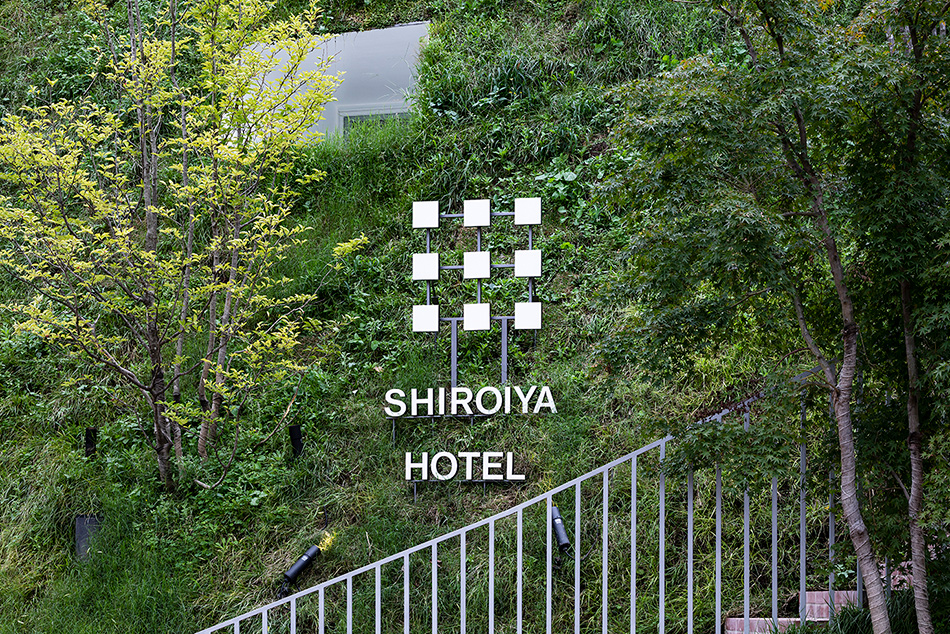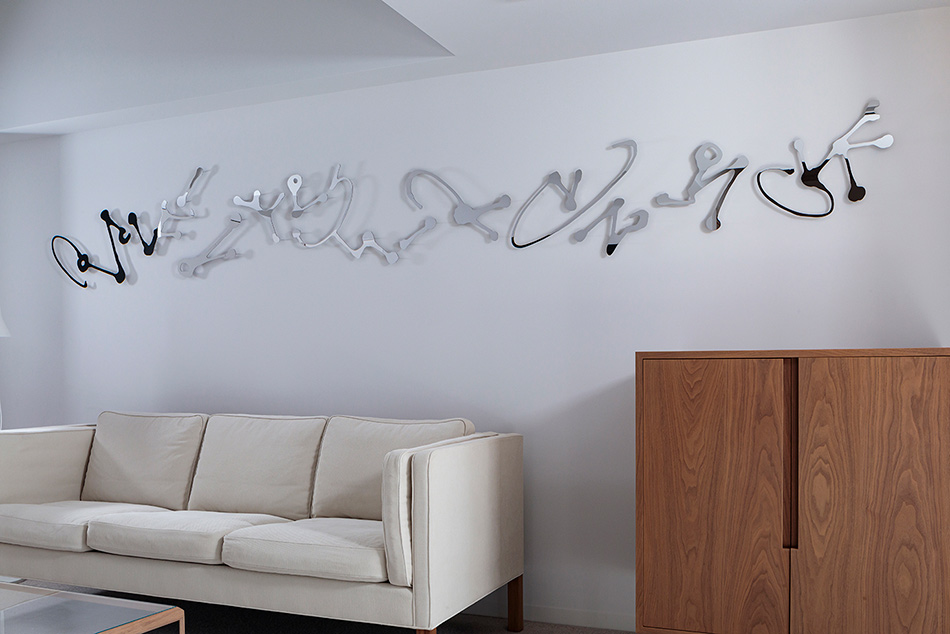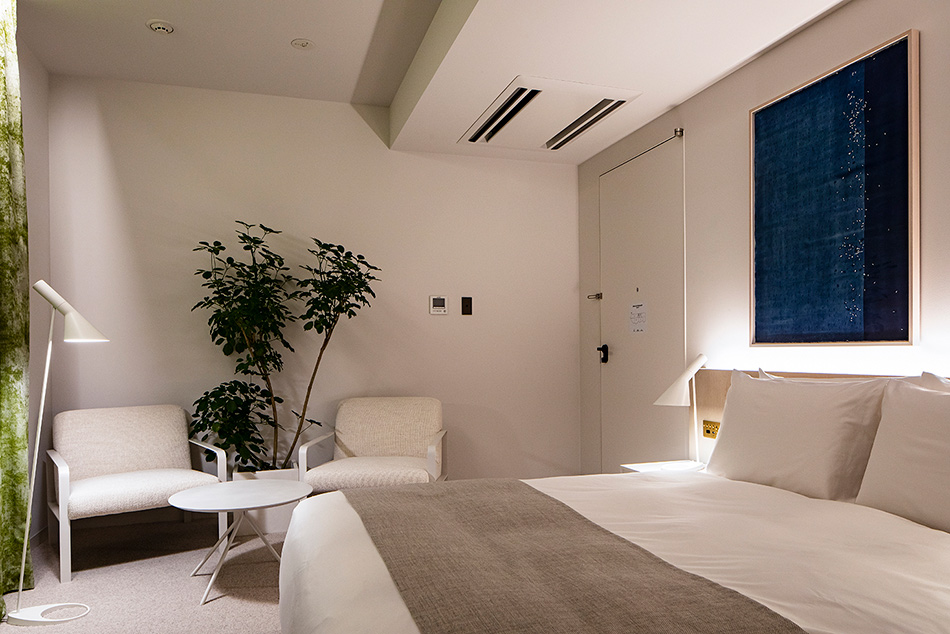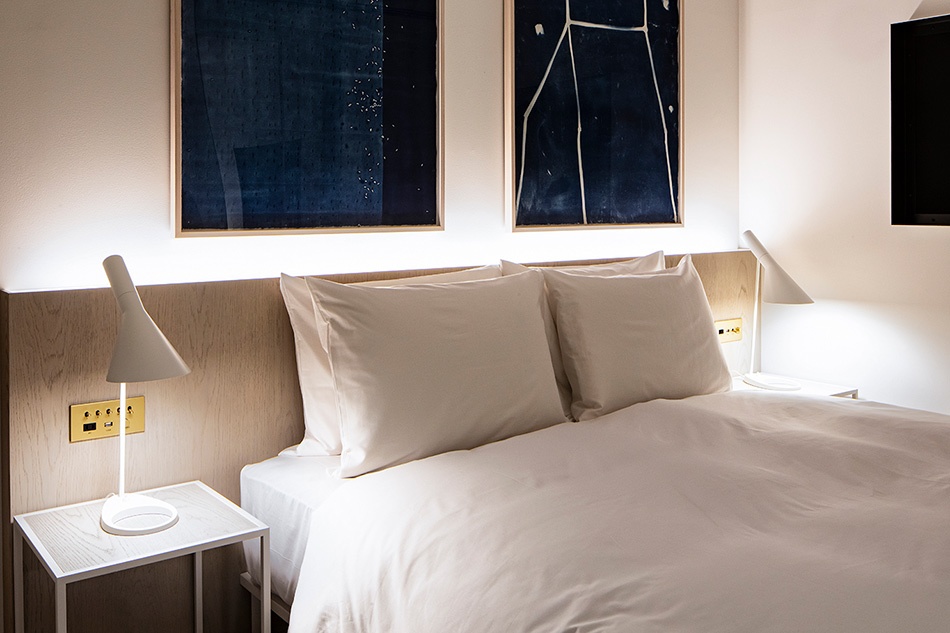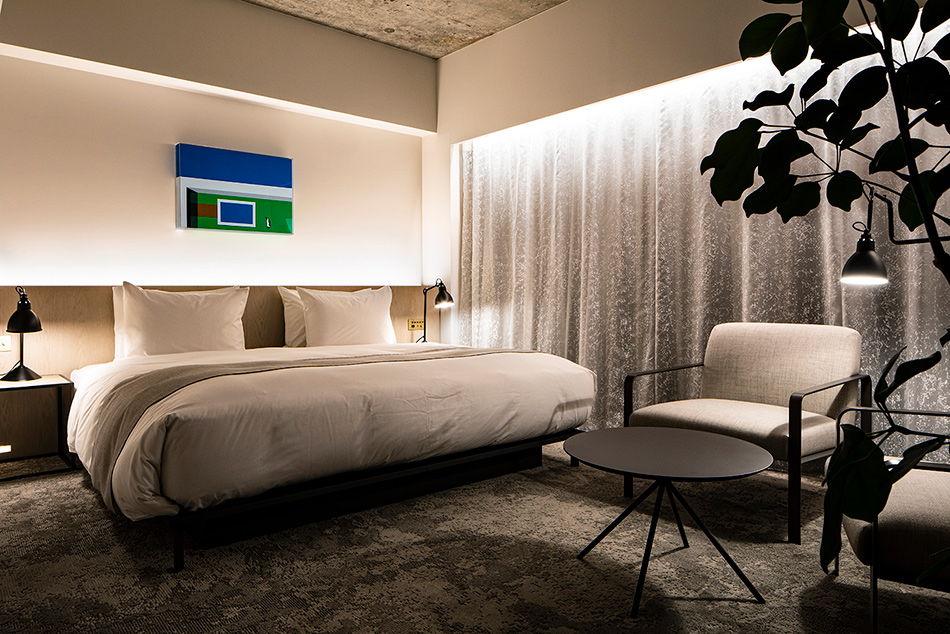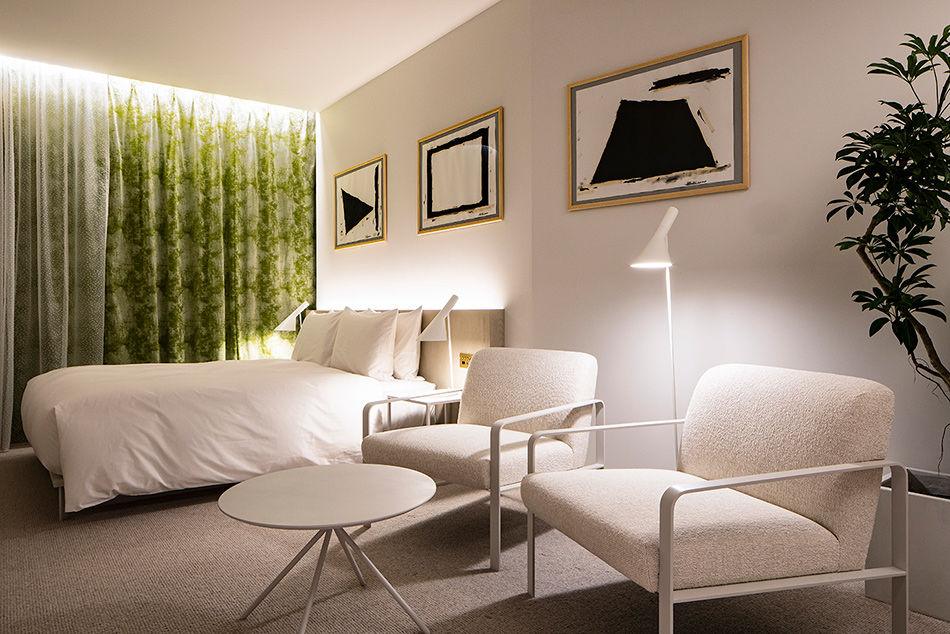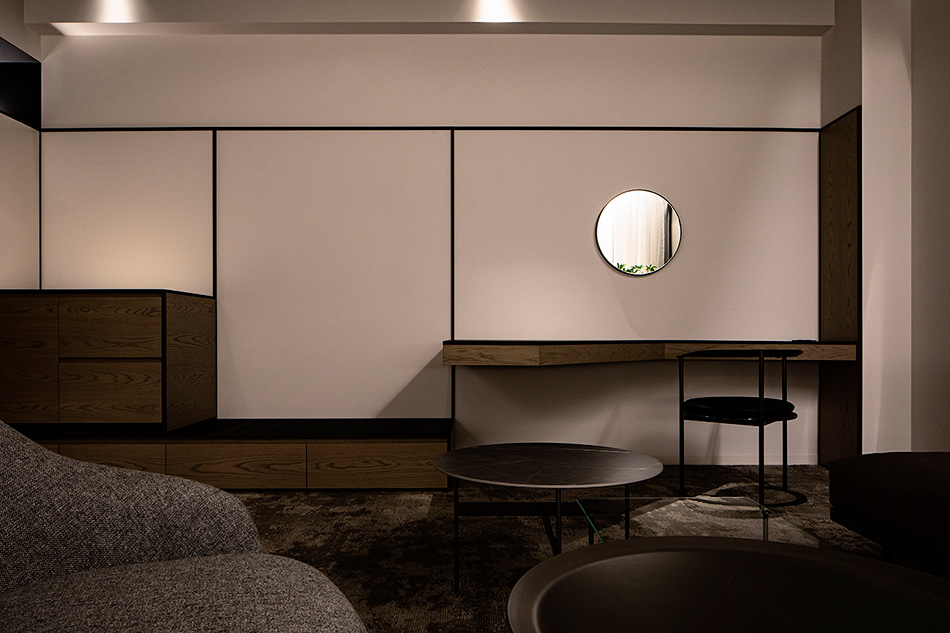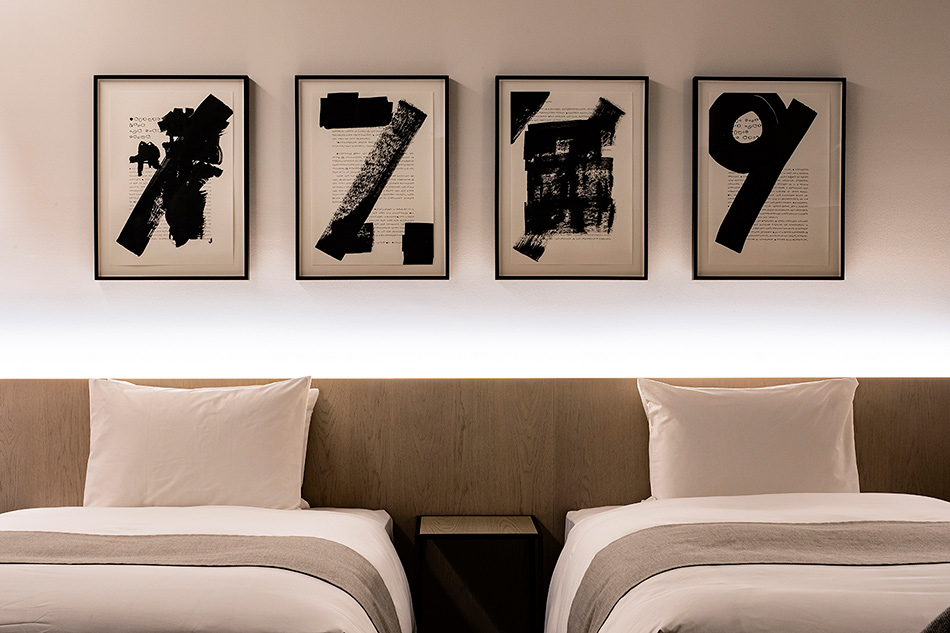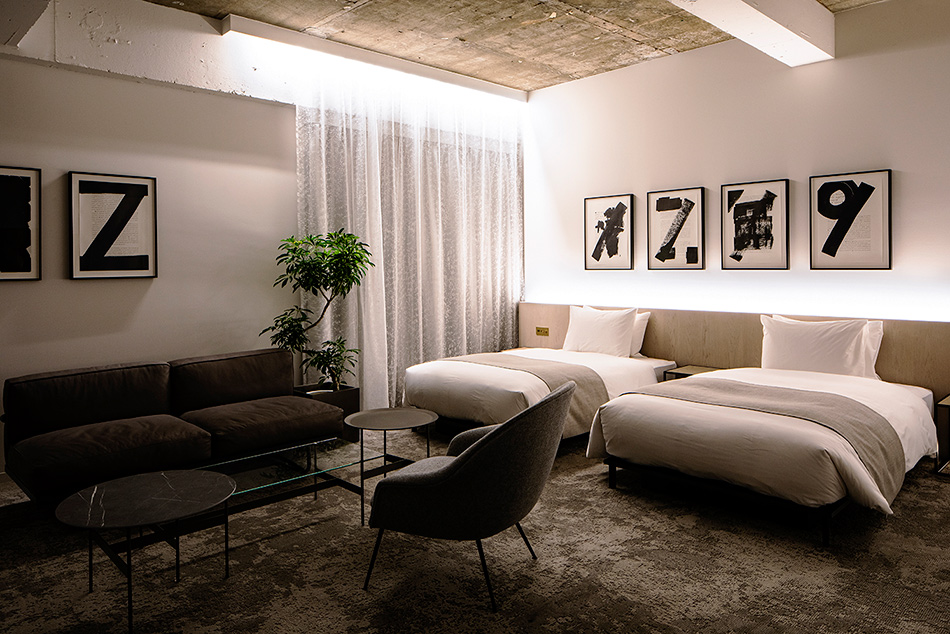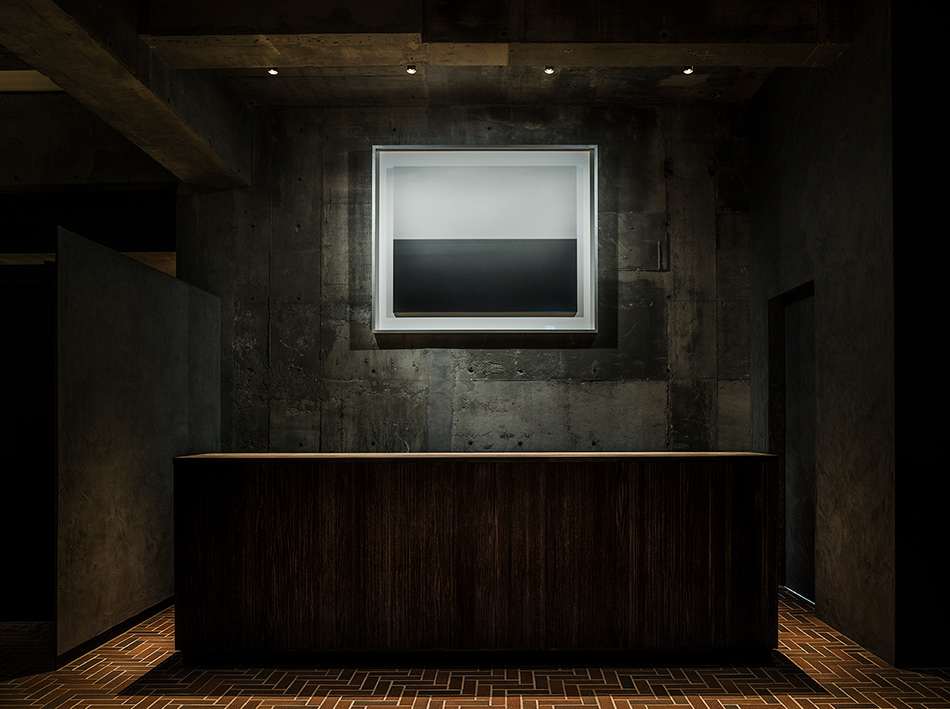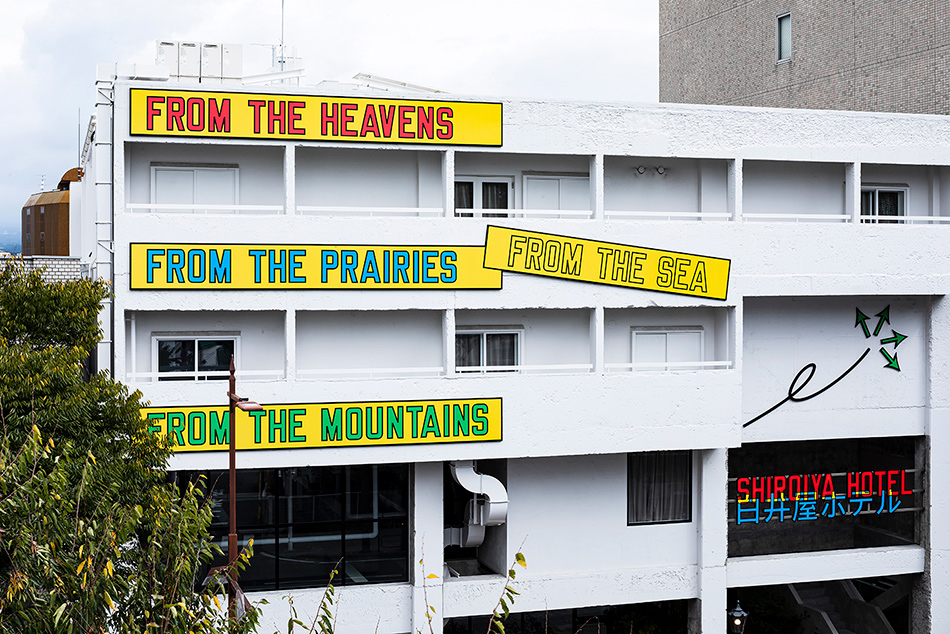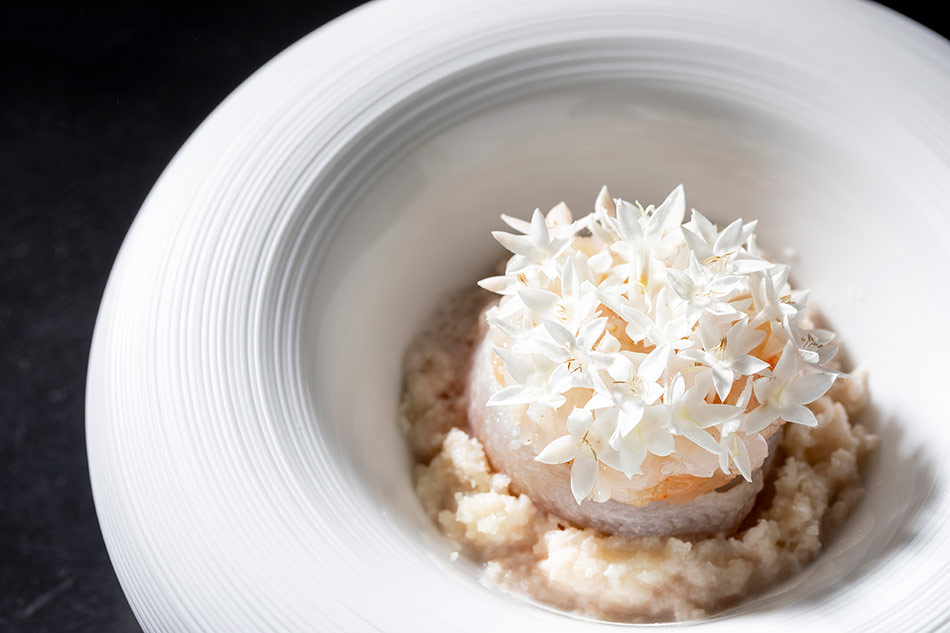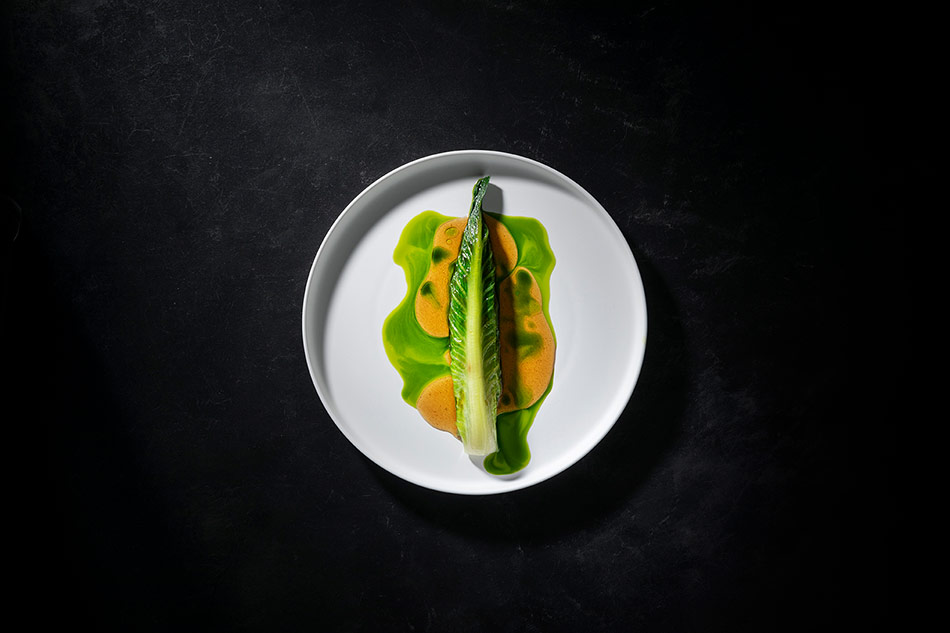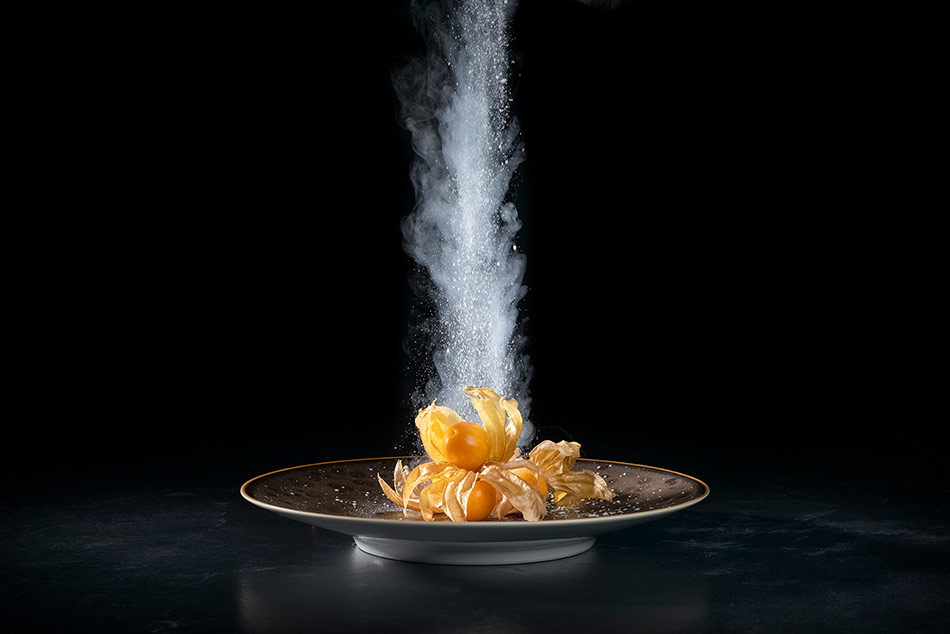 project info:
name: shiroiya hotel
location: 2-2-15 honmachi, maebashi, gunma 371-0023 japan
rooms: 25 rooms (17 at heritage tower and 8 at green tower)
facilities: heritage tower: reception, restaurant, lounge | green tower: finnish sauna, mist sauna
structure: RC structure 4-story building
area: 2,565.46 sqm (heritage tower: 1,744.52 sqm and green tower: 820.94 sqm)
access: 15-minute walk from JR maebashi station; 1.5-hour from tokyo station by bullet train; 2-hour from tokyo by car
opening: december 12, 2020 — reservations can be made online
architecture and interior design: sou fujimoto
guest room design (special rooms): michele de lucchi, jasper morrison, leandro erlich, sou fujimoto
lighting design: hiroyasu shoji (light design)
textile: yoko ando
interior coordination: tomomi nagayama
signage and art direction: nanilani
restaurant direction: hiroyasu kawate (florilege)
planting supervision: solso
philip stevens
I designboom
dec 17, 2020
a diverse digital database that acts as a valuable guide in gaining insight and information about a product directly from the manufacturer, and serves as a rich reference point in developing a project or scheme.
designboom will always be there for you
milan, new york, beijing, tokyo

,
since 1999