white arkitekter is an interdisciplinary practice that was founded in 1951 by sidney white. over the past 70 years, the firm has grown to a staff of nearly 800 based in offices in sweden, denmark, norway, and the UK. as an employee-owned company, white is collectively owned by 616 staff members, 122 of whom are partners. the practice, whose mission is to 'enable sustainable life through the art of architecture', recently announced that it plans for all of its projects to be carbon neutral by 2030.
to learn more about white arkitekter and its approach to architecture, we spoke with alexandra hagen — who joined the firm in 2001 before becoming CEO in 2018. 'we are not about striving for luxury projects for the privileged few, we are more about making a difference for as many people as possible in their everyday lives,' hagen says. read our interview with the architect in full below.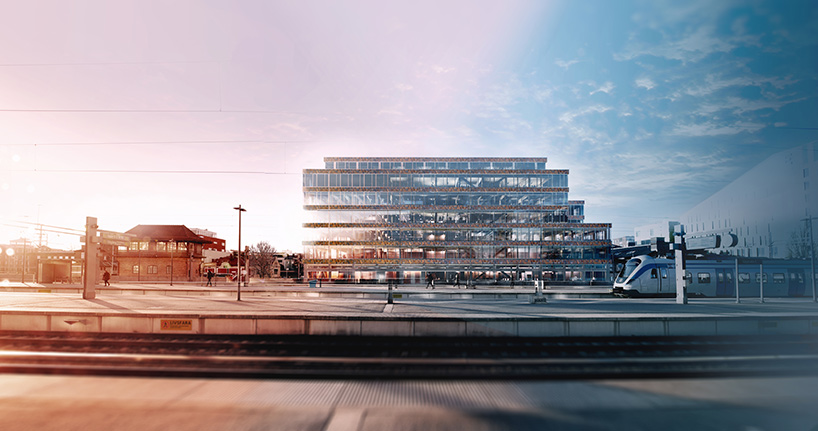 magasin X – office building, uppsala, sweden | image by white arkitekter
designboom (DB): white arkitekter was founded in 1951. what were its original intentions and how have they changed over the last seven decades?
alexandra hagen (AH): even though tools, technology and ways of working have changed over time, the values of white as a practice have remained the same. our values are the very foundation of our mission 'to enable sustainable life through the art of architecture'.
white arkitekter was founded as a result of a competition win in 1951. it was a residential project providing housing for young families. the competition was won not only because of the building design but also due to the design of the public space surrounding the homes, providing playgrounds and spaces to interact with neighbors. the ambition was to create a new community, rather than just individual homes. it was a project that put the people that would inhabit the homes first. from the very start our aim has always been to improve people's lives, one project at a time.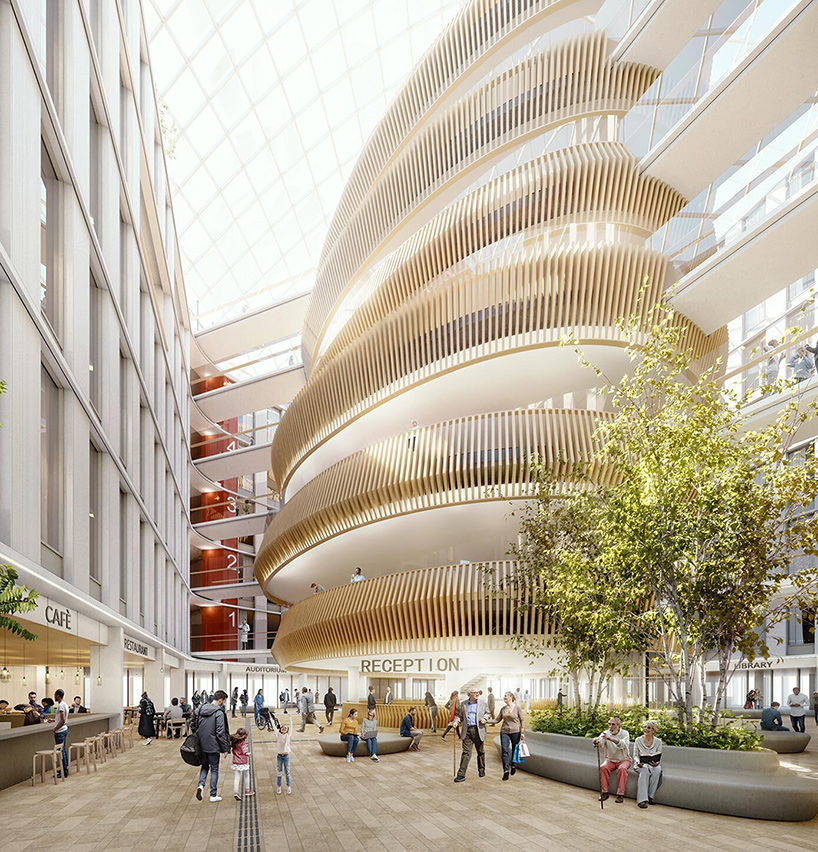 moorfield eye hospital, london, UK | image by white arkitekter
AH (continued): architecture shapes the spaces where human life happens, it is a great responsibility. today this sense of responsibility is reflected in our goals for sustainability. by 2030 all of our projects will be carbon neutral through design excellence. we believe that we can only make a difference if we are curious about the context where we work. as a result, we invest significantly in R&D to explore new knowledge that has the potential to improve the quality of our projects. we are an employee owned practice, and have been for many decades, I think this is one of the reasons there is a great understanding for the need to invest new knowledge because it also makes our practice a more exciting place to work.
to be creative we need to invite new perspectives to participate in our design process. this can only happen when we show respect for all the people involved in that process. this approach has remained the same over the years.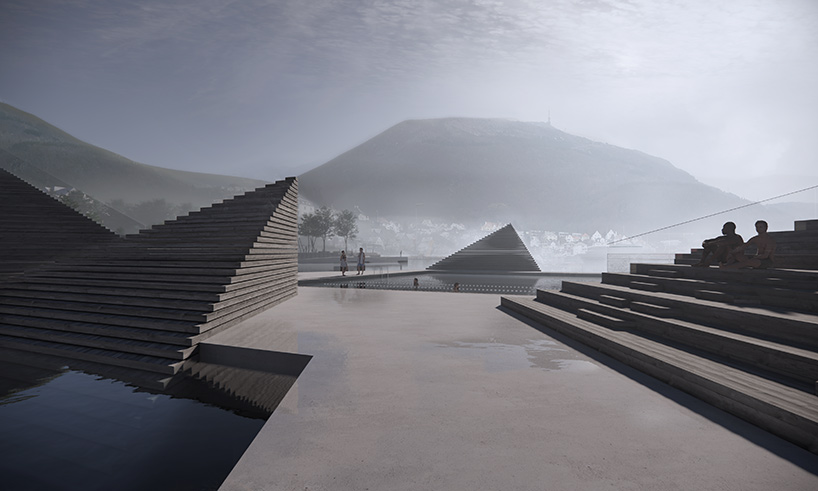 true blue waterfront park, bergen, norway | image by white arkitekter
DB: with numerous offices in scandinavia and beyond, can you briefly describe the scale and set up of the company, and the roles of each office?
AH: we are a practice of nearly 800 employees with offices in sweden, norway, and england with ongoing projects in europe, north america, and africa. we have an ambition to grow internationally. by being present on new markets we can develop knowledge and strengthen our offer. the offices vary in size and capacity, our largest office being more than 200 people and the smallest one less than 15. we operate like a network. our offices act independently while at the same time we have a strong culture of collaboration. a large part of our projects are carried out as collaborations involving several of our offices. we are a multidisciplinary organization as we believe this is necessary to the quality of our projects and we are always looking to set up the best team for each individual project regardless of geography.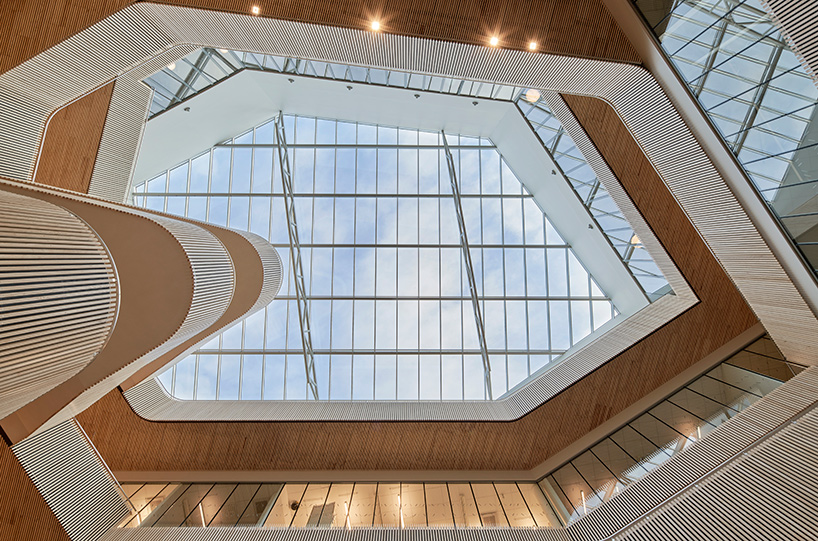 uppsala science park, uppsala, sweden | image by åke e:son lindman
DB: how would you describe your approach to architecture? has your approach changed over time?
AH: we are not about striving for luxury projects for the privileged few, we are more about making a difference for as many people as possible in their everyday lives. this approach has remained the same over the years. during the past 20 years sustainability has become an increasingly important issue. sustainability is a great design challenge. the use of materials, the energy efficiency and the carbon footprint of a building starts with the design. our quest is to fuse beauty and sustainability together through design. the humanist approach is important to us. we are all affected by our surroundings and we thrive in spaces where we feel safe and free and where we are exposed to beauty. in the long run, only buildings and spaces that are loved and cherished by people remain inhabited and survive the test of time.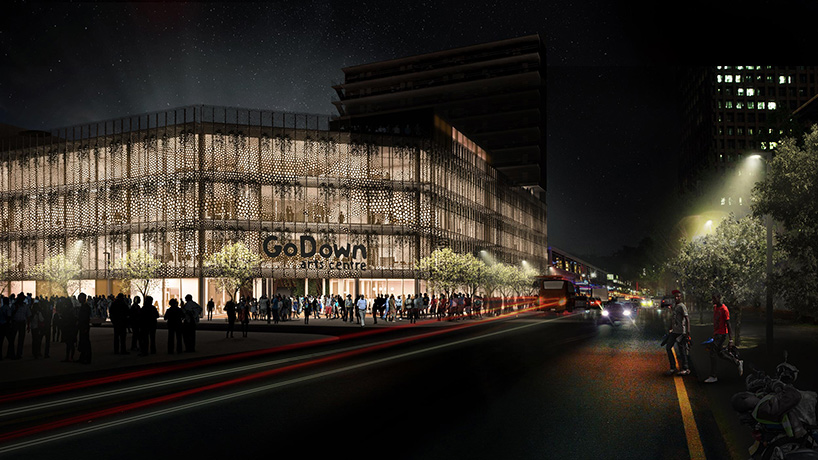 GoDown arts centre, nairobi, kenya | image by white arkitekter
DB: can you talk about your role as CEO of white? what duties does this involve on a day to day basis?
AH: I'm an architect who happens to be a CEO. I started as a junior architect at white 20 years ago. I've held a number of different positions in the practice over the years which is very valuable to me now. as CEO there are two main priorities, the present and the future. what we become in the future will be decided by what we do in the present. as CEO I work on strategic development together with my colleagues, clients and collaboration partners. I'd say my days are mostly about people. I get a lot of inspiration from working with others, that is the reason why I love to work in a large practice. we are defined by the projects we deliver, the level of creativity and quality they present. to be competitive and to challenge ourselves, we have to be a great team and an appealing place to work. this is something that has to be on the agenda at each management level every day.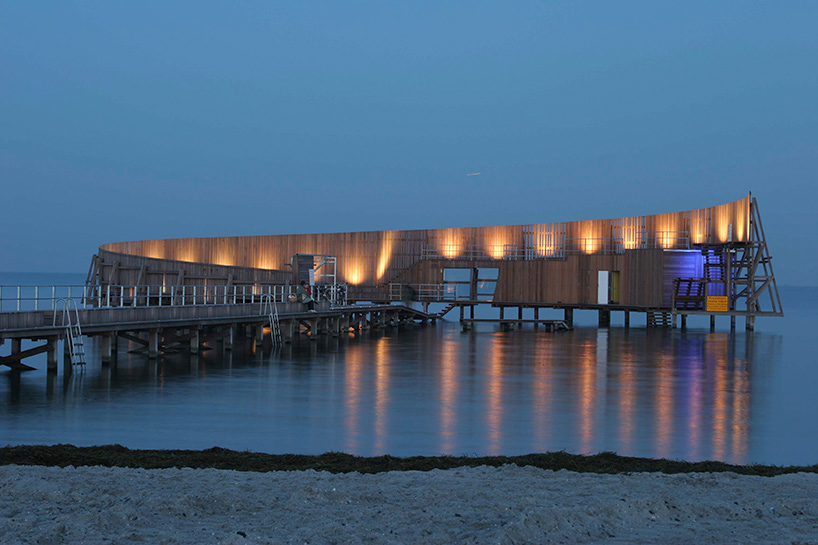 kastrup sea bath, copenhagen, denmark | image by åke e:son lindman
DB: white arkitekter is an employee-owned company. what impact do you think this has on your staff's approach?
AH: about 75% of our employees have chosen to be shareholders in the company. it is a commitment to the practice. we own this practice together which affects the level of engagement. we have a culture of participation, most of our employees want to be involved in discussions on what we do and where the practice is heading in the future. I also believe there is a great understanding for the investment in R&D because it benefits all of us in our everyday work. it makes our workplace more interesting and allows space for developing new knowledge for all of us.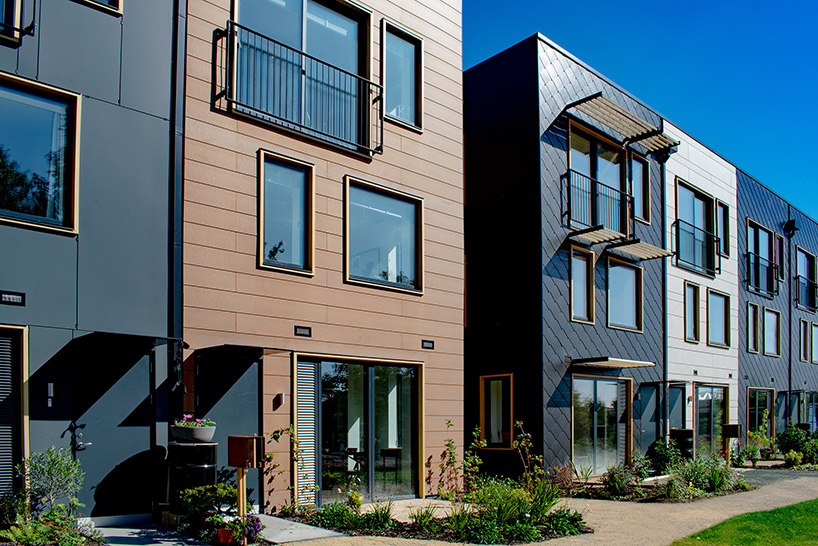 climate innovation district – housing, leeds, UK | image courtesy of white arkitekter
DB: you mentioned that white is planning for all its architecture to be carbon neutral by 2030. how ambitious is this target?
AH: during the three year period 2017-2019 we set the target to design and complete 30 zero carbon projects. between 2017 and 2019 we delivered one and designed another 19 projects aspiring to be zero carbon. we have approximately 3,000 ongoing projects on a regular basis. it has taken us three years to achieve 20 projects aspiring to be climate neutral, that is less than 1% of our total production. now we will move from 1% to 100% in 10 years. it is the toughest challenge that we have ever set for ourselves.
awareness surrounding carbon neutral architecture is increasing among the public and developers. people want to see a change in the way we live. the real gamechanger will be when the financial sector and investors starts to put pressure on the real estate sector. when developers are required to deliver sustainable design solutions in order to access capital, things will change. we are already seeing signs that this is happening.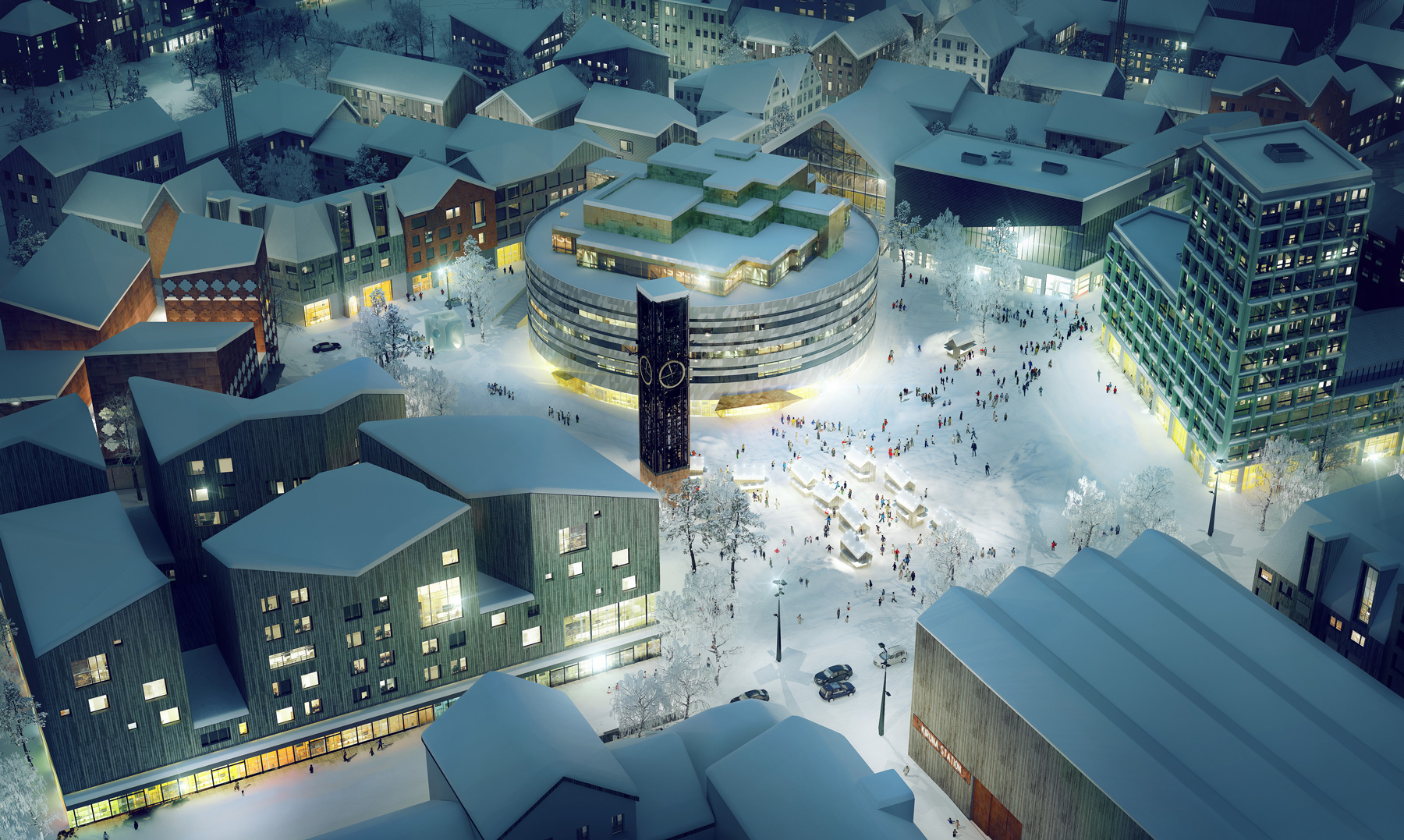 kiruna 4-ever – urban transformation, kiruna, sweden | image by white arkitekter
DB: the masterplan for kiruna is a project that has had a great deal of attention. how has the firm been able to tackle such a big project, and how challenging has it been?
AH: the kiruna project is unique. it is rare to move an entire city, which is why it has received a lot of attention. we are extremely proud to have won the masterplan competition for this project together with ghilardi+hellsten arkitekter. the difficult part in moving a city is to preserve its sense of belonging, the history and the soul of the community. it is easy to build a space or a building, but the real challenge is to preserve the thriving soul that makes a community.
our approach to put the citizens of kiruna first in this project is important. we've spent a lot of time interviewing and listening to them. the city of kiruna exists because of the mine and the mining cannot continue if the city is not moved. the citizens of kiruna understand this but at the same time it's still difficult for them as homes and spaces where memories have been made are being demolished to keep kiruna alive for the future.
the key to success in a project like this is collaboration. the client kiruna municipality has appointed a number of different consultancies, architects, and engineers to realize the masterplan and the vision for a new kiruna.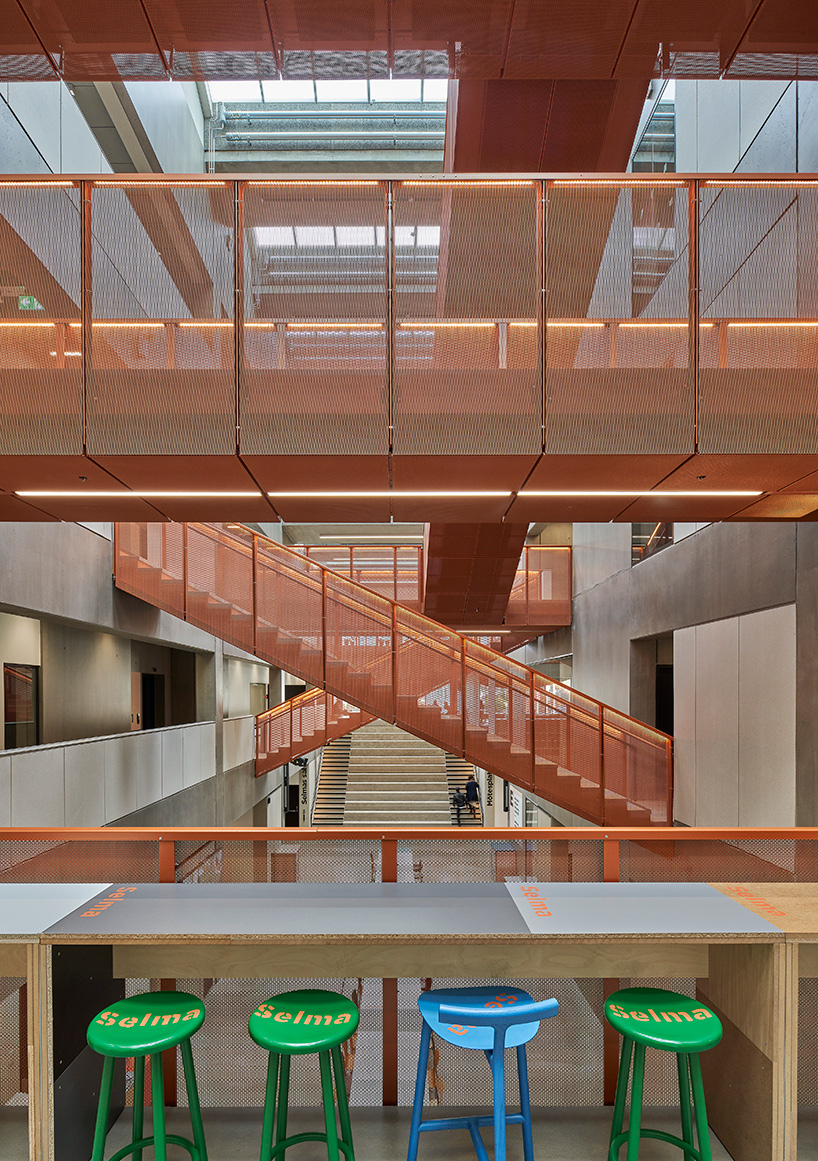 selma cultural centre, gothenburg, sweden | image by åke e:son lindman
DB: what other projects are you excited to be working on at the moment?
AH: we recently completed the interior of selma cultural centre in göteborg, sweden with 92% of the materials consisting of reused materials and furniture. due to the extensive reuse the cost of the project was reduced by 60% and the citizens have a unique interior with a minimal carbon footprint.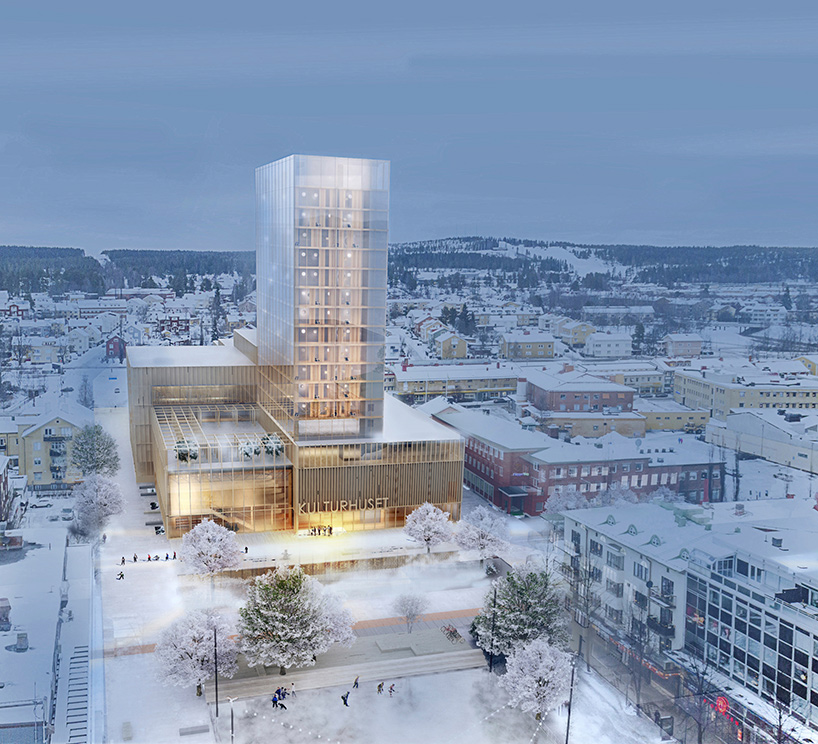 sara cultural centre, skellefteå, sweden | image by white arkitekter
AH (continued): we are currently working on sara cultural centre in skellefteå, sweden. standing at 24 stories it will be the tallest solid wood building in europe upon completion. it was an amazing competition win and when completed it will likely change the perception of how wood can be used in tall modern buildings. the use of wood plays an important role in the shift towards low carbon as it stores CO2.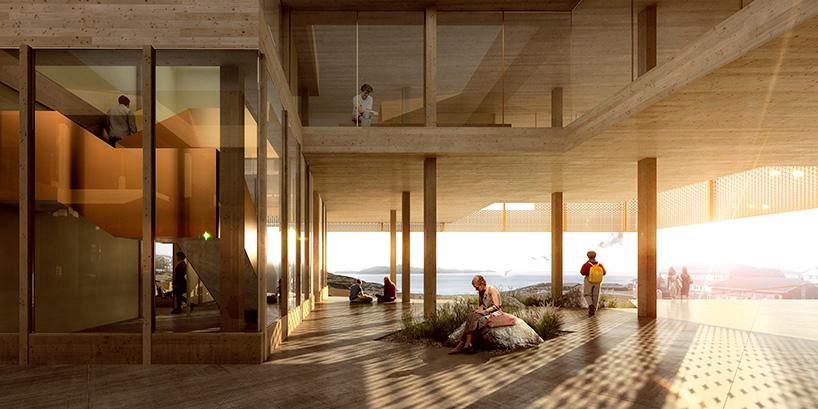 nuuk – psychiatric clinic, greenland | image by white arkitekter
AH (continued): we are also working on a new psychiatric clinic in nuuk, greenland which was announced as winner in the 'future projects – health' category at the 2019 world architecture festival. this project is interesting because of its unique location that impacts upon both the design and building process.
for a few years, we have also been working on a new hospital in the democratic republic of congo for nobel laureate dr. denis mukwege and the luxembourg red cross. when completed, this project will make a significant difference to the quality of life for women and children.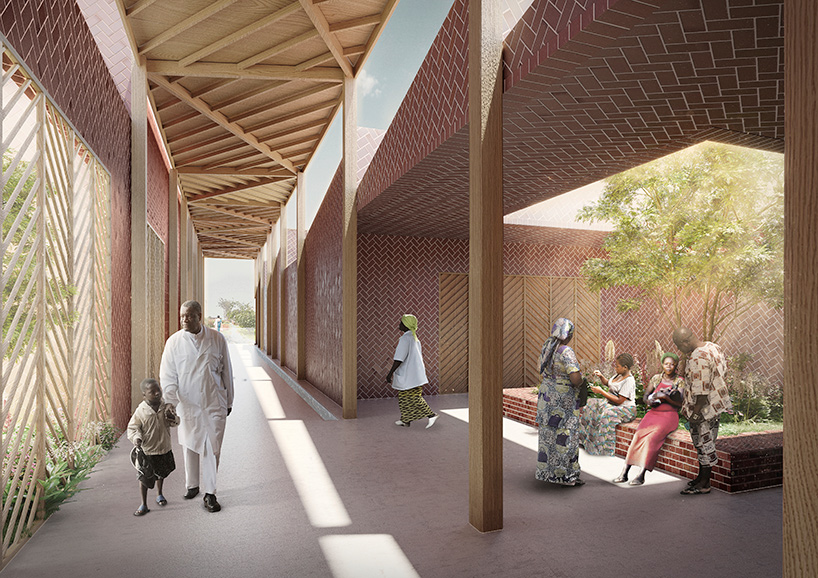 panzi hospital, bukawu, democratic republic of congo | image by white arkitekter
DB: how has the firm been impacted by the ongoing pandemic? what have been the biggest challenges?
AH: regarding our staff, we are lucky that none of our employees have become seriously ill which we are grateful for. regarding projects, we've been able to keep the pace up with all of our ongoing projects. about two years ago we made a significant investment in our digital office. this has made it possible for us to stay up and running despite most of our employees working from home. I'm very impressed with how quickly our teams have adapted to this new situation.
we have a culture of knowledge sharing in our offices. during the pandemic, project presentations and seminars that were arranged moved online making it possible for us to participate cross borders even more than before. the pace of digitalization has increased in our profession as a result of the pandemic.
due to the ongoing situation, we have seen a slowdown in order intake during the second quarter of this year with the demand for retail and commercial buildings declining in spring. however, there is still a need for housing and public buildings. we need more stability in the financial market and willingness to invest in order to get the pace back up to where it was.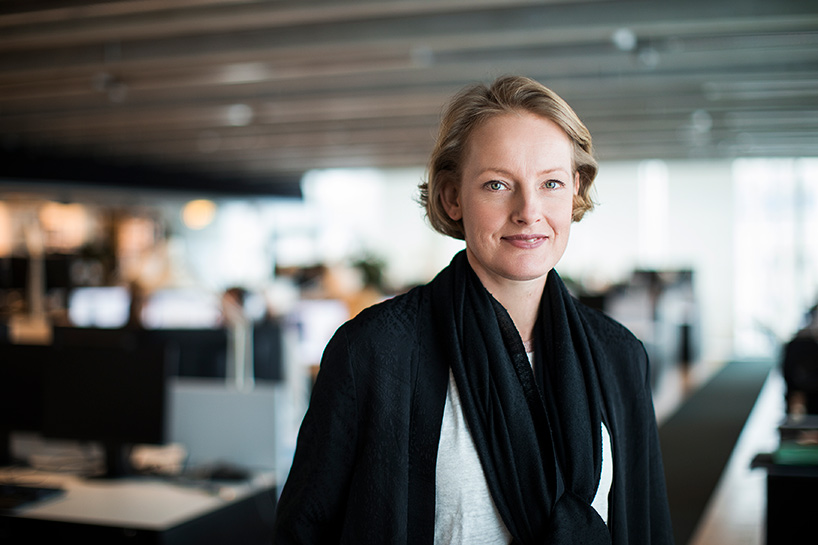 alexandra hagen, white arkitekter | image by camilla svensk
DB: are you optimistic about the future?
AH: I am optimistic about the future. out of crisis new things are born. crisis is a time for innovation and creativity. creativity is all about getting out of your comfort zone and doing things that you haven't done before. it will always be a bit painful and it takes courage. design is all about creativity, innovation, and problem solving. design thinking is an asset and it is applied in many areas. the skills we possess are needed in so many ways.
there will be a need for built environment, design, and architecture as long as there are human beings alive on the planet. however, I believe we are at a tipping point where we will see the design process change as new technology affects the way we work. as designers and architects, we have to embrace new technology and, at the same time, make sure that it contributes to creating better living environments. we still have our role of being the humanist in the building process creating beauty and spaces to thrive for people.
philip stevens
I designboom
aug 06, 2020
KEEP UP WITH OUR DAILY AND WEEKLY NEWSLETTERS
happening now! antoniolupi extends its expertise beyond the bathroom with the 'living' collection, a series of home furnishings that complement its esteemed collection of bathroom furniture and accessories.
a diverse digital database that acts as a valuable guide in gaining insight and information about a product directly from the manufacturer, and serves as a rich reference point in developing a project or scheme.
designboom will always be there for you
milan, new york, beijing, tokyo

,
since 1999